This gadget was named 'Walkman' meaning you can walk along and carry out other activities while it's in use. Yes! It doesn't matter whether you are in-doors studying, on a workout exercise in the fields, or the Disney Princess Half Marathon runner that you have become. This generic MP3 player has you covered. Sony Walkman is slim and fits even into the tiniest pocket. It also has perfect sound production that filters any distracting sounds from the environment. Because of these, many users are opting to get audible on Sony Walkman. And it's for the obvious reason. Motivation!
Listening to audiobooks is a good start point for pushing yourself to attain that long-awaited goal. And as it's always said. "Time is of the essence". Most people love stories but don't have the time to read for themselves. Audible books, therefore, becoming the best option to keep you hooked and glued to all the lovely stories you would have wished to read. Let's see two ways how to sync Audible Books to Sony Walkman via the Audible app and AudKit Audible Converter.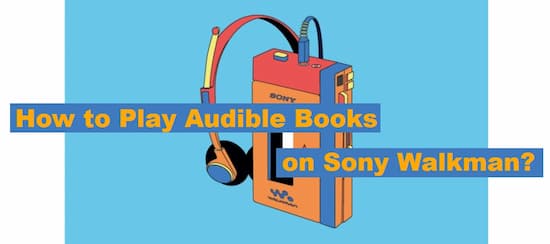 ---
Part 1. How to Play Audible Books on Sony Walkman via Audible App
You can play Audible books on Sony Walkman via Audible App. Audible offers 'Audible Manager' App that is useful in transferring your audiobooks to Sony MP3 players. Follow these steps.
Step 1. Install Audio Manager
First, download and install the App on your computer. Next, plug your Sony Walkman to the computer and wait for it to be recognized then launch the Audible Manager.
Step 2. Add MP3 player to Audible Manager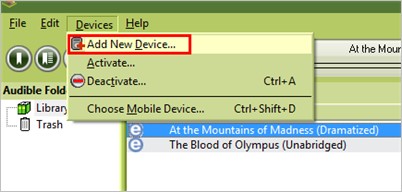 Once the Audible Manager is open, check for the 'Devices' option. Click 'Devices' > 'Add New Device' and a pop-up window will appear where you can see all the AudibleReady devices. Select the Sony Walkman and click the 'OK' button.
Step 3. Close Audible Manager
Once a message asks you to close the 'Audible Manager', do so by clicking the 'OK' button to allow the installation of other component files. The Audible App will then install a plug-in for your Sony Walkman and once successful, the App will close automatically. Then re-launch the App and check out for the Sony Walkman MP3 player under the 'Mobile Devices' section.
Step 4. Activate the MP3 player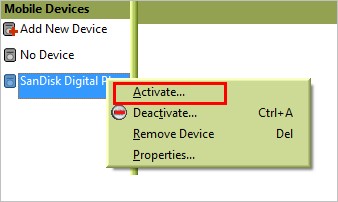 From the 'Mobile Device' section, right-click the MP3 player then hit the 'Activate' button. You can now log in to your 'Audible account' after the activation process.
Step 5. Transfer Audible books to Sony Walkman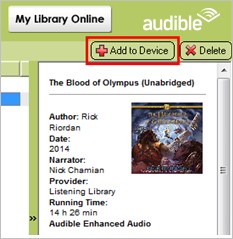 Transfer Audible books to your Sony Walkman from the Audible account. Just select the Sony Walkman player and then the Audible book that you want to play on it. Go to the upper right corner and click on the 'Add to Device' button to affect the transfer. You should now have your favorite Audible books saved to your Sony Walkman.
---
Part 2. Sync Audible Books to Sony Walkman via AudKit Audible Converter
It is good to note that some Sony MP3 players are not Audible compatible. Therefore, playing Audible audiobooks may not be a walk in the park on some devices. It's only a handful of MP3 players available for play on the Audible app. So, the first method may not work well in such devices. You, therefore, need to sync Audible books to listen to them on such devices.
Audible applies protection technology to its audio files to enforce authorization measures. It is this measure that makes it only possible to play Audible Audiobooks on its authorized app or devices. To pull yourself out of this, you need to sync Audible books to your device via an Audible audiobook converter. And don't look further than AudKit Audible Converter!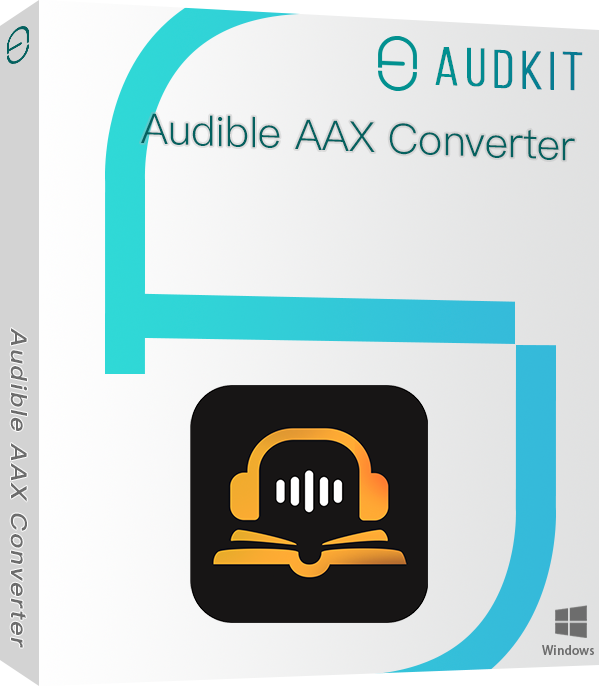 Encodes Audible AA and AAX to common playable audio formats.
It converts your audiobooks with 100% lossless quality
Freely customize output parameters
Support splitting audiobooks into smaller segments
The AudKit tool is smart. It is efficient in downloading Audible audiobooks and converting the AA or AAX audiobooks to playable formats. Hence, you can continue to enjoy your Audible books on generic MP3 players like PSP, Creative Zen, iPod, among other devices. And as it does the conversion, this tool carefully keeps the ID3 tags such as artist, date, title, and much more for lossless audio quality.
Steps to Use AudKit Audible Converter to Sync Audible Books to Sony Walkman
Follow these steps to convert the protected AA and AAX audiobooks to universal formats at superfast speed. And then you can play Audible books on all Sony Walkman devices.
Step 1. Add Audible audiobooks to the App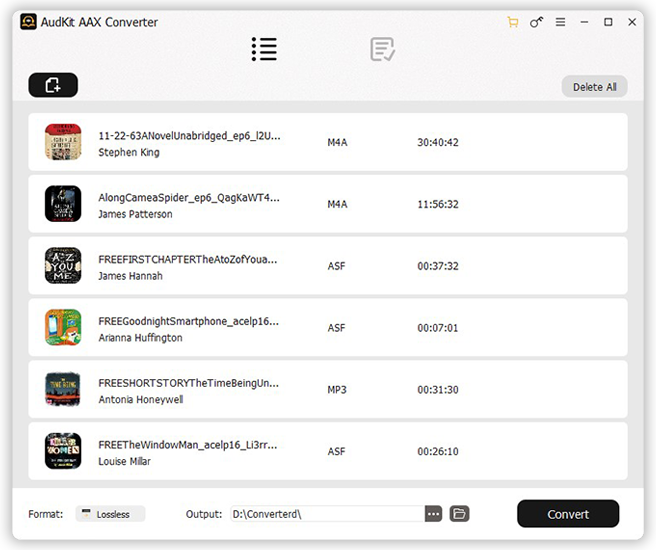 Drag and drop the downloaded Audible files to the AudKit Audible Converter app window. Alternatively, you can click the 'Add Files' icon in AudKit.
Step 2. Choose output format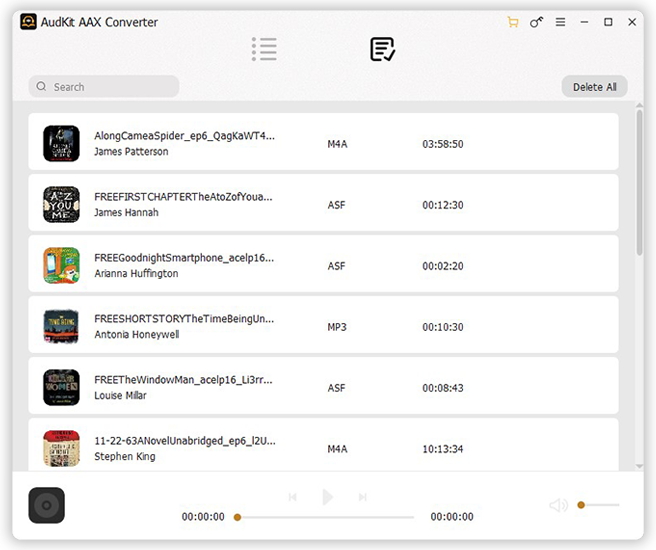 The AA or AAX audiobooks will then be loaded to the AudKit conversion window. Click the 'Edit' icon to choose the output format and set parameters. You can change the output settings like the bit rate, sample rate, audio codec, among others. Besides, you can split the larger audiobooks. Just click the 'Editing' icon that's next to the Audiobook's name and start the splits to smaller files.
Step 3. Convert Audible audiobooks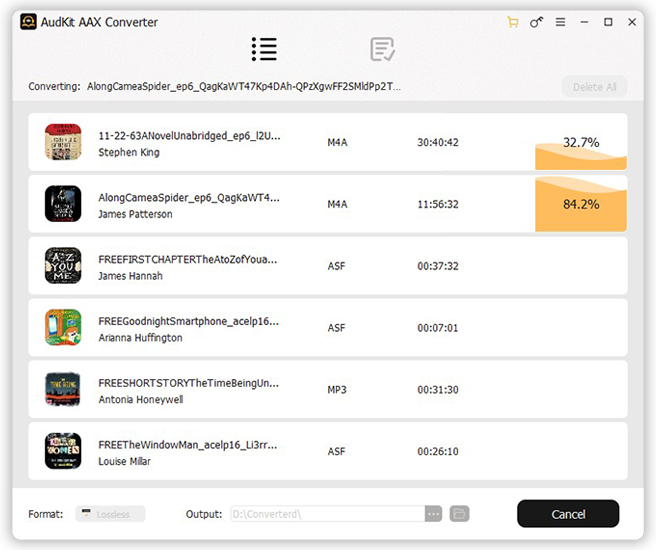 Ensure that all your settings are correct and then continue with the removal. Press the 'Convert' button to commence converting Audible audiobooks to MP3 format. The conversion time will depend on the number of Audible files. Finally, check the default 'Output folder' for your unlimited MP3 files, and then you are free to play them on Sony Walkman.
---
Conclusion
These two solutions will help you to play Audible books on Sony Walkman. The first option requires that you have an Audible compatible MP3 player. Otherwise, if your device is not compatible, that means you cannot directly play Audible books on your device. You will need an AAX converter. The AudKit Audible Converter is a smart tool with top-notch ability to sync Audible audiobooks to generic MP3 players such as Sony Walkman and many more.