Technological advances have brought relief in many sectors, including entertainment. Smartwatches play a vital part in this. They can manage your health, analyse your exercise patterns and even play music of choice.  And it doesn't matter whether you are out on the field for some workout, swimming, or cycling up the hill, you can play along for company. For this reason, many users are on the look for how to get Audible for Wear OS.
Why Audible? It's the biggest audiobook subscription, creating original content that suits all users. You get both shorter and book-length Audible materials for sleep and meditation, among others. Well, we provide an amicable solution to stream Audible on your wearable OS anytime and anywhere.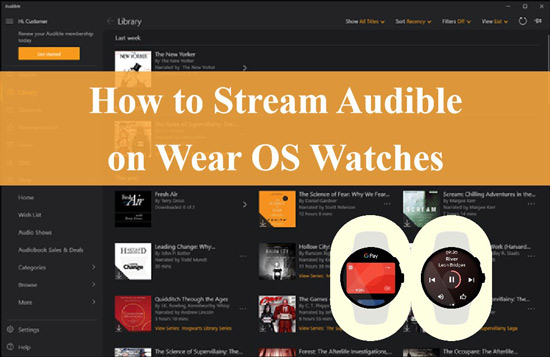 ---
Part 1. Is There an Audible App for Wear OS?
"Can get Audible app for Wear OS?" Many users have always cropped up the question of whether they can install the Audible app on wearables. Well, it is disappointing that there is no Audible Wear OS app. The reason is, audiobooks on Audible are protected. For this, you need to install the iTunes app and authorize the Audible account for you to access its files. The best way out is to convert your Audible books to common output formats to get Audible on Wear OS watches.
---
Part 2. How to Download Audible Books for Wear OS
You need a converter to help you access Audible books for your Wear OS. AudKit Audible AAX Converter works in a sophisticated manner to losslessly convert Audible AA/AAX to common output formats like M4B, AAC, FLAC, and MP3, among other formats. It gives you a direct avenue to play Audible files on all devices and players without an internet connection.
The speed at which it converts your Audible files is superb. It runs at up to 100X speed, enabling batch conversion without time wastage. You can also get quality content as this app has the ability to maintain lossless ID3 tags and customize them to your perfection. These include composers, albums, genres, artists, etc.
More so, you can split the audiobook files into smaller sections by time frame or chapters. It supports more personalized work as you can change the parameters like channel and bitrate. You can as well use the "Effect" feature that lets you choose your suitable speed, pitch, and playback volume.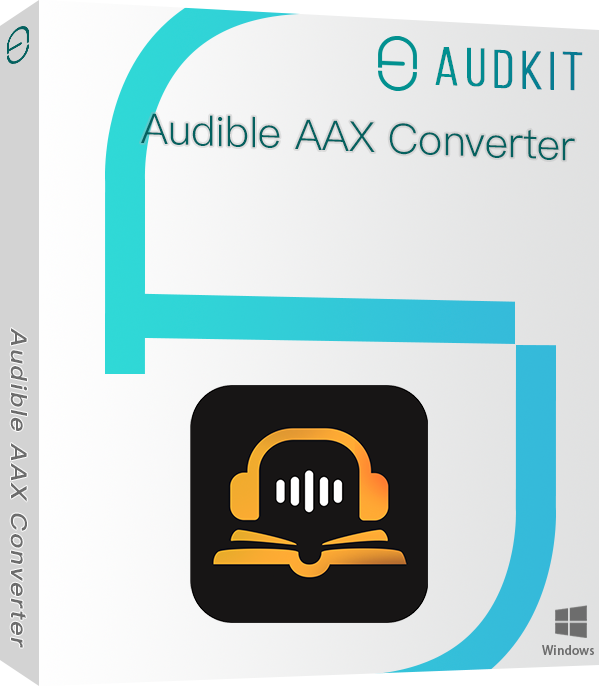 Keep up to 100% lossless audio quality of Audible books
Convert Audible to FLAC, M4A, AAC, and other more formats
Download audiobooks from Audible at a faster speed of 100X rate
Split Audible books into small clips as desired
AudKit Audible AAX Converter uses the latest technology to convert Audible books to an audio format that's compatible with wearables using Wear OS. To use it, first, download your preferred version as the AudKit app supports both Mac and Windows OS.
However, the free trial version can only convert the first 1/3 of each Audible audiobook. You, therefore, need to register on the app to activate it by tapping the "Register" option from the menu.
Step 1 Import Audible books to the AudKit converter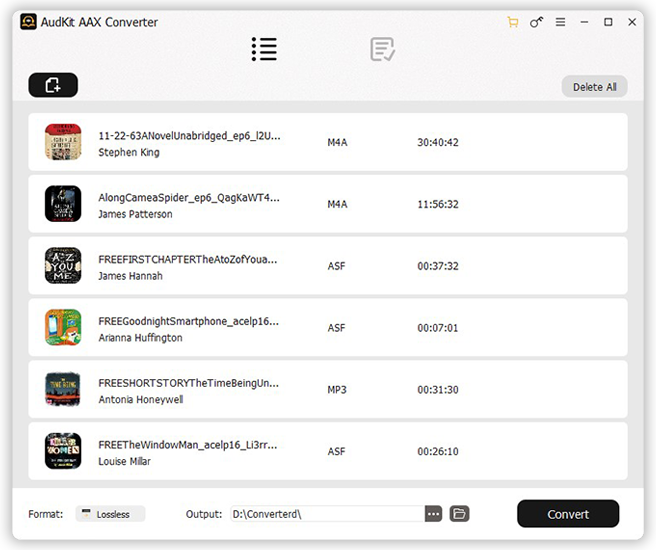 Identify the Audible Audiobooks that you need to convert and add them to the converter. Click on the "Add Files" button and all the Audible files will show up in the new window. Select them, and then click on the "Open" tab to automatically load them to the AudKit converter's interface. You can also drag and drop them.
Step 2 Set Audible audio formats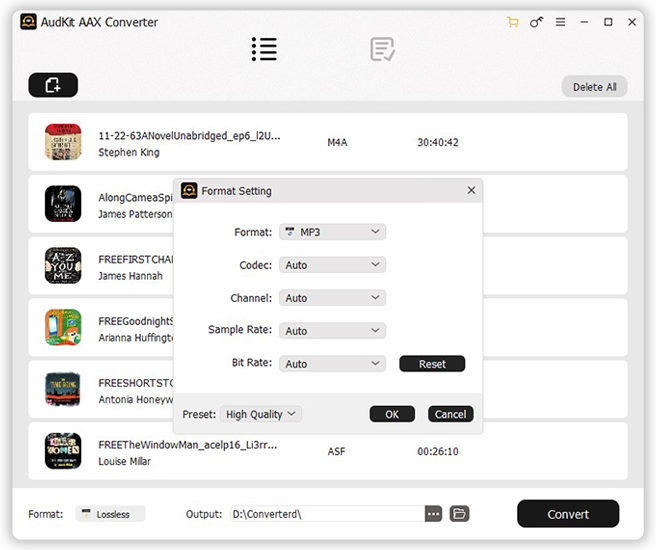 You are at liberty to personalize your Audible books as you desire. Once you have uploaded the files, click on the "Format" tab and define the output format as MP3, WAV, FLAC, AAC, or as you desire. Also, customize other parameters such as sample rate, channel, and bit rate, among others.
Step 3 Edit other effects of Audible audiobooks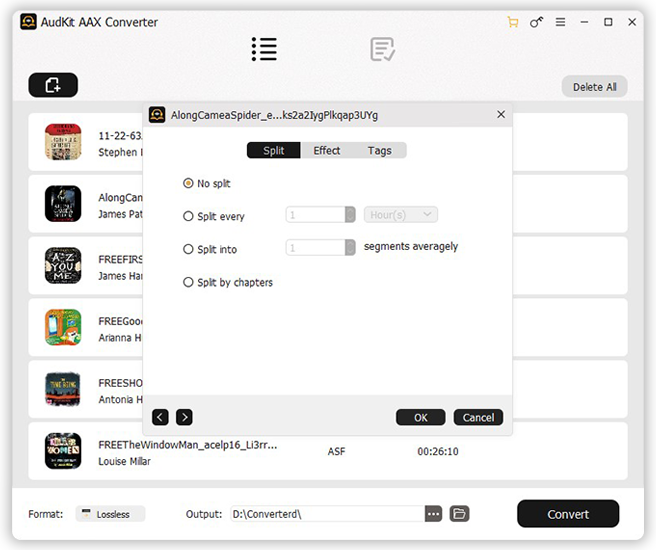 Tap the "Edit" button, and AudKit Audible AAX Converter lets you edit your files by customizing ID3 tags such as the year, album, title, etc. in the "Tags" section. Likewise, you can split Audible by chapters in the "Split" section as well as adjust the pitch, volume, and speed in the "Effect" section.
Step 4 Download Audible for Wear OS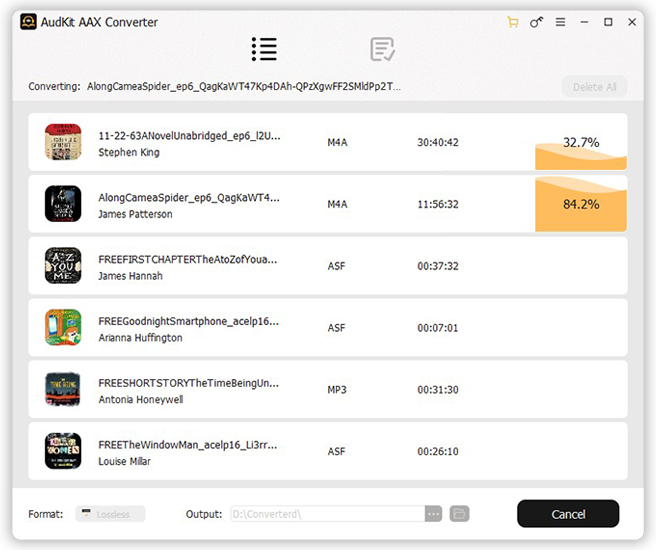 Confirm that your customized choices are correct. Also, ensure to change the output path by going to the "Output" option at the bottom. Then, click on the "Convert" tab to initiate the conversion process. The AudKit Audible AAX Converter will download Audible books to PC and you can right away open them by tapping the folder icon.
---
Part 3. How to Add and Listen to Audible on Wear OS
Now that your Audible audiobooks are in a converted format, you can freely listen to Audible through Wear OS. There're several workable methods for your to add Audible files to the watches.
Via YouTube Music
Since the YouTube Music app is compatible with Wear OS watches, uploading Audible audiobooks to YouTube Music is an ideal way.
Step 1. Head to YouTube Music's website and log into your account on your PC.
Step 2. Then click on your Profile image at the top-right corner and choose the "Upload Music" option. Select the audiobook files and confirm them. Your audiobooks will be uploaded to YouTube Music.
Step 3. Install the YouTube Music app on the Wear OS watches and you can now stream on it.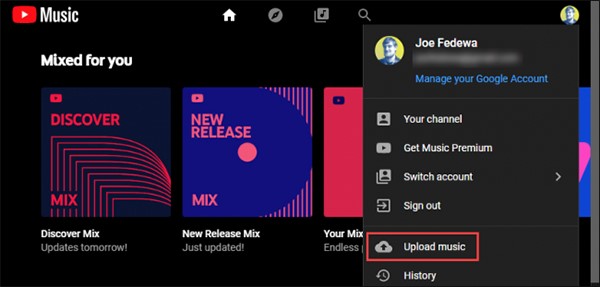 Via Gear Music Manager
iOS devices let you use the "Gear Music Manager" to transfer your Audible audiobooks. Here is an example of adding Audible to Samsung Gear S3.
Step 1. First, connect your Wear OS watch to your computer on the same WiFi network.
Step 2. Next, open the "Music" app on your Wear OS watch and click on the "Phone" icon. The music source will now change from the computer to the watch.
Step 3. Go to the Playing screen and find the "Gear Music Manager" from the "Music Library" section. Next, click on the "Start" option on the Wear OS watch to begin transferring files.

Step 4. Then open any web browser on your computer and take note of your Wear OS watch IP address. And tap "OK" on your watch.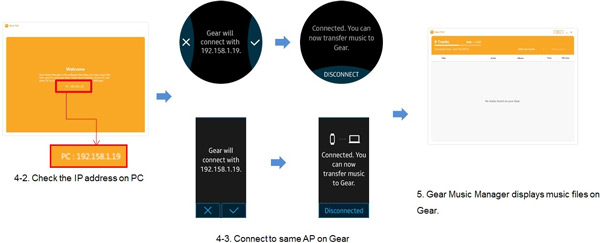 Step 5. Finally, press the "Add New Tracks" menu to transfer Audible book files from PC to Gear.

Via Wear OS App
To move Audible content to the Wear OS watch, you can also use the USB cable to connect your watch to the PC for transferring.
Step 1. Connect your Android phone to the computer via a USB cable. Then, locate the converted audiobooks on your computer and transfer them to your phone.
Step 2. Turn on the "Wear OS" app on your phone and choose the "Add content to your watch" option.
Step 3. Next, tap on the "Add Tracks" option and choose the Audible audiobooks you want to add to your Wear OS watch from the computer.
Step 4. Click on the "Done" button then tap on the "Auto Sync" switch that's located under the "Music" section. Your converted audiobooks will now sync to your watch and be ready to play.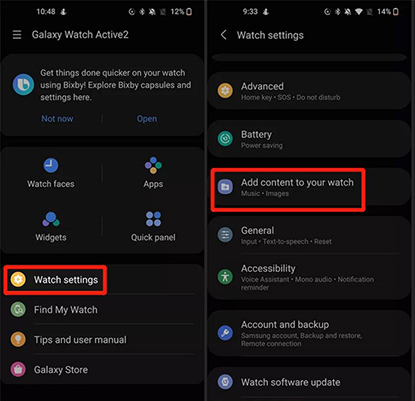 ---
Part 4. The Bottom Line
How breadth-taking is it to perform a couple of functions on your Wear OS Watch? From managing your health, analysing exercise patterns as well as keeping entertained with Audible audiobooks. If you're struggling with the dilemma of how to get Audible Wear OS connected. The best Audible converter – AudKit Audible AAX Converter – will make it possible to stream Audible on Wear OS on the go anywhere while keeping lossless quality.
---