If you are an avid reader, or if you prefer to listen to podcasts and audiobooks to pass the time, you are familiar with Scribd or Audible. Scribd and Audible are comparable in that they provide streaming alternatives for those interested in discovering new books, podcasts, or even research papers and sheet music. Don Katz introduced Audible to the public in 1995. Still, it has since been overtaken by Scribd, a more contemporary competitor that Trip Adler of San Francisco, California, created and introduced in 2007.
There are significant distinctions between Audible and Scribd, even though both services provide users with the option to search for, stream, and save audiobooks on a whim. When searching for an audiobook library and audiobook subscription service, comparing Audible and Scribd will help you pick the most suitable one. Let's begin with the Scribd vs Audible showdown!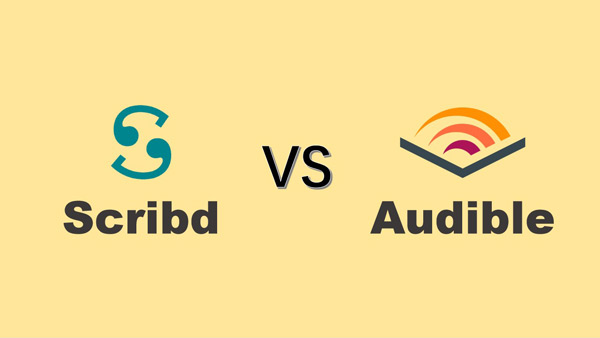 ---
Part 1. What Is Scribd & Audible
What Is Scribd
The distribution of electronic books was the initial goal of Scribd, and this remains the company's primary focus today. Nevertheless, they have recently extended into the realm of audiobooks as well. If you prefer both sorts of literature, and even if you want to blend the two, this is a fantastic alternative for you to consider.
What Is Audible
More than 200,000 different books are available via the audiobook subscription service known as Audible, which Amazon owns. Because it has such a large variety, Audible is a popular choice for many individuals. Their selections encompass works of fiction as well as nonfiction, and they cover every conceivable topic area. Some books have been big sellers, less well-known novels, self-published books, and everything.
---
Part 2. Scribd vs Audible: Memberships
Scribd gives you access to their comprehensive collection of books and audiobooks for a monthly fee of $11.99 and you will have a 30-day free trial. If you cancel your subscription or leave Scribd in any other way, you will no longer have access to the audiobooks and eBooks available on the platform.
Compared to Scribd, Audible comes out on top in this regard since, as its two plans, Audible Plus and Audible Premium Plus, come with a free 30-day trial, you can have access to their Audible plus library and two free Audible credits. They respectively cost $7.95 per month and $14.95 per month.
In contrast to the situation with Scribd, if you pay for an audiobook using Audible credits or your own money, you will permanently possess the file. A credit on Audible can be purchased for $7.49, a significant discount compared to most audiobooks available online. You will get two audiobook credits as part of the monthly membership fee, and you are free to use these credits whenever you choose.
Thus, comparing the subscription of Audible Plus vs Scribd, Audible is the winner.
Audible
Scribd
Plans
Audible Plus: $7.95/month;
Audible Premium Plus: $14.95/month
$11.99/month
Free Trial
30 days
30 days
---
Part 3. Audible vs Scribd: Library
If you wonder who is the next medalist in the competition of Scribd audiobooks vs Audible, there you go!
Audible is the world's biggest audiobook collection, with more than 470,000 titles available. As we've previously established, monthly subscriptions come with your choice of 1 or 2 titles and 2 Audible Originals. What more, though, here? Yes! Access to Original Premium podcasts, the Daily Deal, where you can buy a new book every day at a discounted price, hassle-free returns and exchanges, guided health programs, and a discount on the Audible Escape plan are all included.
There are more than 150,000 audiobooks available in the Scribd library. With the membership, you can borrow as many books as possible from the library. That equates to a monthly book quota of zero for your reading pleasure. Users can read and comment on millions of articles, stories, and essays on Scribd. Is there more to this story? For sure! In exchange for a subscription, Scribd offers several useful "Perks" to its paying users at no additional cost.
---
Part 4. Scribd vs Audible: Sound Quality
The bit rate of the audiobooks that can be downloaded from Audible is restricted to 64 kbps, while the ones that can be downloaded from Scribd are set at 32 kbps. It cannot be denied that Audible Audio's performance has improved thanks to improvements in sound quality and a reduction in the amount of noise distortion.
In addition, to save the audiobook at a higher bit rate, you will most certainly want more storage space. The typical format for digital music is 32 kbps, and as a result, the quality that Scribd provides is also not terrible. Only when you listen to the audiobook using headphones or speakers of a higher grade will you be able to differentiate between the two in terms of sound quality.
Audible is the best choice if you already have a wonderful audio system, including a high-end speaker, in your home. However, if you have a device with restricted storage space, you should use Scribd.
---
Part 5. Scribd vs Audible: Extra Features
Both sites provide content that goes beyond simply the most popular audiobooks. They provide additional features that make the lives of authors, readers, and listeners of audiobooks easier to manage.
Audible Has Multiple Meditation Features and Sleep Audios
Audiobooks on tape or CD are a fantastic aid for anyone who has trouble nodding off. It provides peaceful, guided meditations and sleeps soundtracks that you can listen to. You won't have to remain up for the whole night to no avail.
Audible also has a function known as a sleep timer, which allows you to set a specified time for the app to automatically cease recording, preventing your phone from being on all night.
Scribd Provides Helping Snapshots
Since reading a book or listening to an audiobook takes up a significant amount of time, you need to choose the books you listen to thoughtfully. To Scribd's credit, it provides previews of popular titles that last around ten minutes each.
In this audio clip, the narrator provides a synopsis of a certain book and discusses the most important teachings. It is identical to reading a full book in only a few minutes.
---
Part 6. Audible vs Scribd: Compatibility
Both audiobook systems have mobile applications compatible with Android and Apple devices. Users can also run Scribd and Audible on their browsers to access and listen to their preferred material from those services.
The Scribd platform performs well on mobile devices running Android, iPhones, iPads, and web browsers. Users can customize the playing speed, make notes, create bookmarks, set a timer, and even share information simultaneously. Unfortunately, it is not compatible with smart speakers or TVs.
Nevertheless, the audiobook provider Audible emerges victorious in this competition. Regarding different types of devices, Audible offers flawless connectivity with Kindle, Fire TV, Alexa, Garmin watch, etc. Scribd is compatible with mobile devices, Kindle devices with Fire OS 4 or later, and computers running Mac OS X and Microsoft Windows.
On the other side of the coin, did you know that you can now have a better method to listen to Audible on any device? You can use the AudKit Audible AAX Converter to download Audible books offline. AudKit Audible AAX Converter is the industry-leading Audible audiobook converter. It is designed to convert Audible AA/AAX to MP3, AAC, M4A, FLAC, WMA, M4B, and other formats at speeds up to 100 times quicker than its competitors. It includes many strong and competent features, such as an integrated audiobook splitter, an ID3 tags editor, lossless output quality, and many more.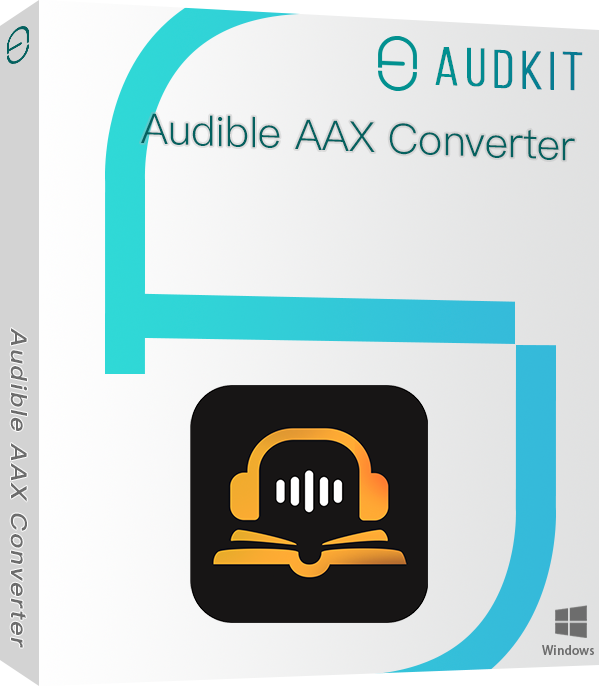 Convert Audible books to other formats such as MP3, M4A, AAC, and more
Keep Audible AA/AAX files in lossless quality after conversion
Divide long Audible audiobooks into chapters or periods
Allow users to complete ID3 tag retention and modification
Quickly and easily convert Audible books to the computer at 100X speed
How to Use AudKit Audible AAX Converter to Download Audible Files
Step 1: Download and install the AudKit Audible AAX Converter on your Windows or Mac. Choose the "Register" menu item to access this window. To begin using the program, enter your licensing information into the registration box that will appear.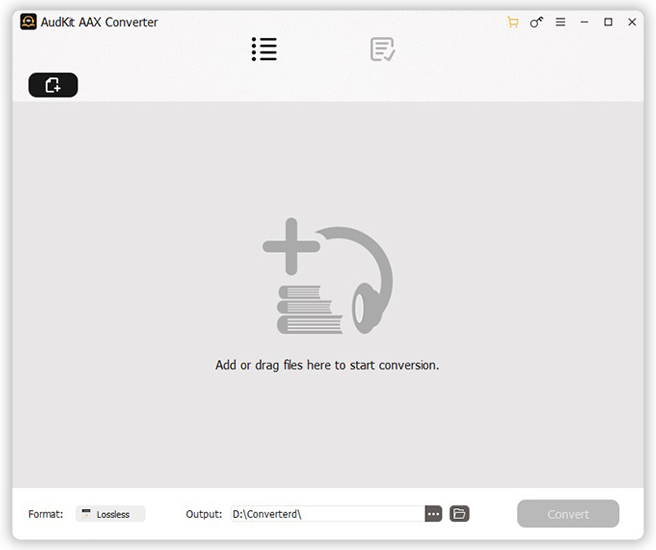 Step 2: When you choose the black "Add Files" option on the AudKit app, a new window will open where you can add your Audible files. Select several Audible books and then hit the "Open" button to instantly load them.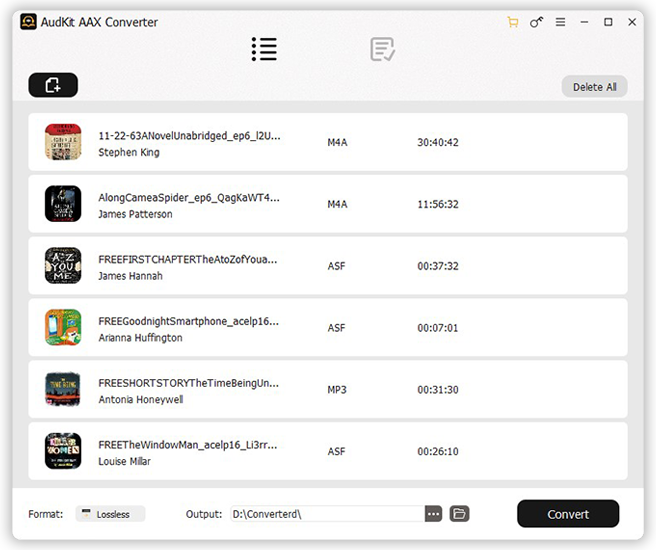 Step 3: Next, access the configuration window by choosing the "Format" button in the lower left corner. You can choose an audio format for Audible books, including Lossless, MP3, M4A, AAC, etc. Besides, you can adjust the preferences like codec, channel, sample rate, and bit rate.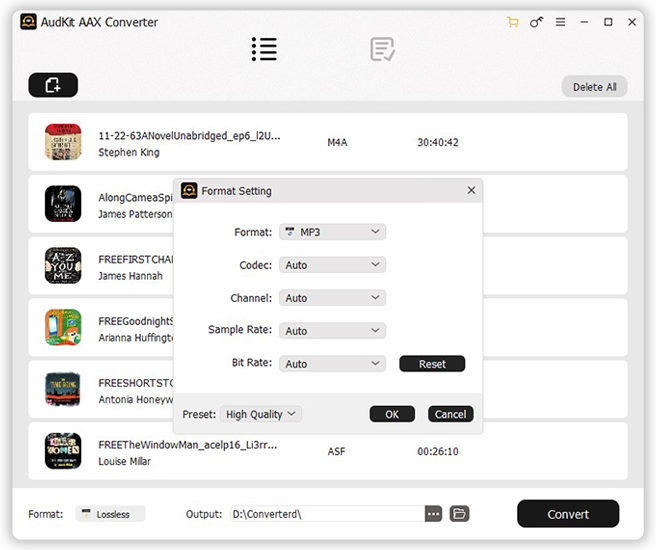 Step 4: In the "Tags" part, you can edit ID3 tags like year, title, and album; in the "Split" section, you can cut long audiobooks into smaller chunks; and in the "Effect" section, you can change the volume, speed, and pitch of the audiobook's playing.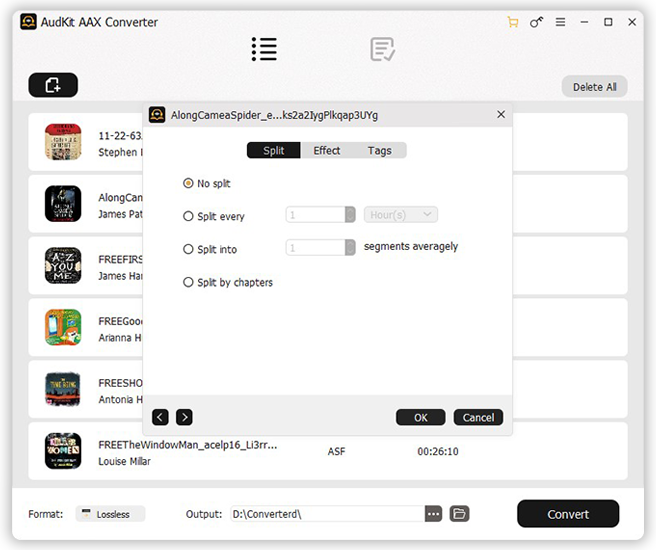 Step 5: At last, you must click the "Convert" button in the AudKit tool's central right corner. It will help you download Audible audiobooks free to unrestricted formats so that you will be able to put your Audible audiobooks into the devices that aren't on its supported list.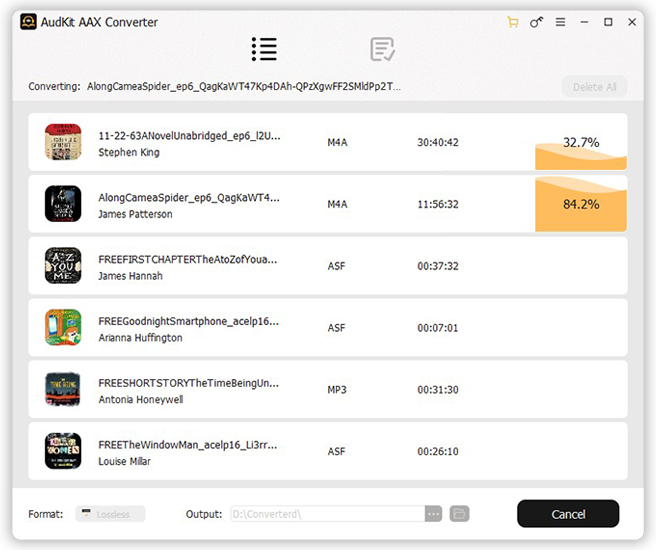 ---
Conclusion
Scribd and Audible are excellent audiobook distribution platforms, so which is better, Scribd vs Audible? Picking one over the other depends on personal preference. Both feature a wide variety of books to choose from, whether you're interested in fiction, nonfiction, self-help, or anything else.
Scribd is the superior option if you're seeking a wider variety of content than only audiobooks and want a more hands-on approach to content curation. Audible is the way to go to get the best quality narration without losing too much variety. If you're just concerned with listening to books, then Audible is your best option. And if you've chosen Audible over Scribd, use the AudKit Audible AAX Converter to transform your Audible books offline. It helps greatly in playing audiobooks wherever you want, as we explained above!
---