DJI, or Da-Jiang Innovations, controls more than 70% of the worldwide drone industry. DJI's Mavic and Phantom models are game-changers in the consumer drone market. The use of drones to capture stunning landscapes for social media and other online projects is becoming increasingly common.
However, many individuals have complained that they can't sync Spotify music with their DJI Fly videos. Simply put, Spotify music is limited when connected to DJI. But if you wish to add Spotify to DJI Fly, the good news is that there's a way that you'll find in this article. Here, we've compiled the finest way to add Spotify music to DJI Fly video using a high-quality tool. Let's get into the details!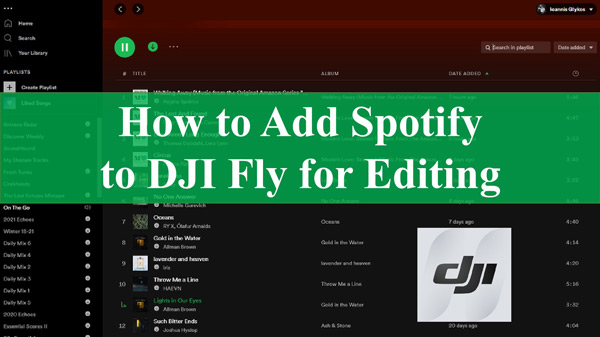 ---
Part 1. Get Spotify Music on DJI Fly Video – Best Tool
DJI Fly is DJI's new drone app that can be used to capture and edit stunning images and videos. If you want to import Spotify music into DJI Fly as BGM, you need to break the OGG Vorbis format limitation of Spotify music first. While AudKit SpotiLab Music Converter is your best helper, dedicated to converting Spotify music to normal audio formats.
In fact, it has the ability to convert Spotify to MP3, AAC, WAV, FLAC, etc. so that DJI Fly can recognize it without any problems. Once you have converted the files, you can import Spotify to DJI Video or any other device and player with no restrictions. In addition, all the original information of Spotify songs such as artist, title, and album artwork will remain intact.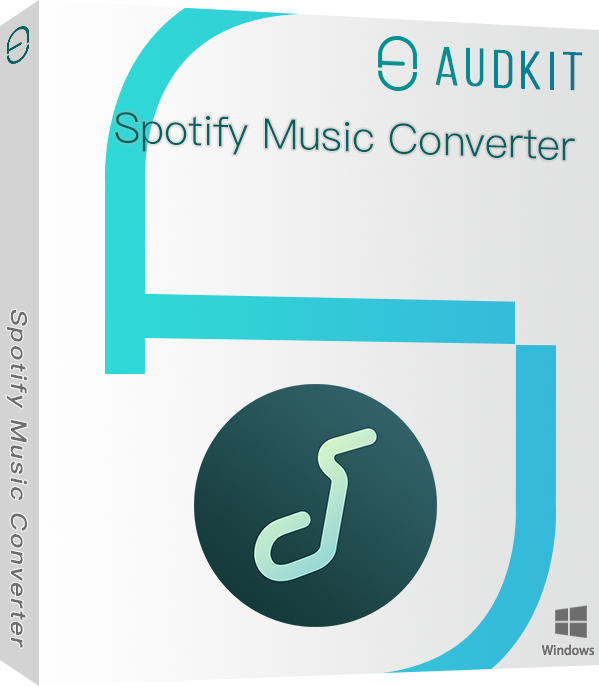 Remove the limitations imposed by the OGG Vorbis format of Spotify audio
Download Spotify to your computer locally without a premium subscription
Convert Spotify songs to MP3, AAC, WAV, etc. compatible with DJI Fly
Add Spotify music to DJI Fly videos as background music
---
Part 2. How to Add Spotify to DJI Fly for Editing
Now that you know the right tool to add Spotify music to DJI Fly, you must wonder how to import Spotify to DJI video. And that's exactly what you'll get in this section. AudKit SpotiLab Music Converter allows you to easily download Spotify songs locally with or without Premium. Then it couldn't be easier to get Spotify on DJI Fly.
Step 1 Add Spotify songs to AudKit Spotify Music Converter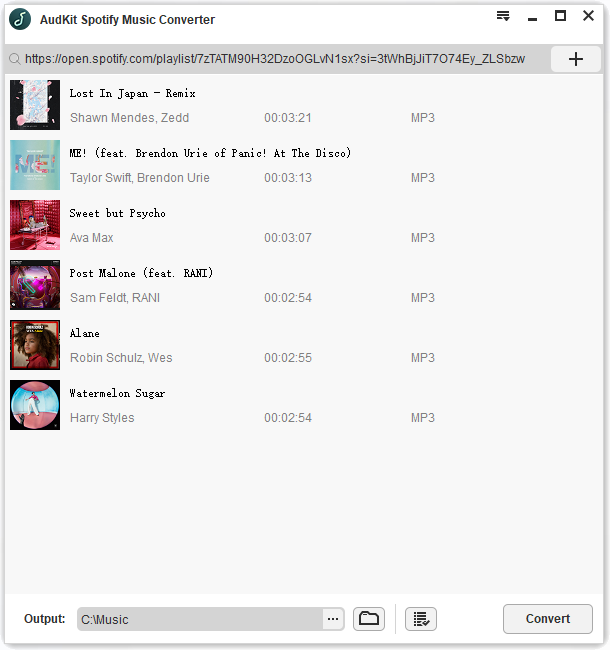 First and foremost, you must download and install AudKit SpotiLab Music Converter on your PC. Once installed, launch the tool and navigate to the song, playlist, or album you wish to convert on the Spotify app. Right-click on it and copy the track's link. Then paste the link in the URL search field and click the + button.
Step 2 Customize Spotify audio output for DJI Fly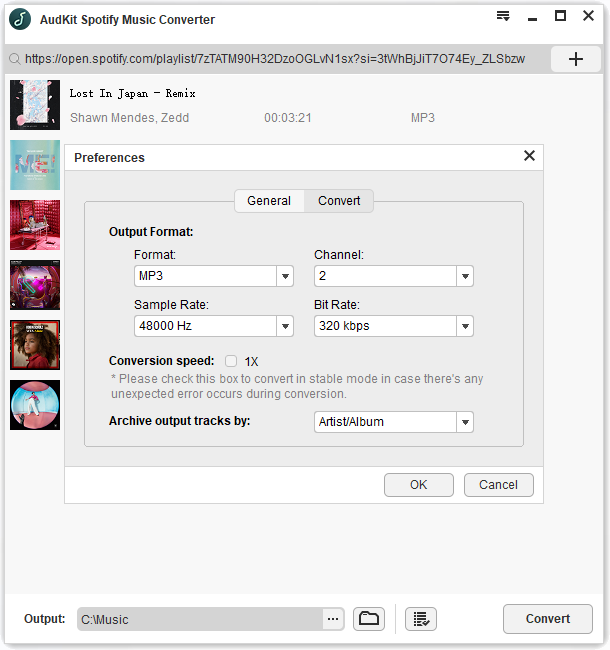 Click on the Menu from the top and choose Preferences. Go to the Convert tab and customize the output settings. Here, it is recommended that you customize the output format of your Spotify music to MP3 for better compatibility with the DJI Fly.
Step 3 Download Spotify music offline for DJI Fly video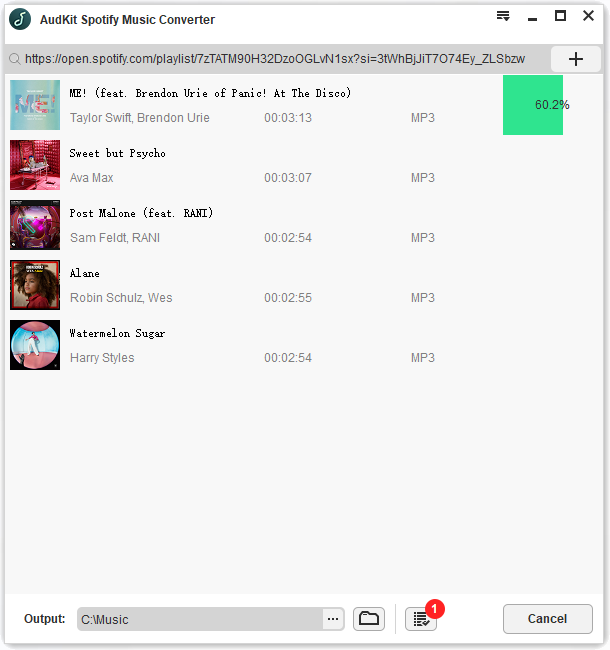 Once done, click on Convert to convert the Spotify songs with AudKit SpotiLab Music Converter. The downloaded Spotify songs will be automatically saved to the target folder on your computer. This way, you're ready to add Spotify music to video and you can start transferring Spotify music to the DJI Fly freely.
How to Import Spotify to DJI Video
Step 1: Transfer the Spotify music files you downloaded with the AudKit SpotiLab Music Converter to your iPhone or Android phone using a USB connection. On your iPhone or Android device, launch the DJI Fly app.
Step 2: Tap Album and then the Create button. Then, pick Pro and add a drone-captured video.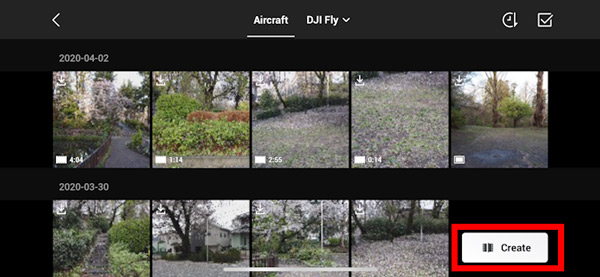 Step 3: Navigate to your phone's Spotify files, choose the Spotify MP3 song you just uploaded, and tap More. Now, touch Open in another App and choose More, then pick the DJI Fly to add Spotify to it.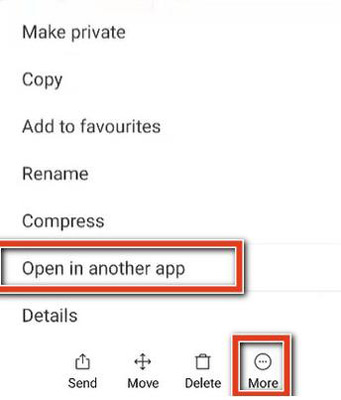 ---
Part 3. FAQs about Adding Spotify to DJI Fly
Q1. Does DJI Fly Work with Spotify?
No, DJI Fly cannot use music from Spotify, which is stored in an encrypted OGG format and can only be used within the Spotify app. You also cannot import downloaded Spotify songs into other unlicensed apps. However, you can use AudKit SpotiLab Music Converter to download and convert Spotify music for free use with DJI Fly.
Q2. How to Add Spotify to DJI Fly Video?
Since you cannot play Spotify music without the Spotify app, you need to first download and convert it using the AudKit SpotiLab Music Converter. Then it's able to import Spotify to DJI Fly video with ease. You can find out the detailed guide in part 2.
Q3. How to Edit Videos on DJI Fly App with Spotify Music?
Open the DJI Fly app and click Create at the bottom right of the interface to enter the editor. After adding Spotify music as background music, you can use the templates or the professional mode to edit the video with effects such as trimming, splitting, rotating, transitions, subtitles, etc.
---
Conclusion
This article explains how to add Spotify music to DJI Fly videos with the aid of AudKit SpotiLab Music Converter. Whether you are a videographer or a content creator, you can create unique DJI videos with Spotify music from now on.
---