Explicit content may be found in almost every medium of the entertainment business, including Spotify. Spotify is a widely popular music streaming service that allows users to listen to a vast library of songs on various devices. Songs with sexually explicit lyrics and podcasts with explicit material may be found on the service. However, some users may prefer to avoid explicit content in their music and want to look for the answer to the question "does Spotify have clean versions of songs".
Fortunately, turning off explicit content on Spotify and customizing the explicit content filter to fit your specific preferences is easy. But if you're unaware of how to turn off Spotify explicit content, don't worry. In this article, you'll discover the optimal ways to block explicit content on Spotify. Let's get into the details!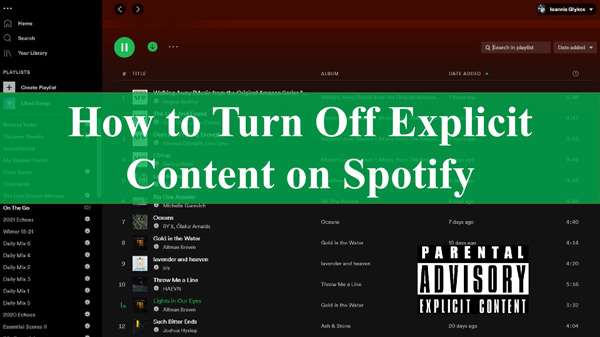 ---
Part 1. What Is Spotify Explicit Content?
On Spotify, explicit content may not be suitable for all audiences due to language or themes that some may find offensive. This content is labeled as "explicit" on the platform and is generally identified by a warning label on the album or song's artwork. Spotify uses the 'E' emblem to identify all explicit music and podcasts.
When you use Spotify and have the "Hide explicit content" feature enabled in your settings, explicit content will be filtered out of your search results and recommendations. You can adjust your content filter settings at any time by going to your account settings and selecting the "Explicit Content" option.
---
Part 2. How to Find Clean Songs on Spotify
You could locate some of the clean versions of the explicit stuff you seek if you search hard enough. You may discover the clean versions by using the Spotify applications on your device. You can also use Spotify Web Player if you cannot access Spotify mobile applications.
To understand how to get clean songs on Spotify, follow the steps below:
Step 1: Open the Spotify app on your mobile or PC.
Step 2: Search for the song you wish to listen to; if it's not marked with an Explicit or E symbol, the song is clean.

Step 3: Alternatively, open the playlist that contains the explicit track. Scroll to the bottom of the playlist.
Step 4: If there is a clean version, the More Releases option will appear in the bottom-right corner. To find the clean version of the album, choose a version not labeled Explicit.
---
Part 3. How to Filter Out Explicit Content on Spotify Desktop/Mobile
Spotify has some adult and explicit tracks, but listeners may quickly disable them in the app's settings. While most of Spotify's material is appropriate for all ages, some may contain words that may be impolite. You may use the Filter option if you don't want Spotify to propose explicit songs. To know how to filter out explicit content on your device, this section has got you covered.
On Desktop
To understand how to turn off explicit content on the Spotify desktop app, follow the steps below:
Step 1: Launch the Spotify app on your desktop device.
Step 2: Click on the arrow next to your name in the upper right corner. Next, select Settings from the menu.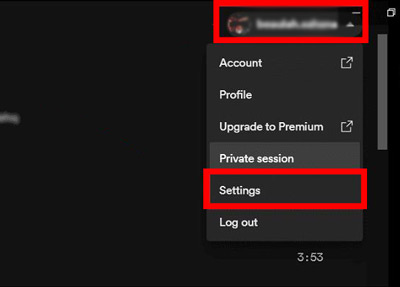 Step 3: After that, scroll down to the Explicit content switch. Toggle the switch to off to block out the explicit content on Spotify.

On Mobile
To understand how to filter out Spotify explicit content, follow the steps below:
Step 1: When using the Spotify app on an iOS or Android, tap the Home tab in the bottom left.
Step 2: You can access the settings by tapping the gear symbol in the top right corner. Select the Explicit Content tab.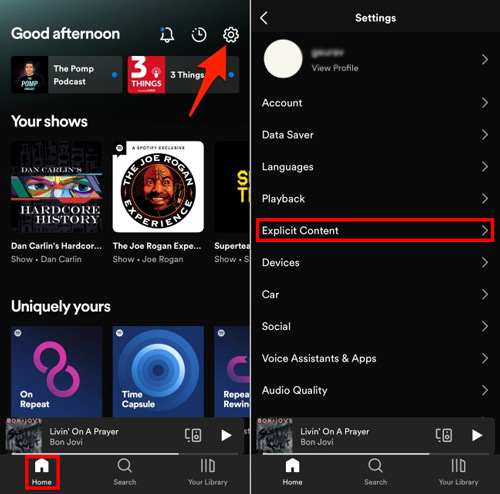 Step 3: Turn off Allow explicit content by clicking the toggle. It will then only play songs without an E label.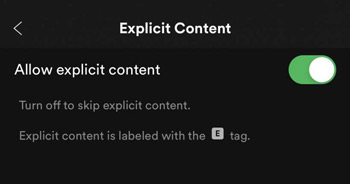 ---
Part 4. How to Block Spotify Explicit Content with Family Accounts
Spotify offers a Premium Family Plan that is specifically designed for families. It allows up to six family members to have their Premium account, with all of the benefits of Spotify Premium, including ad-free listening, offline listening, and access to the entire Spotify library. Since Spotify is not safe from explicit content, parents might need to protect their kids from that type of content. To help them, Spotify allows parents to block explicit content from their family accounts.
To understand how to block explicit content on Spotify with family accounts, follow the steps below:
Step 1: Launch the Spotify app on your mobile or desktop.
Step 2: Navigate to your Family Hub. Select Premium Family from the left-hand menu.
Step 3: Select the member you want to restrict from getting explicit material. Now, toggle the switch next to Explicit content to OFF.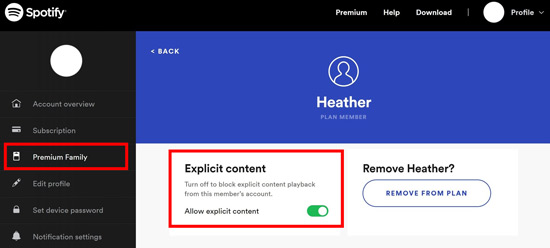 ---
Tips: How to Get Spotify Content Offline
Wondering how to get Spotify content offline? You'll require a third-party professional tool since Spotify does not let you download its tracks and use them outside the app. And although there are multiple Spotify music converters out there, you won't find a better one than AudKit SpotiLab Music Converter!
AudKit SpotiLab Music Converter is a powerful software tool that allows users to download and convert music from Spotify into various audio formats, including MP3, M4A, WAV, and more. One of the key features of AudKit is its ability to maintain the original sound quality of Spotify songs, with support for lossless conversion and high-resolution audio up to 320 kbps. In addition to its impressive sound quality, AudKit also boasts fast conversion speeds, with the ability to convert songs at a rate of up to 5X the normal speed.
In addition to its core functionality, AudKit also includes various advanced features to enhance the user experience. For example, it can preserve the original ID3 tags of Spotify music. It also supports batch conversion, allowing users to convert multiple songs or playlists simultaneously. AudKit SpotiLab Music Converter is a comprehensive and user-friendly tool that allows you to save and listen to Spotify music offline without premium.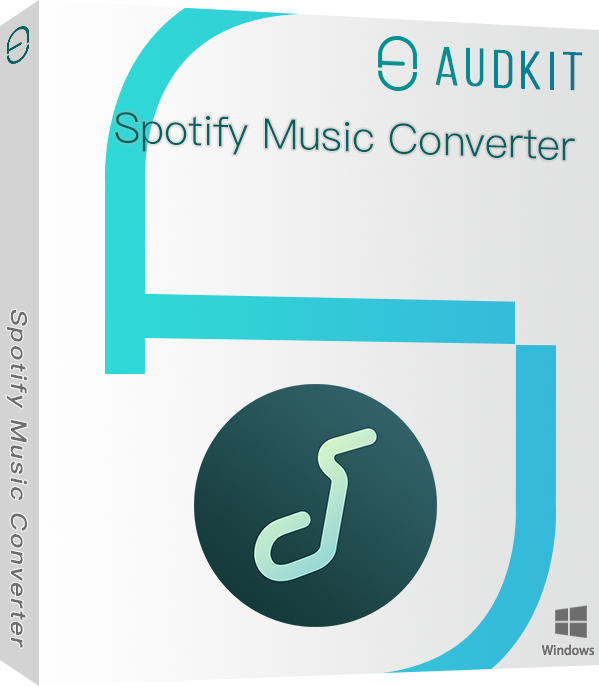 Convert multiple Spotify songs or playlists at once
Simple and user-friendly interface with easy-to-use controls
Customize Spotify output formats into MP3, FLAC, AAC, etc.
Use 5X speed to download Spotify content offline on a wide range of devices
Learn more details to understand how to convert Spotify music offline using AudKit Spotify Music Converter.
Step 1 Add Spotify explicit or clean content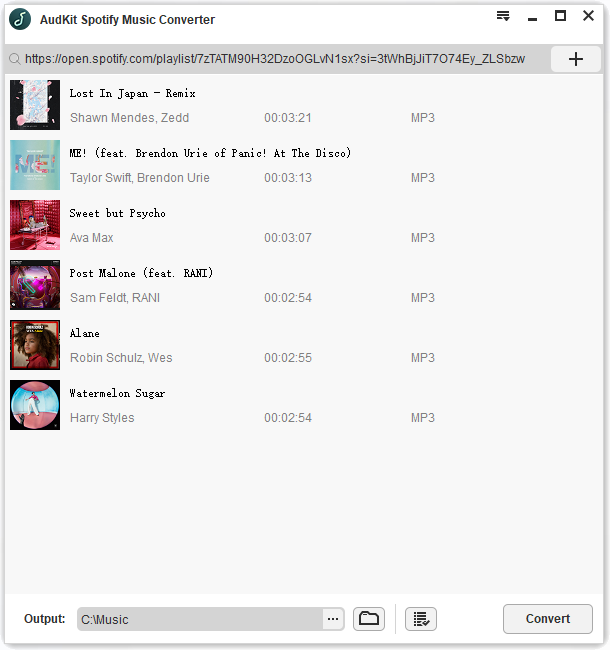 First and foremost, get the AudKit SpotiLab Music Converter on your PC from the official site. After installing, launch the tool. Now, you can find your favorite song or playlist on the Spotify app, click the Share button to copy the song link, paste the copied link to the search tab, and then click on the + icon to import songs on the AudKit downloader.
Note: You can download the explicit or clean content per your choice.
Step 2 Change Spotify music output parameters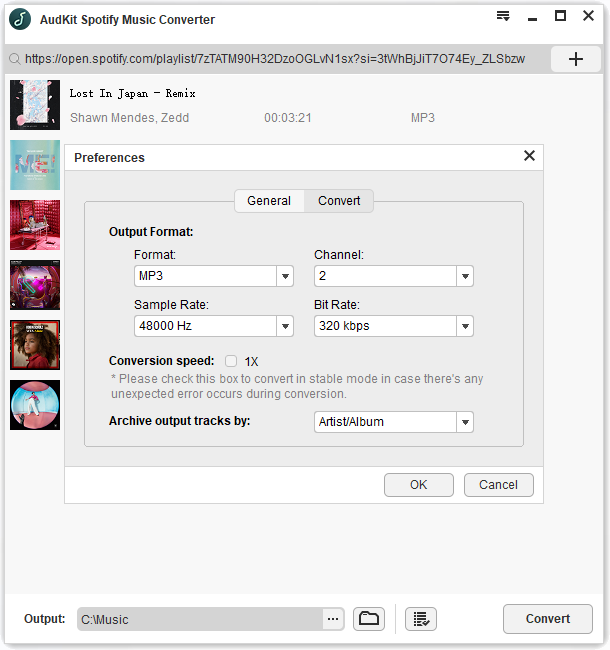 Click on the Menu option from the top and select Preferences. In the Convert section, set Spotify to MP3, WAV, AAC, or other formats you like, and customize other attributes like sample rate, bit rate, channel, etc. Once done with customization, save them by clicking on OK.
Step 3 Begin the Spotify downloading conversion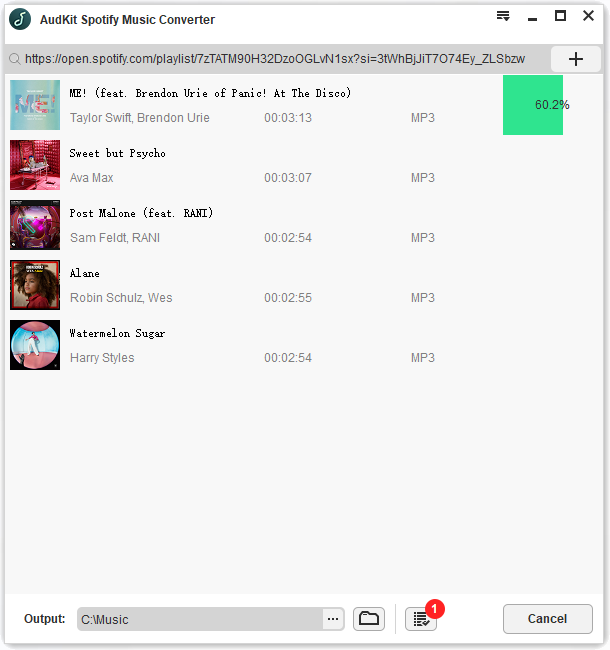 To launch Spotify music downloading, hit the Convert button and the AudKit software will start downloading Spotify songs, playlists, or albums offline. If you spot there is a red dot located at the bottom of the AudKit tool, click on the icon and you can find the downloaded Spotify content easily.
---
Conclusion
Songs with inappropriate words, can you filter out explicit content on Spotify? Actually, turning off explicit content on Spotify is straightforward and can be done in just a few simple steps. We hope this article is helpful in letting you know how to turn off Spotify explicit content with individual or family accounts. Moreover, if you want to download Spotify to your computer offline and listen to it on other media players, there is a tip for you to use AudKit SpotiLab Music Converter. You can learn more and go for it.
---