Listening to music is one of the great joys in life. Whether you are working out, relaxing, or just spending time with friends, music can make any situation better. That's why it's so frustrating when you intend to listen to your favorite tunes but the Spotify app is unable to log in and shows you the error code.
Online music streaming service Spotify is no stranger to errors. In fact, there is a whole list of Spotify error codes that can pop up when you are trying to listen to your favorite Spotify songs. One of the most common error codes is Spotify error 30 showing the message that "A firewall may be blocking Spotify".
More often, the error is caused by a VPN or Proxy that is misconfigured, blocking the Spotify app from establishing a connection to the Spotify servers. If you are getting this Spotify error and cannot seem to fix it, do not worry! We have got you covered. Fixing Spotify error code 30 is not as difficult as it may seem. In most cases, the problem can be fixed with a few simple steps. In this article, we will show you 8 ways to solve this error code on Spotify.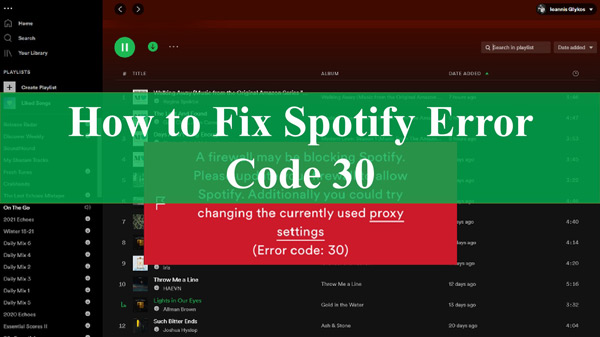 ---
Solution 1. Disable Spotify Proxy Server
Many Spotify users are not aware that Spotify has a built-in proxy server. This proxy server improves your streaming experience by reducing the load on your internet connection. However, in some cases, this proxy server can cause error 30. To disable the Spotify proxy server, follow the steps below.
Step 1: Open the Spotify app on your computer.
Step 2: On the top-left, hit the Account icon and select "Settings" on the drop-down menu.
Step 3: Scroll down to find "Show Advanced Settings".
Step 4: Look for the "Proxy Settings" section and set "Proxy type" to "No Proxy".
Step 5: Save the changes and restart your Spotify app.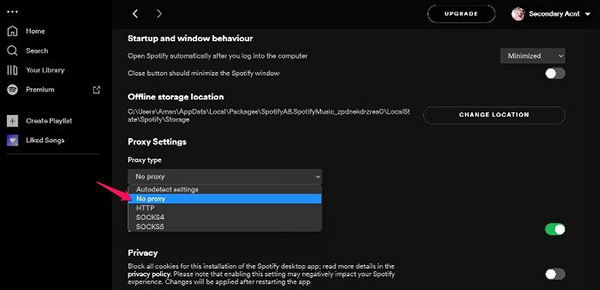 ---
Solution 2. Change the Account Country
If you experience the Spotify error 30 while abroad, it is likely because your account is still registered in your home country. To fix this, you will need to change the country of your Spotify Premium account.
Step 1: Open the Spotify website on your computer and log in to your account.
Step 2: Click on the "Account" tab at the top of the page and select "Edit Profile".
Step 3: Scroll down to the "Country" section and select your current country from the drop-down menu.
Step 4: Click on the "Save Changes" button at the bottom of the page.
Step 5: Try streaming some music and see if the error code 30 on Spotify is fixed.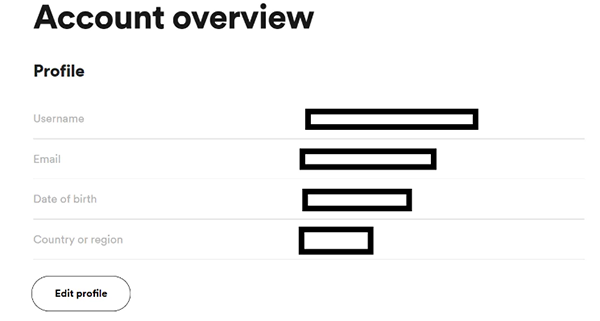 ---
Solution 3. Disable Third-Party VPN
When you wonder why is my Spotify saying an error occurred, it can be due to the VPN you're using. VPN technology has been used as an internet security measure for a while now. A VPN encrypts your internet traffic and routes it through a server in another location. This makes it difficult for anyone to track or spy on your online activity.
While VPNs are great for privacy, they can sometimes cause problems with Spotify. In particular, third-party VPNs are known to cause error 30. If you are using a VPN, try disabling it and see if that fixes the problem.
---
Solution 4. Allow Spotify through Firewall
According to several Spotify users, error 30 can be caused by a firewall blocking Spotify. The Firewall is designed to block dangerous connections and improve security. However, in some cases, it can also block legitimate programs like Spotify, especially if you have a custom firewall configuration.
To fix the error code 30 on Spotify, you will need to add Spotify to the Firewall exceptions list. Here's how to do it:
Step 1: Press the Windows key + R on your keyboard to open the Run dialog box.
Step 2: Type "control firewall.cpl" into the Run dialog box and press Enter.
Step 3: Click the "Allow an app or feature through Windows Firewall" option.
Step 4: Click on the "Change settings" button.
Step 5: Scroll down and find Spotify in the list of programs.
Step 6: Check the boxes next to all the versions of Windows that you use.
Step 7: Click the "OK" button to save your changes.
Step 8: Try streaming some music and see if the error is fixed.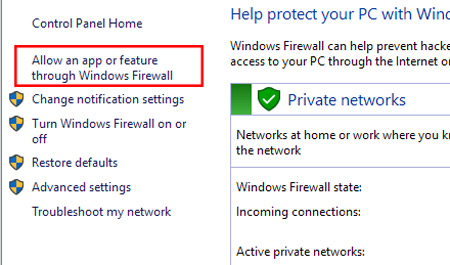 ---
Solution 5. Delete Spotify Entries in Your Host File
This is yet another method that can be used to fix Spotify error 30. It is a much more technical fix and involves editing your host file.
Host files are used by your computer to map hostnames to IP addresses. This is how your computer knows which website to connect to when you type in a URL. Sometimes, the host file can become corrupted, which can cause errors like error code 30 Spotify on Mac and Windows. You, therefore, will need to delete any entries for Spotify in your host file.
Step 1: Press the Windows key + R on your keyboard to open the Run dialog box.
Step 2: Type in "notepad.exe" and right-click on the first result. Choose "Run as administrator".
Step 3: Once it opens, go to "File" and click "Open". Go to the directory: C:\Windows\System32\drivers\etc.
Step 4: Now, on the bottom right corner, select "Text Documents" and change it to "All Files".
Step 5: Select and open hosts.ics.
Step 6: Find and delete any lines that have the following entries:
0.0.0.0 weblb-wg.gslb.spotify.com
0.0.0.0 prod.b.ssl.us-eu.fastlylb.net
Step 7: Save your changes, close Notepad, and restart your computer for the changes to take effect.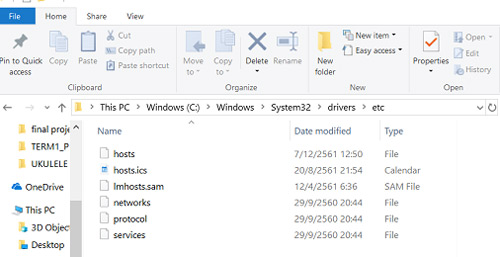 ---
Solution 6. Reinstall Spotify
Sometimes, running a corrupt or outdated version is a common cause of most Spotify errors. If you still encounter the same error after trying all the above methods, then it might be time to uninstall and reinstall Spotify on your computer. Reinstalling allows you to eliminate any potential file corruptions that might be causing the error 30.
To uninstall Spotify on Windows computers, follow these steps:
Step 1: Press the Windows key + R on your keyboard to open the Run dialog box.
Step 2: Type "appwiz.cpl" into the Run dialog box and press Enter. This will open the "Programs and Features" window.
Step 3: Locate Spotify in the list of programs and click on it once to select it.
Step 4: Click on the "Uninstall" button at the top of the window.
Step 5: Follow the on-screen instructions to complete the uninstallation process.
Step 6: Once Spotify has been uninstalled, restart your computer. And then install the latest version of Spotify by going to its website. Make sure you download the correct version for your computer.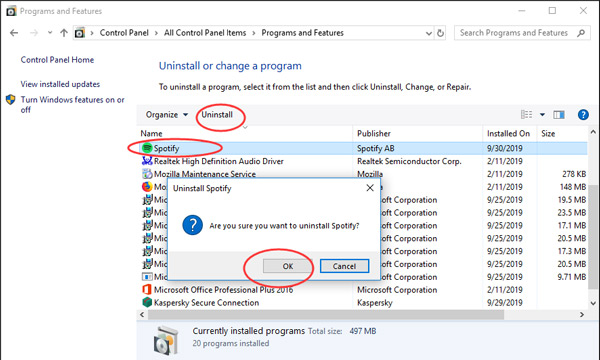 ---
Solution 7. Use the Spotify Web App
If you meet the Spotify error code 30 on phone and computer that separates you from the Spotify app, remember, besides the Spotify app, you can also use the Spotify Web Player, which does not require installation and can be accessed directly from your web browser. To use the Spotify Web Player, simply go to www.spotify.com, log in with your Spotify account, and see if you can stream music.
---
Solution 8. Download Spotify Music for Offline Listening
The providing methods should make you access Spotify again, but somehow they are not once-and-done ways to eliminate the error. Spotify error code 30 has the possibility to occur in the future. What precautions you can take to mitigate the effect? To achieve that, you will need a powerful Spotify music converter like AudKit SpotiLab Music Converter that help users download Spotify songs, playlists, and albums to multiple audio formats including MP3, AAC, WAV, FLAC, M4A, and M4B.
The AudKit Spotify downloader is designed using high-end technology, which guarantees a 5X faster conversion speed with 100% lossless quality for Spotify tracks. The tool also has an ID3 tag editor that helps users edit and customize any Spotify song's metadata like title, album, artist, genre, etc. With all the Spotify saved on your device, you can still listen to Spotify music without logging in.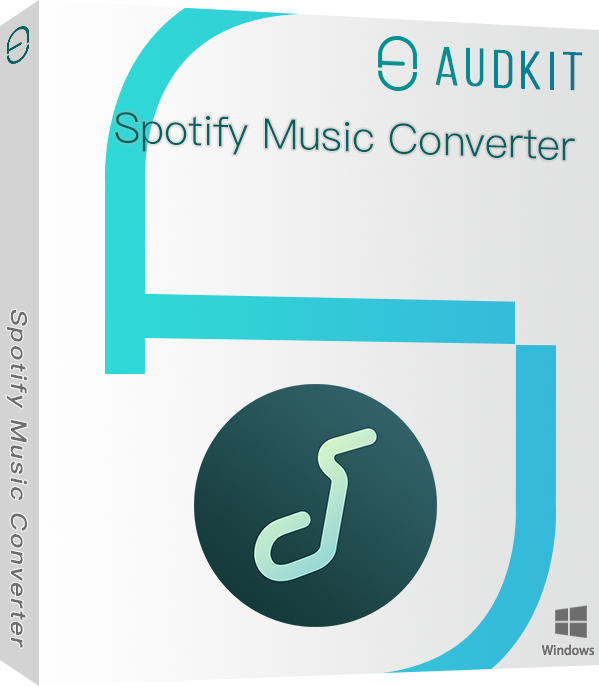 Convert songs from Spotify to MP3, AAC, WAV, etc.
Losslessly download and back up Spotify songs on devices
Keep the original ID3 tags of Spotify after conversion
Access the downloaded Spotify songs anywhere and anytime
How to Download Spotify Music for Offline Listening
Please download and install AudKit SpotiLab Music Converter on your computer (Mac or Windows) before following the steps below to download Spotify playlists.
Step 1 Launch AudKit SpotiLab Music Converter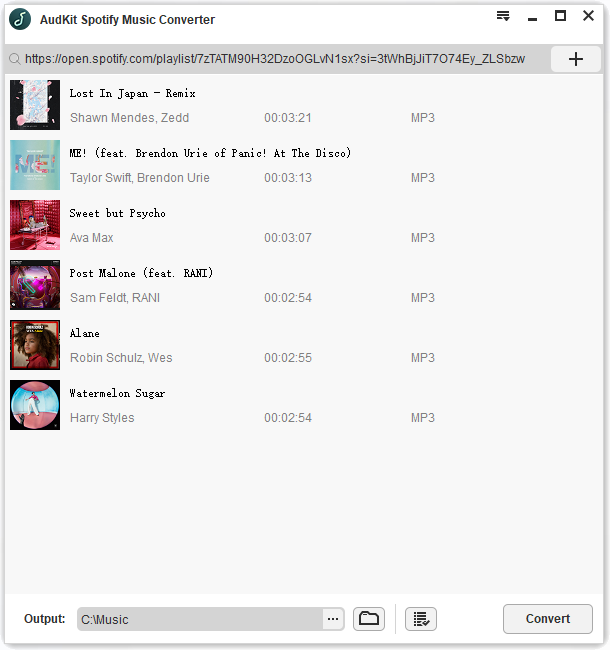 When you launch AudKit Spotify Music Converter, the Spotify app will be opened automatically on the desktop. Then drag and drop any song, album, artist, or playlist from Spotify to AudKit's main interface. Alternatively, you can copy the link of any Spotify song and paste it into AudKit's search bar, and hit the Plus button to import it.
Step 2 Add Spotify playlists to the AudKit converter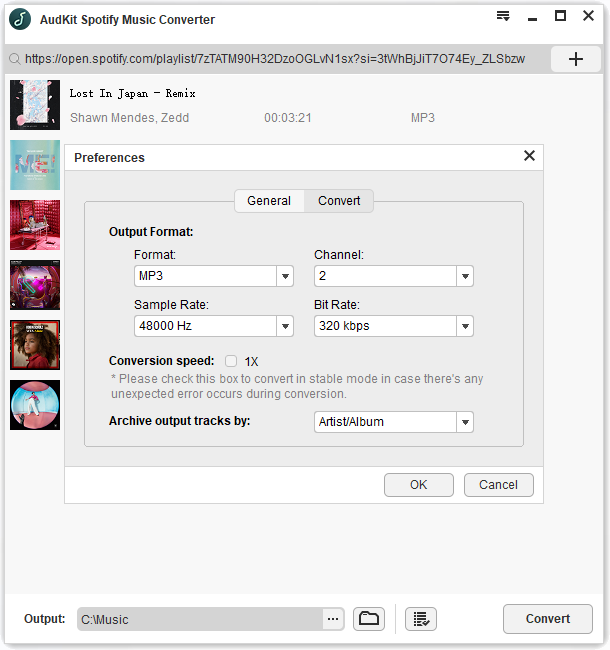 Click the "Menu" icon at the top-right corner and select "Preferences" from the drop-down menu. For Spotify output parameters, you can set the output audio format, sample rate, bit rate, and more under the Convert section.
Step 3 Choose Spotify output format and export Spotify songs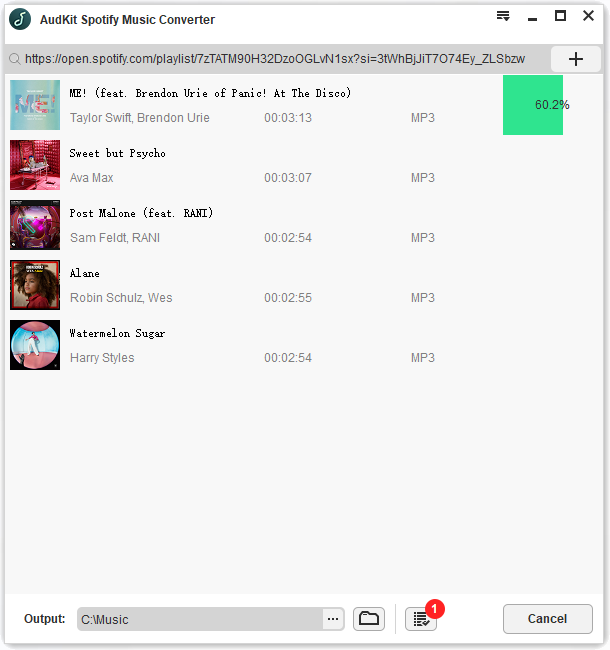 In the last step, click the "Convert" button to launch the conversion to download Spotify songs for offline listening. Once the conversion process is complete, you can open the Converted list to find the converted Spotify files on the local disk on your computer. Those Spotify music files are still available even when you encounter the Spotify error code 30 because they can be streamed out of the Spotify app.
---
Conclusion
Spotify error 30 can be annoying and prevent you from streaming Spotify music. If you're looking for the question of "how do I fix error 30 on Spotify", here's the full guide. By following the solutions in this article, you can fix the problem easily and continue enjoying your tracks from Spotify.
Also, do not forget to make a backup after you log into Spotify. The Spotify downloader, AudKit SpotiLab Music Converter will help you download your favorite Spotify songs and store them on your device for offline playback, which can enable you to stream without the Spotify app.
---