Toniebox has become a well-liked option for parents searching to expose their children to music, storytelling, and other entertainment. It is a one-of-a-kind audio player that does not need a screen since it plays audio material using "Tonies", which are miniature figurines that depict various characters or tales.
Although Toniebox comes with a wide selection of pre-loaded music, many parents are curious whether they may utilize their preferred streaming services, such as Spotify, to increase their audio collection using the device. This article will address the question, "Is Toniebox Spotify compatible?" and provide step-by-step instructions on how to download and add content from Spotify to Toniebox for offline playback. So, no more hassle, let's take a look.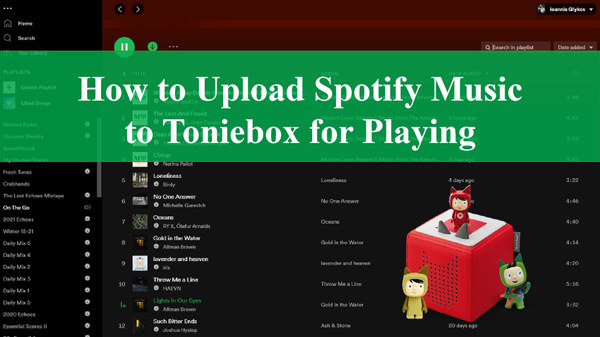 ---
Part 1. Does Toniebox Support Spotify Streaming Service?
Currently, there is no direct compatibility between Toniebox and Spotify's streaming service. Spotify downloads are strictly restricted with special audio formats. On the other hand, Toniebox is compatible with various audio formats, including MP3, M4A, AAC, and WMA. If you want to use content from Spotify on Toniebox, you will first need to download and convert Spotify songs into one of the audio formats that Toniebox accepts.
---
Part 2. How to Make Toniebox Spotify Work: Essential Tool
To acquire music from Spotify and convert it into a format that can be played on Toniebox, we recommend using the AudKit SpotiLab Music Converter. This program is a fantastic choice for converting audio files from Spotify to plain audio formats since it has several helpful features.
AudKit SpotiLab Audio Converter allows you to convert and download exclusive Spotify music to commonly-used audio formats such as MP3, M4A, AAC, FLAC, and WAV. This means you can listen to Spotify songs on all devices including the Toniebox after the conversion. The best part is, The AudKit tool comes with advanced technology that offers high-output sound quality, so you don't have to worry about quality loss.
In addition, you will be able to make use of the ID3 tags that were originally attached to the Spotify files. That's not all, AudKit SpotiLab Music Converter provides a 5X conversion speed and can download Spotify songs, playlists, and albums. Moreover, it helps you save time and effort by allowing you to download 100+ files at once.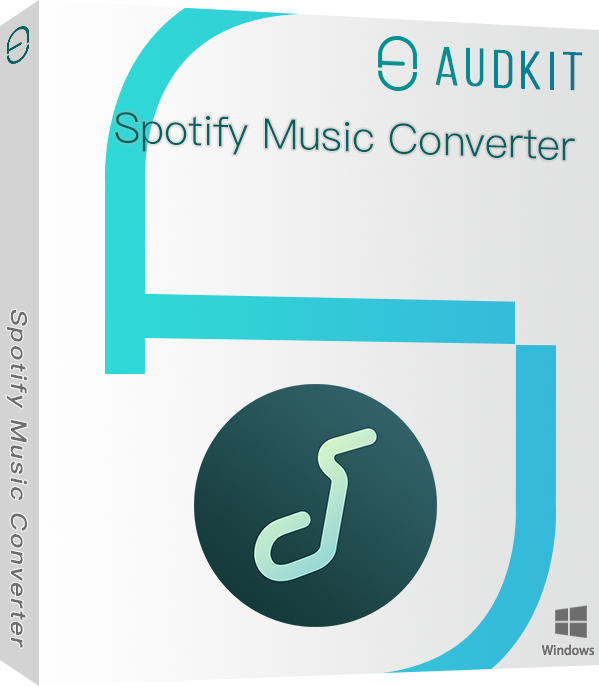 Download a variety of content from Spotify (more than 80 million)
Convert tracks from Spotify to different audio formats like MP3, AAC
No sound quality and metadata loss during the conversion
Provides a rate of Spotify conversion 5X times greater than average
Follow these steps to download music from Spotify to computer for Toniebox:
Step 1 Set up AudKit Spotify Music Converter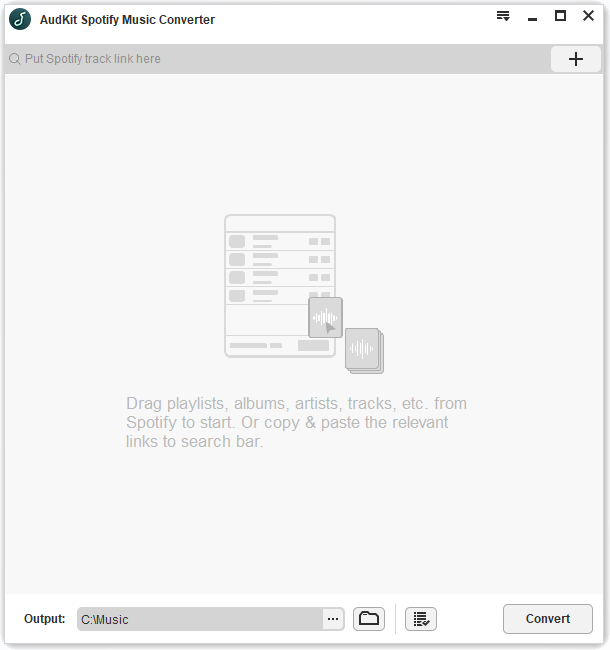 Click the big "Download" button in the feature box to download the corresponding AudKit Spotify Music Converter which then will help you convert any content from Spotify. Next, log into your Spotify account and register the AudKit app to get the full conversion.
Step 2 Add music from Spotify to AudKit software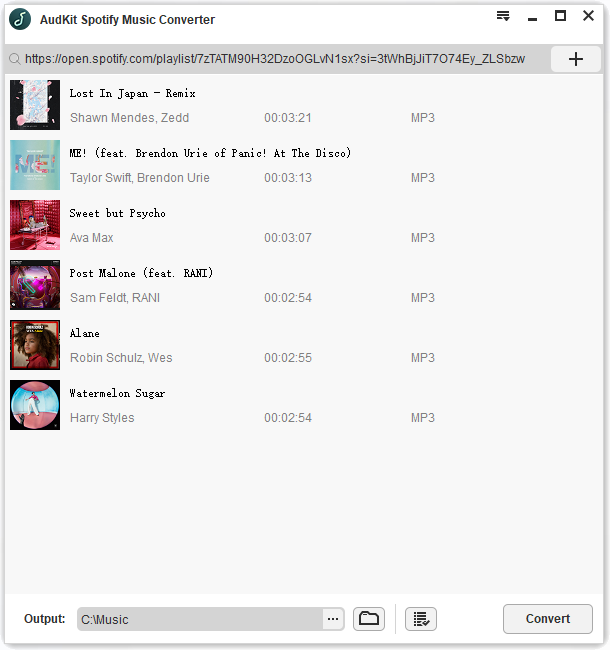 Now, you need to search through Spotify's collection to locate the songs or playlists you want to download. Then right-click the selected songs and tap the Share > Copy link options. After that, head to the AudKit Spotify Music Converter, paste the link in its search bar, and press + to load all files. Alternatively, you can simply drag and drop the Spotify tracks into the AudKit app.
Step 3 Choose Spotify audio parameters for Toniebox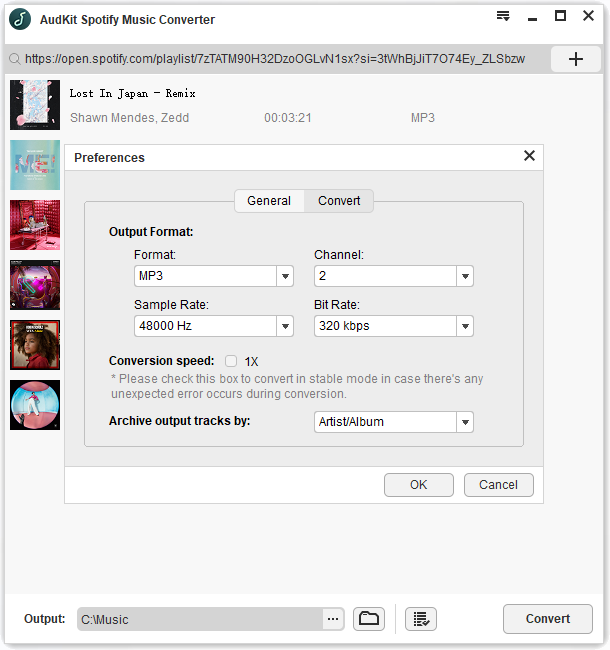 Open the drop-down list by tapping the AudKit menu, select Preferences from it, and head to the Convert section in the new window, from which you can customize Spotify parameters, for instance, changing Spotify format to MP3, resetting bit rate and sample rate to get high quality, and more. Hit the OK button to set these settings as default.
Step 4 Get Spotify as MP3 files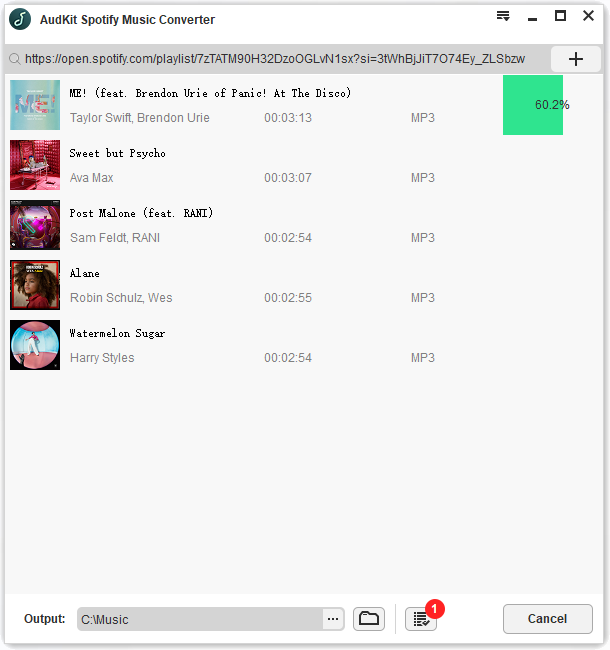 To get started with the converting process, choose the Convert button that is located on the toolbar. The AudKit Spotify Music Converter will download songs from Spotify to the audio format you've set. When the conversion process has been finished, the files you downloaded will be stored on your computer. You then will be able to listen to Spotify on multiple devices, including Toniebox.
---
Part 3. How to Add Spotify to Toniebox for Playing
After downloading and converting the material from Spotify, you may submit the local files to Toniebox using the Mytonies App or my.tonies.com. Here is the procedure for Toniebox Spotify syncing.
Via the Use of the mytonies App:
Step 1: Transfer Spotify to Android or iPhone using a USB cable. Then launch the mytonies app and sign in to your account using your credentials.
Step 2: After tapping the "Add Tonie" button, choose "Create New Tonie" from the menu that appears.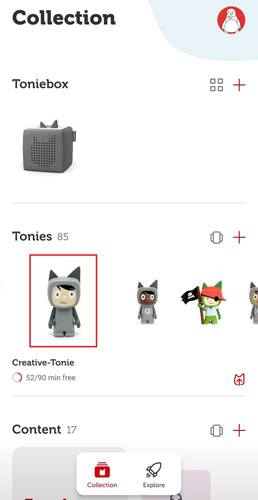 Step 3: Tap "Continue" when you have decided on a name and a picture for your new Tonie.
Step 4: Choose the "Upload" icon on the Creative-Tonie page, then select "Upload a new file" to add your downloaded Spotify music.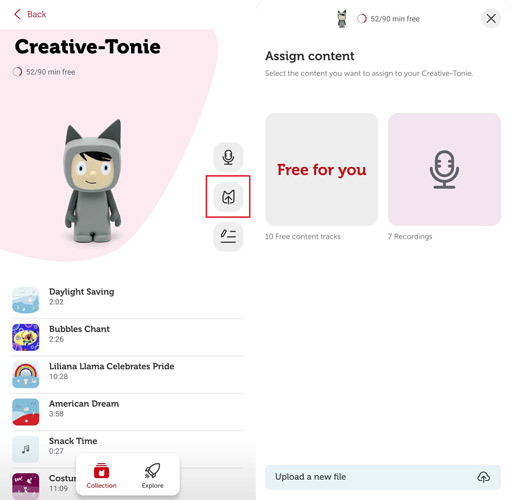 Step 5: When the files have been uploaded, you may assign them to various audio markers on your Tonie before saving your adjustments.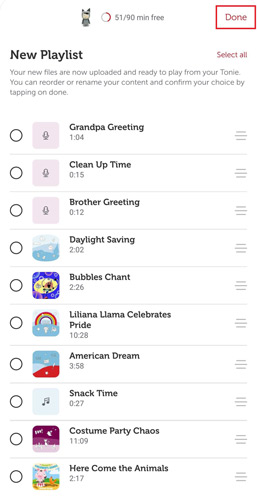 Via the Use of my.tonies.com:
Step 1: On your computer, you may access your account by logging in at my.tonies.com.
Step 2: Choose the Tonie you wish to add Spotify material to by clicking on "Creative-Tonies".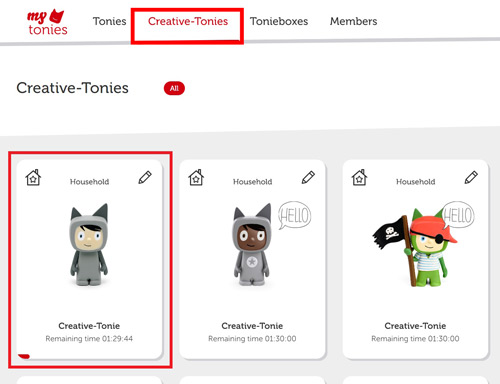 Step 3: Press on the upload arrow icon from the top-right and next choose the "Upload" option.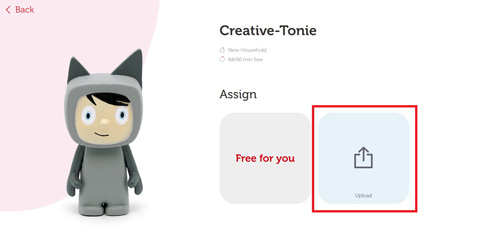 Step 4: To add Spotify audio files to your Tonie, you can drag and drop them or use the "Browse File" option to import the Toniebox Spotify playlist.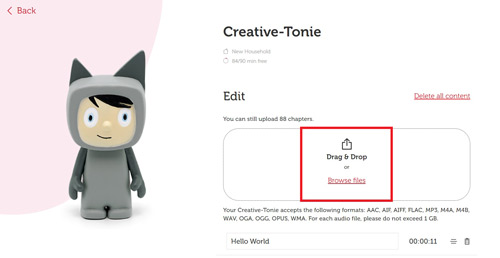 Step 5: When the files have been uploaded, assign them to the various audio markers on your Tonie and save your adjustments by clicking "Save Content".

Note: You need to sync the added Spotify music to Toniebox by pinching one of the Toniebox's ears for about three seconds until the LED blinks blue.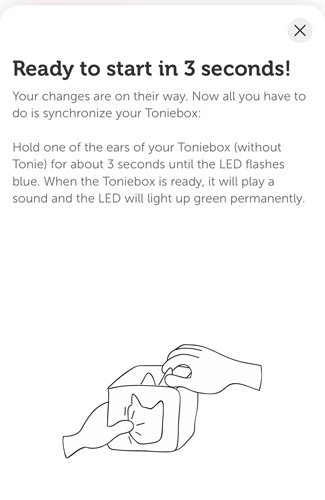 ---
Part 4. Conclusion
All in all, Toniebox does not provide direct support for the Spotify streaming service; nevertheless, it is possible to enjoy Spotify music on Toniebox by downloading it with the help of the AudKit SpotiLab Audio Converter. The process of converting music from Spotify into a format that can be played on Toniebox is made simple and quick by the AudKit tool, which comes packed with various useful features.
By uploading Spotify to Toniebox via the mytonies app and my.tonies.com, you will be able to increase the size of your audio collection and give your children even more entertaining and thought-provoking stuff for them to enjoy on their Toniebox.
---