"Hello, guys! I am here to take some suggestions about an issue. I am using Kenwood car stereo, which plays Spotify music via Spotify Connect or Bluetooth. I connected my Spotify account to my Kenwood Headunit, but it displays "No connection". I tried to solve the issue but in vain. Can you give me some useful solutions to fix the problem of Kenwood Spotify not connecting?"
Don't worry, many users also report this problem. We are here to help you out. This article will provide methods for connecting Spotify to Kenwood effectively. Also, you will know the possible methods to solve Kenwood car stereo Spotify not working. Go through the article and solve your Kenwood Spotify issues.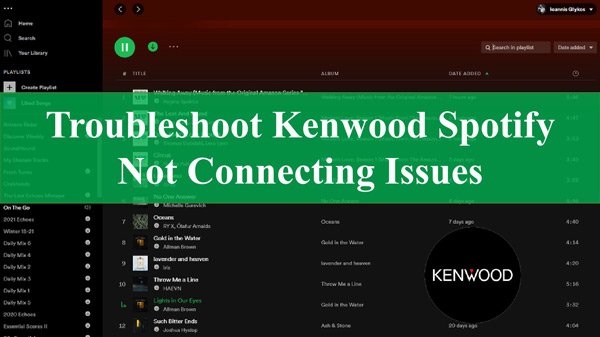 ---
Part 1. How to Connect Spotify to Kenwood
Before solving any issue regarding Spotify and Kenwood, you must know how to get Spotify Kenwood connected. By learning the process, you will be able to solve many problems caused by incorrect connections. You can connect Spotify to Kenwood car stereo with the three following methods.
1. Use Spotify on Kenwood with Spotify Connect
The initial way to play Spotify on Kenwood is to use Spotify Connect. The first thing you need to do is to enable Spotify Connect so that Spotify can find Kenwood as a playable platform. Play a Spotify song and select the Spotify Connect button on the "Now Playing" screen. It will list all the music models, after which you can enjoy Kenwood Spotify by selecting and clicking on the Kenwood model.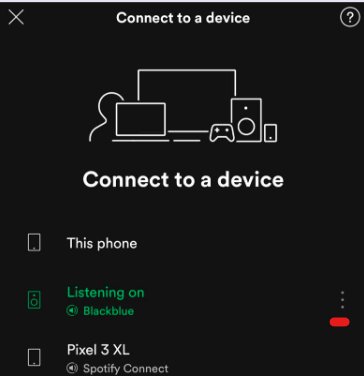 2. Connect Spotify to Kenwood Car Stereo via Bluetooth
The second method is to use Bluetooth as the connection mode. Every Kenwood speaker has the option to play music using Bluetooth. Follow the given steps to connect Spotify to Kenwood directly.
Step 1. Open Settings on your phone and navigate to Bluetooth. Turn on Bluetooth and find the list of available devices.
Step 2. Select the Kenwood model from the list of devices and connect it. After that, you will be able to listen to Spotify music in your Kenwood car stereo.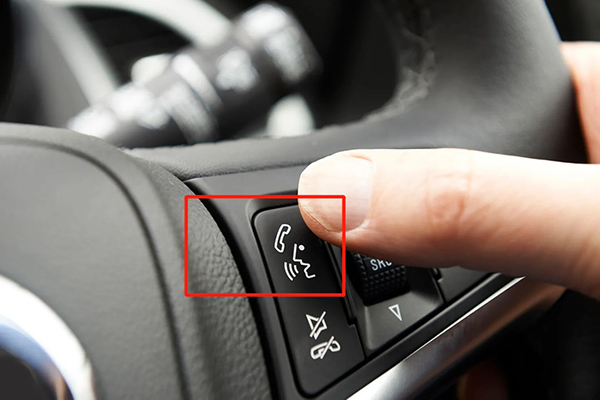 3. Get Kenwood Spotify by Apple Carplay and Android Auto
The last method is about third-party tools like Apple Carplay and Android Auto. These apps help you play Spotify in your car by connecting your smartphone to Kenwood.
For Apple Carplay: iPhone users must pair their phones with Apple Carplay. After the successful connection of Spotify Apple Carplay, then they can play Spotify songs to their paired Apple Carplay application in Kenwood.
For Android Auto: If you are an Android user, you must pair your phone with the Android Auto app to connect Spotify to Kenwood car stereo directly. After that, play a Spotify song on your Android device and listen to streaming Spotify music on your Android Auto app.
---
Part 2. How to Fix Kenwood Spotify Not Connecting – Common Solutions
If you find issues like Kenwood Spotify disconnected or Kenwood Spotify not working, there is no need to worry. You can try the following possible and useful solutions.
1. Check the Internet Connection
The common solution for the Kenwood car stereo Spotify not connecting issue is to check for your internet connection. If your internet connection is not stable or powerful, Spotify won't connect to Kenwood. Internet connectivity issues will cause Spotify and Kenwood to work improperly.
2. Disconnect and Repair Your Bluetooth
Bluetooth can also cause connection problems between Kenwood and Spotify. You must clear your Bluetooth settings and unpair it with your phone to resolve the issue. Then connect it to your phone and you can easily play Spotify music on Kenwood.
3. Restart Your iPhone or Android Phone
Software problems or small glitches sometimes cause issues like Kenwood Spotify not working. Restarting your device will work, and you can easily connect Spotify to Kenwood Car Stereo.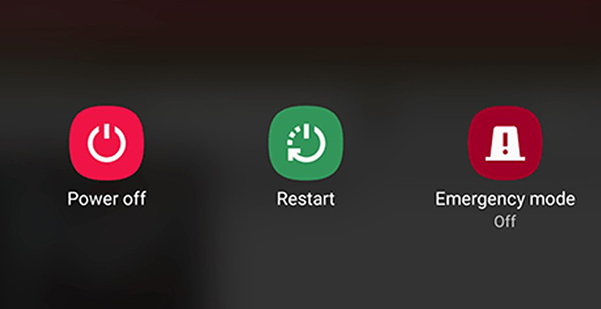 ---
Part 3. How to Solve Kenwood Spotify Not Working – Ultimate Solution
Sometimes, you will face some issues that cannot be solved by the solutions mentioned above. In this case, you have to try the ultimate solution for Kenwood Spotify not working. It is recommended that you use the top AudKit SpotiLab Music Converter to download Spotify music on your Mac or Windows computer locally. Then it's easy to transfer them to your Android or iPhone device to enjoy your favorite Spotify tracks on Kenwood offline via Bluetooth.
AudKit SpotiLab Music Converter downloads Spotify original music to multiple output formats including MP3, AAC, M4A, M4B, WAV and FLAC. In addition, you will find that the Spotify music files you convert retain their original ID3 tags, such as track number, album, artist, title, album cover, and others. With this Spotify solution, you can listen to Spotify on Kenwood car stereo without worrying about the Kenwood Spotify not connecting problem.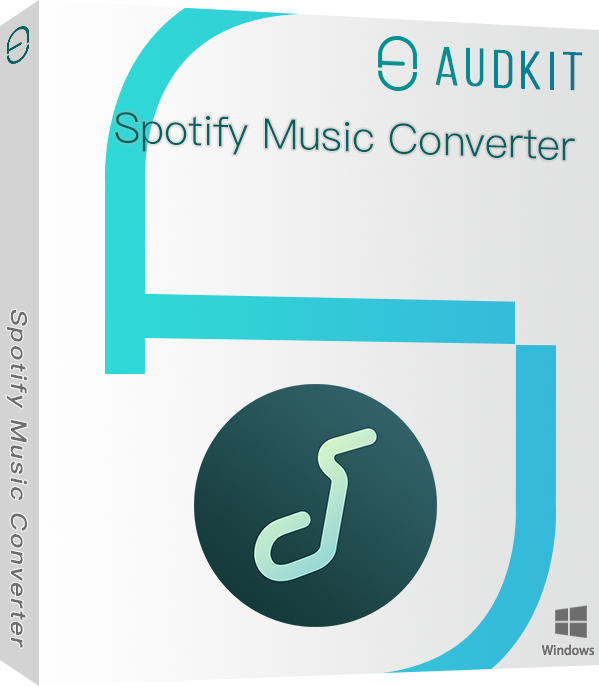 Convert and download Spotify songs to MP3, WAV and FLAC
Download Spotify songs, albums and playlists at up to 5X speed
Play Spotify on Kenwood offline via Bluetooth
Solve the problem of Kenwood Spotify not connecting
How to Solve Kenwood Spotify Not Working
Step 1 Add Spotify Tracks to AudKit SpotiLab Music Converter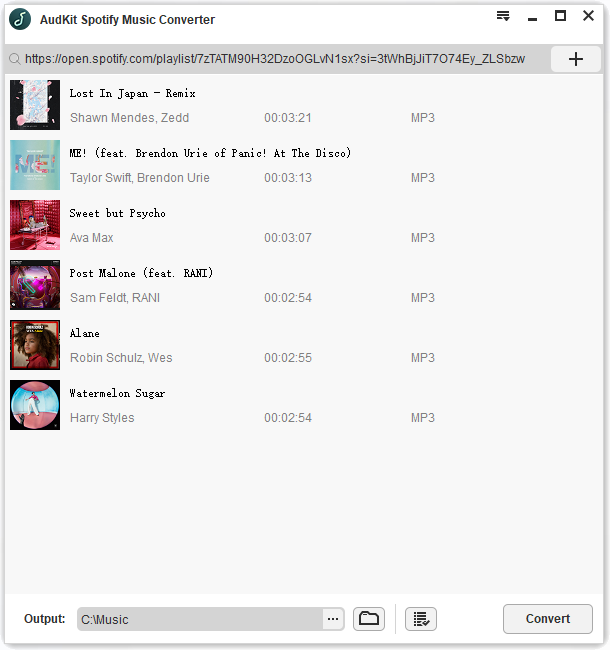 Open the Spotify app and select a song you want to download, click on the "Share" option and copy the link of the song. Now, paste it into the search bar at the top of the converter and click on the "+" icon at the end of the search bar. You can also drag and drop Spotify songs onto the converter directly.
Step 2 Set Spotify Output Preferences for Kenwood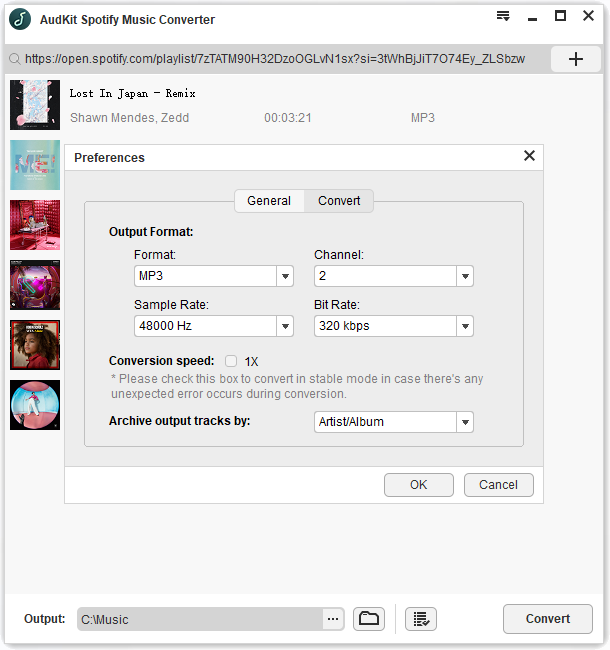 Click the menu icon and then tap on Preferences, then a small settings window will pop up on the screen. You can change parameters such as output format, channel, sample rate, codec and bit rate of Spotify songs. After setting all preferences, click "OK" to confirm.
Step 3 Convert and Download Spotify Music for Kenwood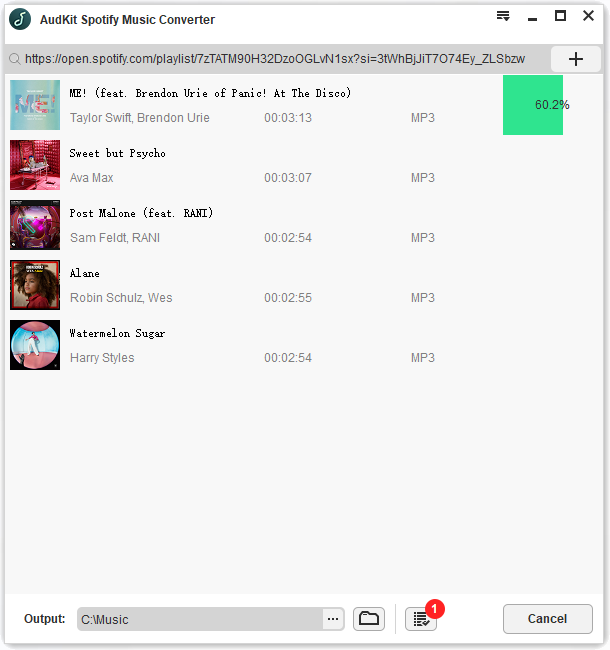 After adding all Spotify songs to the converter and setting output preferences, click the Convert button at the bottom. The converter will start the conversion process and after a few minutes, all the songs you have selected will be downloaded to your device. Once the process is finished, you can find the converted Spotify music from the folder icon.
Step 4 Play Spotify Music on Kenwood Car Stereo
Now that you have downloaded Spotify music to your computer,  you need to transfer them to your phone by using a USB cable. After that, you can always enjoy Spotify on your Kenwood car stereo offline via Bluetooth.
---
Part 4. Conclusion
This article has provided you with common and useful solutions to the Kenwood Spotify not connecting issue. If you encounter this problem, you can fix it in minutes with the solutions mentioned above. Also, if the problem keeps occurring, try AudKit SpotiLab Music Converter to permanently download Spotify songs, which will help you play Spotify on Kenwood without problems.
---