Spotify is one of the best and most incredible music platforms where you can listen to up to 1000 artists and discover a lot more. In addition to music, you can listen to podcasts, create playlists and listen to your favorite shows. What if you are listening to your favorite podcast or music while working out and you face volume issues? Isn't it annoying? The answer is, yes. There are some ways to fix the sound to make Spotify much louder so that you can enjoy listening via it.
In this article, our focus will be on how to make music louder on Spotify. There may arise the need to take a subscription to figure out how to make music louder. It is not difficult, as below are the steps to make Spotify louder in different ways.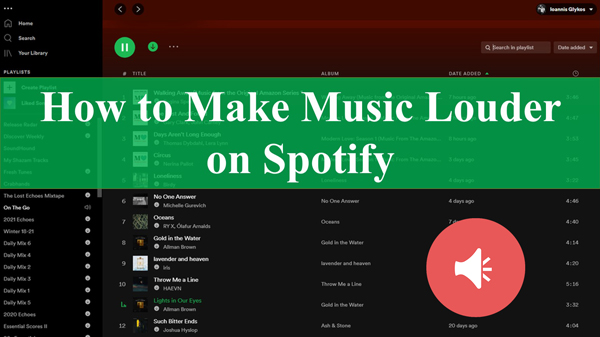 ---
Part 1. How to Get Spotify Louder with Volume Normalizer
The first step is to install Spotify on your Android device or PC and start listening to Spotify music. Here is how to enjoy louder Spotify with Volume Normalizer on a computer and mobile phone.
How to Make Spotify Louder on PC/Mac
Step 1: Once you open Spotify, jump to its home page and click your profile photo.
Step 2: Select Settings from the drop-down menu.
Step 3: Go to audio quality under settings and toggle Normalize volume. From there, select Loud in volume level.
How to Make Spotify Louder on iPhone/Android
Step 1: Go to the homepage of your Spotify app.
Step 2: You will see a cog icon on the top right to normalize volume.
Step 3: Below normalize the volume, there comes a drop-down from where you have to select the volume option. Choose a loud option.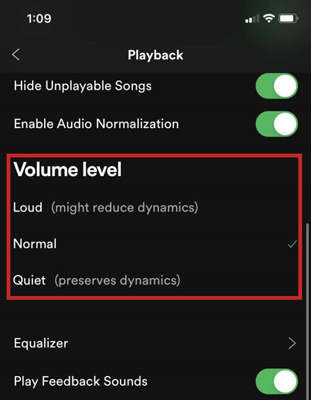 ---
Part 2. How to Make Spotify Louder with Equalizer
You can also solve how to make your Spotify louder problem with an equalizer. An equalizer is an option in Spotify, and by tapping it, you can view the equalizer bar. With this Spotify equalizer, you can adjust audio frequency settings. Here are the detailed steps of using built-in equalizers to make Spotify louder.
Step 1: Open Spotify and navigate to Settings, then to playback.
Step 2: In playback, you'll see an equalizer. Then tap on the Equalizer.
Step 3: Choose those presets that can make the voice louder. Adjust your equalizer's frequency and drag the bass to boost the slider.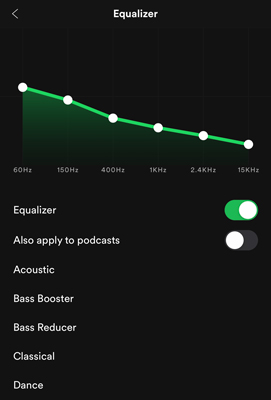 Note: The desktop version of Spotify lacks an equalizer, but we have third-party applications for that.
---
Part 3. How to Make Spotify Louder by Music Quality
When it comes to how to make your music louder on Spotify, you can also improve music quality on Spotify by improving the overall music streaming experience. In the main Spotify settings page under playback, you can change the general music quality while streaming.
Whether the music is streaming or downloading, you can adjust automatic, low, normal, high, or very high. Every adjustment has a rate of 24 kbit/s, high has 160 kbit/s, and every high has a rate of 320 kbit/s.
Here are the steps to adjust the audio quality to make Spotify loud on mobile devices and computers. If you use speakers to notice the audio quality, it would be difficult to notice even a slight change. But, plugging in high-quality earphones will create a huge difference.
For iPhone/Android Devices
Step 1. Open Spotify and navigate to the home page.
Step 2. Go to settings and tap in the right corner.
Step 3. Discover audio settings by tapping on the cog icon in the right corner.
Step 4. Customize audio settings.
Step 5. Set the cellular streaming quality settings to very high to experience the best sound quality.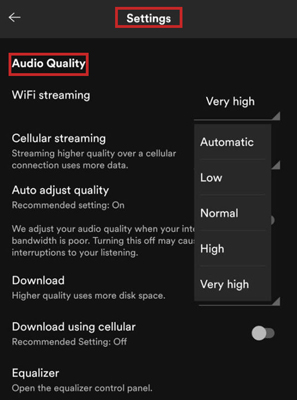 For PC/Mac
Step 1. Go to the settings in your Spotify.
Step 2. You will see a drop-down menu, and from there find audio quality.
Step 3. From the drop-down, select very high.
Step 4. Lastly, enjoy adjusted audio quality on your PC.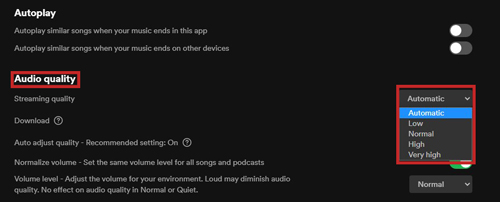 ---
Part 4. How to Make Spotify Louder without Limitation
How to make Spotify music louder? You can make Spotify sound louder on any device without a premium subscription by using the AudKit Spotilab Music Converter. Due to the digital protection, you can enjoy Spotify songs only in the Spotify environment. Therefore, the AudKit Spotilab music converter steps in to solve the issue.
With the help of AudKit Spotilab software, you can easily download Spotify songs from the app and then play them anywhere. Do you understand what it means? It means you don't need to adjust the music using Spotify's Equalizer or Normalizer. You can make Spotify louder freely by adjusting your device volume.
AudKit Spotilab Converter losslessly converts and downloads music, playlists, and sounds, the conversion speed is also 5X more in windows. The Software helps in viewing the Spotify music library in intuitive ID3 tags.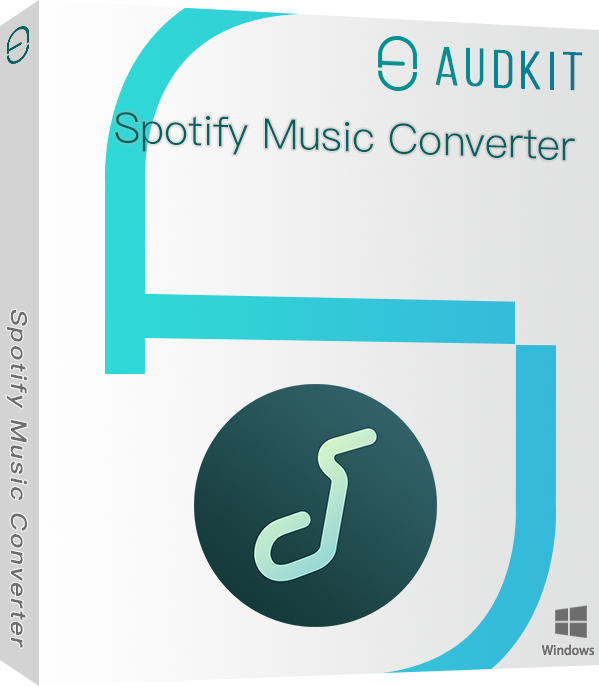 Main Features of AudKit Spotify Music Converter
It removes Spotify ads without a Spotify premium account
It supports playing Spotify on multiple devices
It allows output customization for Spotify songs
It downloads Spotify without the subscription
Here are the steps to download music from the Spotify app using the AudKit Spotilab Converter.
Step 1 Add a Spotify playlist, podcast, or songs to AudKit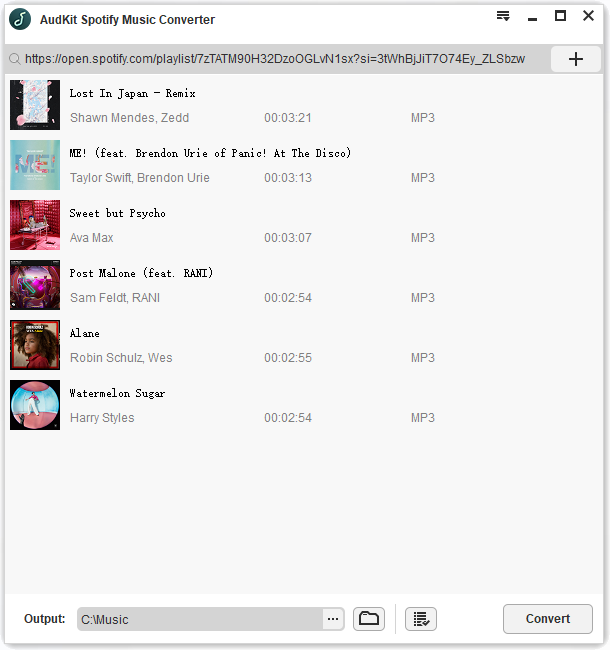 Search the song, right-click it and select Share> Copy Song Link. Paste the song link into the AudKit search bar and click the "+" button. Or you can also drag and drop the songs from Spotify to AudKit.
Step 2 Change output settings for Spotify music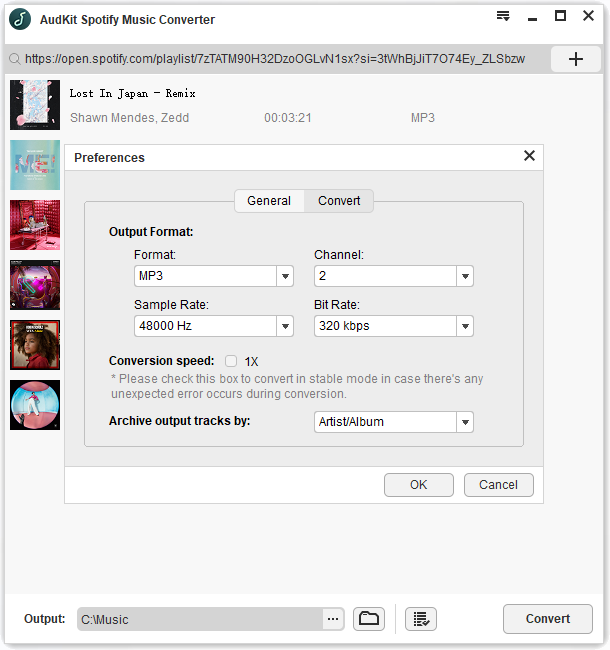 Click on the top-left menu > Preferences > Convert button to set and customize your output preferences accordingly and choose the format among MP3, AAC, M4A, M4B, etc. The running speed of the AudKit is 5X in the Windows operating system. The downloaded music won't lose quality.
Step 3 Download Spotify music for making Spotify louder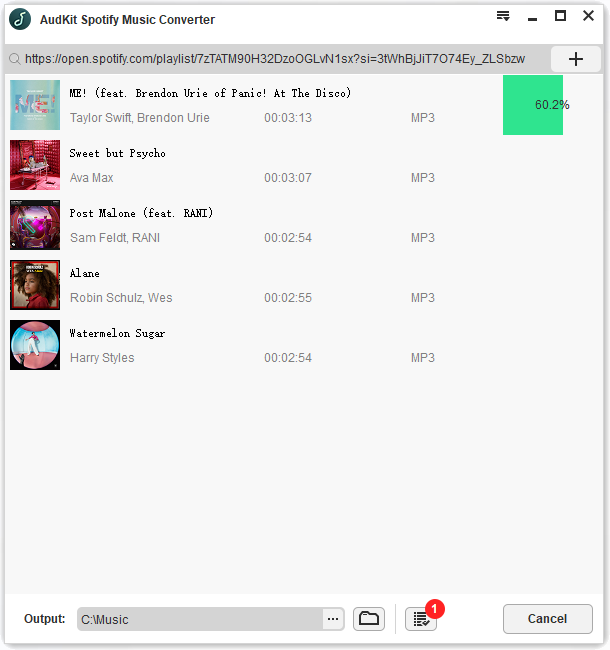 Click the Convert button to download Spotify music. After downloading, you can get Spotify music as your own files. You are able to play the downloaded Spotify music on your local music player. Then you can easily make Spotify louder by adjusting the volume.
---
Part 5. Conclusion
How to make volume louder on Spotify? This article gives you four solutions to make Spotify music louder on your devices. In addition, we showed you the way to get it done without any limitations. AudKit Spotilab Music Converter is an amazing software that helps to download music, and songs from Spotify without losing the quality. After downloading, you are able to listen to Spotify music on any music player. Then you will be able to adjust your Spotify volume freely.