It's Friday night, and after a hard day, you are unwinding in your cozy house. You switch on the speaker to listen to the song that always manages to affect you, and your evening is instantly improved. The perfect music may instantly improve your attitude, and the appropriate home speaker allows you to take advantage of those mood-lifting moments anytime you choose. This is where Bang & Olufsen Beoplay speaker comes in to play.
Spotify now contains almost 70 million ad-free songs in normal and high-fidelity sound quality. If you pay for Spotify Premium, you will be able to stream music in regular sound quality, comparable to iTunes or Apple Music. Unfortunately, Spotify music can only be played on the Spotify app, regardless of whatever subscription plan you choose. Besides, Spotify does not allow you to stream its content to other unauthorized devices. You will only receive a cache file if you download Spotify tracks. As a result, nothing happens when you try to import Spotify songs into your local music player collection. Finding out how to acquire authentic Spotify audio files is the key to coping with it. Continue reading, and I will take you through the process of using Beoplay and Spotify.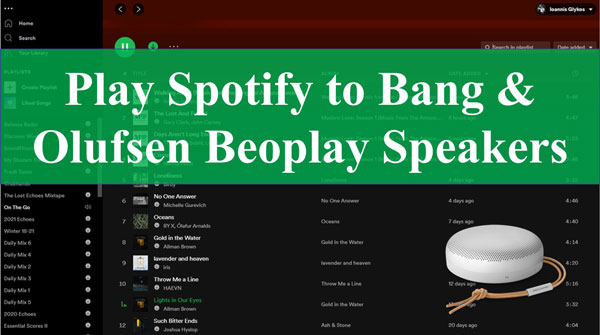 ---
Part 1. Stream Spotify to Bang & Olufsen Speakers – Tool Required
Your local music player on your mobile device can only play tracks in MP3 format. However, Spotify tracks are not in this format because of the copyright restriction on the platform. To play Spotify on your Bang & Olufsen Beoplay speaker, you will need to download Spotify tracks with a special tool and convert it to a readable format for your local music player.
To go about this, I will strongly recommend AudKit Spotify Music Converter. It is the most effective professional tool for downloading and converting Spotify music. It also includes lossless sound quality and ID3 tags and up to 5X when converting Spotify to MP3, AAC, WAV, FLAC, M4A, and M4B conversion, in addition to downloading and format conversion options. After the music files have been downloaded and converted, they may be played on your local music player. Let us now go on the adventure of streaming Spotify to Bang & Olufsen with AudBit Spotify Music Converter.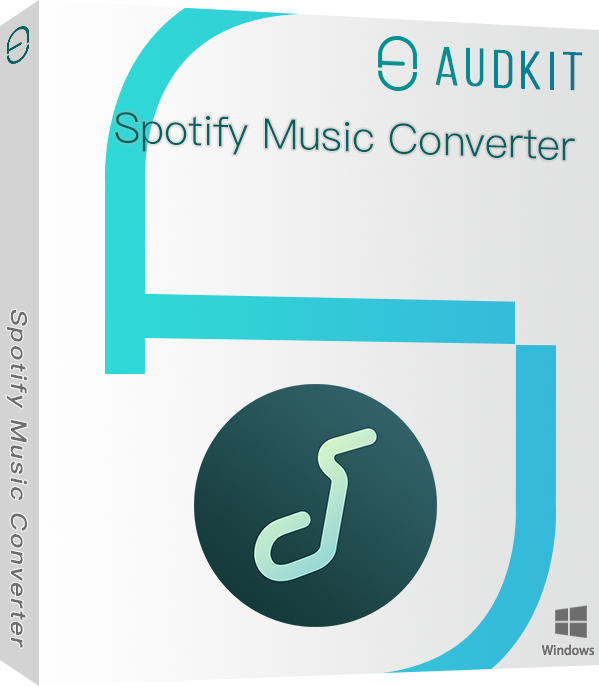 Main Features of AudKit Spotify Music Converter
Download Spotify music to offline stream to Bang & Olufsen Speakers
Run at 5X faster speed efficiently during the batch conversion
Preserves original audio quality and Spotify music ID3 label
Convert Spotify music to MP3, FLAC, and M4B with ease
---
Part 2. How to Play Spotify to Bang & Olufsen Speakers
The steps below will show you how to download and convert Spotify songs to a format that your local music player can read. AudKit Spotify Music Converter works on both Mac and Windows systems, so make sure it is installed on your PC.
Step 1 Add Spotify songs to AudKit software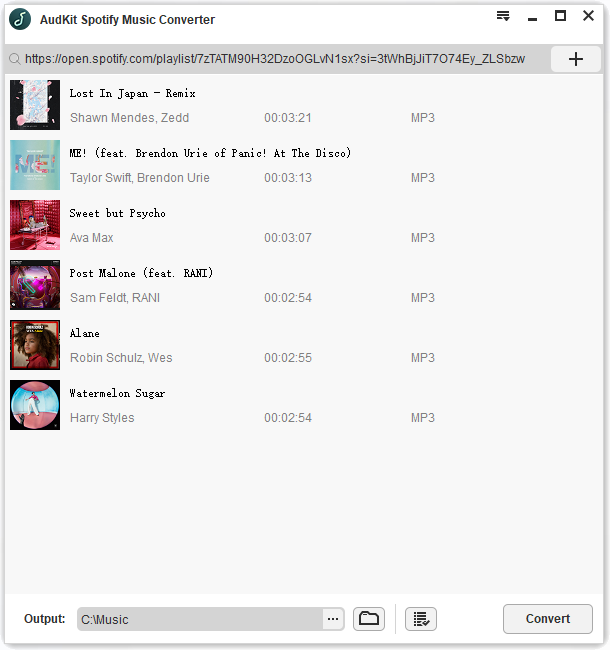 To add music to AudKit Spotify music converter, you can use the Spotify search engine inside the app. You can also drag and drop Spotify tracks to the main window of Audkit from Spotify's original app. Apart from using the search engine inside AudKit, and dragging and dropping, you can copy and paste the track URL from Spotify to the search engine inside AudKit.
After that, click the + sign to add the track on the right-hand bottom side after you find them. You can add as many as possible tracks, as AudKit supports bulk downloading and converting.
Step 2 Configure Spotify output settings for Bang & Olufsen Speakers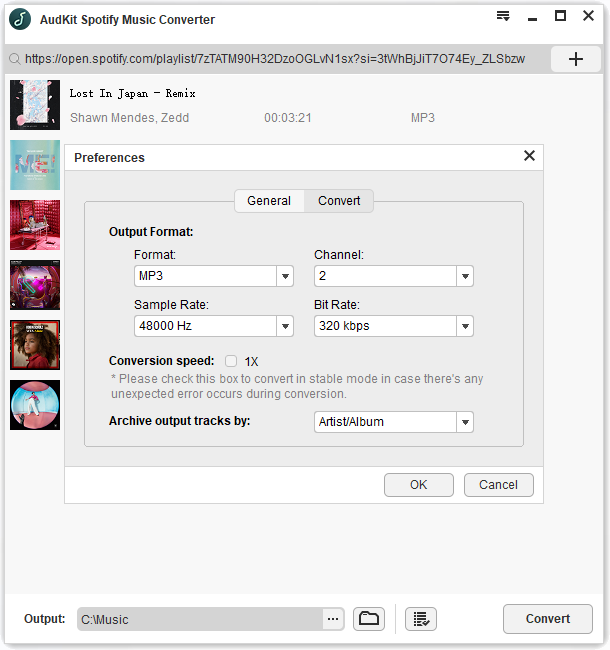 To configure the download, go to Preferences > Convert. You may choose your preferred output format from this option, such as WAV, AAC, MP3, or FLAC. The sampling rate, bit rate, and conversion speed may change.
Step 3 Download Spotify music for Bang & Olufsen Speakers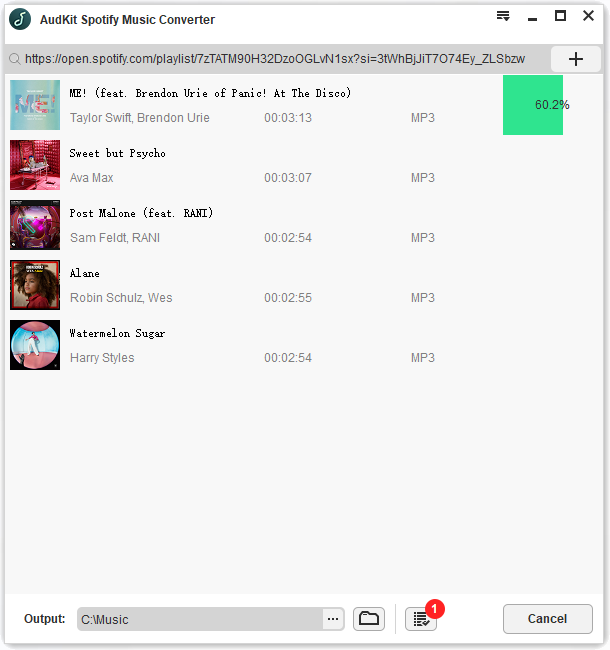 Choose a location for the converted music to be saved. You may either create a new folder or select an existing one. After changing the output settings to your preference, click the 'Convert' button in the bottom-right corner. It initiates the Spotify-to-MP3 conversion process.
You may simply download your favorite Spotify playlists without having to pay for a premium subscription if you use the three techniques explained above.
How to Stream the Converted Spotify Tracks on Bang & Olufsen Speakers
Spotify tracks are now available on your PC for playback on any device of your choosing. To play Spotify on Bang & Olufsen Speakers, you should let Spotify connect for Bang & Olufsen. Follow these steps to use Beoplay with Spotify.
On Andriod
Step 1. Connect your mobile device to the system using a cable.
Step 2. Locate the music in the folder where you downloaded Spotify tracks.
Step 3. Copy and paste the music on your device.
Step 4. Now, you can successfully play Spotify to Bang & Olufsen Speakers using your music player.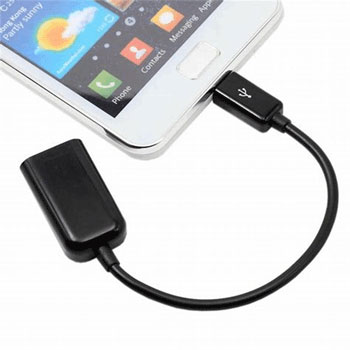 On iOS
Step 1. Open iTunes on your system.
Step 2. Click on "File" in the top right corner.
Step 3. Select "Add folder to library" from the drop-down list.
Step 4. Locate and add the folder where Spotify tracks were downloaded.
Step 5. Sync your iTunes and iOS mobile device.
Step 6. Now, you can successfully play Spotify to Bang & Olufsen using your music player.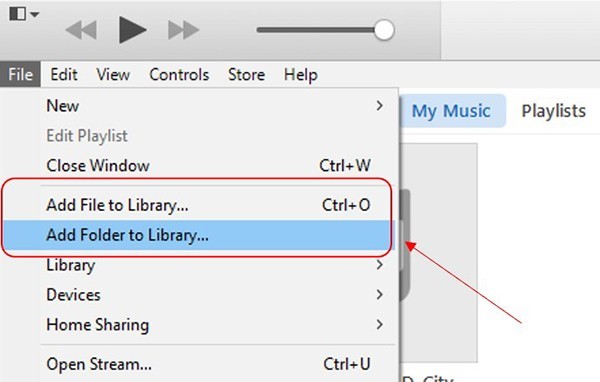 ---
Part 3. Top 3 Bang & Olufsen Speakers Recommendation
Bang & Olufsen makes some of the best looking and best-sounding speakers on the market, Bluetooth and otherwise. There are a couple of ranges within the Bang & Olufsen Play's lineup. Here's a list of the top 3 Bang & Olufsen Speakers.
1. Bang & Olusfen BeoSound A1
This amazing Bluetooth is portable and doozy. It is dependent on only Bluetooth as there is no Wi-Fi or Airplay. It is waterproof, and it supports Alexa voice recognition. To top it all, it can last up to 18 hours of full charge
2. Bang & Olusfen BeoPlay A1
This speaker's sound quality is top-notch, with impressive midrange clear sound that will fill the room. The Beoplay A1 is so portable that it can sit comfortably in a pocket. It also has about 25 hours of playback per charge.
3. Bang & Olusfen BeoPlay A9
This speaker is one of a kind speaker with premium materials. If you want to enjoy music in your room, this is the perfect speaker. This speaker can connect through Airplay, Chromecast, and Bluetooth.
---
Part 4. Comparison of the 4 Bang & Olufsen Speakers
| | | | | |
| --- | --- | --- | --- | --- |
| Qualities/ Smart Speaker | BeoSound A1 | BeoPlay A1 | BeoPlay 50 | BeoSound 1 |
| Dimension | 4.6 x 13.3 x 13.3cm | 4.8. x 13.4 x 4.8cm | 70.1 W x 90.8 H x 41.1 D cm | 32.7 x 16.2 x 16.2cm |
| Power | 60W | 2 x 30W | 480 W | 1 x 40W |
| Bluetooth | 5.1 | 4.2 | 4.2 | 4.1 |
| Battery | 18 hours | 25 hours | In power | 16 hours |
| Where to Buy | Amazon | Amazon | Amazon | Amazon |
---