In the buzzing realm of music enthusiasts in 2023, a variety of tools have popped up to meet the endless craving for Spotify songs. Among them, a new tool has shown up, and it goes by the name Soundloaders Spotify Downloader. Think of it as a champion for music lovers, promising to make it super easy to get Spotify's musical gems.
But with so many options out there, you might be wondering, "Is Soundloaders Spotify Downloader really as awesome as it sounds?" Well, in this guide, we're going to break it down for you. We'll take a close look at what it can do, how well it works, and what it's like to use. So, by the end, you'll know if it's a tool worth having in your music toolkit! Let's dive in already!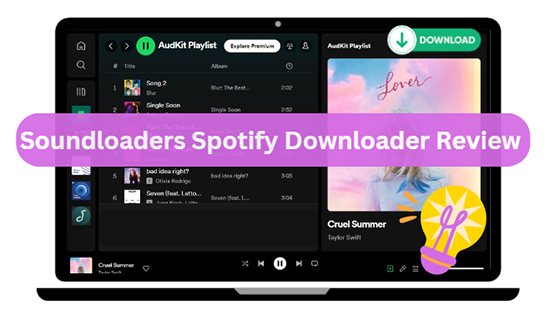 ---
Part 1. Overview of Soundloaders Spotify Downloader
For starters, Soundloaders Spotify Downloader is a versatile software application designed to empower music enthusiasts to download and enjoy their favorite Spotify tracks, playlists, and albums effortlessly. It bridges the vast Spotify library and your personal music collection, allowing you to access high-quality audio content offline. Wait, there's more.
Key Benefits of Soundloaders Spotify Downloader
🔖 Free Downloads – Soundloaders offers a cost-effective solution for acquiring Spotify music, allowing you to download your cherished songs without additional expenses. Say goodbye to subscription fees or per-track charges.
🔖 High-Quality Music – With Soundloaders, you can expect nothing less than top-notch audio quality. It ensures that your downloaded tracks maintain the original fidelity and clarity, preserving the essence of your favorite music.
🔖 Different Device Compatibility – This downloader is versatile in its compatibility. It seamlessly integrates with various devices, enabling you to enjoy downloaded Spotify content on your smartphone, tablet, or any other preferred playback device.
🔖 No Account Required – Say farewell to the hassle of creating additional accounts or remembering login credentials. Soundloaders simplifies the process by eliminating the need for a Spotify account, ensuring a hassle-free experience.
🔖 Easy to Use – Soundloaders boasts a user-friendly interface that even novices can navigate effortlessly. You won't need a technical background to utilize its features effectively. Downloading your favorite Spotify tracks is just a few clicks away.
---
Part 2. How to Use Soundloaders to Download Spotify Music for Free
Now that you've learned all about Soundloader's amazing features, it's time to get your hands on it and make the most of it. Unfortunately, it is no longer accessible online, and you must now download the Soundloaders desktop program.
Not sure where to get it and how to use the extraordinary tool? We have you covered! Just follow the method below to utilize this program and download your favorite exclusive Spotify tracks without Premium for the best listening experience.
Step 1: Navigate to the official Soundloaders Spotify Downloader website using your device's web browser.
Step 2: Click the Download button to download and install Soundloaders app on your Windows or Mac computer.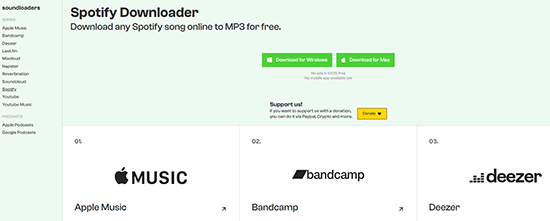 Step 3: To activate Soundloaders Spotify Downloader, launch the app and scroll down to the Spotify area.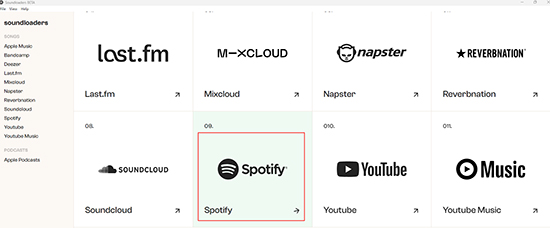 Step 4: Copy and paste the Spotify song URL into the search window to download.
Step 5: The application starts URL processing when you click Search.

Step 6: Then click Download to save your favorite Spotify songs for free. And voila!

---
Part 3. Is Soundloaders Safe and Legal ⚠️
Based on in-depth research and assessments conducted by authoritative security testing websites, the safety of Soundloaders raises some concerns. These websites employ rigorous criteria to evaluate software safety, and unfortunately, Soundloaders has garnered a low trust rating from them.
When considering the legality of Soundloaders, it's important to note that downloading music from Spotify without proper authorization breaches the platform's terms of service. While Soundloaders may offer a convenient way to acquire Spotify content, they operate in a legal gray area.
---
Part 4. Most Recommended Soundloaders Spotify Downloader Alternative
If you're seeking a reliable alternative to Soundloaders Spotify Downloader due to safety concerns, AudKit Spotify Music Converter emerges as a versatile and feature-packed solution. Out of all other audio converters, AudKit Spotify Music Converter stands out with its impressive capabilities.
For the best part, AudKit Spotify Music Converter offers you the freedom to choose from a wide range of output formats, including MP3, AAC, WAV, FLAC, and more. Plus, it boasts a lossless conversion process that ensures your downloaded tracks retain their original audio fidelity, allowing you to savor every note and nuance as the artist intended. Furthermore, with a 5X rapid conversion speed, this converter swiftly transforms your Spotify playlists into downloadable files.
AudKit Spotify Music Converter goes the extra mile by retaining all essential ID3 tags from the original Spotify tracks. This includes details such as artist name, album title, track number, and cover art, ensuring a seamless and organized music library.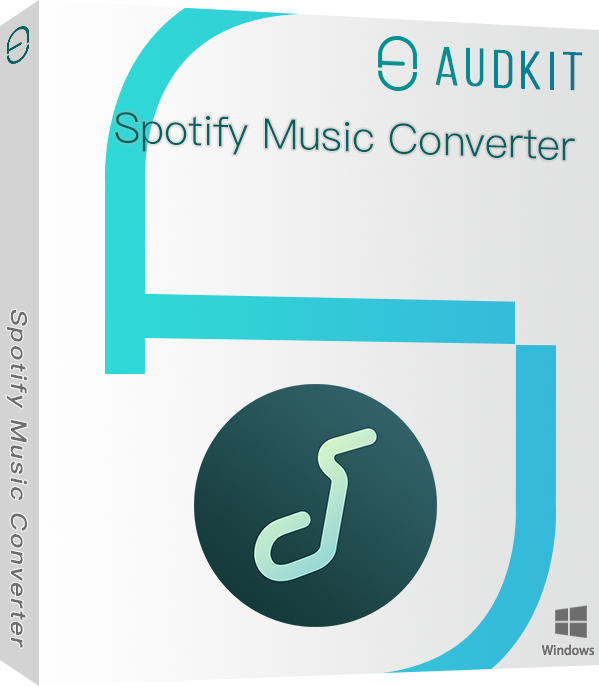 Main Features of AudKit Spotify Music Converter
Download music, playlists, albums, podcasts from Spotify locally
Convert Spotify into multiple formats such as MP3, M4A, FLAC, WAV, etc.
Lightning-fast 5X speed for efficient downloads.
Organized and completed music library with original ID3 tags
How to Use AudKit Spotify Music Converter to Download Spotify Songs Free
To inspire you, here is a quick step-by-step tutorial to use AudKit Spotify Music Converter.
Step 1: Download the AudKit Spotify Music Converter from its official website. Then launch it on your computer to get started. Next, navigate your favourite playlists from the Spotify app and select the music you wish to convert. Then right-click the chosen music and click Share > Copy Music Link. Head to the AudKit interface, and paste the URL into the search field and click the "+" button to import.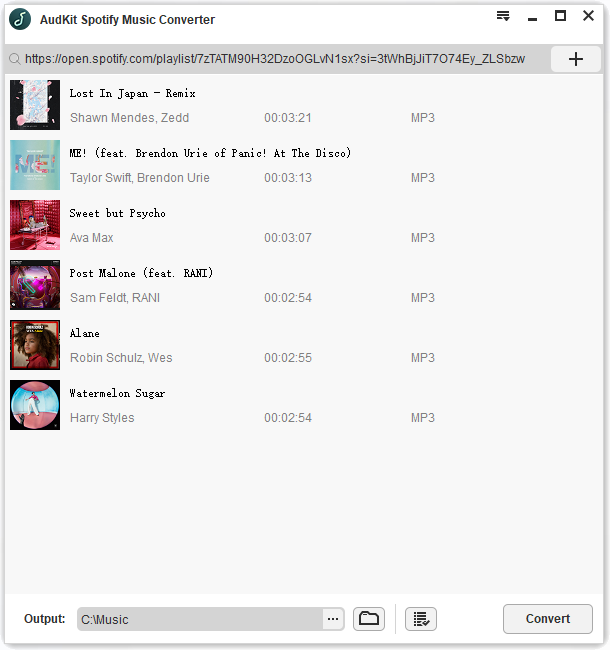 Step 2: Now, go to the Menu > Preferences button on the upper taskbar. On the new window, select the Convert option to change the output format to MP3, AAC, M4A, M4B, FLAC, or WAV. Simultaneously, customize other audio parameters for Spotify music to suit your needs.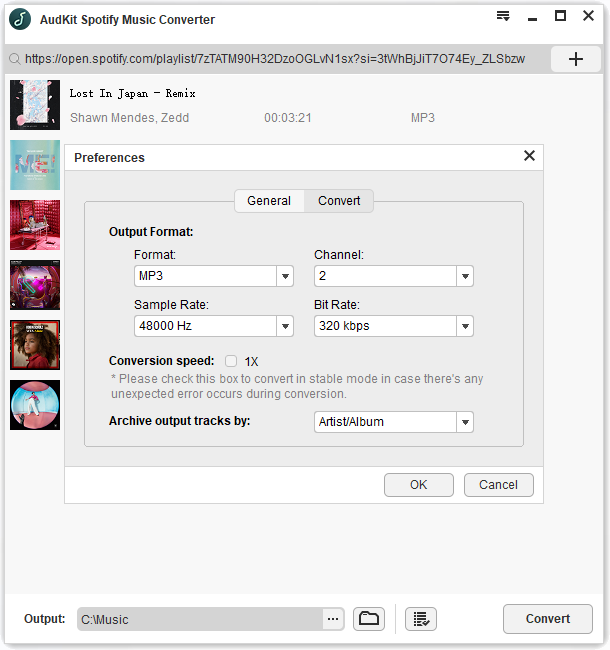 Step 3: In the bottom-right corner, tap the Convert button. Depending on your requirements, the software will begin to download music from Spotify to your computer locally. Once completed, all the downloaded Spotify songs will be stored as MP3 files in the local folder.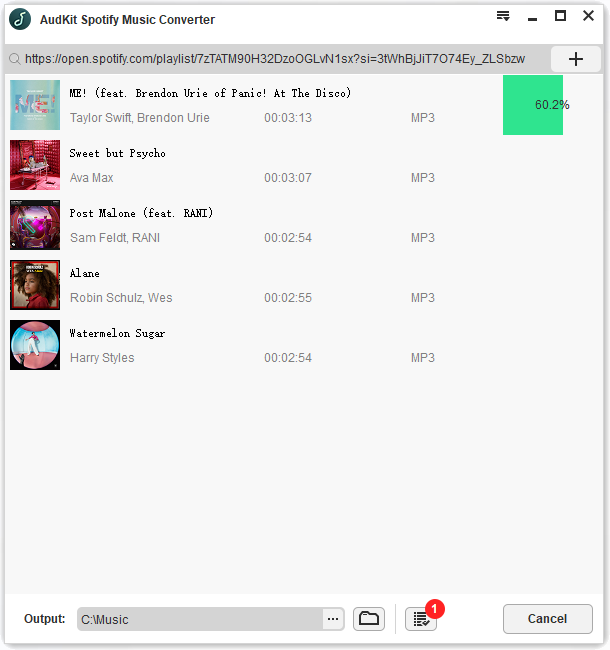 ---
Part 5. Comparison of Soundloaders Spotify Converter and Its Alternative
Soundloaders and AudKit Spotify Music Converter are two popular options that allow users to download Spotify songs for free. In this comparison, we will take a closer look at these two converters and determine which one is the better choice for users.
| | | |
| --- | --- | --- |
| Aspect | Soundloaders Spotify Downloader | AudKit Spotify Music Converter |
| OS | Windows, Mac | Windows, Mac |
| Downloading | Singles | All Spotify Content |
| Download Method | Copy and Paste | Copy and Paste / Drag and Drop |
| Download App | ✔️ | ✔️ |
| Supported Formats | MP3 | MP3, FLAC, M4A, WAV, AAC, M4B |
| Batch Download | ❌ | ✔️ |
| Output Quality | Lossy | Lossless |
| Download Speed | Medium | 5X |
| ID3 Tags Retained | ✔️ | ✔️ |
| Personalized Settings | ❌ | ✔️ |
| Conversion Success Rate | Low | High |
| Secure | ❌ | ✔️ |
| Ratings | 🌟🌟🌟 | 🌟🌟🌟🌟🌟 |
---
Part 6. Conclusion: Is Soundloaders the Best
Soundloaders Spotify Downloader comes with a creative suite of features. However, it has its downsides regarding legality and safety. On the contrary, in 2023, AudKit Spotify Music Converter stands out as the undisputed leader when choosing the best Spotify downloader for your music requirements. It is the best option since it supports various formats, has good sound quality, a fast conversion speed, a high success rate, and provides custom options. For these reasons, we recommend AudKit Spotify Music Converter for anyone looking to download Spotify songs for free use.
---
---
---