The AAXC file extension was developed by Audible to help in encrypting audiobooks. This new format is applied to the audiobooks that are downloaded from the Audible App for Android. Then the need for an Audible app comes in when you want to listen to AAXC files on some mobile devices. That is why many people want to convert AAXC to MP3 format so that to enjoy their audiobooks outside the Audible.com app or its browsers. In this quick guide, we will tackle how to convert AAXC to MP3 with the help of special software.

---
Part 1. Everything About Audible AAXC File that You Should Know
It was until the 20th of June 2019 that all Audible books were saved in the AAX/AA format. However, things took a turn and users realized that the Audible audiobooks downloaded via the new Audible App are now saved in AAXC format. This also means that from then, if you update your mobile Audible app to the latest version, the downloaded Audible audiobooks are saved in the .AAXC format. Audible.com decided to add an address copyright protection that was meant to prevent Audible files from being converted to common audio formats. This is an added protection that now makes it even harder for mobile users to convert Audible books to MP3 files or other output formats. But worry less. This guide is out to help you to convert your files in simple steps.
Why Convert AAXC to MP3?
AAXC file format is not playable on devices like MP3 players. It, therefore, has to be converted to a format like MP3 for compatibility with numerous devices.
The music inside an MP3 file is stored as long strings of bits of zeros and ones. Additionally, there is an index card that has all the details of the music such as the genre, track name, artist, among other details. This makes it easy for you to trace a track, in particular, to play or even edit the ID3 tags. Many reasons would compel you to convert your files to MP3 format. MP3 file format is a compressed form easy to transfer and in usage. The data file in this form is compatible with different types of operating systems like Windows and Mac OS. Audiobooks can be played in any compatible player once you convert them to MP3.
Low data size: A smaller file size lets you rip large number of files on to a disc.
Low cost: The distribution of your music or Audible audiobook is less expensive while in MP3 format.
Online promotion: It's easy for music companies and other individual artists to promote their music online.
File sharing: MP3 is a bomb when it comes to file sharing. You can do this through a physical or an online medium.
Reduced download time: The time you'll take to download and upload an MP3 file is reduced to fewer minutes.
Compatibility: MP3 files are highly compatible with several types of devices like CD players, Media players, and Apple iPods.
ID3 tags storage: MP3 files also stores the genre, song title, artist name, and other metadata information.
---
Part 2. Convert AAXC to MP3: Tool You Need
The above reasons are good enough hence the motivation behind converting AAXC to MP3 file format. But remember that Audible.com encrypts its files and you have to get a reliable tool to help you convert your Audible books to MP3.
Unfortunately, there is not a specific AAXC to MP3 converter in the market currently. Most of the Audible converter only allows converting AAX/AA to MP3 on the computer. The Audible converter for mobile devices is few since the conversion process of Audible books takes lots of works that most mobile phones can't handle.
Fortunately, users can still purchase and download AAX/AA Audible books from the Audible app or Audible.com on the computer. To prevent that AAXC replaces AAX/AA someday in the future, it is better to convert all your Audible books from AAX/AA to MP3 as soon as possible. Now, here is the solution. First, download Audible AAX/AA audiobooks onto your computer. Then use the reliable software, AudKit Audible Converter to convert the AAX/AA format to the MP3 file format.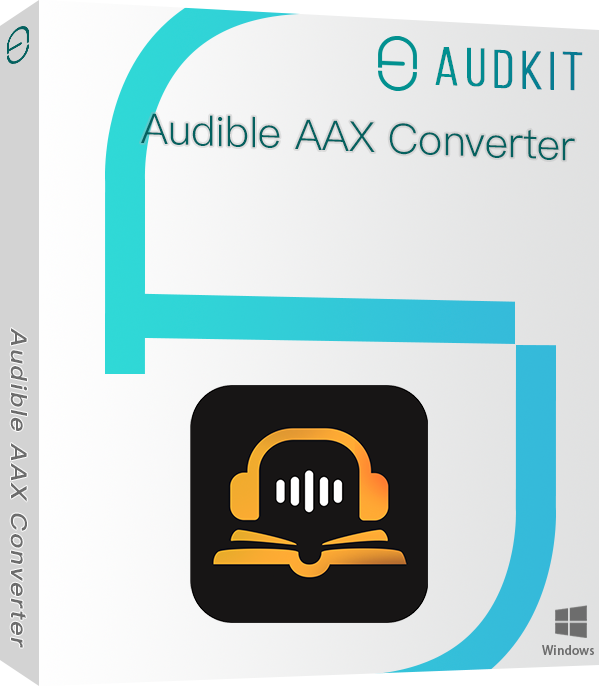 Convert AAX/AA files to MP3, WAV, AAC, M4B, and others.
Retains 100% ID3 tags and lossless quality from Audible
Split Audible audiobooks according to chapters or segments
Easy to use with an intuitive and streamlined user interface
---
Part 3. Convert AAX/AA Files to MP3: Step by Step
The AudKit software will convert your protected Audible audiobooks from AAX or AA to MP3 for playing on any device.
Step 1 Add Audible audiobooks to the App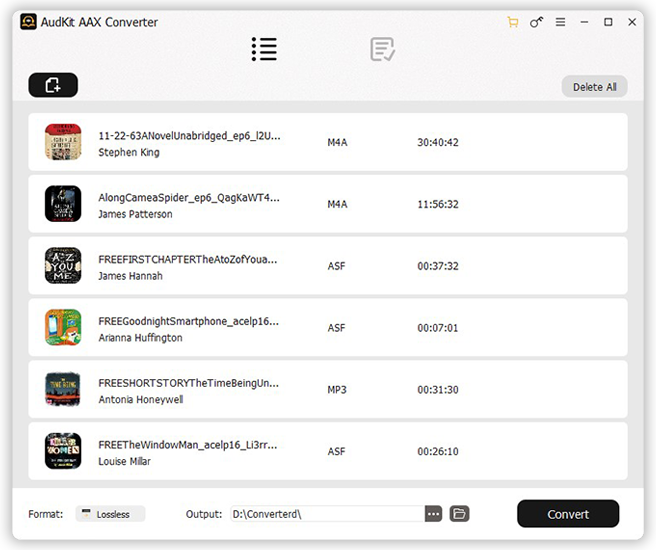 To add Audible audiobooks, click the 'Add Files' icon in the AudKit app then select the downloaded audible AAX files. Your files will then be added to the AudKit main interface. You can also drag and drop the downloaded Audible files to the converter app window.
Step 2 Choose output format as MP3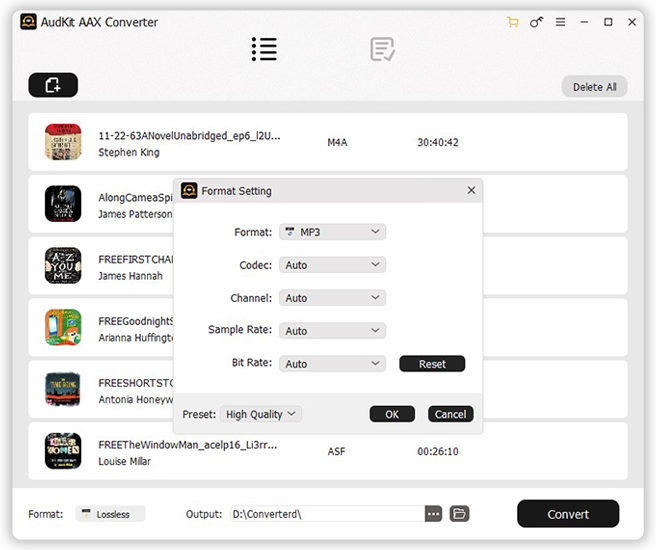 The AAX audiobooks will then be loaded to the AudKit conversion window. To edit your files, click the 'Edit' icon and set the channel, sample rate, bit rate, audio codec, and many more. Besides, you can split the larger audiobooks into smaller chunks of files. Just click the 'Editing' icon that's next to the Audiobook's name and start the splitting process.
Step 3 Convert Audible audiobooks to MP3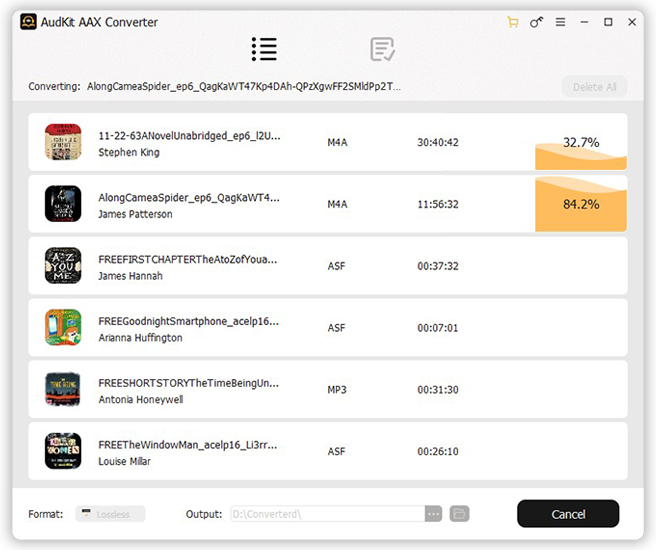 Check that your settings are well selected then press the 'Convert' button. The AudKit software will then convert audible AAX to MP3 within a short time. When all is done, click the default 'Output folder' to allocate your MP3 files. You can now play your Audible audiobooks on MP3 players and other devices.
---
The Bottom Line
Compatibility and other concerns may be your hidden reason for converting your files to MP3. However, being able to play your favorite Audible audiobooks on any media player beats the odd for the need for converting your Audible AAXC to MP3. The best tool, AudKit software, is out to make the impossible possible. It is user-friendly and works in a few steps to convert and download Audible books onto the computer. With this, you are free to play your favorite audiobooks on other portable players.