Q: "I recently made a nice video for my travel YouTube channel, and I would like to add some background music from Spotify. Normally I use HitFilm Express to edit my videos, but I cannot seem to find the right way to add Spotify to HitFilm Express. Am literally stuck, anyone with a helpful tip? Please help a friend!"
Arguably, HitFilm is one of the most decorated video editing software in the market. The software features professional-grade VFX and literally has any tool that you would need to create stunning and high quality for your YouTube channel, event film, student tutorial for free! The video editing software has an array of features and a perfectly designed user interface. You can use it to trim video clips, add logos, text, and photos to your videos.
Most amazingly, the tool allows users to add background music to their videos. And while Spotify remains a top destination for music lovers, the platform is an excellent source of rich and diverse music for video editors, and here comes the big worry, is it possible to add Spotify music to HitFilm Express? Frankly, the answer is No! You cannot directly upload Spotify music to HitFilm Express to add to your video project.
Fortunately for you, we have a "money hack" tip to help import Spotify music to HitFilm Express tool without trouble! So, how about we get started on it!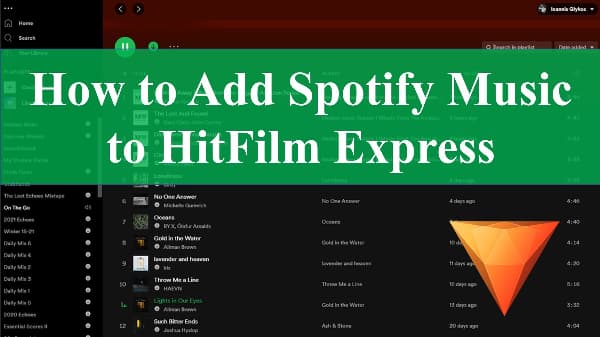 ---
Part 1. Tool to Add Spotify Music to HitFilm Express
Just for clarity, you should know that HitFilm Express does not have a function to directly import Spotify music, and in that case, the only sensible way to get Spotify music to the app is by downloading Spotify songs to your computer and then importing them from the local drive. That may sound easy, but trust me, it is not a walk in the park. To download Spotify music, you will require a unique and powerful third-party Spotify downloader to help you pass the copy restrictions imposed on Spotify music and download Spotify tracks for your video project. As far as choosing the suitable downloader goes, we highly suggest you try out the AudKit Spotify Music Converter.
AudKit Spotify Music Converter is a carefully crafted software built to help download Spotify music from Spotify free accounts. This fully-featured program has a converter function that lets users convert Spotify Vorbis OGG music to more standard audio file formats such as MP3, AAC, M4A, M4B, FLAC, and WAV. To save you some time, AudKit offers unmatched conversion speeds of up to 5X, meaning that it will take only 1 minute to convert a 5 minutes song.
Knit from new and advanced converting technology, the software guarantees high-quality music conversion and retains 100% sound quality and original Spotify ID3 tags. Courtesy of its clean user interface, users can quickly download and convert Spotify songs for HitfFilm Express in just a few clicks. One can download a maximum of 100 Spotify tracks in one download. It is also fitted with a basic audio setting function that you can use to customize the sound of your music for your video projects. AudKit is available for both Windows and Mac computers.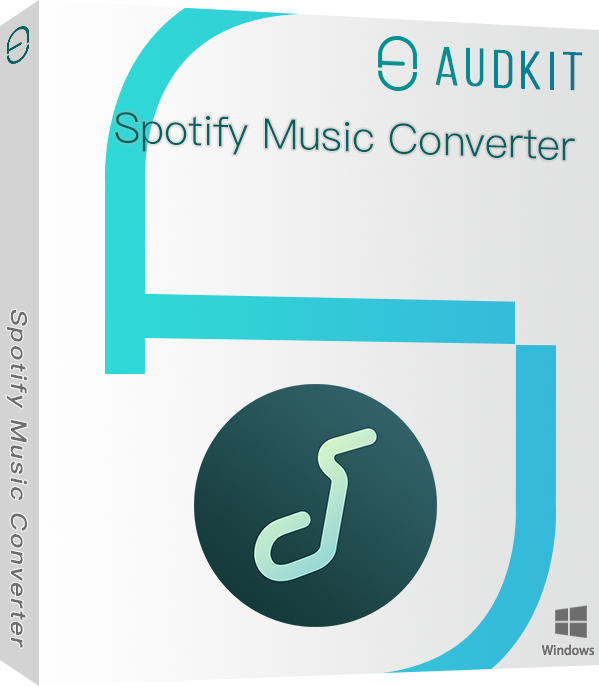 Main Features of AudKit Spotify Music Converter
Downloads Spotify music for offline edit on HitFilm Express
Support batch download and conversion speeds of up to 5X
Increase to 320 kbps quality and retain original ID3 tags
Offer a simple-to-use software interface on Windows and Mac
---
Part 2. Steps to Use HitFilm Express with Spotify
First, download, install and register the AudKit Spotify Music Converter app to access the full software version.
Note: Even though the AudKit app has a free version, it can only convert only 1 minute of each Spotify song.
How to Download Spotify with AudKit Spotify Converter
Step 1 Add Spotify music to AudKit Spotify Converter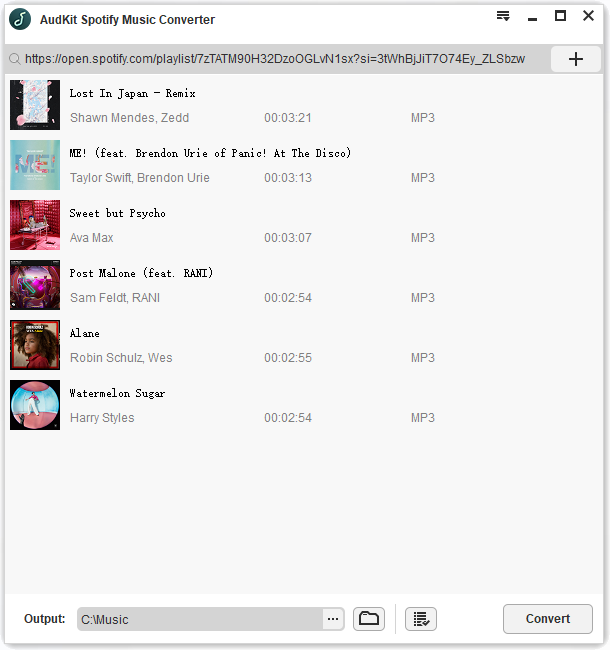 Log in to your Spotify account and find the Spotify tracks you want to add to HitFilm Express. Next, right-click on the specific track, choose "Share", and then hit the "Copy Song Link" option. Now, paste the link on AudKit's search box and select the "+" button to add the song. Or, you can drag and drop the song onto AudKit's interface for conversion.
Step 2 Customize Spotify output settings for HitFilm Express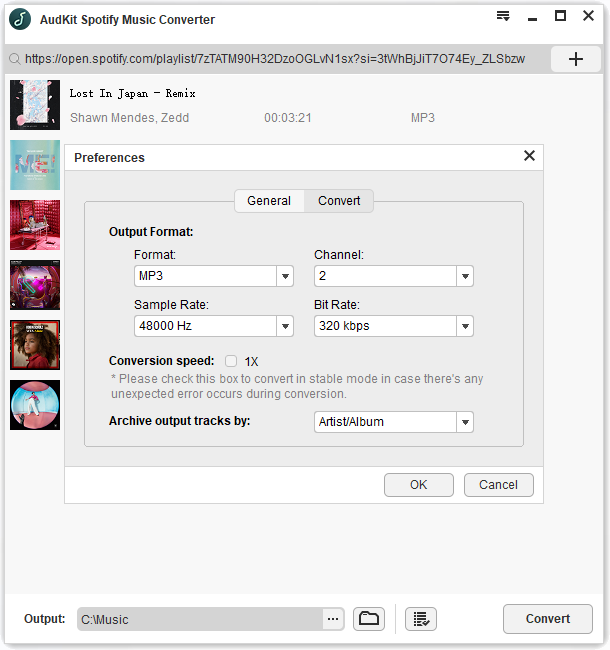 Next, navigate to the top taskbar and select "Menu" > "Preferences" > "Convert" to open the audio settings panel. Here, you can define the audio output format to suit for editing in HitFilm Express from drop-down options. Besides, users can adjust the bit rate, sample rate, or audio channel to achieve personalized sound quality.
Note: To achieve stable Spotify songs conversion process, please reset the conversion speed to 1X at the bottom of the window.
Step 3 Download Spotify music to HitFilm Express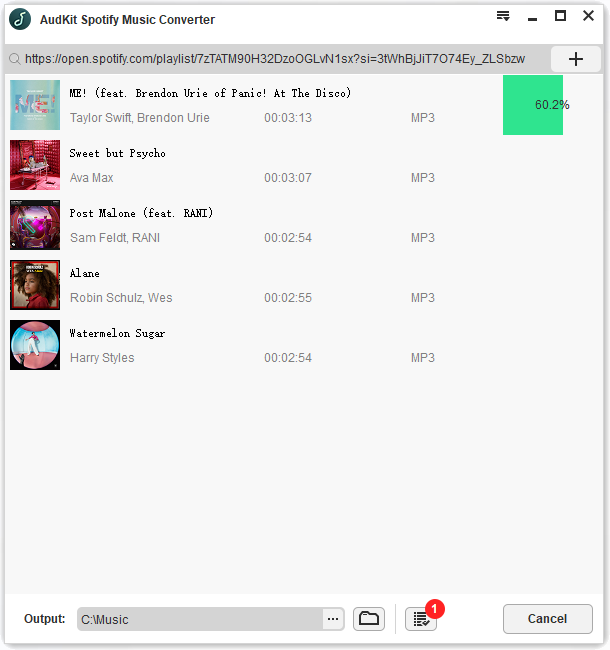 Finally, hit the "Convert" button near the bottom to begin the simultaneous download and conversion process. All the selected songs will automatically be downloaded to your computer and converted to the selected output format. Once the conversion is complete, hit the folder icon to find all the downloaded Spotify tracks.
How to Add Spotify to HitFilm Express Software
Now that you have located the songs on your computer, here is a quick tutorial guide to help you import Spotify music to HitFilm Express to use on your video project.
Step 1: Launch the HitFilm Express software on your computer.
Step 2: On the left corner, click on "New" and go ahead to select the settings for the new project.
Step 3: On the left, click "Media" > "Import" to import the video and the Spotify song you want to use.
Step 4: Now, drag the video to the editor. Click on "Audio" to create a second audio track on the editor below the uploaded video.
Step 5: Drag and drop the Spotify track on the second audio track editor. You can edit your song and finally export the video with the background Spotify music to your computer.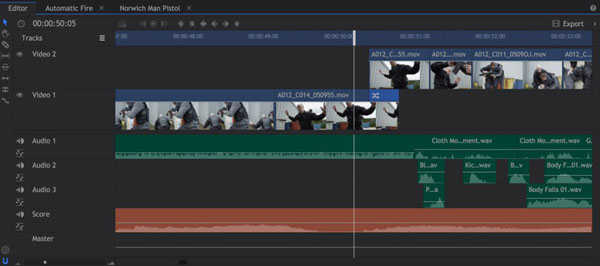 ---
Part 3. Bottomline
Featured above is a detailed guide on how to add music to HitFilm Express using the AudKit Spotify Music Converter software. The app works to download and convert Spotify songs, making them available for your HitFilm Express video project. In fact, Spotify music download has never been than it is with the AudKit Spotify Converter app. So, grab yourself the chance to experience effortlessly and limitless Spotify music download for offline playback and for your video projects.