Spotify is one of the best music streaming services online that has a massive collection of songs and offers ad-based and premium plans. While the ad-based free plan has standard quality, the premium plans offer high-quality output. Additionally, the Spotify Premium plan is devoid of ads, allows the download of songs for offline listening, access to everything from songs, albums, new discoveries, and creates playlists that you can share with friends.
When you create a playlist and begin adding songs, you might have noticed that Spotify starts adding songs. It is irritating because you must remove unwanted songs from the playlists. Many users have complained about it and are seeking answers to stop Spotify from adding songs to playlist.
Today, you will learn about some possible causes of this issue and common solutions to effectively stop Spotify from adding songs to playlists. Without further ado, read on to learn more.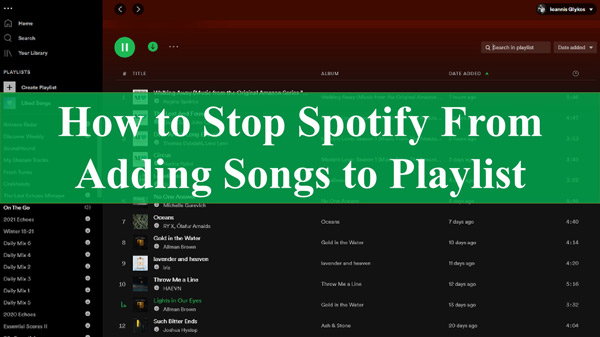 ---
Part 1. Why Does Spotify Add Songs to My Playlist
Users often struggle with the Spotify adds songs to my playlist problem. To help people deal with this issue easily, we will first introduce several possible reasons behind Spotify's problem with adding songs to playlists.
1. There are too few songs in the playlist. You can add as many or as few songs as you want to create a playlist, but Spotify will add songs to any playlist you make that has fewer than 15 songs, which can be incredible.
2. Listen to Spotify curated playlists. Spotify's extended features allow Spotify to add songs to playlists based on users' listening styles and listening experiences.
3. Use Spotify's free version. If you are a free user of Spotify, you may face the question "why does Spotify add random songs to my playlist", as Spotify does this to anyone who uses Spotify for free.
---
Part 2. How to Stop Spotify From Adding Songs to My Playlist
Suppose you are one of the many people who face the problem of Spotify adding songs to your playlists, then this section will teach you how to stop Spotify from adding songs to your playlists. We will list a few solutions that you can try to see if they work. Let's get into the details.
Solution 1: Add More Songs to the Playlist
As for how to stop Spotify from adding songs to playlists, the first necessary solution is to add more songs! Yes, you heard it right. According to the official rules, Spotify playlists should have a minimum of 15 songs. Reaching the minimum number will prompt Spotify to automatically add the remaining songs. For example, if you have 9 songs in your playlist, Spotify will add the remaining 6 songs to meet the minimum requirement. You can prevent this by creating a playlist with at least 15 songs.
Solution 2: Disable Autoplay
You can stop Spotify from adding songs to playlist by disabling the Autoplay feature, a feature of Spotify that suggests or plays songs based on your listening style and the albums, genres, and songs you select. By disabling this feature, you can prevent Spotify from adding songs to your playlists. You can do this by navigating to Settings and toggling off the Autoplay feature. Likewise, you can turn off similar songs by clicking the arrow button next to your profile name.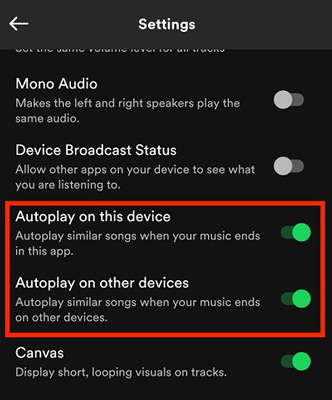 Solution 3: Upgrade to Spotify Premium
Another way to stop Spotify from automatically adding songs to your playlist is to upgrade to Spotify Premium. Besides enjoying your own full playlist without interruptions, there are many other benefits such as offline mode, ad-free music, etc. So this seems to be a good option as well. Reading the comparison between Spotify Free vs Spotify Premium will help you have a better understanding of its advantages.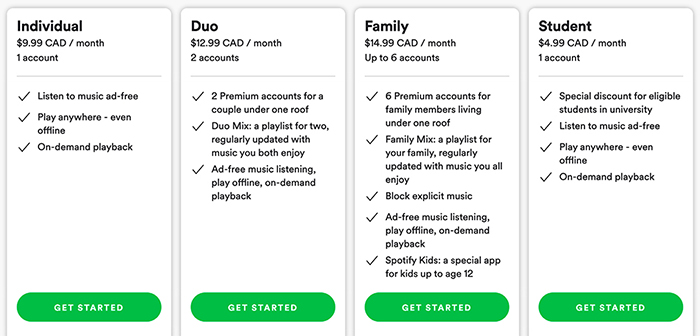 Solution 4: Create a New Playlist
The final easy and straightforward method is to create a new playlist for yourself. Remember, in order to stop Spotify from adding songs, you must add 15 tracks to this playlist in advance.
---
Part 3. How to Stop Spotify From Adding Songs to Playlist Permanently
The solutions discussed above are fruitful until Spotify releases a new update. Likewise, if you forget to add 15 or more songs, you will find that Spotify adds songs automatically. Now, is it possible to stop Spotify from adding songs to my playlist once and for all?
The answer is yes, AudKit SpotiLab Music Converter can help you as it's able to download everything from Spotify, including songs, playlists and albums without the need for Spotify Premium. No need to worry about download limits, it stores all your favorite Spotify playlists locally and in turn, Spotify won't add songs to your playlists.
Also, the best feature of this smart tool is that it stores Spotify music in MP3, FLAC, AAC, WAV, M4A or other formats on your computer, which helps you transfer Spotify songs to any device. As a result, you can enjoy your favorite Spotify music and playlists on any device whenever and wherever possible.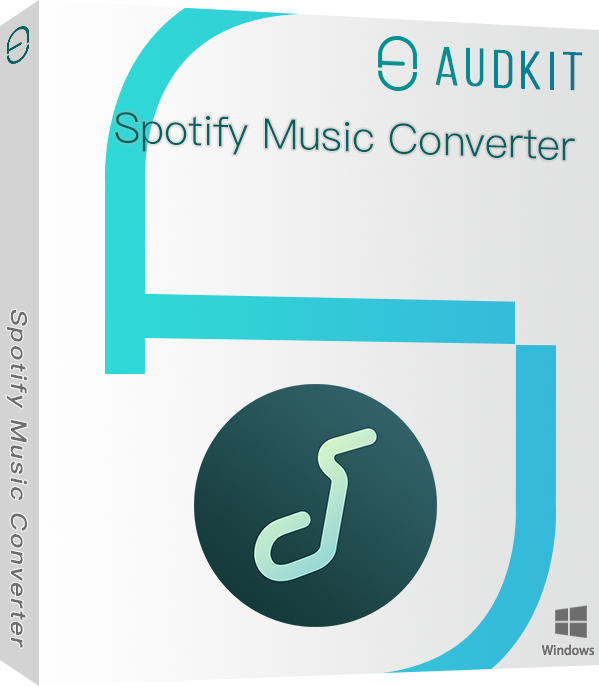 Keep all Spotify content in its original quality and ID3 tags
Download favorite Spotify playlists with 5X conversion speed
Convert Spotify to MP3, FLAC, AAC, WAV and more
Effectively avoid Spotify from adding songs to playlists
How to Stop Spotify From Adding Songs to Playlist Permanently
Before starting the steps below, you can download and install AudKit SpotiLab Music Converter from the official website. Download it for Windows and Mac, and make sure to register the product to get exclusive features.
Step 1 Add Music to AudKit Spotify Music Converter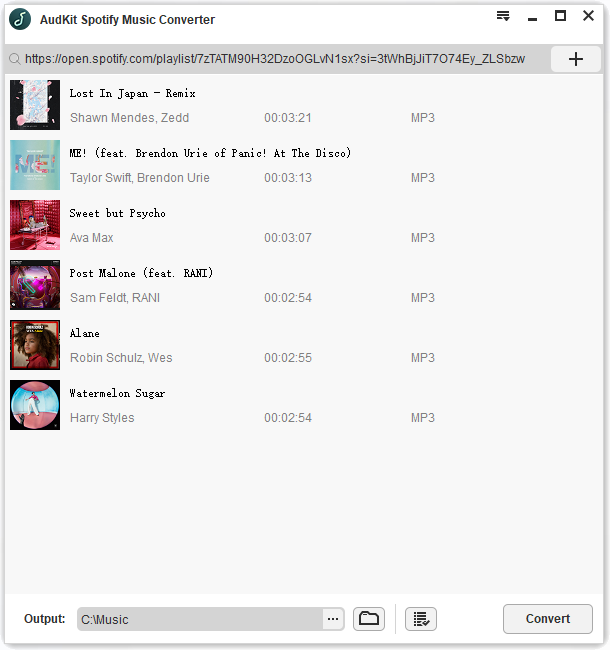 After completing the installation and registration process, click on this converter. Search for the playlist, album or song you want to download directly in the Spotify app. After that, copy the link of the track and paste it into the tool's search bar. Then proceed to press the "+" button to finish loading the songs.
Step 2 Set Spotify Output Format and Parameters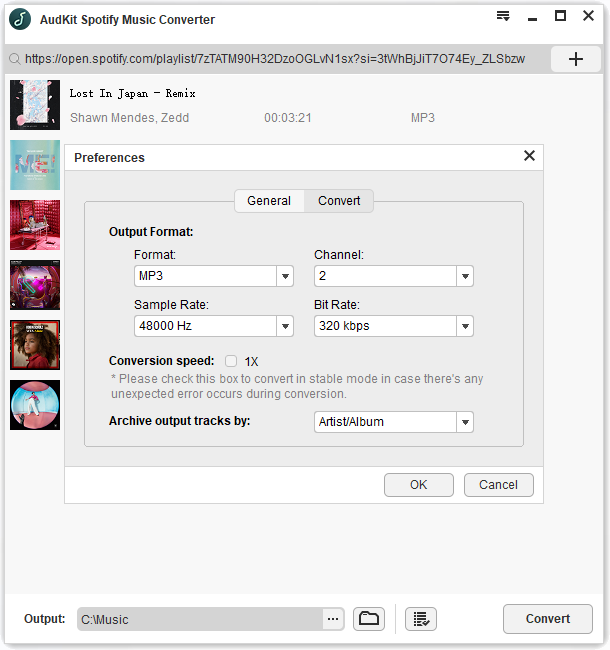 Press the menu button on the taskbar and select the "Preferences" function. When you see a window on the screen, click the "Convert" tab and you can change the output parameters such as format, bit rate, audio channel and sample rate according to your needs. After that, you can also archive the output by artist or album.
Step 3 Stop Spotify From Adding Songs to Playlist Permanently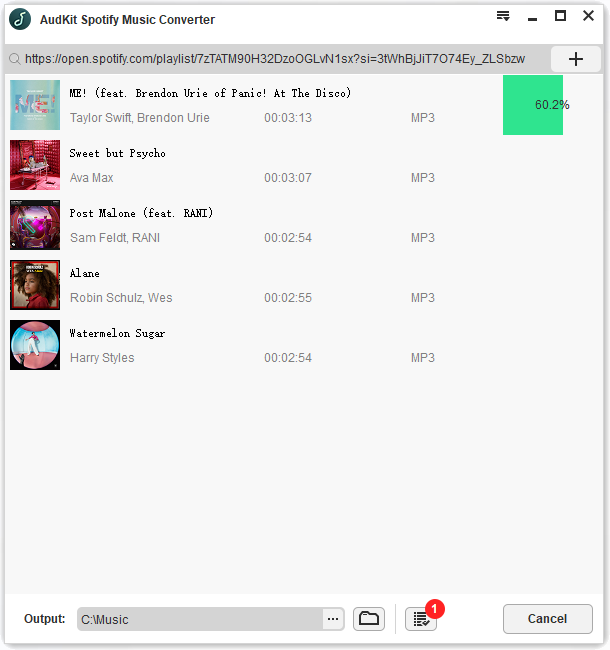 When you press the "Convert" button, the AudKit program will start the conversion process according to the settings made in the previous step. When it's done, click the folder icon at the bottom of the screen to open the destination folder. Here, you will find all the downloaded and converted files from Spotify. At this point, you can start enjoying Spotify playlists without worrying about any additional added songs.
---
Part 4. Conclusion
You can implement the solutions discussed here when you are worried and irritated that Spotify adds songs to playlist. Many users try simple solutions, which are good for temporary relief. However, the problem will appear from time to time, making it difficult to enjoy a playlist. A better way is to download all your favorite music locally and listen to it without any breaks. Use AudKit SpotiLab Music Converter today to enjoy Spotify music without interruptions and stop unwanted songs in playlists!
---