As one of the world's leading music streaming services, Spotify caters to the music needs of hundreds of millions of active users. The only problem is that you can't stream Spotify on any device, which limits the way you use Spotify. Spotify Connect has come along to solve this dilemma by allowing users to listen to their favorite Spotify songs on any compatible device.
To enhance your Spotify streaming experience, this article will cover basic information about Spotify Connect and how Spotify Connect works. Read on to find out more about Spotify Connect.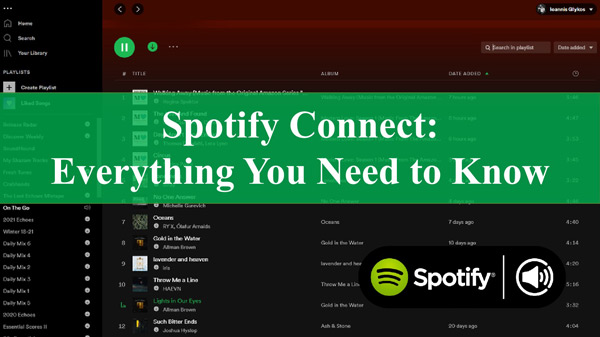 ---
Part 1. What Is Spotify Connect
Spotify Connect was first introduced to Spotify users back in 2013. It is a feature that allows Spotify users to remotely connect their mobile devices to home speakers. In turn, Spotify listeners can easily control and listen to Spotify songs and playlists remotely on a different speaker than their smartphone. Today, you can use this feature to transfer your Spotify library to wearables and many other Spotify Connect-enabled devices.
Initially, Spotify Connect was only available to Spotify Premium users. Today, this feature is available to all Spotify plans. While you can listen to Spotify songs on other devices in several other ways, using Spotify Connect ensures that you can enjoy Spotify's high audio quality on any device without any problems.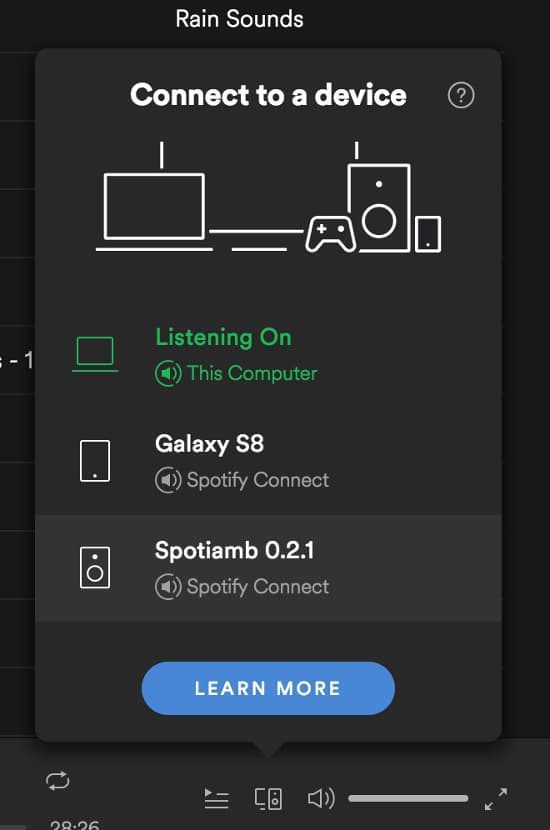 ---
Part 2. What Are Spotify Connect Supported Devices
While it's true that you can use Spotify Connect to remotely play, control and listen to your Spotify songs on any device, Spotify has struck deals with thousands of electronic device manufacturers from around the world. This means that the feature is now compatible with almost any device you might think of. To help choose the right device, here are some Spotify Connect-compatible devices.
Smart TVs: Sony TV, Hisense TV, Samsung TV, Amazon TV and Philips TV among others.
Smart Speakers: Sonos, Apple Home pod, Google Home and Amazon Echo among many others.
Smartwatches: Fitbit Watch, Garmin watch, Samsung Galaxy Watch and Apple Watch among others.
---
Part 3. How Does Spotify Connect Work
Setting up your Spotify Connect is easy for many people. All you have to do is follow a few simple steps, depending on the device you are using. To get you started, let's take a look at the following details.
What You Need to Use Spotify Connect
There are a few things you need to check ahead of time before you consider using Spotify Connect.
Make sure you have a strong internet connection.
Make sure you have a compatible speaker.
Make sure you have the latest Spotify app on your device.
Make sure your device has been updated to the latest operating system.
How to Use Spotify Connect with Smartphone/Tablet
Step 1: Connect your device to the internet and log into your Spotify app. Go to your music library and try to play any songs.
Step 2: Make sure your Spotify Connect compatible device is also turned on and connected to the same network.
Step 3: You will see the speaker icon showing the available devices. Click on this icon to see a list of all available Spotify Connect compatible devices.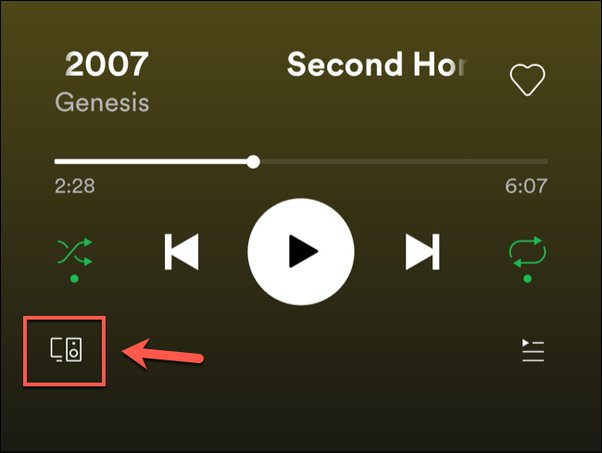 Step 4: Find your Spotify Connect-enabled device in the list and select it. It will start streaming all the content you play on the Spotify app to the device.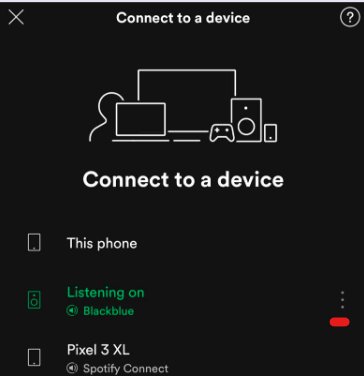 How to Use Spotify Connect with PC/Laptop
Step 1: Connect your computer to the internet and make sure that the device you want to stream your Spotify content to is also turned on and connected to the same network.
Step 2: Launch Spotify app on the computer and sign into your account. Find the file you want to stream and play it.
Step 3: Go to the bottom right corner and click on the Speaker icon. Find your Spotify Connect supported device in the list that opens and select it. This will start streaming your Spotify music to the device.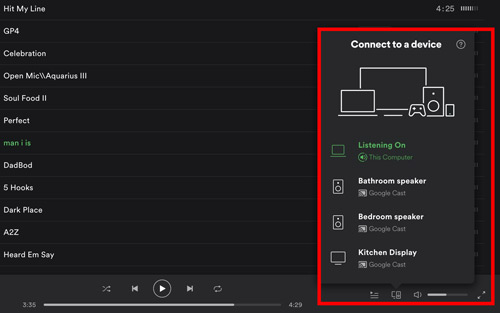 How to Turn Off Spotify Connect
Step 1: Open the Spotify app and sign into your account.
Step 2: Hit on the "Settings" button in the top right corner.
Step 3: Find and tap on the "Devices" tab in the settings window.
Step 4: Toggle the "Devices Lock Screen" to turn off the Spotify Connect feature.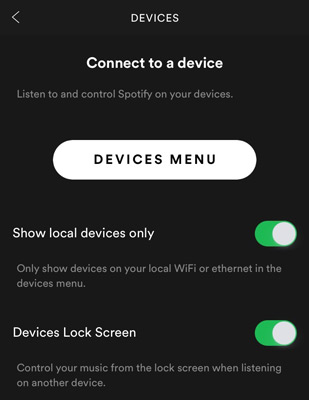 ---
Part 4. How to Stream Spotify Music Anywhere without Spotify Connect
Want to stream Spotify songs and playlists anywhere even if you don't use Spotify Connect? All you need is a powerful tool, the AudKit SpotiLab Music Converter. This tool is designed to help all Spotify users download Spotify songs, playlists, albums and podcasts to their computers locally.
What's more, it can convert Spotify Music to common formats such as MP3, AAC, WAV, and FLAC. The original audio quality and ID3 tags of Spotify Music tracks are also preserved. This way, you can keep your favorite Spotify songs forever without a subscription and play Spotify Music offline on any device.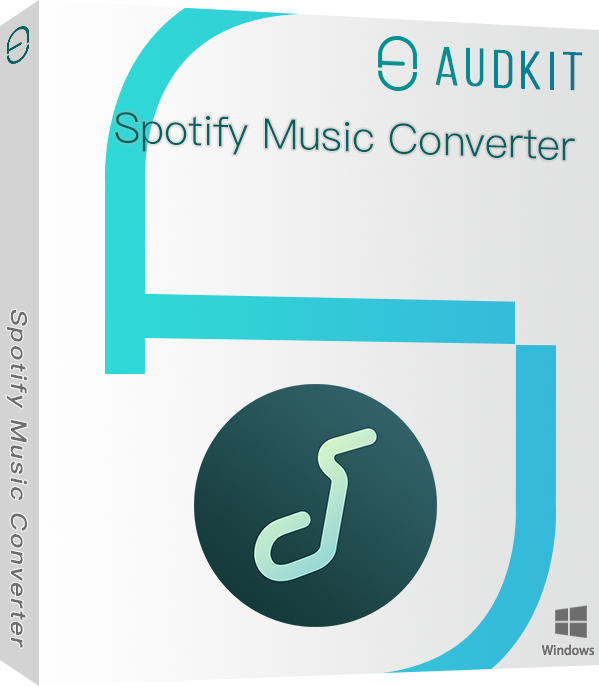 Convert Spotify to MP3, AAC, WAV, FLAC at 5X faster speed
Download all Spotify content for offline enjoyment
Preserve 100% original sound quality of Spotify Music
Stream Spotify Music on any device and player
How to Stream Spotify Music Anywhere without Spotify Connect
Step 1 Download and Register AudKit Spotify Music Converter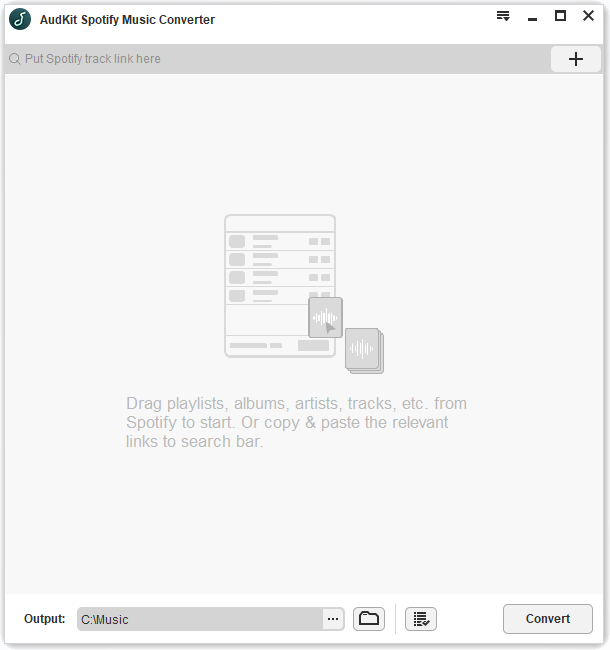 Before you use AudKit Spotify Music Converter, make sure that you download and install the tool on your computer. Once installed, launch the tool and click on "Menu" and "Register" in the top taskbar. Then simply follow the on-screen directions to complete the process.
Step 2 Add Spotify Songs to AudKit Spotify Music Converter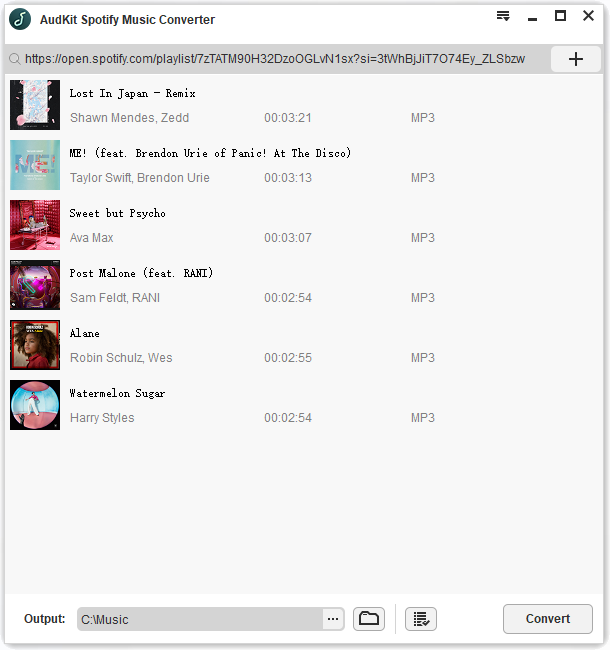 Find the songs you want to download in the Spotify music library. Then drag and drop them on the converter's interface. Or copy their links and paste them into AudKit's search box, then press the Add button.
Step 3 Choose the Preferred Output Format for Spotify Music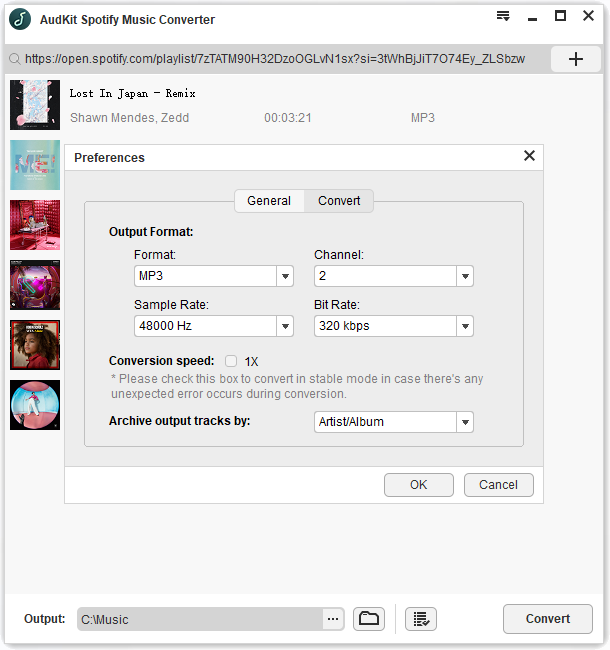 Go to the top taskbar and hit the "Menu" icon, then select "Preferences". In the window that opens, select your preferred output format from the options given. You can also edit other output properties such as bit rate, sample rate and channel if required. Click 'OK' when you have finished.
Step 4 Convert and Download Spotify Music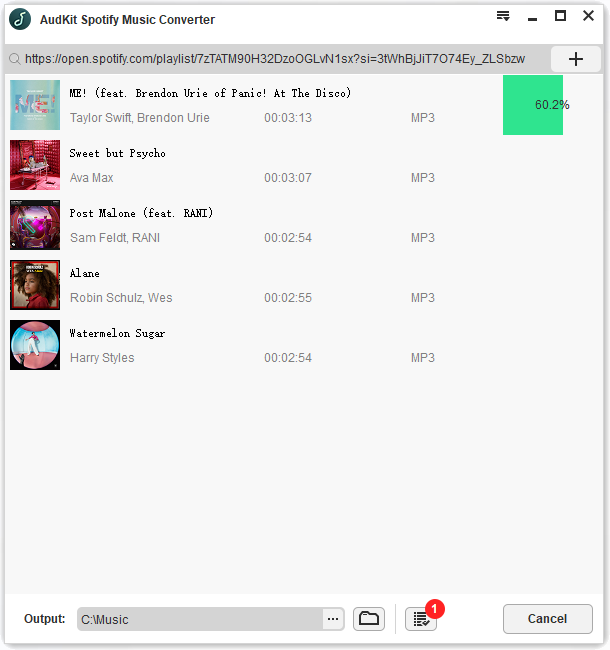 Once you are ready, simply click on the "Convert" icon and the tool will convert and download all the songs you have selected. Then find these Spotify files in your local folder. After that, you can simply listen to Spotify Music offline on the desired device whenever you want.
---
Part 5. Conclusion
Spotify Connect is an awesome feature when you want to stream your Spotify Music on a device other than your computer or smartphone. It has a wide range of supported devices, making it easy to get a great listening experience on any of these devices.
However, if you want to stream Spotify Music offline on any device, including those that don't support Spotify Connect, you'll need a powerful tool called AudKit Spotify Music Converter. With it, you can download Spotify Music locally for offline listening whenever and wherever possible.
---