Spotify is the one-stop destination for all your music needs. From your favorite artists to new albums, right down to world-renowned podcasts, Spotify offers an excellent listening experience. However, everything has some shortcomings. The problem of Spotify keeps restarting songs/playlists/podcasts is a source of frustration for many users. Imagine being in the middle of your best improvisation for an upbeat song, only to be interrupted by a sudden replay – incredibly annoying.
The good thing is that this problem is completely fixable. All you have to do is find out the root cause of the problem and troubleshoot your Spotify account. While system failures or errors are the most common culprits, there could be a number of other reasons why this happens. If you're new to this area, this guide will be your savior. In this article, we explore some quick solutions to fix Spotify's constant reboots so that you can listen to Spotify offline without any limit.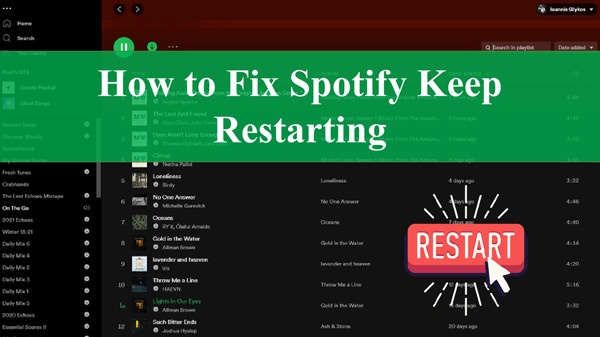 ---
Solution 1. Force Close and Restart Spotify
Our first pick is a quick and totally painless remedy for you to try. Most often, the best way to fix major software bugs or glitches is a fresh restart. When your Spotify song keeps restarting, it's possible you have overloaded RAM or an overused PC. In any case, force closing and restarting the app will solve the issue in a moment.
To do this on a PC, simply press the X button in the corner, then relaunch it.
But if you are using Spotify on your Android/iOS device, swipe up from the bottom of the screen to access the recent apps menu. Then drag and swipe the Spotify app up and away to close it. Finally, open the app again in the usual way.
---
Solution 2. Restart Your Device
Why does my Spotify keep restarting songs? If closing the Spotify app didn't do the trick, doing the same with your device might work. This can help eliminate any underlying software errors as well as reload necessary updates. Different devices restart in different ways. Here's how you can reboot your Android or iOS phone.
For Android: Long-press the Power Button on your device until the selection menu appears. Then swipe to Restart.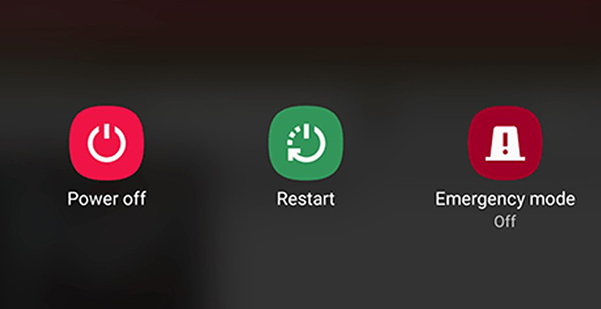 For iOS: Press and hold the Power Button until the Slide to power off option is available. Drag the slider to the right to power off. Then restart it again by pressing the power button.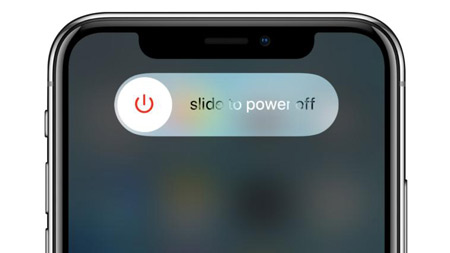 ---
Solution 3. Log Out of Spotify and Log Back in
Re-logging into your Spotify account reloads user data which may be corrupted while playing songs. The process is quite straightforward and quick, so makes sense to give it a try. This is how you can sign out and in on your Spotify mobile app.
Step 1. Open the Spotify app.
Step 2. Tap the gear icon at the top right to launch Settings.
Step 3. Scroll down and hit Log out to sign out of Spotify from everywhere.
Step 4. Then wait for a few minutes, and log back into your account.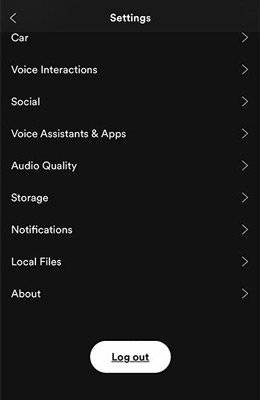 ---
Solution 4. Change a Stable Internet Connection
All online streaming services require a strong internet connection. Consequently, if your Spotify is connected to unstable Wi-Fi or cellular data, it might skip songs or pause songs without warning.
To confirm this, launch a web browser and try loading a website. In case it takes longer or does not load at all, we suggest changing your network connection.
---
Solution 5. Change Streaming Quality
Is your network working fine with other applications? But still Spotify keeps stopping and restarting song. There's a high chance the streaming quality chosen by Spotify is to blame. Therefore, adjust the streaming quality to make a difference. Here's what you need to do.
Step 1. Head to Settings by tapping the gear icon on the Spotify app interface.
Step 2. Scroll to navigate to Audio Quality.
Step 3. Under Wi-Fi Streaming, change the streaming quality such as Automatic, Low, or Normal to fix Spotify restarting songs.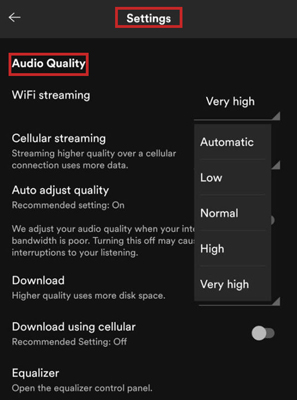 ---
Solution 6. Disable Hardware Acceleration
Attention Spotify desktop app users – this solution is particularly for you. Normally, hardware acceleration uses a computer's graphics card and processing unit to improve overall performance. However, it can also cause a few applications to misbehave such as the Spotify app keeps restarting. Since this feature is enabled by default, follow these steps to turn off hardware acceleration.
For Windows:
Step 1. After launching the Spotify desktop app, tap the three dots in the top left corner to open the Preferences menu.
Step 2. Then select View and click on Hardware acceleration to disable it.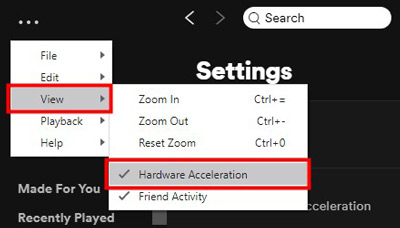 For Mac OS:
Step 1. On the Spotify app interface, tap the Spotify button on the top taskbar.
Step 2. Choose Hardware Acceleration from the drop-down menu and untick it to turn it off.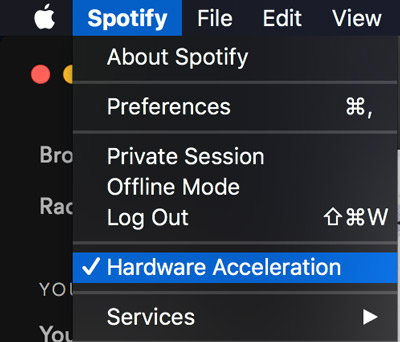 ---
Solution 7. Use Spotify Offline Mode
Another proven hack is to use the Spotify offline mode. This is especially useful if you have a few Spotify songs, playlists, or podcasts downloaded on the app. For this, follow the steps to listen to Spotify offline.
Step 1. Head to Settings on your Spotify app by clicking the gear icon.
Step 2. Then click on Playback and select activate offline mode.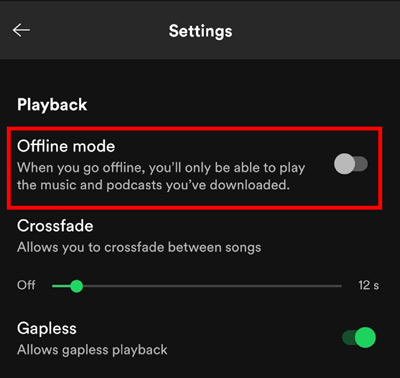 ---
Solution 8. Clear Spotify Cache
Apps often freeze when their cache is either full or corrupted. If none of the above, this could be the reason why your Spotify keeps restarting podcasts/playlists/albums/songs. Try deleting the Spotify cache from your device using this tutorial.
Step 1. Open the Spotify app on your Android or iOS.
Step 2. Go to Settings and select Storage.
Step 3. Then click on Clear cache.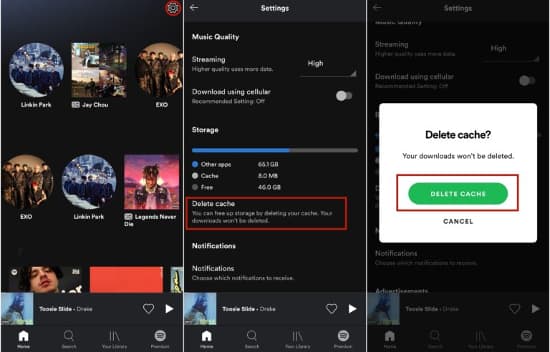 ---
Solution 9. Reinstall and Update Spotify
Fresh starts are always helpful. For most users, a quick reinstall or update does wonders for Spotify issues. But note that doing so will remove all your playlists and podcasts so make sure to keep that in mind. Here are the steps:
Step 1. Press and hold the Spotify app icon on your home screen until the selection screen shows up.
Step 1. Tap Remove App or Uninstall.
Step 1. Then reinstall the updated version of Spotify from your Google Store or Apple Store.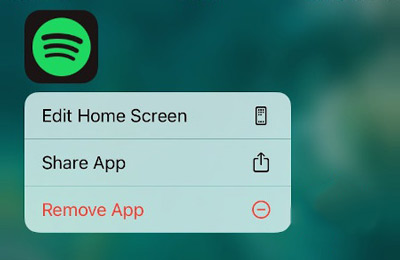 ---
Solution 10. Download Spotify Music Locally
Are you still stuck with the Spotify keeps restarting songs issue? Looks like the problem is with Spotify's end. So, here we will provide you with a way to listen to Spotify music without the Spotify application. In this way, there is no Spotify podcast that keeps restarting issues anymore.
When all else fails, AudKit SpotiLab Music Converter is the way to go. As a third-party app, this handy tool helps you play your Spotify music with no limits. AudKit SpotiLab is a powerful music converter that converts exclusive Spotify songs, playlists, and podcasts to MP3, AAC, FLAC, WAV, and many more local audio formats. Even if you wish to convert a 5-min long Spotify music file, AudKit's 5X conversion speed will do the magic in a matter of 1 min. For the best part, you can load more than 100 songs at once – thanks to its powerful batch conversion feature. Once converted, the app allows you to download Spotify music locally on your device for seamless playback.
What's more, AudKit SpotiLab Music Converter does not compromise on the output quality. Unlike traditional audio converter tools, AudKit is designed with advanced converter technology that keeps 100% original sound quality. When you convert with AudKit SpotiLab, it preserves the original metadata such as the title, album, artist, etc. in the output files.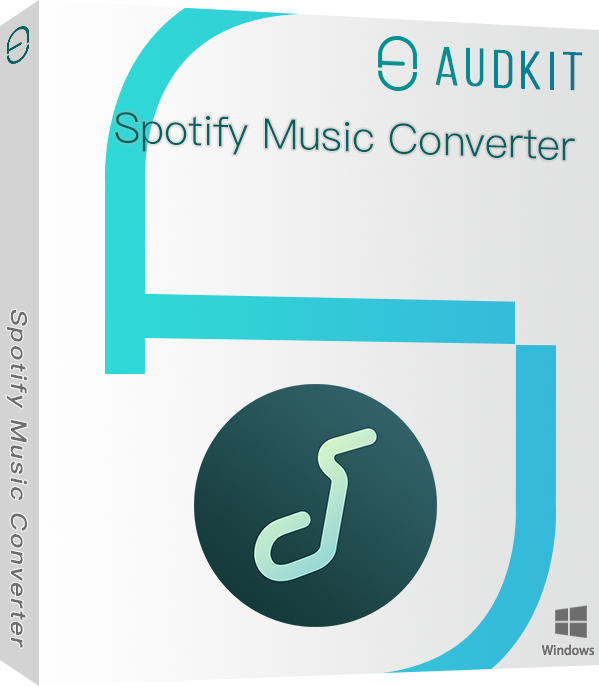 Main Features of AudKit Spotify Music Downloader
Losslessly convert Spotify music for offline playback
Batch convert massive files with 5X conversion speed
Keep original ID3 to manage and organize the downloaded Spotify music
Available for all Spotify users, has Windows and Mac versions
Learn how to download Spotify music without premium using AudKit SpotiLab Music Converter with our comprehensive tutorial here.
Step 1: Begin by downloading the AudKit SpotiLab music converter from its official website. Install it and launch it on your computer.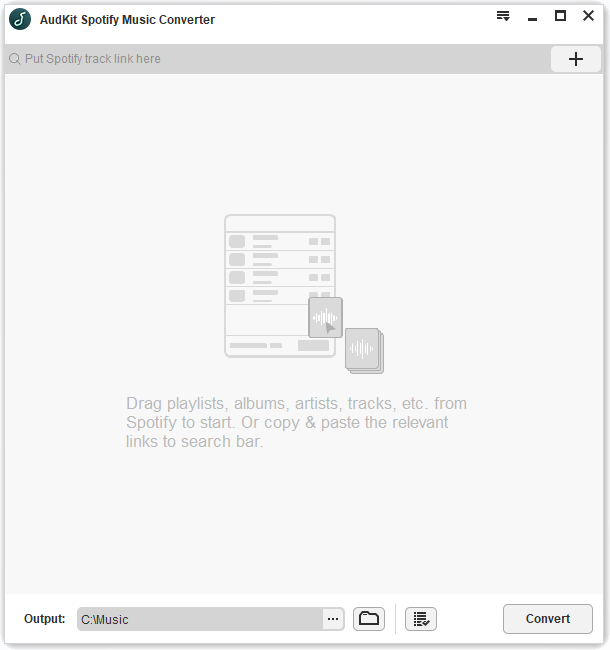 Step 2: Next, navigate your music library to find the songs you want to download on Spotify. Then right-click the selected music file and tap Share > Copy Song Link. From the share window, copy the song or playlist URL. Head back to the AudKit interface and paste the link in the search bar near the top. Finally, press the + icon to add selected songs. Alternatively, you can simply drag and drop to import Spotify music.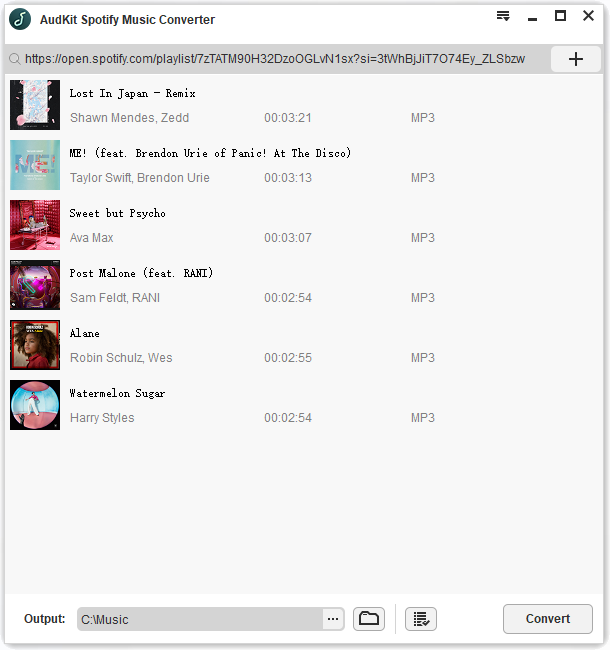 Step 3: Now, on the top taskbar, open Menu and tap Preferences > Convert. Here, change the output settings such as sample rate, bit rate, and output format to suit your needs. Then click OK.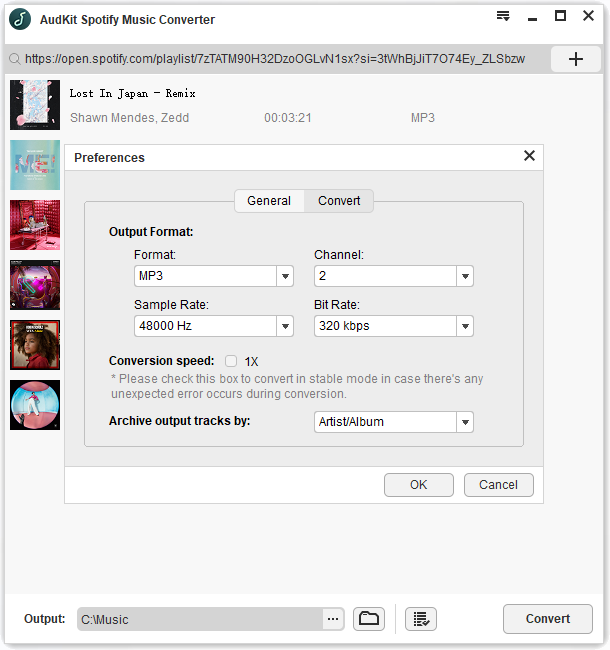 Step 4: After all the settings are done, tap the Convert button. After the conversion process ends, your Spotify music will be downloaded locally.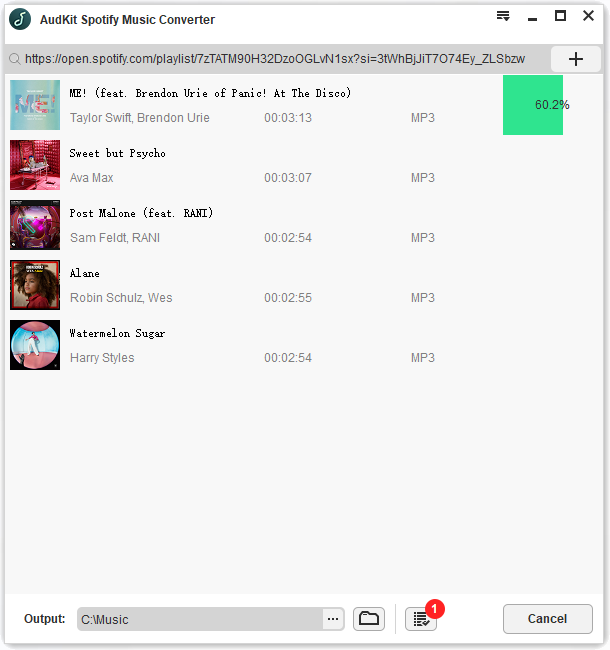 Step 5: Now you can listen to the converted Spotify music with other music players on your computer. You can also use a USB cable or Bluetooth to transfer them to your mobile device for playback. And there is no Spotify song restarting issue anymore.
---
Conclusion
Why does my Spotify song keep restarting? We hope that our top 10 tried and tested can fix the irritating Spotify keeps restarting issue. While the Spotify app is one amazing music streaming service, a casual glitch or two can sometimes ruin the mood. We hope one of these solutions will help you get your Spotify jamming session running again. Don't forget to try the AudKit SpotiLab Music Converter to download your favorite Spotify tracks in the worst-case scenario.
---
---
---