With the high level of technology, smartphones have become multipurpose devices. Apart from taking videos, photos, and making calls, you can use them as your timekeeper. Yes! Use your phone and use your favorite song to set the Spotify alarm. All you need is to install a great clock app that is loaded with extra features such as varied plugins and sleep logs.
But that's the greatest challenge. It's not easy to pinpoint that super Spotify alarm clock app to help you walk out of bed every morning. If you are confused about which app to settle for, worry less. We have compiled a list of the 5 best Spotify alarm clock apps to make a difference each morning.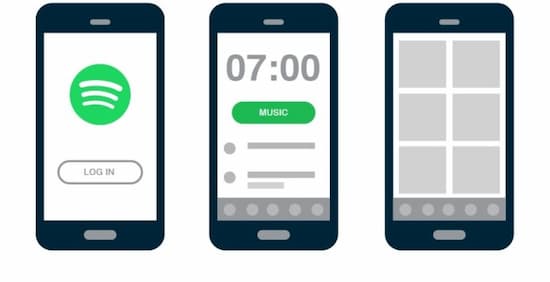 ---
Part 1. Spotify Alarm Clock App: Top 5
Check out these top 5 Spotify alarm clock apps for an energized morning.
1. Early Bird Alarm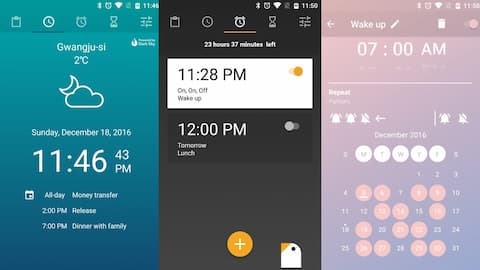 Early Bird Alarms is a Spotify alarm clock Android offering a mix of great alarm features for a smooth wake-up every morning. You can cycle through numerous alarm sounds to create multiple recurring alarms.
When it comes to turning off the alarm, you can use QR codes, voice recognition, or math problems. And immediately you switch off the alarm, this app will display the day's weather condition for great preparation.
To use this app, use the 'Time Shift' feature to move your alarms ahead or back.
Then choose the alarm time duration from the timer. This ranges from one minute to two hours.
2. Alarmy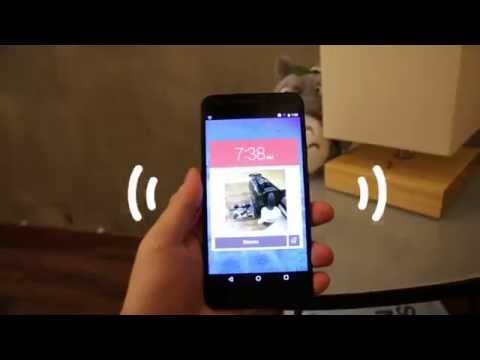 Another great alarm clock for Spotify is Alarmy. This is a great app for heavy sleepers who need action to literally get out of bed. With the Alarmy app, you have to add an image of an object in your house. Likewise, you can make this app ask you some math questions randomly or do other weird acts.
To use Alarmy, take a picture of any object in your house.
Then set the time you want the alarm to ring.
Once it rings, you have to get out of bed and go to the same spot where you earlier took a picture.
Take a picture of the same object to get the alarm to stop ringing. The magic just worked! You've already gotten out of bed!
3. Progressive Alarm Clock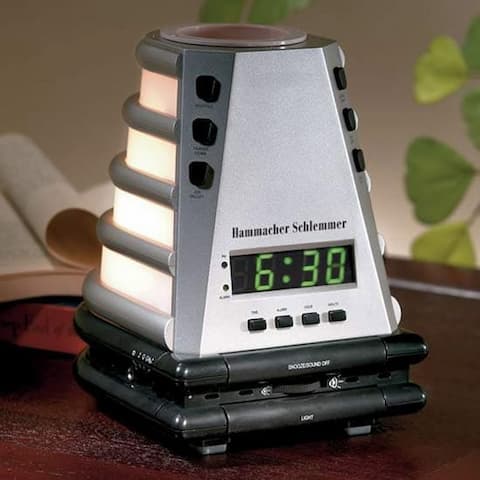 This is another great alarm clock that plays Spotify music. Just choose your favorite hit and Progressive will wake you up soothingly and calmly. You wake up feeling happy and eager to get out of bed. This Spotify alarm iPhone is only available on iOS devices.
Set what time you wish to wake up with the Progressive alarm app.
Then choose between its five pre-defined patterns.
Next, the app will give you a gradual sound that starts low and gets high with time.
4. Bedtime
This Alexa Spotify alarm has great features. It is an alarm clock and sleep tracker bundled into one. It lets you choose the specific days you want the alarm to ring. Besides, Bedtime automatically enables the 'Do Not Disturb' message when your wake time is not yet up. It's available for iOS devices only.
First, set when you want to wake up. It will ask you when you want to wake up and the much sleep you need.
It then calculates your ideal bedtime and then alerts you when time is up.
Likewise, you can always change your 'wake-up' time at the clock interface.
5. Sleep Cycle
Sleep Cycle is a Spotify alarm for both Android and iPhone devices. This app gives you a more Scientific approach to waking up every morning. It uses your phone's sensors to find determine the best time for you to wake up.
To use this Spotify alarm, place your phone beside you when you sleep.
The app will track your motions in bed and determine the quality of sleep you need.
Then, set a target time for you to be up.
It will finally attempt to wake you up when it realizes you are at your lightest sleep.
More Tips: How to Download and Set Spotify Songs as Alarm
Did you know you can also get a Spotify alarm pc to your phone? Well, Spotify encrypts its music and the best way to break this is to employ a reliable tool to help you download and convert your music. AudKit Spotify Music Converter comes loaded with the latest state-of-the-art technology to convert any Spotify music to playable formats. AudKit supports multiple Spotify content formats like MP3, FLAC, MP4, AAC, WAV, among others.
Besides, it works at a fast speed, converting your Spotify playlists at a 5X speed rate. AudKit will carefully keep the originality and ID3 tag information of your converted music. Follow these steps for the alarm clock for Spotify.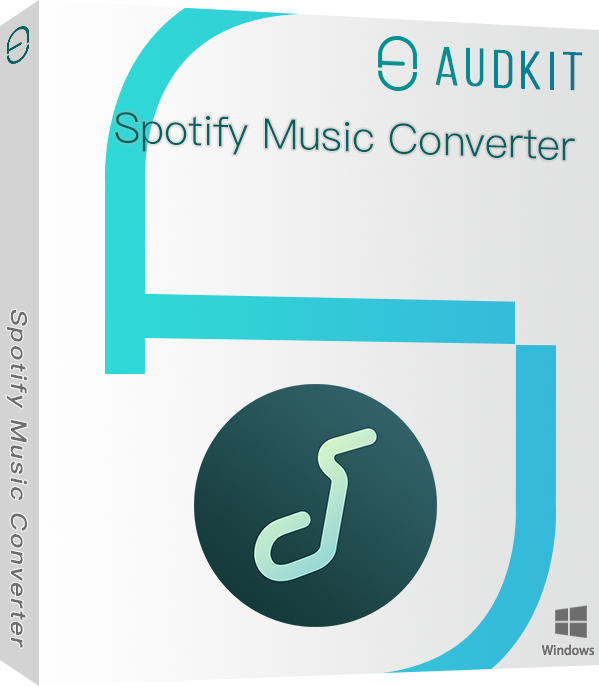 Listen to Spotify offline without Spotify ads
A quick conversion speed of up to a 5X rate
Convert Spotify playlists to many audio formats
Reset output bitrate, codec, sample rate, etc.
Step 1 Install AudKit app and add your music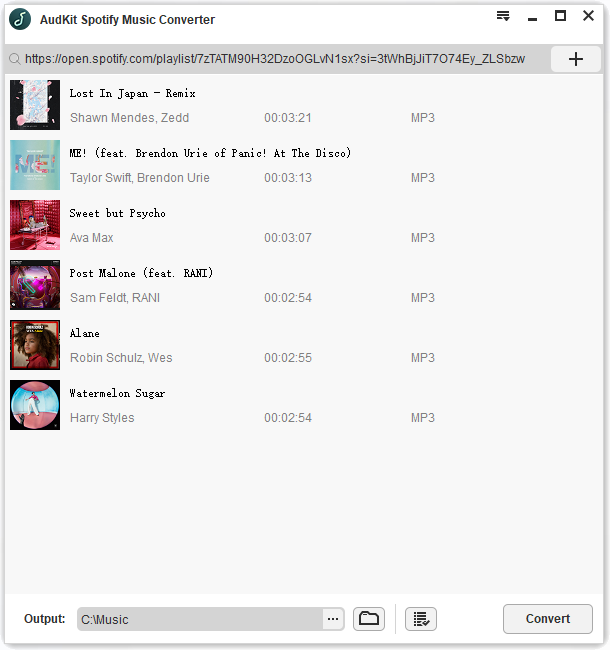 Go to the AudKit Spotify Music Converter website and install the app on your computer. You can use the free version by clicking the 'Free Download' option or upgrade by clicking the 'Buy Now' option for advanced features.
Next, launch the AudKit app, and the Spotify app will open immediately. Go ahead to add your favorite Spotify playlist to the app for conversion. You can drag and drop the playlist or copy the URL and paste it on AudKit's search bar.
Step 2 Customize the output settings for your Spotify music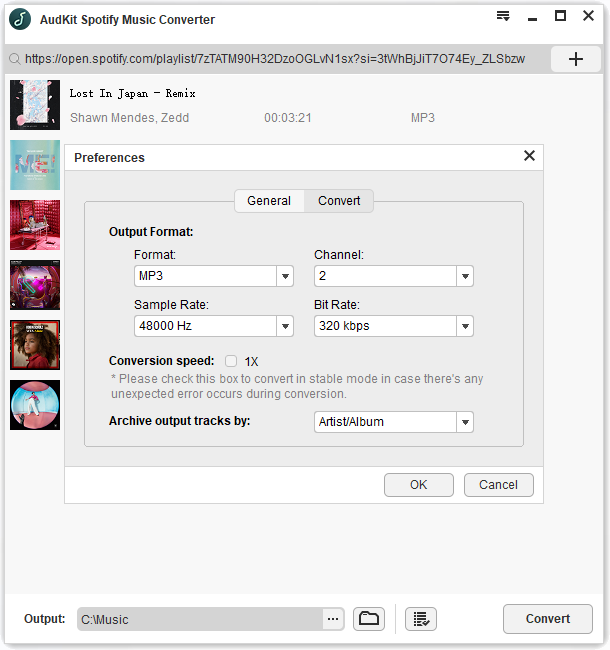 To customize the output setting, hit the 'Menu' bar and choose the 'Preferences' option then set your desired choices. These include the sample rate, bitrate, channel, and output format. Once you are set, click the 'OK' button.
Step 3 Download and convert your Spotify music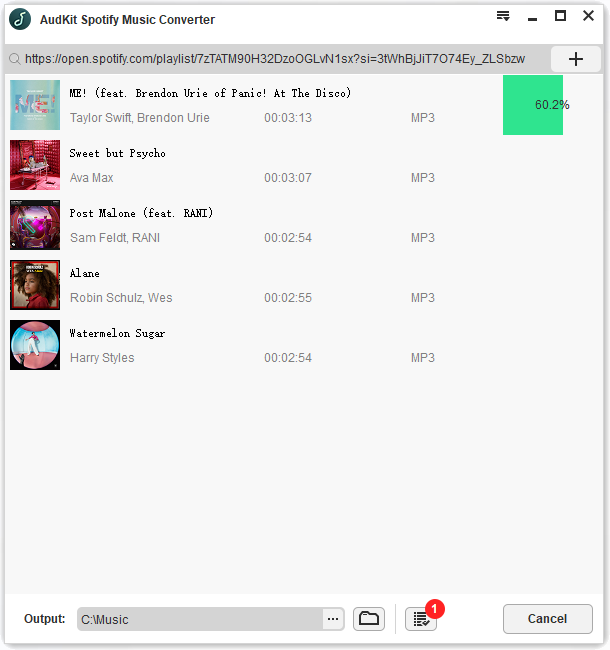 Finally, click the 'Convert' button to enable the app to convert your music to the selected options format. Your converted songs will then be saved in the 'Converted' folder on your computer's local disk.
---
Part 3. Conclusion
Waking up doesn't have to be boring anymore. Boost your out-of-bed moments with these 5 amazing Spotify alarm apps. And when you don't get an attractive tune, just use the best app to set the alarm clock for Spotify. AudKit Spotify Music Converter downloads and converts your favorite music in easy steps.
---