Are you a Spotify user who is going abroad and does not want to miss out on your favorite tunes? Or maybe you are already abroad and have realized that you cannot access Spotify abroad anymore. More often than not, tourists and business people find themselves unable to enjoy their Spotify subscriptions when they travel outside of their home countries. This is because Spotify geo-restricts its content due to licensing agreements.
Whether one can use Spotify abroad has been a hot topic among Spotify users for years. You can use Spotify abroad but after 14 days, you will receive a notice that shows "You can only use Spotify abroad for 14 days".
After 14 days of use, Spotify will automatically block free Spotify users from accessing its content if they are located outside their home country. Spotify Premium users are not subject to these 14-day restrictions, but they still may not be able to access their account if they are traveling in a country where Spotify is not available.
If you find yourself in either of these situations, worry not, there are a few workarounds that this article will show you on how to use Spotify abroad after 14 days!
---
Method 1. Change Your Country
If you can no longer access Spotify after 14 days of use, it is likely because Spotify has geo-restricted your account. One way to get around this is to change your country settings on Spotify.
This allows you to bypass the restrictions and continue using Spotify while you are in a foreign country. To change your country settings, follow the guide down below if you have a Spotify Premium account.
Step 1: Sign into your Spotify account on the Spotify account page.
Step 2: Click on the "Edit Profile" option on the screen.
Step 3: Find the "Country or region" section and select your new country from the list.
Step 4: Press on the "SAVE PROFILE" button at the bottom to confirm it.
Your Spotify account will now be updated with your new country settings, and you should be able to listen to Spotify abroad without any issues.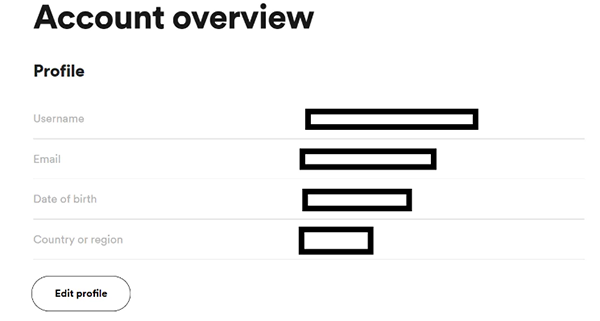 ---
Method 2. Upgrade to Spotify Premium
Another way to access Spotify abroad after 14 days is to upgrade to Spotify Premium. Spotify Premium users are not subject to the 14-day geo-restrictions that free users face. This means that you will be able to use your account no matter where you are in the world. Let's see how to upgrade your Spotify for using Spotify abroad.
Step 1: Log in to your account on the Spotify website.
Step 2: Click Premium in the top menu.
Step 3: Select one Spotify Premium subscription plan.
Step 4: Enter your payment information and click START MY SPOTIFY PREMIUM.
You will get Spotify Premium free for a few months if you have never subscribed to Spotify. Once you have upgraded to Spotify Premium, you can use your account as usual when you travel out of the country.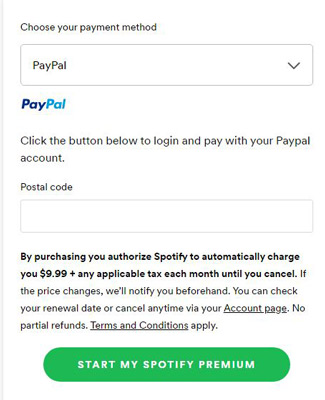 ---
Method 3. Use a VPN
If you do not want to upgrade to Spotify Premium, another way to access Spotify abroad is to use a VPN. VPN allows you to change your IP address and bypass geo-restrictions. This way, you can use Spotify as if you were in your home country. That's how to let Spotify work abroad by using a VPN.
Step 1: Choose a reputable VPN service.
Step 2: Sign up for an account and download the VPN software onto your device.
Step 3: Connect to a server in your home country.
Step 4: Open Spotify and log in to your account.
Step 5: You should now be able to use Spotify as usual!
Using a VPN is one of the most reliable ways to access Spotify abroad after 14 days of use. However, it is also the most expensive option because you need to pay for it to get the choice to choose your country and receive a stable network.
---
Method 4. Download Spotify Music – Recommended
All the above methods require an internet connection to use Spotify abroad. Then you may wonder "Can I use Spotify abroad without WiFi or data usage"? There is no doubt that you can stream Spotify offline without an internet connection. The best way to do this is to download your favorite Spotify songs, albums, and playlists with a Spotify music converter. Once the songs are downloaded, you can listen to them offline easily.
There are many Spotify music converters on the market but AudKit SpotiLab Music Converter with its high-quality output and fast conversion speed is among the best. It is a refined Spotify music downloader that can download Spotify songs on your device offline up to 5X faster while keeping the original sound quality and ID3 tags intact. Also, it supports a variety of output formats, so you can choose the one that best suits your needs. You can convert Spotify music to MP3, M4A, FLAC, and more.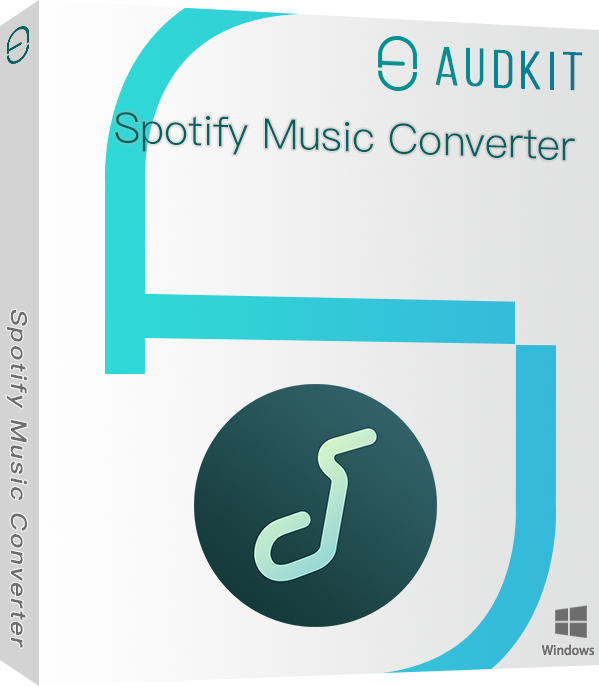 Losslessly download Spotify music offline with Premium
Download and convert Spotify to MP3, M4A, FLAC, etc.
Start the Spotify downloading with a 5X conversion speed
Listen to the downloaded Spotify abroad without network
How to Use AudKit Spotify Music Converter to Download Spotify for Listening Abroad
First, download and register AudKit SpotiLab Music Converter which supports Mac and Windows on your computer. Ensure you have selected the right version according to your system.
Step 1 Upload Spotify to AudKit SpotiLab Music Converter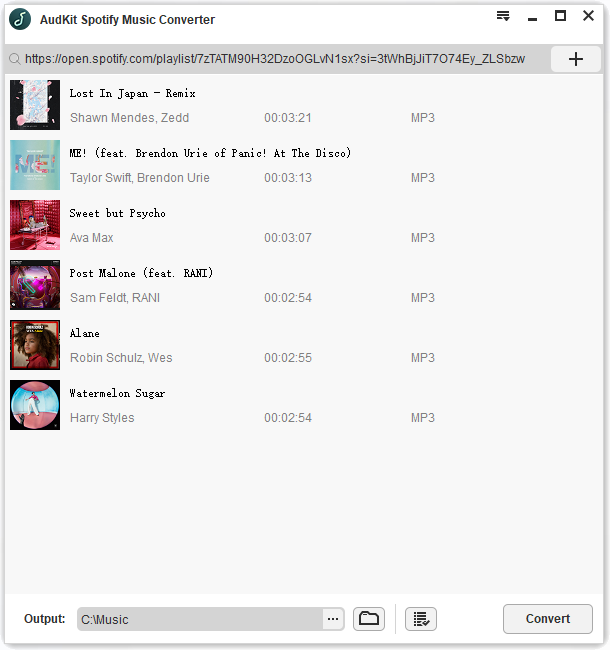 Launch AudKit Spotify Music Converter once you set it up, and Spotify will be opened automatically. Then drag and drop the target song, or playlist from Spotify to the main interface of AudKit software. You can also copy and paste the share link of Spotify music to the AudKit's text box area and press the + button to load Spotify tracks.
Step 2 Reset Spotify audio preferences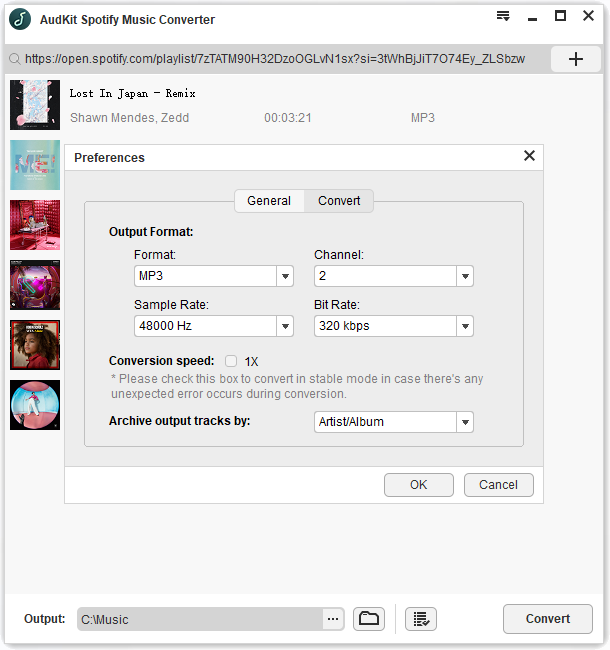 Click the menu bar (looks like a three-line) and select the Preferences option to open the settings window. Here you can make MP3, AAC, FLAC, or other formats as your Spotify output formats. You can also change the audio quality by adjusting the channel, sample rate, and bit rate in this window. Confirm your audio settings by tapping "OK".
Step 3 Convert and play Spotify abroad offline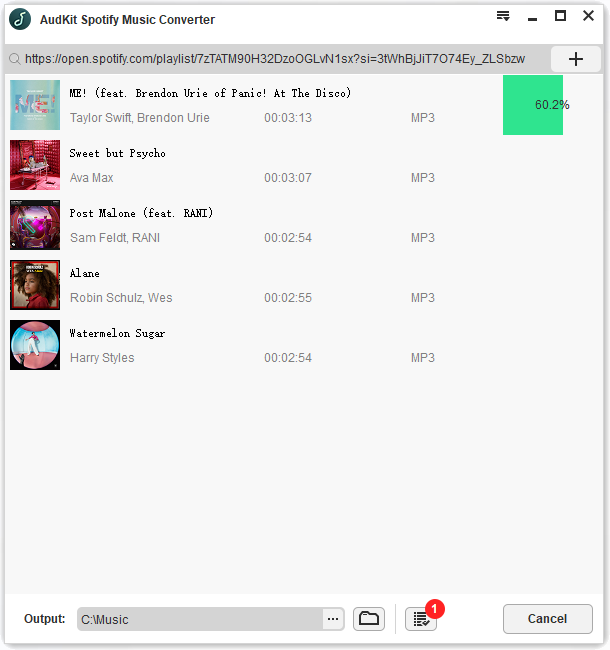 Click the "Convert" button to start downloading Spotify music for listening abroad. After conversion, you can find the converted Spotify songs in the local folder. You now have the right to move the Spotify files to your phones, MP3 players, or other devices for offline playback while you're abroad.
---
Method 5. Contact Spotify Support
If you have tried all of the above methods and still find yourself in the restrictions of Spotify abroad 14 days, your only option is to contact Spotify support.
You can contact Spotify support by going to their website. Make sure to include as much detail as possible in your request so that they can help you resolve the issue.
---
Conclusion
Spotify is a great way to listen to music, but its geo-restrictions can be frustrating if its users aren't aware of it. Luckily, there are ways to bypass these restrictions and use Spotify abroad. In this article, we have listed 5 methods that you can use to access Spotify abroad after 14 days, and downloading Spotify offline with AudKit Spotify Music Converter is the method that can make you less worried.
We hope this article has helped you. If you have any questions or suggestions, please let us know in the comments section.
---