Tidal is one of the world's leading music streaming services, with nearly 100 million songs from all over the world. Many people use the platform not only for its extensive music library, but also for the high quality of its songs. You can find almost any playlist you want on Tidal to keep you entertained.
While not all Tidal playlists on the platform will make sense to you, there will always be some beautiful playlists you'll enjoy. To facilitate your choice, in this post, we'll explore the top 10 best Tidal playlists in 2023 for your reference.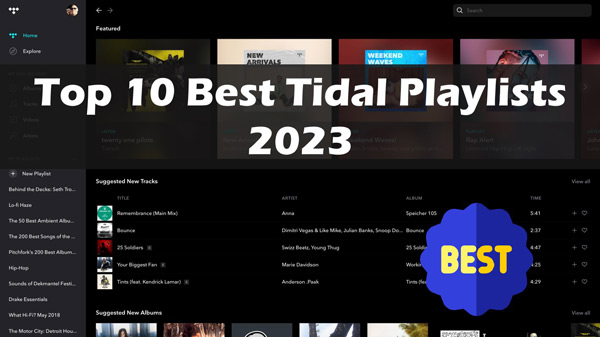 ---
Part 1. Top 10 Best Tidal Playlists in 2023
1. Modest Mouse Essentials
If you are a fan of the band Modest Mouse, then you will love this playlist. It is made up of 35 of the band's best hits. Formed in 1993, this band has been producing great albums over the years. The albums form the basis of this awesome playlist that millions of Tidal users love.
2. Barack Obama's Favorite Music of 2022
Where else will you get a playlist created by a former president of the world's most powerful country? President Obama has outdone himself again this year. As is now customary, President Obama has created a playlist of 25 tracks, including some of his best songs of 2022. Consisting of songs like 'The Heart Part 5' by Kendrick Lamar, 'Something in the Orange (Z&E's Version)' by Zach Bryan and 'Break My Soul' by Beyoncé, it's a great playlist that everyone should listen to.
3. New Arrivals
If you love listening to all the great new songs, then this is the Tidal playlist for you. This playlist is made up of the 50 best new songs of the week. Updated regularly, you'll love discovering new hits in this playlist, even before they become hits.
4. The Specials Essentials
If you like songs from the 70s and 80s, then you'll love this Tidal playlist. As the name suggests, it's a playlist that takes you back in time to 1977, when British punk band 'the Specials' started recording their tracks. The playlist is made up of 30 songs carefully selected by the group. It is wild, energetic and something I haven't seen in a while.
5. TIDAL's Top Hits
This is a self-explanatory playlist. If you want to be at the forefront of what's happening in the music industry, you should listen to this playlist on Tidal. It's updated regularly with 100 of the biggest Tidal hits currently available. If you want to sample a new hit every other week, then this is the playlist you should be listening to. The experts at Tidal have crunched the numbers and come up with the 100 biggest songs on the playlist.
6. Weekend Waves
If you like pop songs, you'll love this best hip hop playlist on Tidal. Millions of Tidal users listen to this playlist every other weekend. As the name suggests, this playlist is made up of 127 tracks and is designed to help you prepare for the weekend. The songs it contains will speak to your mind and get you in the right mood for the weekend. On this playlist, you will hear songs such as D.A.N.C.E. (Logic Reprise) by Logic Justice, Welcome To My Island by Caroline Polachek and Serotonin Moonbeams by The Blessed Madonna among many others.
7. When You Like It All
It consists of 165 carefully selected songs that will bring joy to your ears. It is made up of songs such as Location by Khalid, Never Too Much by Luther Vandross, What a Girl Wants by Christina Aguilera and Make It Happen by Mariah Carey. By carefully blending the new with the old, this best new metal Tidal playlist brings out the best of hip-hop and R&B.
8. Office Rotation: Best New Music
Here's another best audiophile playlist on Tidal dedicated to new songs. If you want to listen to all the latest songs from 2023, then this is the playlist you should listen to. It has 174 songs to give you the best listening experience on Tidal.
9. Jazz Classics – TIDAL Masters
If you like jazz, then you'll love this Tidal playlist. It is by far the best jazz playlist on Tidal. It has 58 songs from years of classic jazz. As time goes on, it delves even deeper into classic jazz and you won't want it to end. If you enjoy listening to songs like Sonny Rollins' There's No Business Like Show Business, Pat Metheny's Bright Size Life or Chet Baker's I've Grown Accustomed to Your Face, this playlist is for you.
10. Audiophile 101
This is the most comprehensive and best playlist available on Tidal. It has a whopping 600 songs from great artists from all over the world. It will give you an awesome and eclectic mix like never before. With so many songs, this playlist is sure to satisfy your thirst for quality music.
---
Part 2. How to Download Tidal Audiophile Playlists Locally
Tidal has thousands of great playlists that you'll want to listen to all the time. The only problem is that the Tidal app is not available on all devices, which means you may not be able to play your favorite Tidal playlists on your home or car stereo system. To solve this problem, we recommend you use the AudKit Tidizer Music Converter, designed to download all Tidal playlists locally.
It supports converting and downloading Tidal playlists to normal MP3, AAC, FLAC, WAV, etc. At the same time, it will retain 100% of the original sound quality and ID3 tags. This way, you can enjoy all the best playlists on Tidal and play them on any device offline and forever.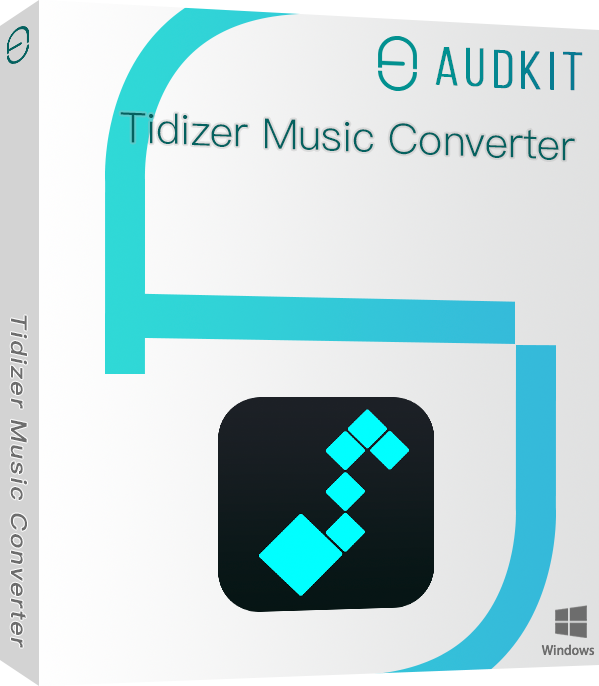 Main Features of AudKit Tidizer Music Converter
Maintains 100% lossless HiFi/Master quality
Support batch conversion of Tidal playlists
Download all Tidal playlists, regardless of your subscription level
Convert Tidal playlist to MP3, AAC, WAV, FLAC, etc.
How to Download Tidal Audiophile Playlists Locally
Step 1 Download and Register AudKit Tidizer Music Converter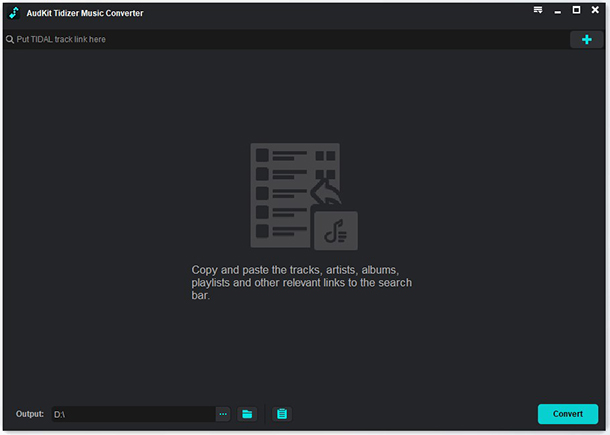 Go to the official website of the tool to download and install it. Launch it and click on "Menu" and "Register" on the user interface. Follow the on-screen instructions to complete the process.
Step 2 Pick the Preferred Tidal Output Profile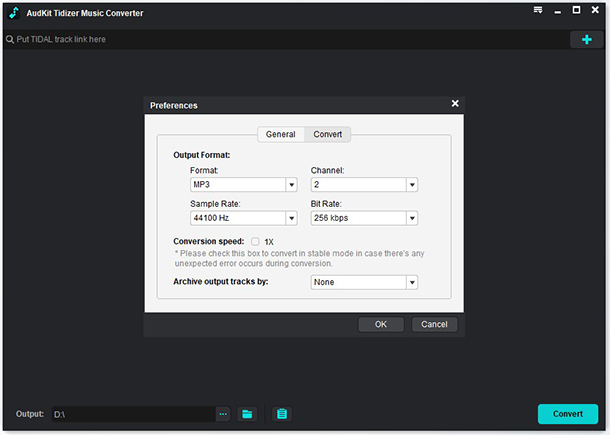 Open the Menu and click on the 'Preferences' button, then select 'Convert'. Here, select your preferred output format and edit the bit rate, archive, sample rate and channels to your liking. Once you have finished, click 'OK'.
Step 3 Import Tidal Playlist to AudKit Tidizer Music Converter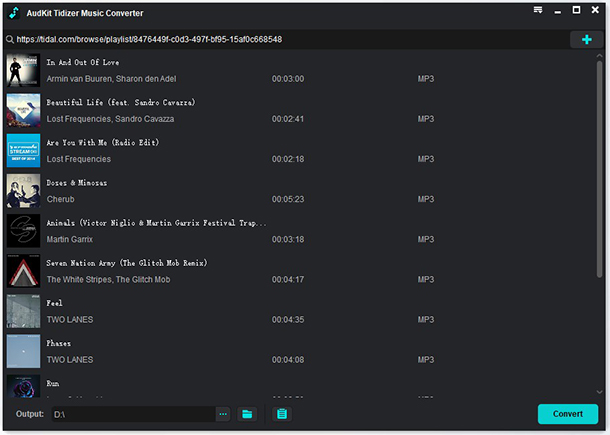 Go to your Tidal app and find the playlist you want to download. Now drag and drop the playlist onto AudKit Tidizer Music Converter's interface. Alternatively, you can copy the link to the playlist and paste it into the tool search box, then click the "Add" button.
Step 4 Convert and Download Tidal Playlist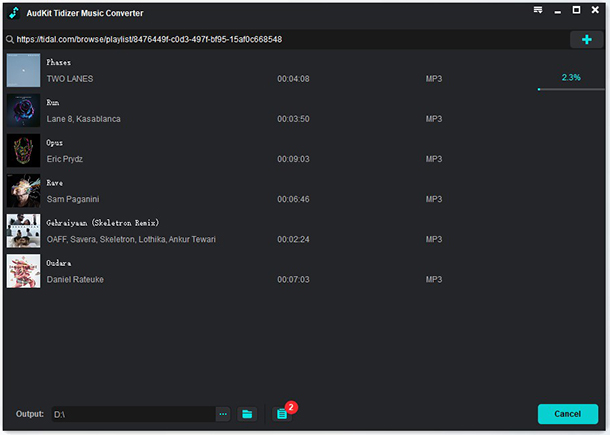 Simply tap on the "Convert" tab and it will convert and download Tidal playlists to your computer. When the download is complete, click on the red "Converted" button to find your converted Tidal files and transfer them to your preferred device for offline playback.
---
Part 3. More about Tidal Playlists
Q1. Does Tidal Have Playlists?
Yes, Tidal has thousands of playlists, created by many experts in the music industry.
Q2. How to Organize Tidal Playlist?
Step 1: Launch the Tidal app on your device and log in to your account.
Step 2: Find and open the playlist you wish to organize.
Step 3: Click on the "Sort" icon and then select your preferred "Method for sorting tracks" when prompted. Your playlist will be organized just the way you want it.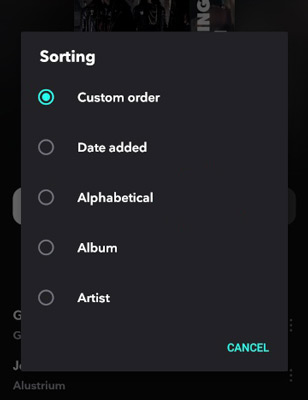 Q3. How to Make a Playlist on Tidal?
Step 1: Find the song you want to add to your playlist and click on the three vertical dots next to the song title.
Step 2: Click on "Add to Playlist" in the sub-menu that opens.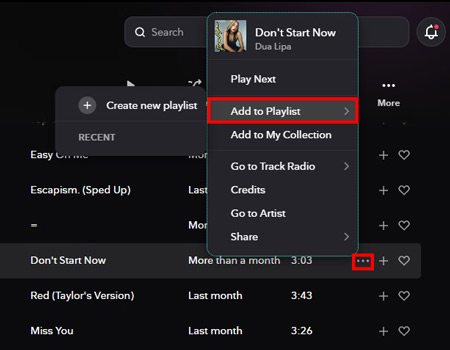 Step 3: When prompted, enter the name of the playlist you want to create and click on the 'Create' icon. You will then already make a playlist on Tidal.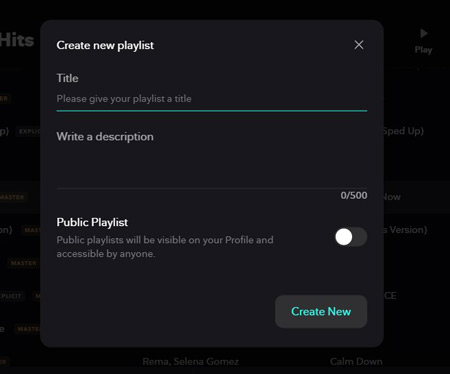 ---
Part 4. In Conclusion
If you love listening to some of the world's best playlists, Tidal is the right place. This article presents the 10 best Tidal playlists to make you fall in love with music over and over again. If you want to download your favorite playlists on Tidal, we suggest you use AudKit Tidizer Music Converter. With it, you can download any playlist from Tidal locally for offline playback anytime, anywhere.