"I have recently purchased the new Galaxy smartwatch from their series 4. Before that, I was using an Apple watch. In my previous smartwatch, I was able to play Tidal music through it. But, now even after exploring the Galaxy Watch, I am unable to connect Galaxy Watch to Tidal. Is there a way to use Tidal Wearable app so that Galaxy Watch to Tidal becomes possible? Please help!" – User on the Internet.
New users of the Samsung Galaxy Watch often wonder how to hook Galaxy Watch to Tidal. Luckily, our article makes the answer to how to connect a Galaxy Watch to Tidal easy for you. Following our guide, you can link Tidal to your Galaxy Watch. Just make sure you read the whole article, and you will be able to download Tidal to Galaxy Watch easily.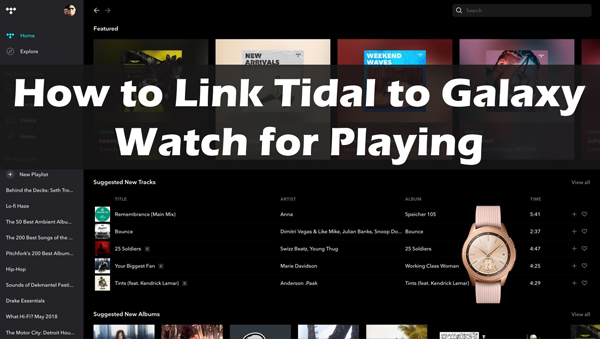 ---
Part 1. How to Link Tidal to Galaxy Watch
In the first part, you will see how you can easily link Tidal to the Galaxy Watch. So, without wasting any time and effort, let's begin with the method through which you can connect Tidal to Galaxy Watch.
Tidal Wearable Application
Samsung and Tidal have collaborated and made it easy for Samsung users to use Tidal on their Galaxy watches. Tidal introduced the Tidal wearable application, which allows you to launch the Tidal application straight from your Galaxy Watch.
How to Use the Tidal Wearable App to Link Tidal to Galaxy Watch
You can use the Tidal on Galaxy Watch with a Tidal Premium subscription. If you have that, proceed with the steps below:
Step 1: From your mobile phone, launch the Galaxy app store.
Step 2: Search for Tidal application. Once you find it, install the Tidal application on your mobile phone.
Step 3: Connect your phone with a Galaxy Watch and launch the Tidal app on your Galaxy Watch.
Step 4: From your mobile browser, go to link.tidal.com and then log in to your Tidal account.
Step 5: Enter the shown code from the website on your Galaxy Watch to finish linking Tidal to your Galaxy Watch.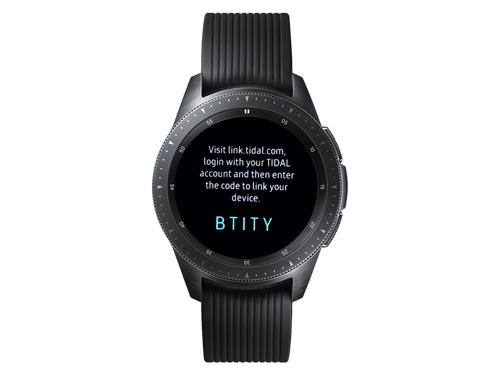 ---
Part 2. How to Download Tidal to Galaxy Watch
Although Tidal has made it possible to link Galaxy Watch through the Tidal wearable app, there is one problem. The problem is you need a Premium Tidal subscription to connect Tidal with your Galaxy Watch.
Fortunately, there is another way through which you can download Tidal music and play it on your Galaxy Watch. This method does not require you to pay for any Tidal Premium account. Let's see below how you can download Tidal to Galaxy Watch.
AudKit Tidal Music Converter Software
The AudKit Tidal Music Converter is a straightforward utility that allows you to convert and download Tidal HiFi music in three simple steps. The software lets you convert Tidal music to MP3, M4A, AAC, and other Galaxy-supported audio formats.
AudKit Tidizer software removes the protection from Tidal music. Also, it converts and downloads the Tidal music in HiFi quality without losing the originality and the ID3 tags.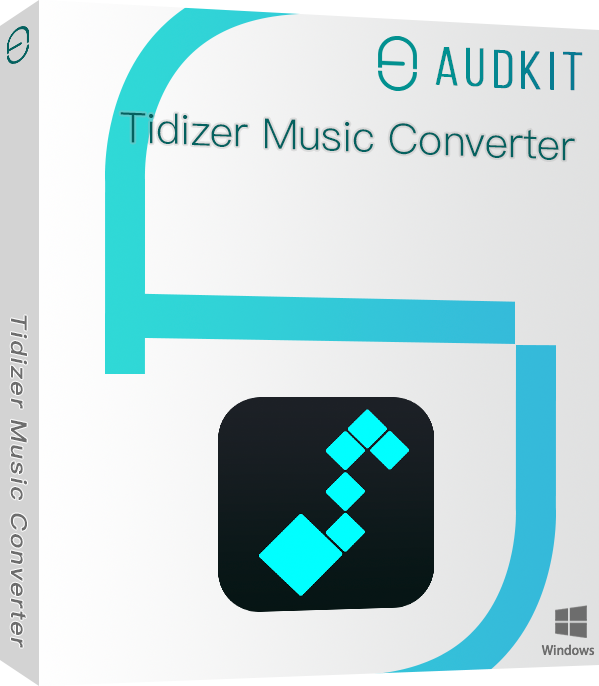 Main Features of AudKit Tidizer Music Converter
Download and keep the original quality of Tidal music
Convert Tidal music to MP3, or other formats that supported by Galaxy Watch
Quick download the Tidal music at 5X speed to play on Galaxy Watch
Only three steps to download and convert Tidal music
Steps to Use AudKit Tidal Music Converter to Download Tidal Music
Step 1 Check the output parameters of Tidal for Galaxy Watch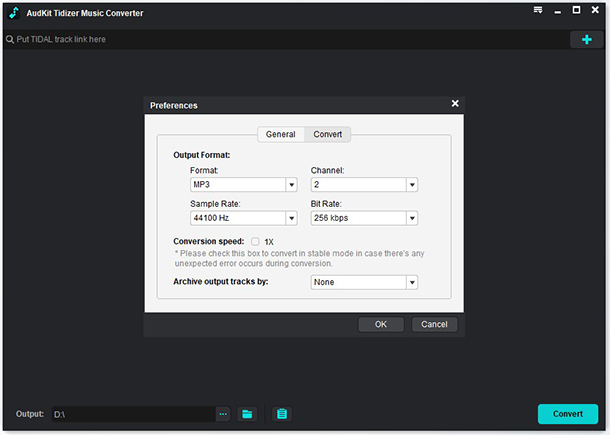 After downloading the AudKit Tidizer Music Converter from its official website, run it on your computer. Then go to Preferences and choose Conversion from the drop-down box under Conversion. You'll be sent to a new window where you may adjust the Tidal music output format, including sample rate, bit rate, and channel rate.
Step 2 Import Tidal music in the AudKit software for Galaxy Watch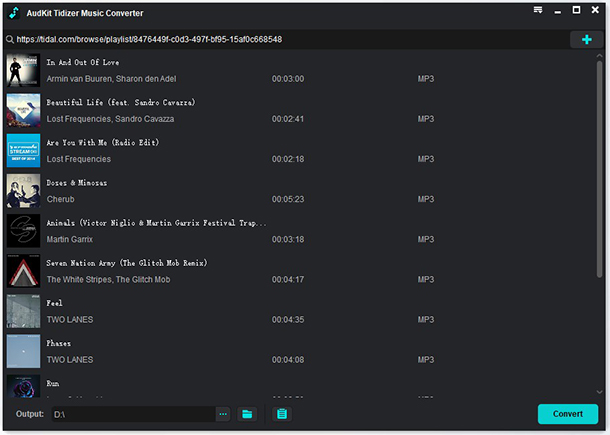 A Tidal application is included in AudKit Tidizer. Look for a playlist you wish to download using the built-in Tidal and click the Add Music button in the lower-right corner. You can add the music to the AudKit Tidizer by clicking on it. Let's pretend you only want to listen to one song from a playlist. In that situation, you'll need to open the playlist and select only one song to add.
Step 3 Download Tidal music for Galaxy Watch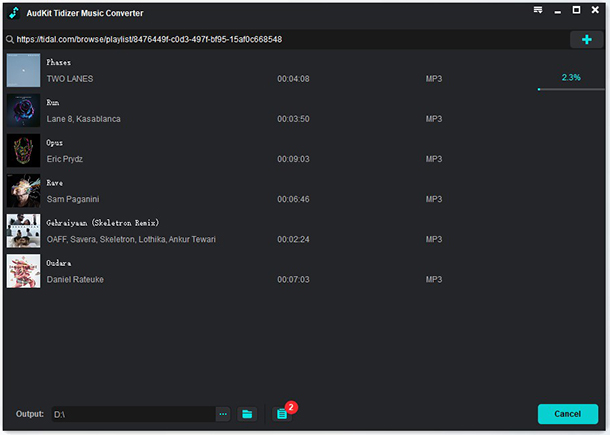 The app will download Tidal music without premium subscription if you select the Convert tab. During the conversion, you can also add other music. After the transition is complete, click the Convert icon to access the Tidal HiFi music you've downloaded.
Once you are done with the above steps, you will have the Tidal music available for offline usage on your computer. These three steps are essential to proceed with the following steps that show how to transfer downloaded Tidal songs to Galaxy watches.
Transfer Downloaded Tidal Songs to Galaxy Watch
Step 1: Connect your phone with your computer and copy all the downloaded Tidal songs into your phone. You can transfer the downloaded songs by either its Bluetooth or direct USB copy.
Step 2: From your phone, launch the Galaxy Watch application.
Step 3: In your Galaxy Watch, tap the 'Add Content to Your Watch' option and then select 'Add tracks'.
Step 4: Just select all the downloaded Tidal songs and click the Done button. Your Tidal songs will be added to your Galaxy Watch after this step.
Step 5: Now, open the Music app from your Galaxy Watch and directly play Tidal on your Galaxy Watch. You do not need any Tidal application or subscription to play the Tidal music.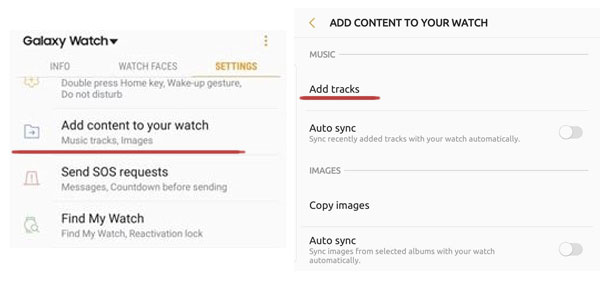 ---
Learn More: Samsung Galaxy Watch 5 – What You Need to Know
Samsung Galaxy watches 5 is cooler than all the previous versions. It is new, and here's what makes it brilliant to use.
Play music, listen to calls, and respond to messages right from your hand without needing a phone.
A higher battery life that lasts longer than any of its previous watches.
Compatible with almost any phone.
Flexible workout controls.
Slim and sleek design.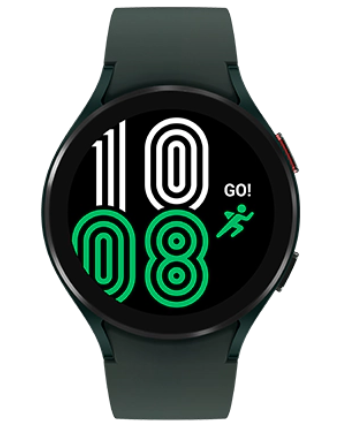 ---
Conclusion
Smartwatch nowadays is as important as having a smartphone. Galaxy watches are popular due to their reliability and extensive features.
You can click the Galaxy Watch to Tidal using the Tidal wearable application. But, the new Galaxy Watch user may feel confused to connect Galaxy Watch to Tidal. However, after reading our article, your confusion will come to an end.
If you do not wish to buy a premium subscription, you can use the AudKit Tidizer Converter. It is recommended and allows you to play Tidal on the Galaxy Watch without having any premium subscription.
---