Everyone loves listening to music, but not everyone focuses on the song's actual words. Lyrics of the songs help listeners understand the songs deeply and the attention of the artist behind writing the song. Many people listen to online streaming music, but not all streaming platforms provide the lyrics of the songs.
Can you see lyrics on Tidal? Yes, users of the Tidal app can listen to millions of songs while reading their lyrics on the playing screen. Tidal has recently surprised its subscribers with a new feature of Tidal lyrics. Tidal has various music libraries, but users are still unaware of this feature. Or they are unable to use this amazing feature. If you are wondering how to get lyrics on Tidal, we are here to help you with this issue. This article will provide you with important information about Tidal lyrics.
You will learn the process for getting Tidal lyrics on mobile phones and computers. Moreover, the article has a solution for the issue of how to fix Tidal lyrics not working. We will provide a permanent solution for this issue. Go through the article and solve your inquiries.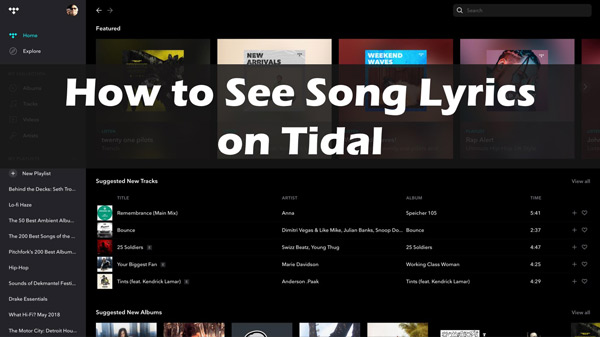 ---
Part 1. Does Tidal Have Lyrics?
Tidal users have finally gotten what they want for a long time. Tidal received many requests for adding lyrics to Tidal music from its users. Eventually, Tidal recently added a new feature to its streaming service. Users can now read song lyrics on Tidal music. On the playing window of Tidal, the lyrics are in karaoke style.
Tidal gives you two modes: landscape and portrait mode. You can choose according to your suitability and comfort. As you play a Tidal song, the words appear according to the lyrics. Another perk of this feature is that you can fasten and slow down the lyrics with a scroll. If you know the lyrics, keep it fast, and if you want to understand them, slow the lyrics.
Tidal Hi-Fi and Tidal Hi-Fi Plus subscribers can avail of this new feature. You can see song lyrics on Tidal on desktops, a new version of the Tidal web player, and mobile phones. Unfortunately, Tidal TV apps are unable to display the lyrics. You need to update your Tidal application with its latest version to get this feature.
There're other features for Tidal HiFi and HiFi Plus subscribers, you may know more details by reading this article: Tidal HiFi vs HiFi Plus: Which One Is Better.
---
Part 2. How to See Song Lyrics on Tidal?
Now you are aware of the new impressive feature of Tidal. It is time to look at how to display lyrics on Tidal. The process for getting Tidal lyrics is as follows.
Remember: Ensure to update the Tidal app to its latest version.
How to Find Lyrics on Tidal on iPhone/Android
Step 1: After having an updated version of Tidal, you must log in to your Tidal account on your Android phone or iPhone.
Step 2: Search for and play a Tidal song you want to see the lyrics.
Step 3: Tap the lyrics icon on the Now Playing screen. At the bottom of the page, you will see a sync button.
Step 4: Tap the sync button, and the song's lyrics will appear to you.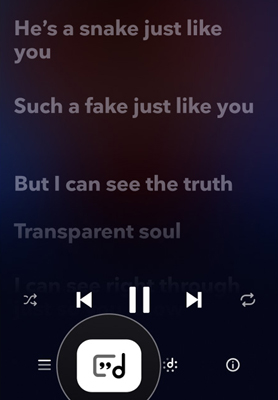 How to Read Lyrics on Tidal on Mac/PC
Step 1: Open the Tidal app on your computer and log in to your Tidal account.
Step 2: Search and play a Tidal song that you want to get the lyrics.
Step 3: Click on the Lyrics icon at the bottom of the playing screen.
Step 4: The lyrics of the selected song will appear to you in a new pop-up window. You can easily read the lyrics while listening to the song.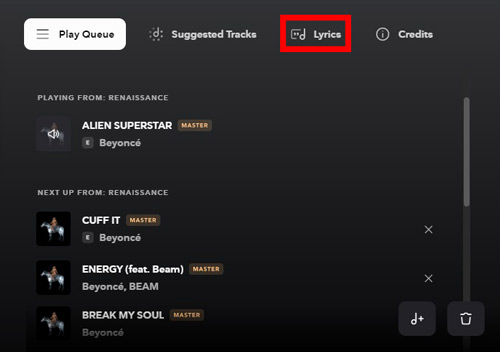 ---
Part 3. How to Fix Tidal Lyrics Not Working Issue
Tidal has released its new version with a unique feature of song lyrics on Tidal for Tidal Hi-Fi and Tidal Hi-Fi Plus subscribers. You can get this new feature only with the latest version of the Tidal app. Suppose you have installed the most recent version but find Tidal lyrics not working. Or Tidal is showing lyrics and unable to sync the song's lyrics.
We recommend using the AudKit Tidizer Music Converter for downloading Tidal music as local files. Then you can see Tidal lyrics on any music player. In this way, you don't need to worry about the Tidal lyrics not working issue due to the Tidal problem.
The converter can download Tidal music at a 5X faster speed to multiple audio formats, including FLAC, WAV, MP3, and AAC. It converts the music with all the ID3 tags such as cover, artist name, title, etc. Moreover, you will get lossless, high-quality Tidal music after conversion. With AudKit Tidal Music Converter, you don't need to worry about no lyrics on Tidal, you can also offline listen to Tidal music anywhere you want.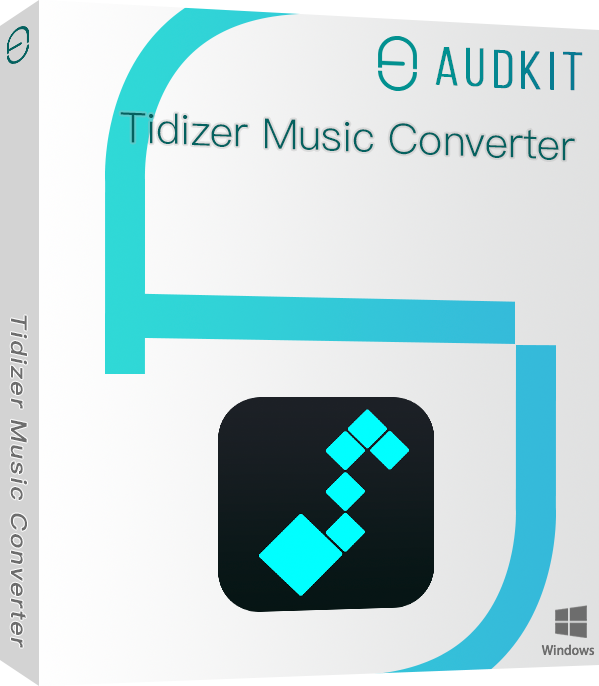 Main Features of AudKit Tidizer Music Converter
It is compatible with PC and Mac computers
Its conversion speed is 5X faster
It supports multiple audio formats like MP3
It converts Tidal music into lossless quality
The process for using AudKit Tidizer Converter is simple. Follow the given step-by-step guide to download Tidal Music for offline listening.
Remember: Install and launch the AudKit Tidizer Music Converter on your Mac or PC by the above Download button. Open the app and register your username and passcode of your Tidal account.
Step 1 Set output preferences of Tidal songs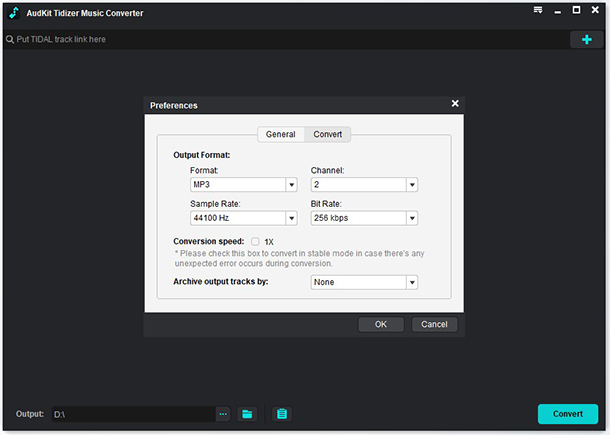 Change the customization settings according to your own choice. Click on the menu icon at the top and tap on the Preferences option. Then click on the Convert tab. You can change the audio format to MP3, which is compatible with most music players. Other than that, you can also change the channel, bit rate, and sample rate.
Step 2 Add Tidal songs to AudKit Tidizer Music Converter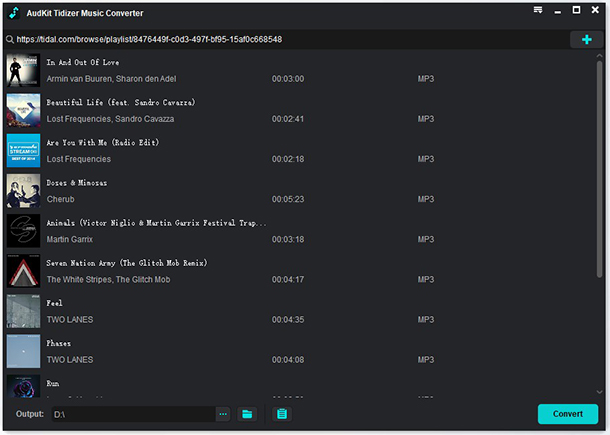 You can add Tidal music to the converter via two methods. The first one is to drag and drop the song from Tidal to the converter. The other is to copy the song's link and paste it into the search bar of the converter. Then click the + icon and import Tidal music.
Step 3 Download and convert Tidal music as local files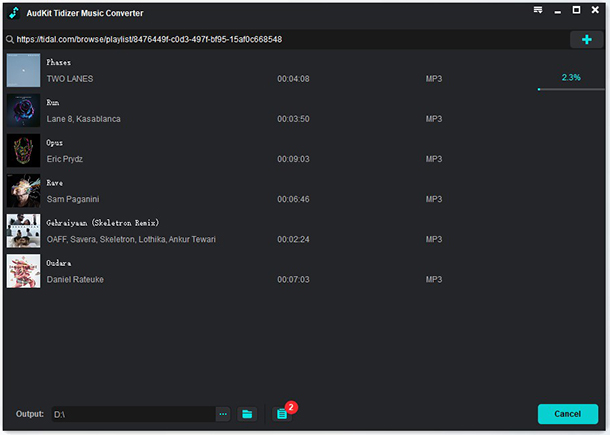 After adding the songs, click on the Convert button. The converter will start converting the songs from Tidal to MP3 format. When the conversion process is complete, you can locate the songs from the 'converted' button at the bottom.
You have successfully downloaded Tidal songs to your local computer. Now play the converted songs on any lyrics-supported media player or device.
---
Part 4. In Conclusion
If you are a Tidal Hi-Fi or Tidal Hi-Fi Plus subscriber, you can get song lyrics on Tidal. With this feature, you can enjoy the song's lyrics while listening to Tidal songs. We have provided you with the process of getting Tidal lyrics on your mobile and computers. Moreover, if you are having issues with Tidal lyrics not working, we recommend using the AudKIt Tidizier Music Converter. Just use the software and download Tidal songs on your computer as local files. And then you can use the converted Tidal songs in any media player that supports the lyrics display.
---