Do you enjoy listening to different music and want to fill your home with it? If that's the case, Sonos will be ideal for you. This wireless speaker system allows you to listen to music, audio entertainment, podcasts, and audiobooks in multiple rooms. It's simple to put up and significantly improves your home theatre experience.
Can you play Tidal on Sonos? Tidal is the king of Hi-Res sound quality. You can listen to music at 16 bitrates and a refresh rate of 44.1 kHz, which is significantly more powerful than most streaming services. Therefore, Tidal music is the most incredible option for playing through loudspeakers.
If you have a Sonos, you cannot miss streaming Tidal on Sonos. In this article, you can know how to connect Tidal to Sonos with and without the Tidal app.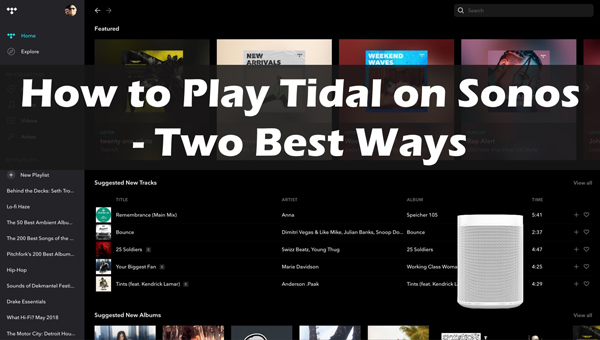 ---
Part 1. How to Connect Tidal to Sonos with the Tidal App
There is a straightforward way to stream Tidal to your Sonos system. Now it's time to start streaming. It would help if you are the first time playing Tidal on Sonos.
Firstly, you need to create a Tidal account with your Facebook or Google account. Follow the three steps outlined below:
Visit Tidal's official website.
Click the "Sign-up" button in the top right corner to see the sign-up settings.
Next, enter your login information and create a new account.
Now we will guide you to connect Tidal to Sonos with a smartphone and computer respectively.
Connect Tidal to Sonos with Tidal App for iOS/Android Smartphones
Step 1. Open the Tidal app, tap the "More" icon, and then tap "Add Music Service".
Step 2. Select Tidal from the list of possibilities.
Step 3. Then, click "I already have an account" and sign in with your existing account.
Step 4. Return to the "Now Playing" interface and select the Sonos speaker by clicking the "Cast" button.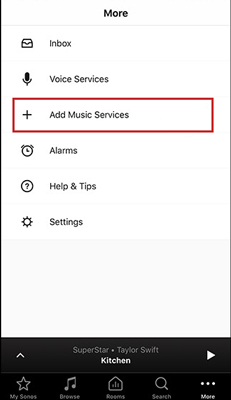 Connect Tidal to Sonos with Tidal App for Mac/Windows Computers
Step 1. On your PC, open the Tidal app.
Step 2. Once in the Tidal app, go to the "Music" menu and select "Add Music Services".
Step 3. From the list of options, select Tidal.
Step 4. Select "I already have an account" and log in to your account.
Step 5. Once you've signed in, go to the main screen and select the cast to start streaming Tidal on Sonos.
---
Part 2. How to Play Tidal on Sonos without the Tidal App
Listening to high-quality Tidal music on Sonos is a wonderful thing. But only Tidal HiFi and Tidal HiFi Plus provide high-quality music compelling to listen to. The main issue is that the HiFi tier is a little pricey, and most people will probably avoid renewing their subscriptions. But don't be concerned! We'll show you how to stream Tidal on Sonos without using the Tidal app.
You can try to download Tidal music as local files. AudKit Tidizer Music Converter, being one of the top Tidal downloader applications for Mac and Windows, can download Tidal songs and playlists to your computer's local storage, regardless of whether you have a Tidal free or Tidal HiFi account.
You no longer need to install the Tidal desktop program with the built-in Tidal music library in AudKit Tidal Music Downloader. After downloading Tidal HiFi songs, you can listen to Tidal offline on the desktop without restrictions. And you are able to play Tidal on Sonos with ease. Also, the offline Tidal music downloads can be moved and played on any device without Tidal integration or subscription.
AudKit Tidizer, in addition to being a Tidal media downloader, is also a Tidal converter. For better compatibility and playback, you can get Tidal HiFi download to MP3, FLAC, WAV, AAC, M4A, and M4B using AudKit Tidizer. It will provide you with outstanding audio quality by maintaining Tidal HiFi lossless quality with cutting-edge technology.
What's more, AudKit Tidizer Music Converter can identify, collect, and preserve 100% of the ID3 tags from original Tidal tracks and playlists using the built-in ID3 tag editor. Tidizer Tidal Music Converter, which uses a high-speed processor for conversion, can batch convert a 10-hour Tidal playlist in as little as 2 hours or less.
You can download AudKit to your computer from the below "Download" button. Then follow the steps to play Tidal on Sonos.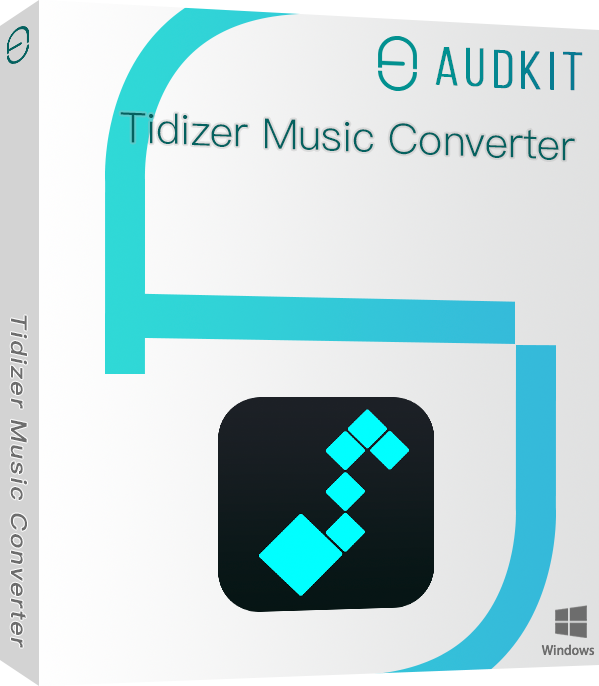 Main Features of AudKit Tidizer Music Converter
Convert Tidal music to MP3 for Sonos
Download Tidal music for offline listening to Tidal on Sonos
Batch download and convert Tidal music at 5X
Keep the lossless sound quality of original Tidal music
Step 1 Edit Tidal output format for Sonos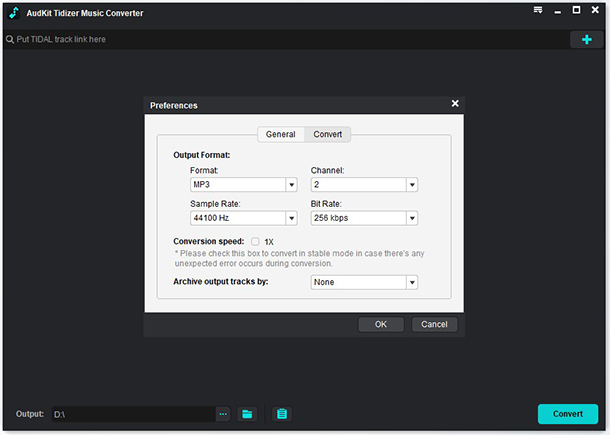 Open AudKit, and select "Preferences" > "Advanced" from the top-right menu icon. To fit your requirements, modify the file type, channels, sample rate, bit rate, and archiving technique. To play Tidal on Sonos, you can select MP3 as the output format.
Step 2 Import Tidal tracks to AudKit for Sonos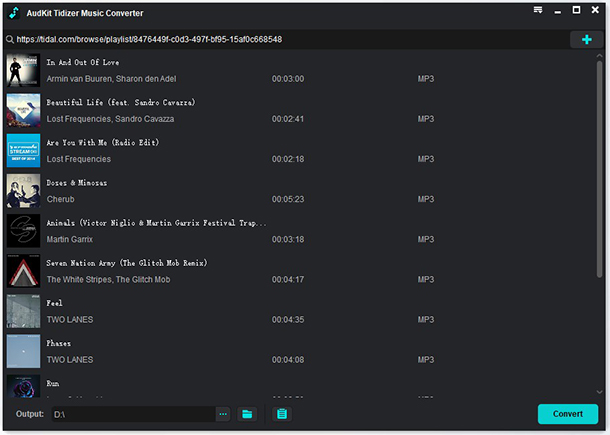 Once you log in to your Tidal account on AudKit, it will soon show your Tidal library. Navigate to the Tidal playlist that you would like to play on Sonos. Then the "Add Music" button will be shining in the lower-right area. You may use it to choose the full playlist or individual tunes. You can continue to add more Tidal music to the conversion queue while downloading.
Step 3 Convert Tidal music for Sonos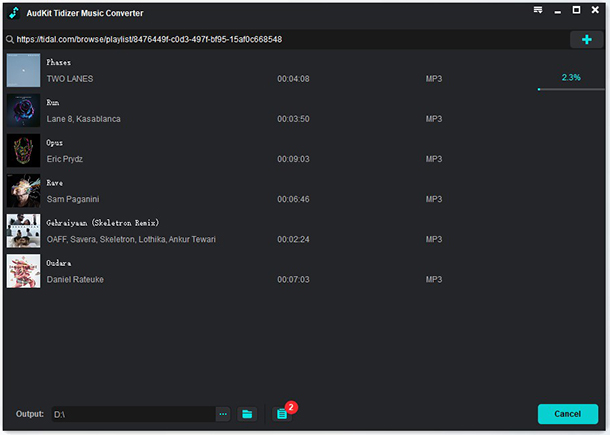 In the lower right corner, press the "Convert" button to download music on Tidal to computer. The converting process will be started by AudKit. When all downloading operations are done, the "Converted" icon will have a red tip. Open it if you wish to see the converted Tidal music files.
Step 4 Add Tidal to Sonos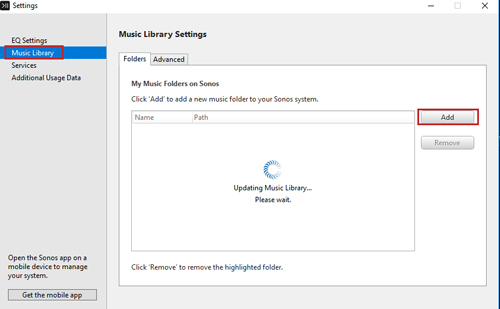 Until now, you have got the compatible Tidal format for Sonos. You can now transfer the converted Tidal music to Sonos for use.
1: Open the Sonos app on your computer (Mac version or Windows version).
2: Select Music Library Settings from the Manage menu.
3: Choose + (for Mac) or Add (for Windows).
4: Select the previously downloaded converted Tidal files.
5: Add your converted music to your Sonos device by following the on-screen directions.
6: After transferring, you can start playing Tidal on Sonos without hassle.
---
Part 3. Conclusion
Tidal is a music streaming service primarily recognized as one of the greatest on the internet. It lets you listen to your favorite music in the best possible sound quality. If you wish to enjoy an incredible music streaming experience on Sonos or other speakers, AudKit Tidizer Music Converter can help you a lot.
You don't need to own a premium membership of Tidal, you can convert Tidal to the compatible format with Sonos or whatever other devices. Then you are able to transfer the downloaded music to Sonos or your preferred devices. With AudKit Tidizer Converter, you can offline listen to high-quality Tidal on Sonos or any other device without limitation.
---