Tidal has played an important role for many streaming music lovers. Tidal users can be capable of accessing millions of high-quality music from the music library. However, if you want to save Tidal music in local drives, you may find it failed. That is because Tidal only allows users to listen to Tidal on the Tidal official app. It's to protect the content of Tidal preventing users from using Tidal music for other commercial use.
Thus, to access Tidal music on the devices you like, you need to rip music from Tidal locally. After ripping Tidal music, you can play Tidal music on different media players. This article will give you the best Tidal rippers to rip songs from Tidal on Windows, Mac, free, and online.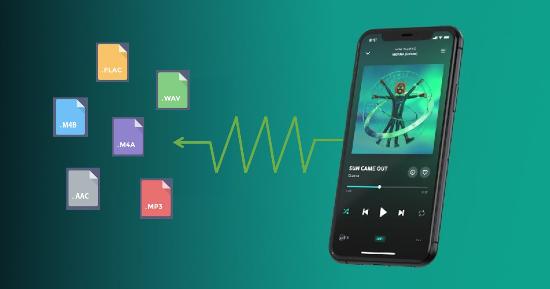 ---
Part 1. How to Rip Music from Tidal on Windows/Mac – AudKit Tidal Music Ripper
AudKit Tidizer Music Converter is an incredible program to rip Tidal MQA or HiFi music without lowering the original sound quality. Using it, you can download Tidal music at up to 5X speed to your local drive. It also retains the lossless ID3 tags of the downloaded songs. You can select and rip music from Tidal in batches. When you are in the ripping process, you are able to add more Tidal songs to rip.
Plus, AudKit is also a wonderful converter. It is able to rip FLAC, WAV, MP3, AAC, M4A, etc. from Tidal music. Therefore, you can use it to convert Tidal music to your desired audio format. Then you can easily play your favorite Tidal music on other devices you want. Also, you can still enjoy the original perfect audio quality after you rip local songs from Tidal. Check original info like artists, titles, albums, album art, and so on.
Main Features of AudKit Tidal Music Ripper
✅ Rip songs, albums, and playlists from Tidal on Windows and Mac
✅ Convert Tidal music to MP3, M4A, WAV, FLAC, etc.
✅ Retain Tidal MQA or HiFi lossless quality and ID3 tags
✅ 5X faster conversion speed
✅ Flexible options for setting output audio parameters
How to Rip Songs off Tidal on Windows/Mac
Step 1 Add Tidal Songs to AudKit Tidizer Music Converter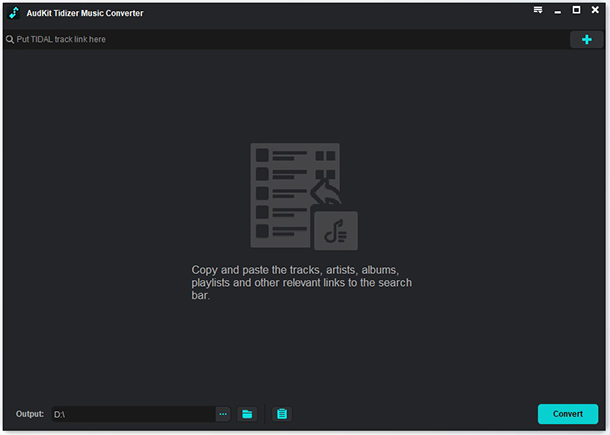 Please download and install the AudKit Tidizer Music Converter and launch the program. Go to the Tidal app that pops up and look for the song, album, or playlist you want to rip. Copy the track link to the search bar of the AudKit tool and press the "+" icon.
Step 2 Customize the Tidal music output attribute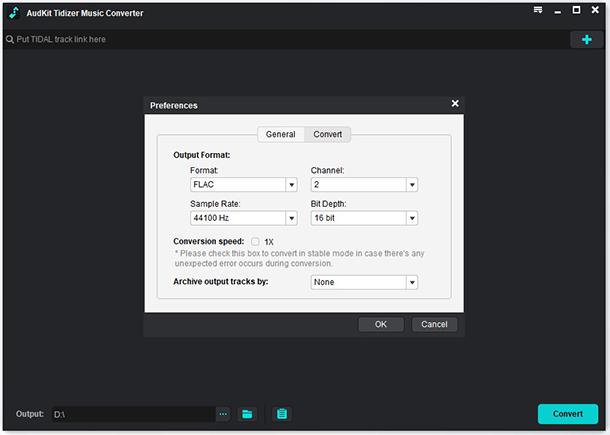 Now, click the "three-line" menu bar at the top right. Select the "Preferences" > "Convert" option and change the Tidal attributes as you like. You can personalize the Tidal music output format, bit rate, sample rate, channel, and so on. To become compatible with most media players, you can set MP3 as the output format.
Step 3 Start to rip Tidal music locally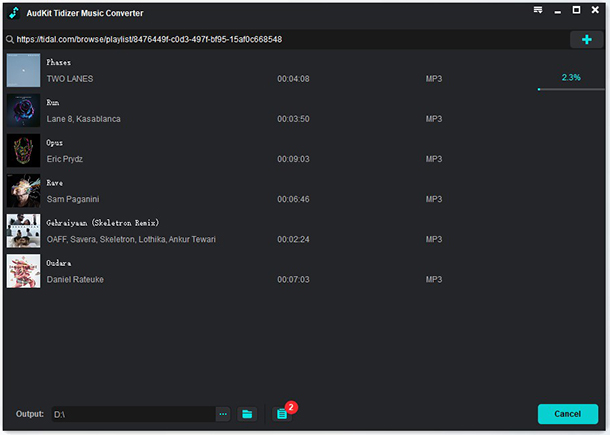 Finally, hit the "Convert" button to trigger the conversion process. All the selected music files will convert to the desired file format. You can save them in the local drive for future access. You can also tap the "History" icon to access the Tidal music tracks. Thus, you can get Tidal MQA download and play it flawlessly.
💥 [Test Result] You should download the Tidal desktop app to use this Tidal ripper on your computer. It works on Tidal free, HIFI, and HIFI Plus accounts to rip Tidal playlists to MP3. It comes at 5x speed for lossless output quality.
---
Part 2. How to Rip Tidal Music Online – Apowersoft
Eager to rip audio from Tidal online? Then don't miss Apowersoft Free Online Audio Recorder. It is free software that allows you to record audio from your computer's system sound, microphone, or both. You can use it to record any sound you hear in original quality, including streaming music, radio stations, and other online audio sources.
Then the program can record Tidal music in high-quality audio formats such as MP3, WMA, WAV, and AAC. You can also rip Tidal audio on Windows or Mac computers without installing a plug-in or subscribing to any service.
Step 1. Open your web browser and go to the Apowersoft Free Online Audio Recorder website.
Step 2. Click on the "Start Recording" button to launch the recorder.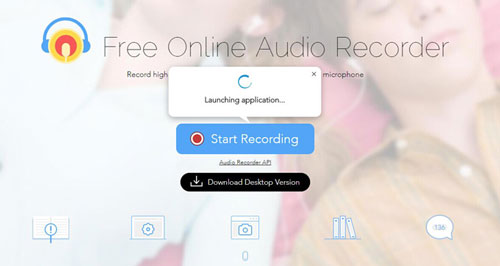 Step 3. Make sure that your computer's audio output is set to the device you want to use for recording, like "System Sound" or "Microphone".
Step 4. Then choose the screen you want to share, open the Tidal app, and play the song or playlist you want to record.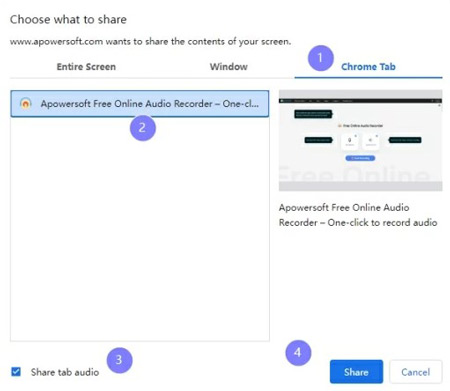 Step 5. Click on the red "Record" button in the Apowersoft recorder interface to start recording.
Step 6. As the Tidal song plays, you will see the audio waveform displayed on the screen.
Step 7. When you are finished recording, click on the "Stop" button to end the recording.
Step 8. Click on "Save" to save your Tidal recording to MP3, WAV, etc. on your computer.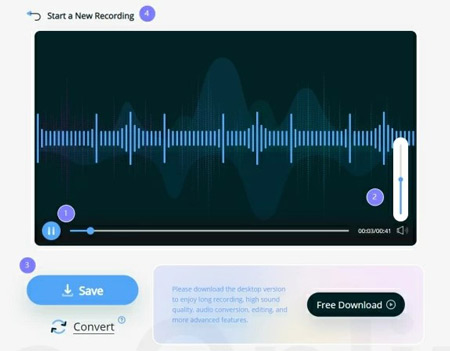 💥 [Test Result] It is a free, web-based program that can record any sound from various audio inputs. Some say that it lacks advanced features that other audio recording software might have. For example, it doesn't have a built-in audio editor.
---
Part 3. How to Rip Songs from Tidal for Free – Tidal-Media-Downloader
What about a free way to rip tracks from tidal? Tidal-Media-Downloader is sufficient. It is a utility software that allows users to download music, playlists, and albums from Tidal. It has two versions, tidal-dl and tidal-gui. Tidal-dl works on Windows, macOS, Linux, and Android, while tidal-gui is only available for Windows.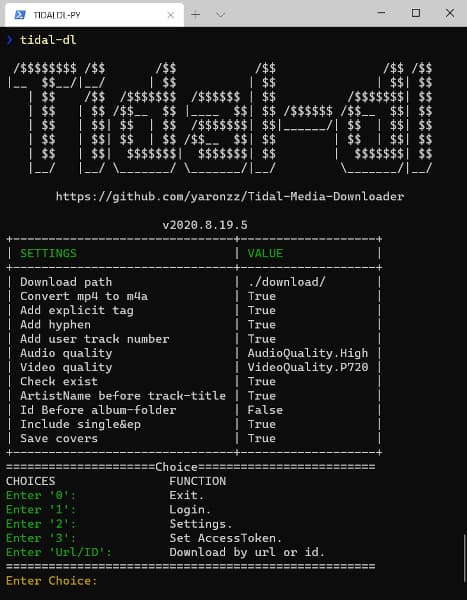 Step 1. Tidal-Media-Downloader requires Python to be installed on your computer. You can download the latest version of Python from the official website.
Step 2. Once you have Python installed, you can install Tidal-Media-Downloader by opening the command prompt (Windows) or terminal (Mac/Linux) and running the following command: pip install tidal-dl.
Step 3. Get your credentials by logging in to your Tidal account on the website.
Step 4. Choose the Tidal music you want to download by specifying the album or track URL in the command prompt or terminal.
Step 5. Start the download process by running the following command: tidal-dl [OPTIONS] [URLS…].
💥 [Test Result] It is a free Tidal music converter that supports output quality up to 128 Kbps. It doesn't support Tidal MQA format and can't convert and download multiple songs at once.
---
Part 4. How to Rip from Tidal on Android/iOS – Telegram Tidal Music Bot
As for ripping Tidal songs on mobile devices, you can choose to use Telegram-TidalMusicBot. It is a Telegram bot that allows you to download tracks, albums, and playlists from Tidal. It also supports downloading from Spotify and Deezer. Telegram bots can perform tasks like converting files, checking emails, and playing games.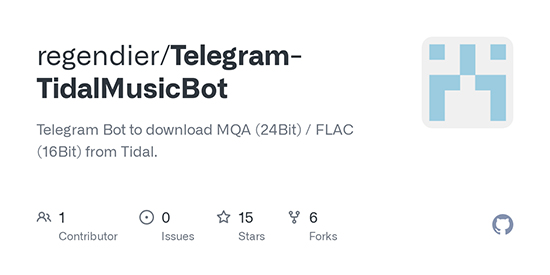 Step 1. Open Telegram and search for the "Tidal Music Bot" by typing @tidal-dl-bot in the search bar.
Step 2. Once you find the bot, start a chat with it by typing "/start".
Step 3. Send the link to Tidal songs to the Tidal Music Bot.
Step 4. The bot will provide you with a list of Tidal songs or albums that match your search query. Click on the desired song or album to download it.
Step 5. The bot will start downloading the selected song or album and will notify you once the download is complete.
💥 [Test Result] Telegram Tidal Music Bot only records music one by one. The sound quality of the Tidal music is reduced. And there can be concerns over security and data privacy when using a Telegram bot.
---
Part 5. FAQs about Ripping Tidal Music
Q1: How Do I Rip MP3 from Tidal?
A: You can use a tool like AudKit Tidizer Music Converter to rip music from Tidal to MP3, FLAC, WAV, AAC, M4A, etc.
Q2: Is It Illegal to Rip Playlist from Tidal?
A: If you rip Tidal music only for personal use, you will not be penalized. Please note: when you use it for commercial purposes, it is illegal.
---
Part 6. Which Is the Best Way to Rip Music from Tidal
Now, we will evaluate each tool mentioned above based on factors such as ease of use, speed, output quality, and output format. After a thorough analysis, we will conclude which tool is the best for ripping music from Tidal.
AudKit Tidal Music Ripper
Apowersoft
Tidal-Media-Downloader
Telegram Tidal Music Bot
Supported System
Mac/Windows
Online
Mac/Windows
Android, iOS, Windows, and macOS
Available Users
All Tidal users
All Tidal users
Tidal HiFi, HiFi Plus
All Tidal users
Input Formats
All Tidal contents
Any audio
Tidal music and video
All Tidal contents
Output Formats
MP3, FLAC, AAC, WAV, M4A, M4B
MP3, AAC, OGG, FLAC, WMA, WAV.
MP3
MP3
Conversion Speed
5X
Slow
Medium
Medium
Audio Quality
100% lossless quality
Low quality
Low quality
Low quality
Keep ID3 Tags
✔️
❌
✔️
❌
Price
$14.95
( lifetime free trial)
Free
Free
Free
Recommends
⭐️⭐️⭐️⭐️⭐
⭐️⭐️⭐️⭐️
⭐️⭐️
⭐️⭐️⭐️
After evaluating each tool, we can conclude that AudKit Tidal Music Ripper is the best tool for ripping Tidal music. Other tools have some limitations such as slow download speeds, the inability to download high-quality tracks, and not being suitable for beginners. But it offers a user-friendly interface, fast download speeds, high-quality output, and multiple output formats. The software also comes with a free trial version that allows you to test its features before purchasing. So if you are looking for a reliable tool for ripping music from Tidal, AudKit Tidal Music Ripper is definitely worth considering.
---