Djay Pro is a fantastic software for people who love to mix sounds, especially DJs. Now that you can integrate your Tidal music to Djay directly, you don't have to worry about searching for the best songs to add to Djay. The good thing about Tidal is that it has a massive library with over 200 million songs. Now that the Djay app can adequately let you add Tidal songs, this update has made the life of music makers easy.
However, to add Tidal songs to Djay Pro, one needs to have a premium account. And if you don't want to pay for a Tidal premium subscription, there is a good alternative to add Tidal offline songs to Djay Pro, and that's what we will cover in this article. Find out what tool is it, how to use it, and why it is the best for those who don't have a Tidal subscription.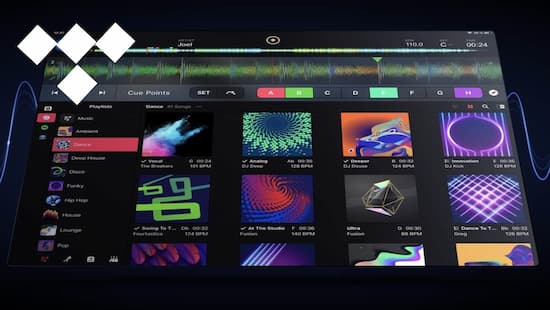 ---
Part 1. How to Add Tidal Music to Djay Pro: Tool Required
To be able to add Tidal music to Djay, first, one needs to have a Tidal HiFi or Premium subscription. Along with this, you need to make sure that you are using Djay's latest version. The integration is possible with the paid subscription and the latest version only. If you are missing out on the paid one, not to worry. You can use a third-party tool to convert and download Tidal songs and then add them to Djay. To convert and download the songs, you can trust the AudKit Tidizer Music Converter. This robust Tidal converter tool will let you download Tidal music with lossless HiFi quality.
Being one of the leading Tidal music converters, it makes sure to download the songs losslessly and also keeps ID3 tags intact. Along with this, the downloaded songs can be plated offline whenever you want to and on any device you want to.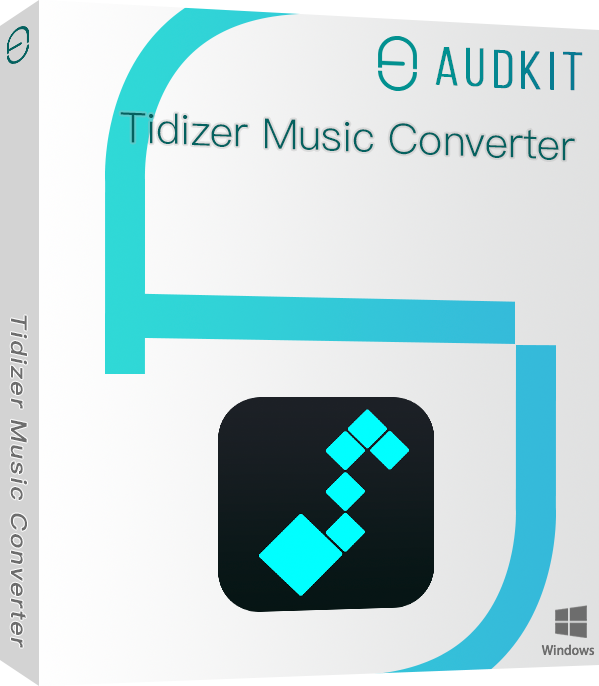 Convert Tidal to FLAC with lossless HIFI quality
Process Tidal songs at 10X amazing speed
Maintain 100% ID3 tags like titles, albums, etc.
Download Tidal music as local files to many devices
Plus, if you have other music mixing applications, feel free to add the converted and downloaded Tidal songs there. The tool supports multiple audio formats, such as MP3, M3B, M4A, FLAC, AAC, WAV, and much more. Even if you want to do batch conversion, you can do that with 10X speed, which means conversion will happen super-fast.
---
Part 2. How to Stream Tidal Music to Djay Pro – 4 Steps
Before you can start listening to Tidal on the Garmin watch, you will first have to visit Tidizer and download the software on your computer/laptop. This is a dedicated Tidal music converter and is available for Windows and Mac users. Once you download the correct version of Tidizer, you can proceed with the following steps:
Step 1 Download and Launch AudKit Tidizer Music Converter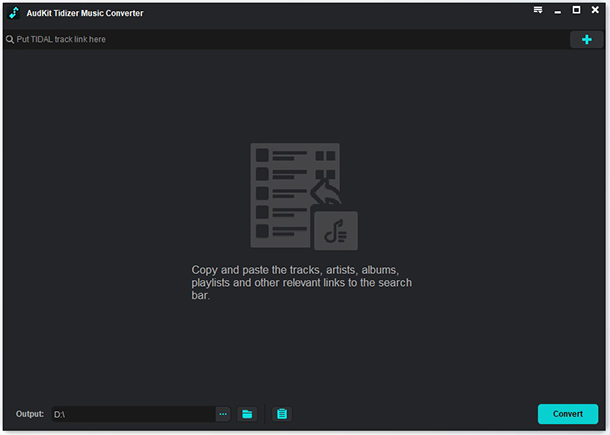 Visit AudKit Tidizer Music Converter's official website. Once you are there, you will see the option to download the Windows and Mac versions. Please select one that is compatible with your system. After this, then click on the downloaded file to begin the installation process. Now, click on the AudKit Tidizer Music Converter icon that you can find on the main screen of your PC/laptop, whatever you are using, and launch it.
Step 2 Select the output format for Djay Pro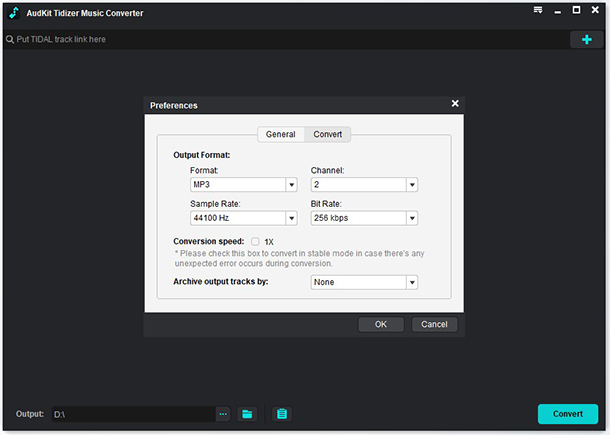 Before adding the songs to AudKit Tidizer Music Converter, click on the preferences option. Now, you need to click on the conversion option. This section will let you change the output format, sample rate, channels, bit rate, etc. Don't worry; the songs will be converted to the highest quality without losing their original quality. Also, the default conversion speed will be 10X.
Step 3 Upload Tidal songs and convert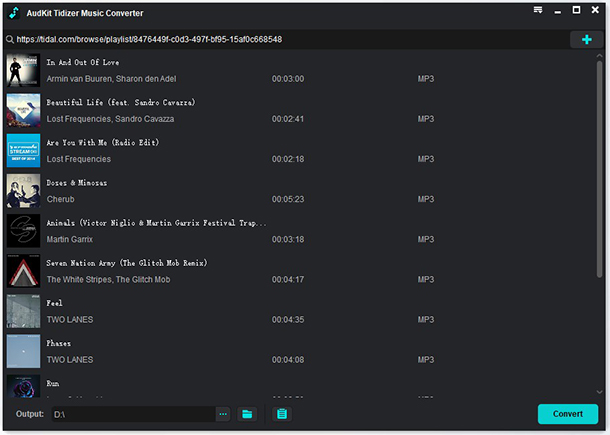 Now that you are done with the audio setting. Now open any Tidal playlist or album then select single songs or select all songs to AudKit Tidizer Music Converter. Towards the bottom-right, you will see the blue "Add Music" tab. Please click on that to make a further music selection. Then click the "Convert" on the bottom-right of the selection window.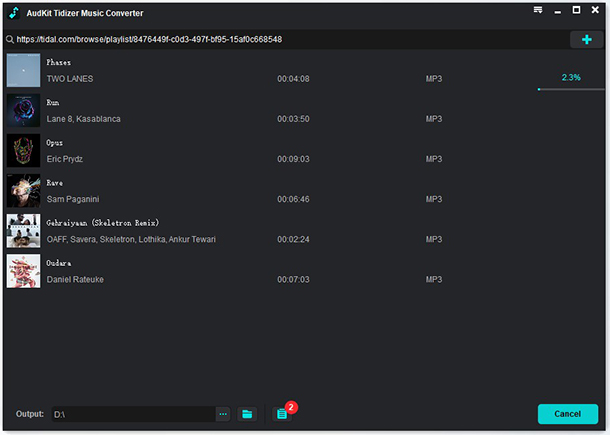 The conversion process begins. After the conversion is done, please click on the converted icon. Here you will see the converted songs. Click on the search icon to locate the converted Tidal songs on your computer's local folder.
Step 4 How to mix Tidal music with Djay
With these three steps, you will be able to convert Tidal songs. Now to mix Tidal music with Djay, you need to follow a few additional steps:
Launch the Djay app.
Click on the files tab, which you will see in the music library.
Click on the + tab, then hit the converted option.
Finally, click on done to add the converted songs to Djay.
---
Part 3. Conclusion
Now you know how to add Tidal songs to Djay Pro. You will notice that AudKit Tidizer Music Converter makes the conversion process extremely easy and fast. So, even if the Djay Pro integration for Tidal is not working any longer, you can also get the AudKit Tidizer Music Converter and convert Tidal songs without hassle.
---