Is DJing your passion but don't have enough skills to pull off a good show? Did you know you can play Tidal on Denon DJ?
This software suits both professionals and mobile DJs. Denon first emerged in the early 1990s, introducing its first dual-rackmount CD play in 1992. Since then, this classic DJ app has continued to provide innovative solutions for high performances in music production. With this, you get your entire music collection on any device as you handle your DJ set anytime.
It's also easy to operate. You can move and orchestrate your music via Denon's multi-gesture touchscreen, play music from its built-in WiFi via cloud storage, among other functionalities. But this is only limited to Tidal HiFi subscribers. You, therefore, need a conversion tool if you are a Free subscriber. Check out how to achieve that in the next section.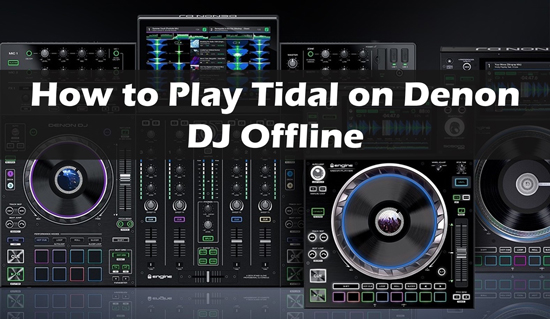 ---
Part 1. What You Need to Get Denon DJ with Tidal Offline
There is a way out to get Tidal on Denon DJ offline. And that's by use of AudKit Tidal Music Converter. This is the best converter to aid you in downloading and playing Tidal HiFi playlists on your computer offline. AudKit will losslessly convert HiFi to various output formats like FLAC, MP3, WAV, M4A, etc. It also keeps 100% quality of metadata and ID3 tags like genre, composer, track number, artists, etc.
The built-in high-speed processor lets it work at a fast speed of 5X rate, doing batch conversion alike. And when the conversion process is completed, easily move and play Tidal on Denon DJ and various devices like game consoles, smart TV, movie editor, and many more.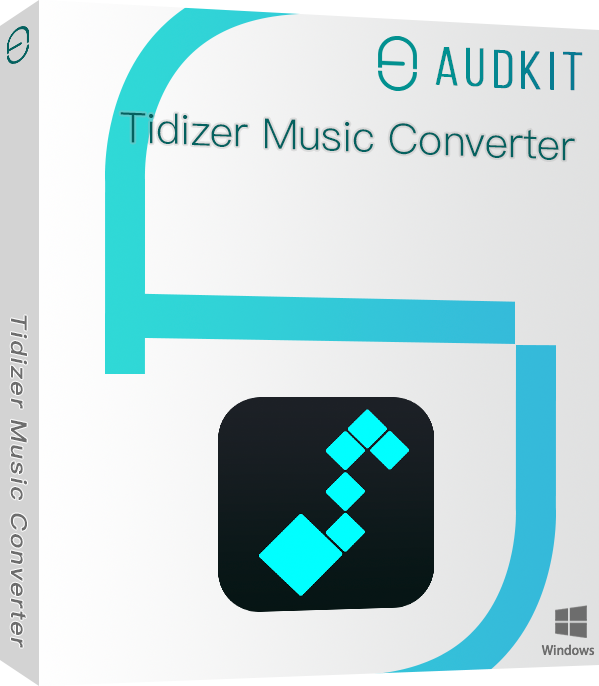 Main Features of AudKit Tidizer Music Converter
Batch download Tidal playlists on the computer for offline playback
Help importing Tidal tracks to Denon DJ software for offline use
Maintain lossless Tidal HiFi quality and ID3 tags information
Convert Tidal playlists to many formats like FLAC, WAV, AAC, MP3, etc.
---
Part 2. Download and Play Tidal on Denon DJ Offline
Follow this step-by-step guide to stream Tidal Denon Prime 4 using AudKit Tidal Music Converter. You first need to download the app from the official website. Just click on the "Download" tab, install, and launch it on your computer.
The built-in Tidal app will show up immediately when you open the AudKit Tidizer app on your computer. Ensure you also activate AudKit Tidizer as the free version only allows converting 1/3 content of each music. So, go to the "Menu" > "Register" tab, then copy and paste the licensed email and the registration code in the provided bars.
Step 1 Customize the output formats of Tidal tracks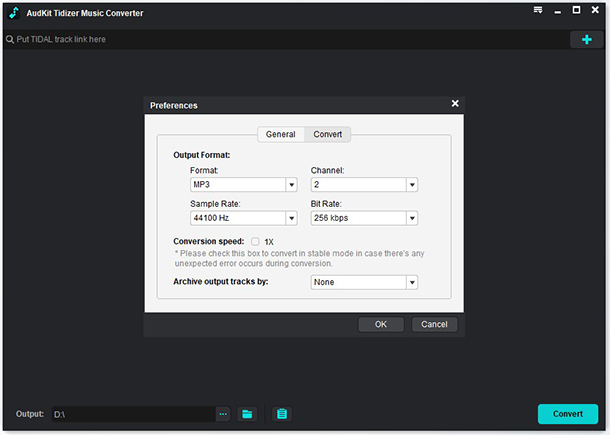 Visit the top-right menu icon and click on the "Preferences" > "Convert" option. Move on to customize the output format and other parameters like bit rate, sample rate, channel, etc.
Step 2 Import tracks or playlist from Tidal for Denon DJ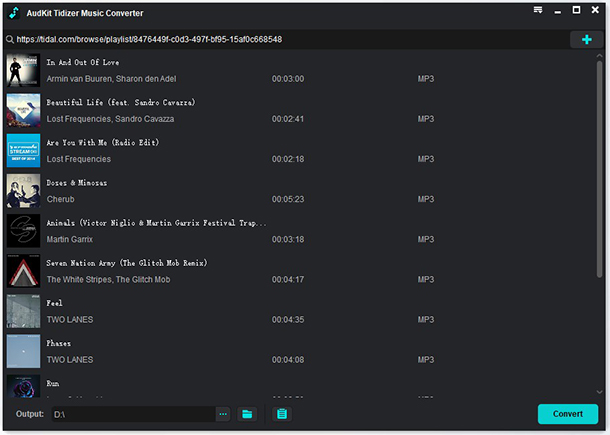 Choose the Tidal playlist you wish to download from the built-in Tidal app. You should notice the "Add Music" button glitter on the lower-right corner of the screen. Just click on it to select the needed playlist.
Step 3 Download and convert Tidal tracks for Denon DJ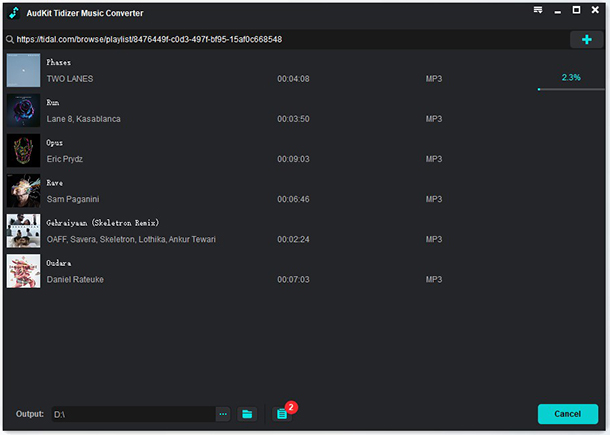 Finally, it's time to download and convert your Tidal files. Click on the "Convert" button and let AudKit Tidizer start the conversion process. You can add more songs to the converting list if you so wish. Wait for the process to be completed and then open the red tip that appears, showing the "Converted" icon. Access the converted Tidal playlist to now manage Denon Tidal Connect.
How to Stream the Converted Tidal Tracks to Denon DJ
Your Tidal playlist is now in a common format and you can manage Tidal Denon DJ offline.
Step 1. On your computer, transfer the "Converted" Tidal music to a USB drive. Just connect the USB drive, select the "Converted" folder, and drag and drop it to the USB icon.
Step 2. Safe remove your USB flash from your computer. Then connect it to the Denon DJ unit.
Step 3. You can save them on your Denon DJ music library for easy access. Alternatively, just play the tracks from the USB flash drive offline.
---
Learn More: Official Way to Get Denon Tidal Connect Online
Online Tidal for Denon DJ is also available via these steps.
Step 1. First, link Denon DJ to a Wi-Fi network connection.
Step 2. Open the "library collection" on Denon DJ.
Step 3. Then check the "Media" icon at the top of the library window.
Step 4. Link Denon DJ to the Tidal music streaming platform and wait for the two systems to be connected.
Step 5. Finally, choose any track to play on Denon DJ from Tidal.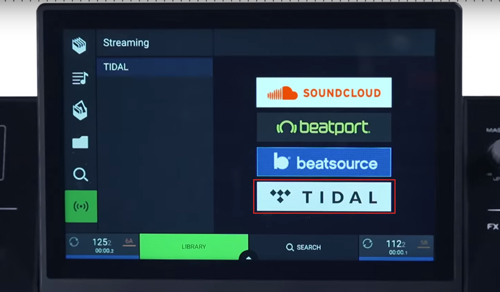 ---
In Conclusion
You are finally off the hook with AudKit Tidizer Music Converter to enjoy Tidal on Denon DJ offline. It will break any limitations barring you from streaming your files on Denon by converting Tidal tracks to common output formats. The process is simple and the fast rate speed lets you manage batch conversion as well.
---