HiBy Music is having a blast with the launch of the HiFi music player HiBy R3 Pro. HiBy R3 Pro enhances audio fidelity and gives you excellent output as there is no power noise or crosstalk between components. In addition, it catches the eye for its integration with Tidal, which makes it stand out from many other small DAPs.
You can access Tidal tracks, playlists, and albums through the R3 Pro's top icon menu. You are able to control the playback of Tidal songs in a small window, including actions such as playing, pausing, and skipping songs. But can HiBy R3 Pro play Tidal offline?
Unfortunately, the answer is no. HiBy R3 Pro is popular for its unique Tidal online playback feature, but as far as offline functionality is concerned, it's not officially implemented yet. But don't worry, we have found a professional and effective tool for you to make HiBy R3 Pro Tidal offline possible. Please read on for more details.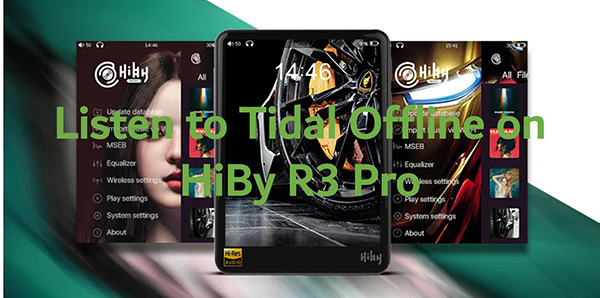 ---
Part 1. How to Enable HiBy R3 Pro Tidal Offline – Tool Needed
Although there is no offline mode for Tidal on the HiBy R3 Pro, you can try transferring downloaded Tidal music to the HiBy R3 Pro for offline listening. However, you need to be aware that Tidal is copyrighted and it can only be played on authorized devices.
To break this limit, you need a professional tool to download Tidal music as your own. AudKit Tidizer Music Converter is just the ideal choice for you. It is a program designed to download and convert Tidal music to MP3, FLAC, and other formats supported by HiBy R3 Pro so that you can enjoy HiBy R3 Pro Tidal offline without restrictions.
The application does not damage any sound quality during the download process and will also preserve all metadata for you. You can even use it to download Tidal MQA music in order to play high-quality music on your HiBy R3 Pro.
Speaking of speed, the AudKit Tidal Downloader downloads music up to 5 times faster than normal. In addition, the converter enables users to adjust important Tidal output parameters such as channel, bit rate, and sample rate to their liking.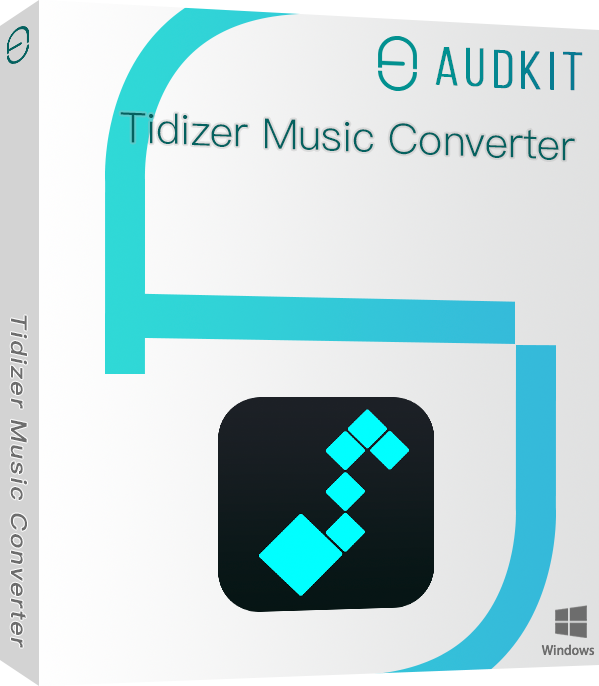 Download Tidal music for offline use on HiBy R3 Pro
Download FLAC from Tidal for listening on HiBy R3 Pro
Keep lossless sound quality and all the metadata
Customize Tidal output parameters as you want
You can click the Download button above to get this powerful Tidal music converter. Note that you need to select one of the Download buttons according to your computer system.
---
Part 2. How to Stream Tidal on HiBy R3 Pro Offline – Steps
Having understood the principle and acquired the required tool, now let's look at the details of how to enable HiBy R3 Pro Tidal offline.
How to Download Tidal Music and Play Tidal on HiBy R3 Pro Offline
Step 1 Load Tidal songs to AudKit Tidizer for HiBy R3 Pro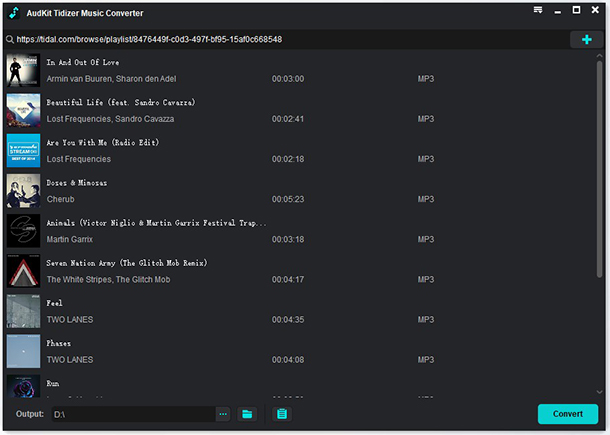 Run AudKit Tidizer on your computer and the Tidal app will open in the meantime. Choose the Tidal songs you want to offline listen to on HiBy R3 Pro. Simply drag and drop them to the window of AudKit Tidizer. Or you can copy and paste the song link into the search box of AudKit Tidizer, after which, simply press the '+' icon.
Step 2 Choose output format for Tidal HiBy R3 Pro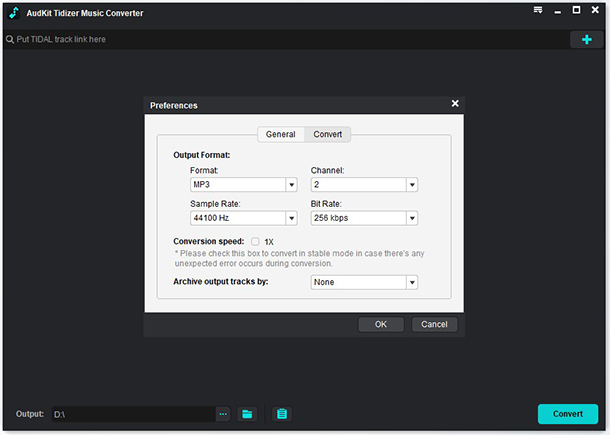 Select the menu button in the upper right corner and press Preferences > Convert options to open a new settings window. The HiBy R3 Pro supports most Hi-Res lossless formats, including FLAC, WAV, etc. Hence, to make HiBy R3 Pro Tidal offline work, you can select FLAC output format. If you wish, you can also modify the bit rate, sample rate, audio codec, and others.
Step 3 Download Tidal music for offline listening on HiBy R3 Pro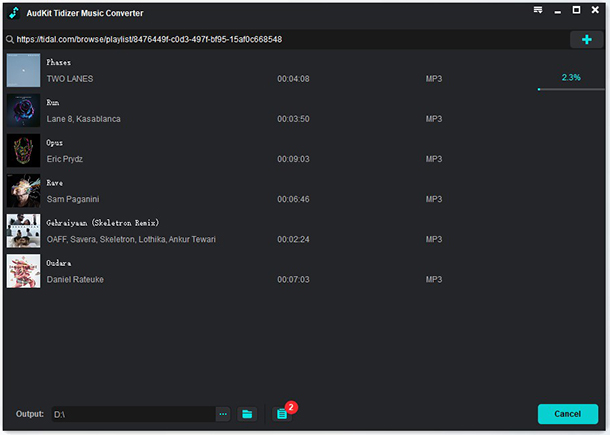 Click the "Convert" bar at the bottom right corner, AudKit Tidizer will start downloading and converting Tidal music according to your above settings. When finished, click the "Converted" icon marked with a red number to find the destination folder of all downloaded Tidal music.
Step 4 Play Tidal music offline on HiBy R3 Pro
To enable HiBy R3 Pro Tidal offline, follow these steps to achieve it.
1. Use a USB cable to connect HiBy R3 Pro media player to your computer.
2. Go to your computer's local folder and locate the converted Tidal music folder.
3. Right-click on this folder and then select the "Send to" option. Select HiBy R3 Pro player as the destination. This will allow you to transfer the downloaded Tidal tracks to HiBy R3 Pro.
4. Finally, select any Tidal track and click the "Play" button to play Tidal on HiBy R3 Pro offline.
---
Part 3. FAQs about HiBy R3 Pro Tidal
Here are answers to frequently asked questions about HiBy R3 Pro Tidal.
Q1. Is HiBy R3 Pro worth buying?
The HiBy R3 Pro is a true pocket-sized online streaming music player with dual CS43131, Bluetooth 5.0, and 5G Wi-Fi that delivers high-quality sound. If you are keen on high-quality music, you may consider it.
Q2. Can HiBy R3 Pro Tidal be used offline?
Generally speaking, HiBy R3 Pro doesn't support offline mode on Tidal. But you can try another way: downloading Tidal music and transferring to HiBy R3 Pro for offline listening. To ensure the process, you will need AudKit Tidal Downloader because of the copyright of Tidal.
Q3. Does HiBy R3 Pro support MQA?
Yes, HiBy is working with MQA to deliver true acoustic quality to listeners. To listen to HiBy R3 Tidal MQA offline, you can use AudKit Tidal Downloader, which can download Tidal MQA music with original sound quality.
---
Part 4. Conclusion
Now you have known how to play Tidal on HiBy R3 Pro offline. You just need a professional tool called AudKit Tidal Converter. Actually, it can not only enable HiBy R3 Pro Tidal offline but also make you enjoy Tidal on other players you want. If you want to listen to Tidal music on other incompatible devices, you can try AudKit Tidal Converter. It will surprise you.
---