Before getting into the details, first, you need to understand what Pioneer Receiver is. Pioneer receivers are A/V receivers that allow you to playback high-definition audio and video material for your home theatre. The new Pioneer AV-Receivers support all major wireless protocols, thanks to built-in Wi-Fi, Bluetooth, AirPlay, and Chromecast.
Pioneer network players were updated in early 2018 to include MQA and Tidal Masters functionality. Audiophiles may stream Tidal Master tracks on MQA-enabled Pioneer receivers with the Tidal HiFi subscription. You may either play music from your computer's Tidal desktop client to your Pioneer receiver through a connected connection or stream Tidal to your Pioneer AVR via Airplay. Both solutions require a steady Internet connection to seamlessly experience Tidal's high-quality music, and the Tidal desktop software does not support offline downloading.
This article will cover a third option on how to stream Tidal to Pioneer receiver with MQA quality.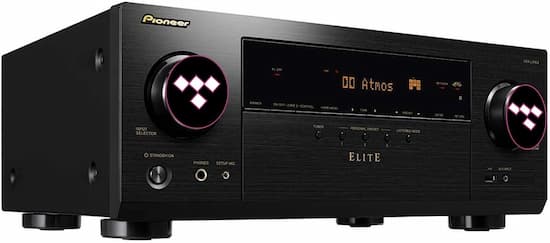 ---
Part 1. Connect Tidal to Pioneer: Best Alternative
To get Pioneer Tidal connected, you need a game-changing technology, AudKit Tidizer Music Converter converts Tidal music into standard audio formats (MP3, FLAC, WAV, or M4A.) in three simple stages. Moreover, it will convert your files at a rate of X5, allowing you to work on several files in a short period.
Don't be concerned with the quality of your music's production. AudKit uses cutting-edge technology to collect and retain 100% of the ID3 tags from the original HiFi playlist. It will save tags like an album cover, artists, track number, and so on. Furthermore, you may easily change the output parameters.
In addition, AudKit Tidal Music Converter works with a wide variety of Tidal sounds, including collections, playlists, digital podcasts or tapes, and so on. To meet the various output settings needs, there are seven basic output designs to choose from: MP3, AAC, M4A, M4B, WAV, FLAC, etc. You can play music on Philips TV from Tidal in multiple formats using this tool. Furthermore, additional metadata such as artist, titles, albums, album artwork, track counts, years, etc., will be 100% protected by default. Users may also physically change the ID3 labels and the best way to produce tracks, such as by experts, artists/albums, or none.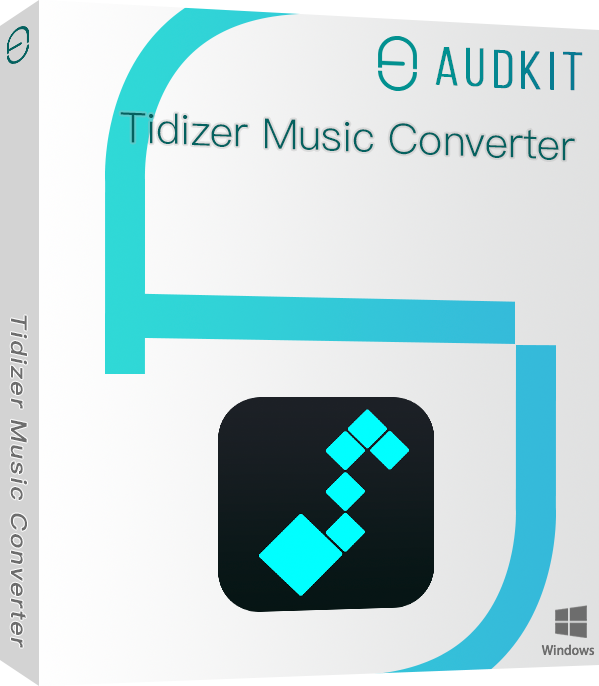 Converts Tidal HIFI to FLAC with 100% quality
Straightforward and user-friendly interface
Help you customize the output settings inching bit rates
Keep the quality of the soundtrack intact throughout theconversion
---
Part 2. How to Stream Tidal to Pioneer Receiver
AudKit is amongst the best third-party apps to stream Tidal to receiver. It allows you to download and convert Tidal tracks in multiple formats and at a fast speed.
However, if you don't know how to let Tidal connect Pioneer, follow the methods below.
How to Download Tidal Playlists on Computer using AudKit
This section will go through how to utilize AudKit Tidal Music Converter to download tracks for the Tidal Pioneer receiver in detail.
Step 1 Set the output settings for Pioneer Receiver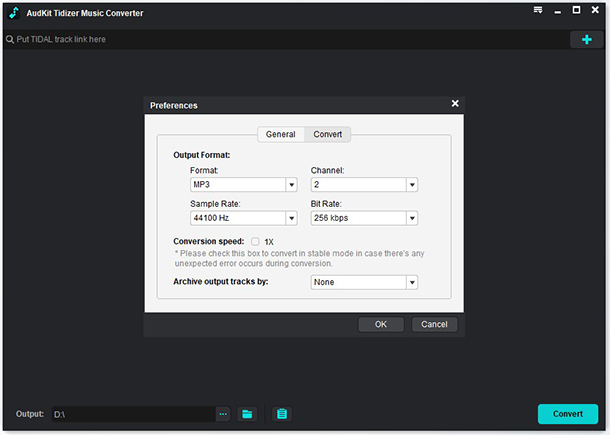 At first, download and install the AudKit Tidizer on your Mac OS. After downloading the tool, launch it. After that, you may change the output parameters to your liking. In the top-right corner of the screen, choose the menu symbol. Next, select the Preferences tab, then the Conversion option, and then set the format to MP3. Set additional settings such as channel, sample rate, bit rate, and so forth.
Step 2 Import the Tracks from Tidal for Pioneer Receiver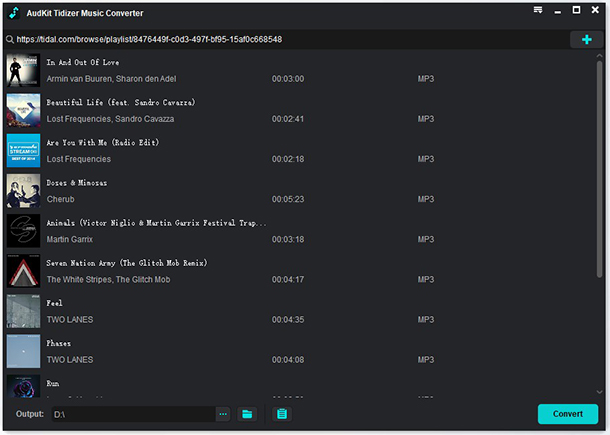 Begin importing Tidal music by accessing any Tidal playlist from the Tidal app. The Add Music button will begin to glitter, allowing you to start selecting and adding music. Select a playlist or a single song to add by clicking the + icon.
Step 3 Download the Tidal Playlist for Pioneer Receiver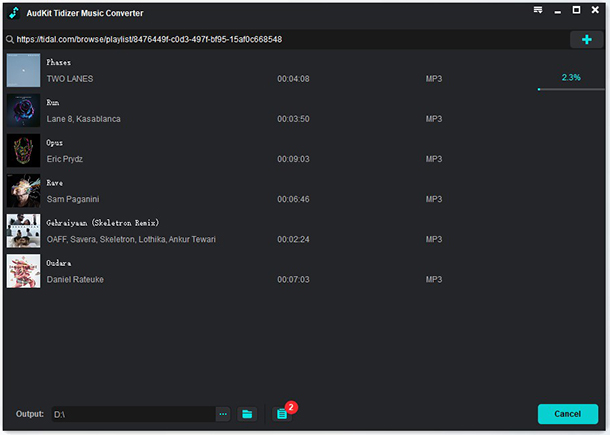 To complete the conversion, click the Convert button in the bottom-right corner of the screen. You may even keep adding music while the converting process progresses. When the conversion is finished, the Converted symbol will have a red tip. Open it to find the converted Tidal playlists or tracks.
Similarly, you may use the Search icon to go to the local output folder containing the converted Tidal playlists. Move the pointer to the file to begin searching for individual songs from the playlist.
How to Play Converted Tidal Tracks on Pioneer Receiver
After downloading the music to your Mac OS, you're probably wondering how to stream Tidal to the Pioneer receiver. In this case, you've come to the proper place. We have included step-by-step instructions for streaming the converted Tidal songs on the Pioneer receiver.
Step 1: Transfer Tracks to USB
After downloading the Tidal tracks, you first transfer all the downloaded music to your USB/Hard drive.
Step 2: Stream Tidal to receiver
Now, Insert the USB/Hard drive into the backside of the Pioneer receiver and play the music.
The steps listed above will assist you in converting and streaming Tidal music to a Pioneer receiver. You may access the converted Tidal soundtracks at any time and play them on any media device in offline mode.
---
Part 3. Learn More Tips about Tidal Pioneer Receiver
Currently available Pioneer A/V Receivers that enable Dolby Atmos sound effects include the VSX-934, VSX-933, Elite A/V Receivers VSX-LX104, VSX-LX304, and VSX-LX504. However, you may listen to Tidal's high-resolution music on older devices such as the Pioneer VSX-45.
Pioneer has also created the Pioneer Remote App, which allows you to execute remote control features on your Pioneer receivers in an intuitive manner, like volume control, input source choice, modifying equalization settings, and so on. It supports music streaming services like Spotify, Deezer, Tidal, radio, Bluetooth streaming, and USB playback.
---
Part 4. Conclusion
Nothing should limit you from playing your favorite Tidal tunes on Pioneer receiver. The software to use is AudKit Tidizer Music Converter. Tidal HIFI and Master sound quality may be converted to other popular codecs imported and played on any device. And Since you had a detailed overview of converting and streaming Tidal tracks on Pioneer receiver. So, connect the Tidal to Pioneer receiver today and enjoy the music!