Tidal music quality is top-notch. There is no doubt about that. The only issue is that it can be pricey for some people. The streaming service starts at $9.99/month for the standard sound quality and goes up to $19.99/month for the HiFi sound quality.
But what if we told you that there is a way to get Tidal for free? And not just for a month, but for three months straight. You can do this by taking advantage of the new Tidal T-Mobile partnerships.
Thanks to the new partnership, T-Mobile subscribers can access Tidal free with T-Mobile. This is a great way to save some money and still enjoy high-quality music. Are you a T-Mobile customer? Or looking for a way to stream Tidal on T-Mobile for free? Well, you are looking at the right place as this article will guide you through the process of getting free Tidal with T-Mobile.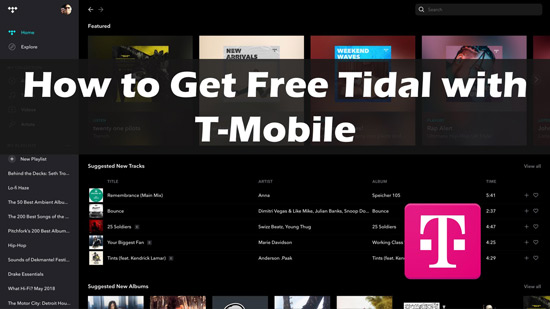 ---
Part 1. How to Get Free Tidal T-Mobile
It is now official! You can get Tidal for free with T-Mobile. The new partnership allows T-Mobile customers to get three months of free Tidal high-quality songs. However, there is a catch: you must be a T-Mobile subscriber. The free plan includes access to high-quality and diverse songs, music videos, and playlists.
Moreover, the data you use to stream Tidal will not be counted towards your T-Mobile data limit. This is an incredible way to enjoy music and save data usage. Here is how to get free Tidal with T-Mobile:
Step 1: Launch your browser and search for the URL: https://tidal.com/partners/t-mobile-pl
Step 2: At the center of the interface, hit the "Get TIDAL with T-Mobile" pink button.
Step 3: You will be redirected to a registration page. Here, type in your mobile number. Please ensure you are a new T-Mobile user; your number must not have been registered with T-Mobile.
Step 4: Afterwards, you will receive an auto-generated password on your phone. Enter the password to complete the registration.
Step 5: Once you have completed registration, you can begin streaming Tidal on T-Mobile for absolutely free!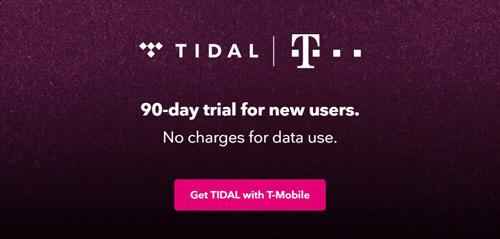 ---
Part 2. How to Get Free Tidal without T-Mobile
While enjoying the free access to high-quality Tidal audio, the free trial is only available to T-Mobile customers, and it is limited to 3 months, after which you have to start paying for the service. Even though 3 months may seem quite a long time, it eventually comes to an end. But how about we told you that you could continue streaming Tidal for free even without T-Mobile? Yes, it is possible, and we will show you how.
To continue enjoying high-quality Tidal, you need to download and convert them to playable formats such as MP3. This is where AudKit Tidizer Music Converter comes in. It is an all-in-one, fully featured software designed to help Tidal user download and losslessly convert Tidal songs, playlists, and albums to MP3, AAC, WAV, FLAC, and other standard audio formats.
The converter works at 5X faster speed with lossless quality. This means that you can download a Tidal album in just a few minutes without any data loss. In addition, it supports a one-click to download Tidal hi-fi songs and Tidal master-quality songs for offline playback. Even better, the ID3 tags and metadata information will be preserved after conversion.
AudKit Tidizer Music Converter is compatible with both Mac and Windows computers. Free download the program on your computer and then follow the step-by-step guide below to learn how to get free Tidal without T-Mobile.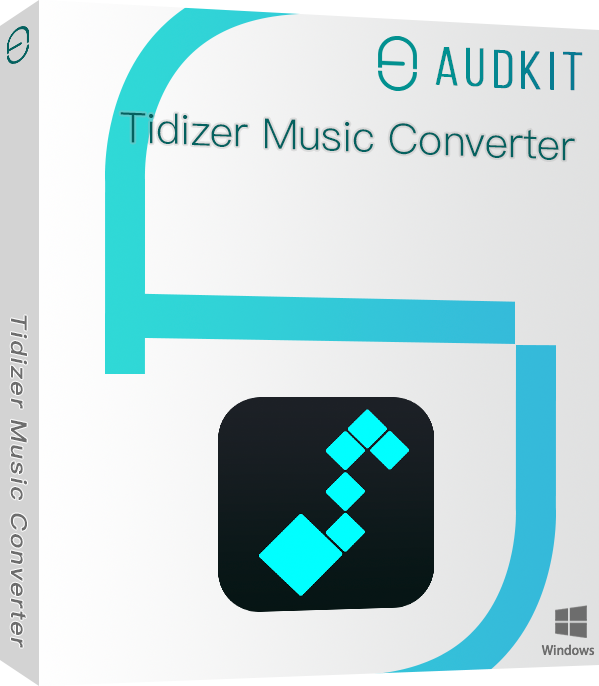 Download Tidal songs without quality loss
Convert Tidal to AAC, MP3, FLAC, WAV, etc.
Supports conversion speeds of up to 5X
Retains original ID3 tags after conversion
Guide: How to Download Tidal Music for Offline Listening Without a Subscription
Before you start the conversion, you need to download and install AudKit Tidizer Music Converter on your computer. After installation, launch the application, and the Tidal app will automatically launch. Then, go to "Menu" > "Register" and key in the registration code to activate the full version. Once the registration process is complete, follow the step below to download and keep Tidal music after subscription expires for offline listening.
Step 1 Set Music Output Profile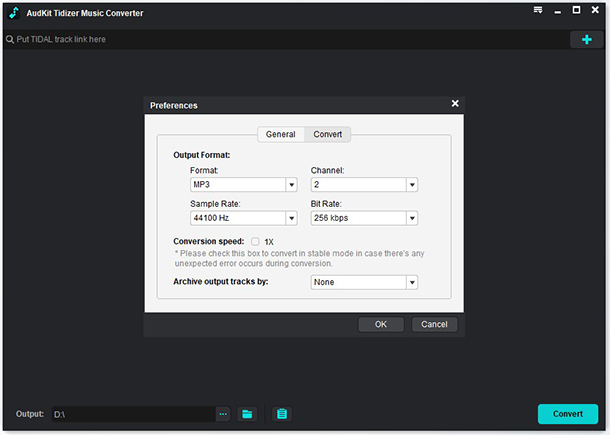 On the main interface, hit the main menu button and select the "Preferences"> "Convert "option. Here you can choose the output audio format, conversion speed, and other audio settings according to your needs. The AudKit Tidizer app has a default conversion speed of 5X. However, if you are using the Mac version, the conversion speed is only 1X for excellent results.
Step 2 Add Tidal Songs to AudKit Tidizer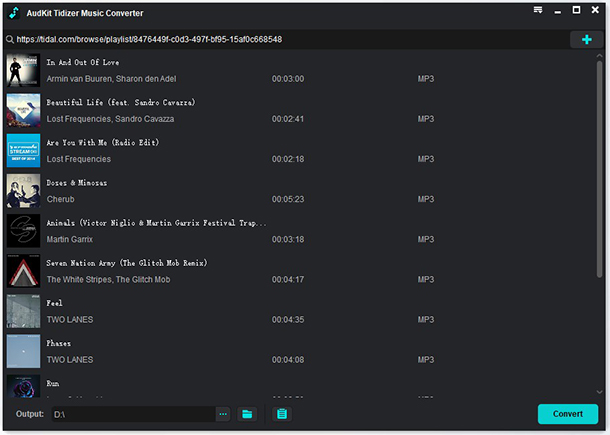 Now go back to Tidal and search for the Tidal song or playlist you want to download. Then drag & drop the selected songs from the Tidal web page to AudKit main interface. Alternatively, you can copy the Tidal song's link and then click the "+" button to paste & analyze it.
Step 3 Convert Tidal Music for Offline Listening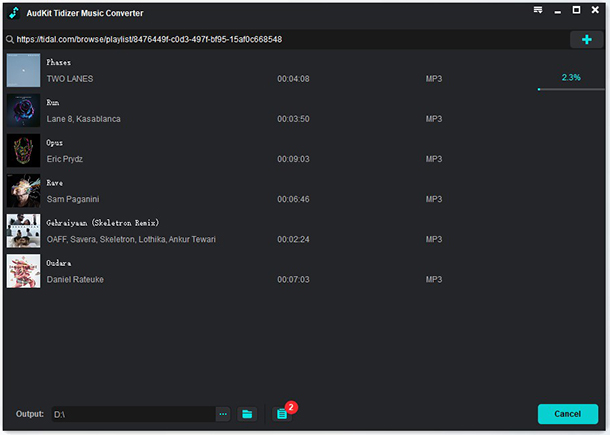 Once the songs are loaded, hit the "Convert" button at the bottom-right corner to download Tidal songs as MP3 files without quality loss. After conversion, click on the red "Converted" icon to locate all the downloaded Tidal songs. Now you can add them to any of your media players or devices for offline playback without a subscription.
---
Part 3. FAQs about Tidal T-Mobile
1. Is Tidal Free with T-Mobile?
Yes, Tidal is free with T-Mobile. The service comes with a 3-month free trial, after which you must start paying. You can access millions of songs and 250,000+ high-quality videos via the plan.
2. Why Is My Tidal Not Working on T-Mobile?
There could be a number of reasons why your Tidal is not working on T-Mobile. One of the most common reasons is that your phone is not connected to the Internet. Another reason could be that you do not have enough storage space on your phone. Lastly, it could also be that you are not using the correct version of the Tidal app.
3. How to Cancel Tidal Subscription with T-Mobile?
If you want to cancel your Tidal subscription with T-Mobile, simply send an SMS saying "TIDAL ANULUJ" to 8017. Remember, there are zero charges for the service.
---
Part 4. Conclusion
The partnership between Tidal and T-Mobile is a big deal for Tidal users. Users can stream Tidal on T-Mobile for 3 months, after which they must pay for a subscription. However, there is a way to continue streaming Tidal without a subscription using AudKit Tidizer Music Converter. With this converter, you can download and convert Tidal to MP3 or other common audio formats for offline playback without any quality loss. In addition, it supports conversion speeds of up to 5X and retains original ID3 tags. So why not give it a try?
---