Tidal's high-quality audio appeals to music enthusiasts. Tidal HiFi and HiFi Plus undoubtedly provide an enhanced music listening experience. Users can enjoy HiFi sound quality, Dolby Atmos, Sony 360 Reality Audio, view movies, and download songs with infinite skips all on one platform.
For the best part, Tidal now has over 80 million songs and is available in three different modes: Tidal Free, Tidal HiFi, and Tidal HiFi Plus. The two, Tidal HiFi and HiFi Plus, are premium modes that cost money, unlike Tidal Free, and both of these paid memberships come with a 30-day free trial. But, what if we tell you that you can also get a 3-month free trial on Tidal? Surprised, right? Well, not anymore. In this article, we have discussed 5 easy ways you can make the most of Tidal Free Trial 3 Months. Let's get going!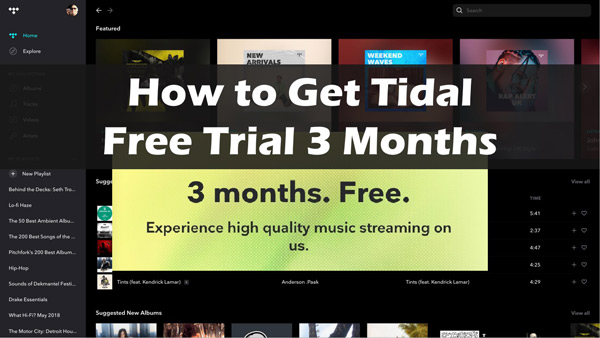 ---
Method 1. Sign up for Tidal Free Trial 3 Months
You are lucky if you are a first-time user interested in testing out Tidal. Tidal is now offering new customers a free trial period of three months, which can be obtained by filling out the appropriate form on the company's website. To get Tidal free trial 3 months 2022 by signing up as a new user, follow these steps:
Step 1: To begin, go to Tidal's official website. Then, click on the Start Free Trial option in the upper right corner.
Step 2: When you choose that option, you will be sent to the sign-up or login page. Enter an email address for Tidal registration. You'll be prompted to create a password. Your account will be created once you're done with that.
Step 3: After that, select one of the Tidal subscriptions and tap Continue to complete the payment procedure for starting your 3-month free trial.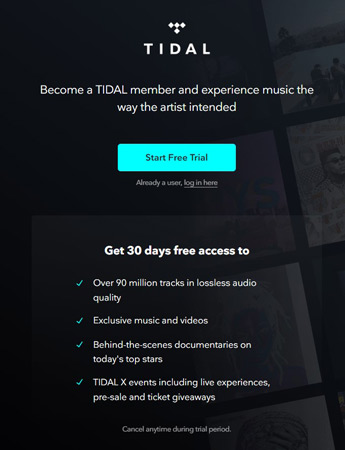 ---
Method 2. Get 3 Month Free Trial Tidal on Best Buy
Good news! Tidal and Best Buy have teamed up to offer amazing yet reasonable deals for music fans. Although this technique is not entirely free, but totally worth it. Best Buy offers a Tidal free 3-month trial when you buy the qualifying goods to get Tidal HiFi free trial period.
Just follow the below steps to claim a Best Buy deal and listen to Tidal HiFi music for 3 months for free.
Step 1: Go to Best Buy and look for Tidal-HiFi, 3-Month Music Subscription in the search bar. You will see the product page shortly after searching for it.
Step 2: Now, look for the Add to Cart button and click it to add the Tidal membership to your online shopping cart.
Step 3: Following that, choose Checkout. If you are a new client, choose the continue as guest option.
Step 4: Next, input your credit or debit card number and billing address. After that, complete your payment procedure to get Tidal HiFi free trial 3 months.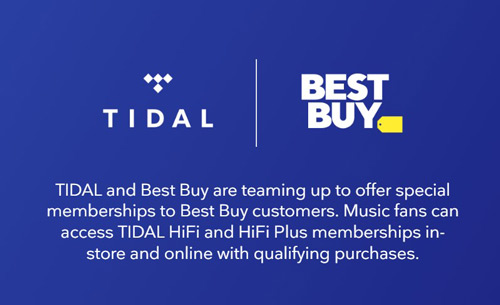 ---
Method 3. Score Tidal Free 3 Month Trial via Mercedez-Benz
Tidal and Mercedes-Benz are collaborating to provide a three-month free Tidal subscription via the Mercedes me site. This incentive, however, is only available to Mercedes-Benz owners. To understand how to get Tidal free trial 3 months via Mercedes-Benz, here're the guide for you.
Step 1: Visit the Mercedes me site, and create a new Tidal account once you arrive. Then, sign in to your Mercedes account.
Step 2: When the picture screen appears, click on the image of your car. After that, click the online music icon.
Step 3: You must now go to the Tidal app. Launch the app and input a new email address or log in to register. Then click on Sign Up to finish the sign-up procedure.
Step 4: You are now ready to experience Tidal HiFi Plus for three months for free. Begin playing Tidal in Mercedes and enjoy your journey.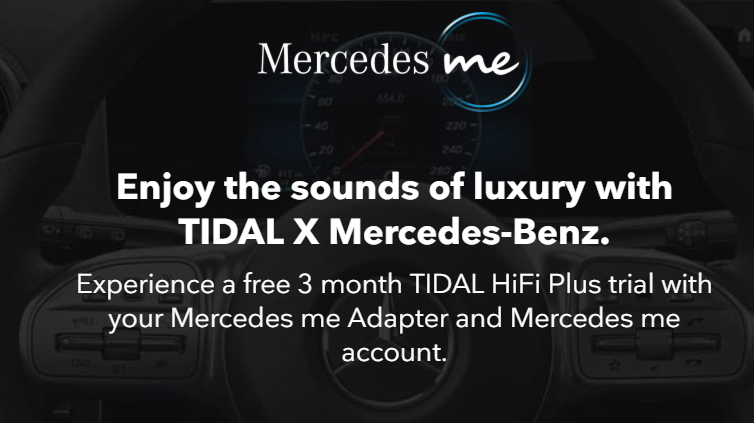 ---
Method 4. Get Tidal HiFi Free Trial 3 Months With Sprint
Sprint Unlimited Premium plan takes everything to the next level. It provides subscribers unlimited minutes, texts, cellular internet, and Amazon Prime, Hulu, and Tidal subscriptions. Not just that, if you pick the Sprint Unlimited Premium package, you will get a free trial of Tidal HiFi. Let's see how to get Tidal with Sprint free.
Step 1: First and foremost, go to Sprint's official website and sign up for the Sprint Unlimited Plan.
Step 2: Log out of your Tidal account by hitting the Log out option in the Settings of the Tidal app. If you have a Tidal HiFi or Tidal HiFi Plus membership, you may cancel it on the Tidal website.
Step 3: After that, you will be prompted to agree through a Sprint subscription. Agree with it to enjoy a 6-month free trial of Tidal.
---
Method 5. Get Tidal Free Trial 3 Months by Tidal Gift Card
Another method to get a free trial for 3 months on Tidal is using a Tidal gift card. However, this method can only work if you own a Tidal gift card. To understand how to get Tidal free trial 3 months via a gift card, down below are the steps to redeem a Tidal gift card.
Step 1: Go to a website offering Tidal gift cards and get one for yourself.
Step 2: Now, visit www.TIDAL.com/giftcards, enter the code on the Tidal gift card, and hit Continue.
Step 3: Next, follow the on-screen instructions. Once you're done, head to the Tidal app and start enjoying your 3-month free Tidal HiFi trial.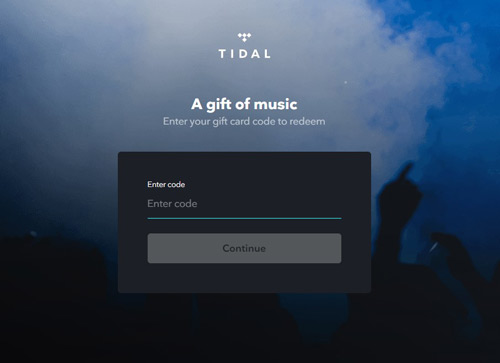 ---
Bonus Time: How to Get Tidal Free Trial 3 Months Forever
Since not everyone prefers to buy the premium Tidal, you must be wondering how to get Tidal music free forever. To get Tidal music for free, you require a high-quality lossless professional tool, and we can't think of any tool better than AudKit Tidizer Music Converter.
AudKit Tidizer Music Converter, one of the top audio converting tools for Mac and Windows, can download Tidal songs and playlists to your computer for local storage, regardless of whether you have a Tidal free or Tidal HiFi, HiFi Plus membership. Tidal MQA and HiFi tracks can be downloaded to MP3, FLAC, WAV, and other formats without any quality loss.
The AudKit Tidal downloader uses cutting-edge converting technology to preserve Tidal HiFi and MQA lossless quality, providing you with the greatest audio experience possible. The finest Tidal music converter from AudKit can recognize, collect, and save 100% of ID3 tags from Tidal using the built-in ID3 tag editor. Furthermore, it has a 5x conversion speed and can simultaneously convert a 10-hour Tidal playlist in 2 hours or less on Windows computers. The Mac version remains at 1X speed.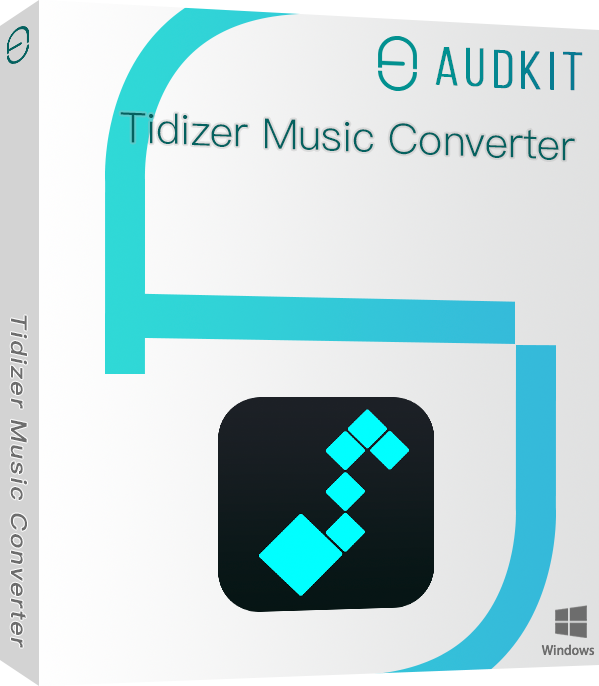 Main Features of AudKit Tidizer Music Converter
Keep lossless quality and 100% ID3 tags for Tidal playlists
Convert Tidal songs to MP3, FLAC, AAC, M4A, and more
Export music from Tidal without Tidal plans to any device
Download Tidal to your local computer with up to 5X speed
To get Tidal music free for more than 3 months, check out the following simple steps on how to use AudKit Tidizer Music Converter to download Tidal music without premium.
Step 1 Install AudKit Tidal Music Converter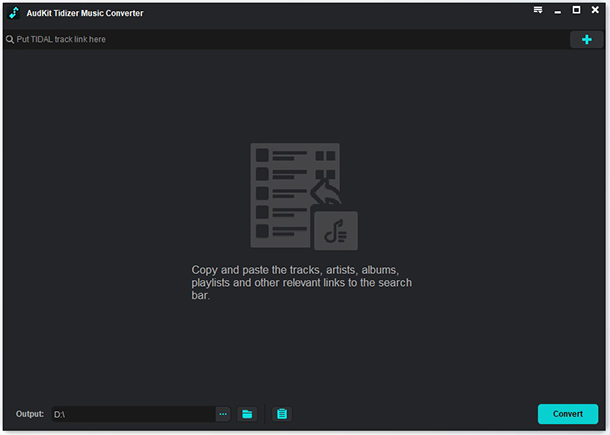 From the official site of AudKit Tidal Music Converter, click on the Download button to get the install package of AudKit Tidizer Music Converter on your PC. Press on the package and set it up. After that, launch the AudKit tool to get started.
Step 2 Add your Tidal playlists to the AudKit downloader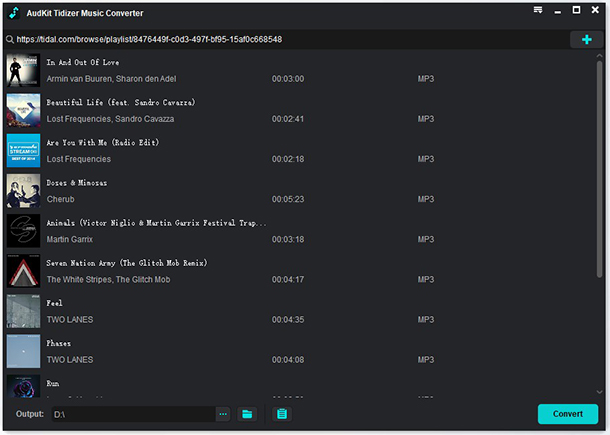 Now head to Tidal, navigate the song or playlist you wish to download, and copy its link. Then paste the link in the URL tab of the AudKit Tidizer Music Converter and click on the + icon to get the songs. Or to simplify the process, drag and drop the Tidal songs to the interface of AudKit software.
Step 3 Change the output parameters for Tidal songs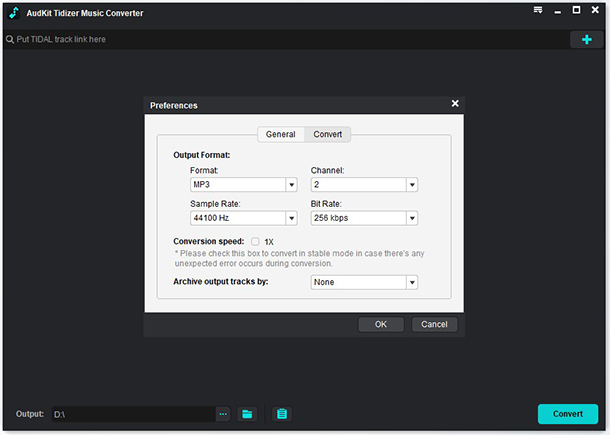 Next, click on the Menu from the top, go to Preferences, and select Convert. Here, you need to customize the output settings of the upcoming Tidal download. Make sure the output format, sample, rate, bitrate, conversion speed, and more are to your satisfaction. Once you're done, click on OK to proceed.
Step 4 Begin to download and get Tidal free forever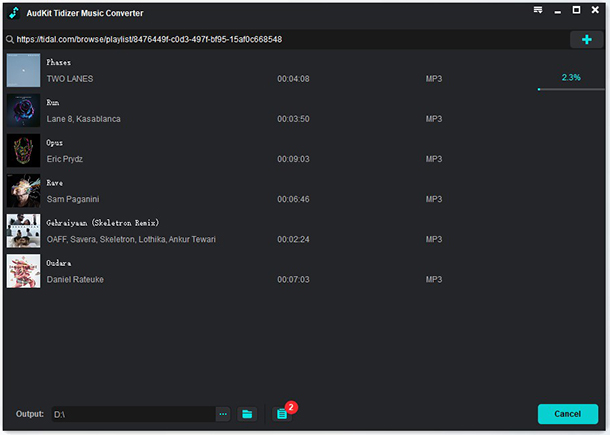 After that, click on Convert to download Tidal songs for free to your computer. Once the conversion process is completed, you can find the downloaded Tidal music files in the directory you specified during output customization. And you've got the items from Tidal free permanently.
---
Conclusion
Tidal is among the top music streaming platforms offering over 80 million songs. Although Tidal offers a 30-day free trial on its premium subscription, people wonder how to get a free trial for Tidal HiFi or HiFi Plus plan. Therefore, we've collected valid information and listed 5 methods for you to choose from, and we hope you can find a way to get Tidal free trial 3 months after reading this article.
Moreover, we recommend using AudKit Tidizer Music Converter if you want to get all Tidal music for free once and for all. You don't need a Tidal subscription to access Tidal songs, and it downloads Tidal offline as MP3 or audio files that you can listen to as long as you want.