"For my school project, I am preparing a PowerPoint presentation. I added some of the audio files easily in my presentation slides. But I am unable to embed Spotify song in PowerPoint. Is there any easy way to add music to PowerPoint from Spotify? Please help!" – user on the Internet.
Are you facing a similar situation to the user above? If yes, then you have come to the right article. We will show you how to add music from Spotify to PowerPoint. Due to Spotify's music protection, it is not straightforward to Spotify in PowerPoint. But, don't worry, our guide can help you add Spotify music to PowerPoint.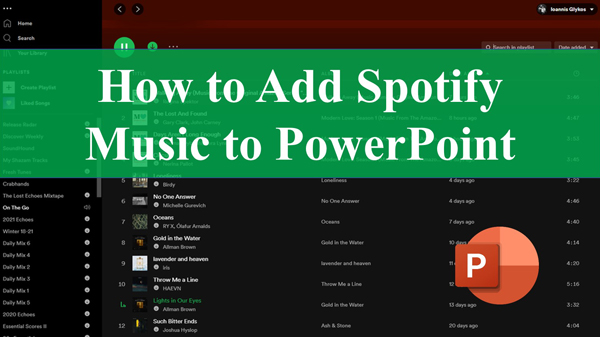 ---
Part 1. Embed Spotify in PowerPoint: Tool
You can easily add any audio to your PowerPoint slides. But, when it comes to Spotify, things are not simple. There are limitations on Spotify. You cannot download Spotify music without its Premium account.
Playing Spotify music outside its application is impossible, even with a Premium account. It is mainly because Spotify music is protected, and it comes in an unsupported format.
You can overcome these limitations with the help of the AudKit Spotify Music Converter. It helps you to download Spotify music without any restrictions. Apart from that, you can also easily convert that music using this software and make it protection-free.
Spotify tracks, albums, playlists, podcasts, and more can be downloaded and converted using AudKit SpotiLab Music Converter. You can simply remove Spotify music protection and convert it to MP3, WAV, M4A, or other compatible audio formats using AudKit SpotiLab. All the converted music is preserved, and there is a lossless conversion. The software makes sure that the downloaded Spotify song is 100% sound quality and has complete ID3 tags.
Both Mac and Windows users may use AudKit. Spotify's outstanding features allow you to listen to music offline on your PC. Once you have the music downloaded from Spotify using AudKit SpotiLab, you can easily embed it in your PowerPoint slides.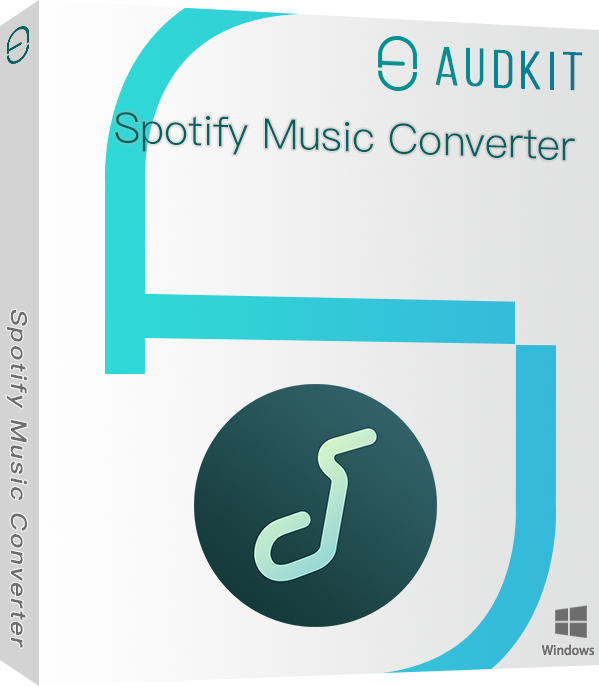 Main Features of AudKit Spotify Music Converter
Convert Spotify music to standard audio formats 5X faster
Easily download any Spotify track to play it offline on PowerPoint
Provide lossless conversion along with 100% original audio quality
Just three simple steps, and you can use AudKit SpotiLab yourself
---
Part 2. How to Download Spotify Music for PowerPoint
Part 1 of this article explained why you could not directly embed Spotify music in PowerPoint due to protection. However, AudKit SpotiLab Music Converter overcomes all the limitations by quickly downloading and converting Spotify music.
Before beginning the steps, you need to download AudKit SpotiLab from its official website. Let's see below the steps to download Spotify music for PowerPoint.
Step 1 Add Spotify music in AudKit Spotify Music Converter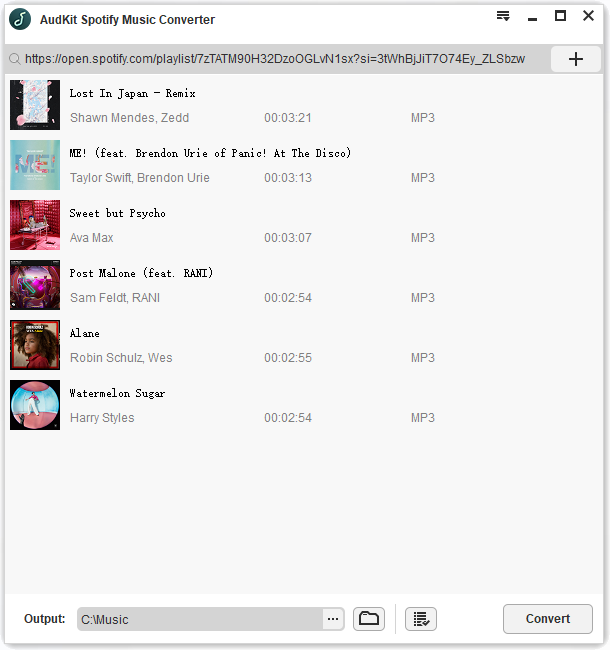 You may go to the Spotify app and copy any song, album, or podcast URL. It is not necessary to have a Spotify membership to do so. Simply choose a song, right-click it, and select the share option from the menu. The Spotify song will be copied to the clipboard if you choose Copy Song Link from there.
After that, go to the AudKit Spotify Music converter and paste the copied URL into the input field. After that, click the "+" button. Songs from Spotify may also be dragged and dropped straight into the AudKit Spotify Music converter.
Step 2 Set the output format of your Spotify music for PowerPoint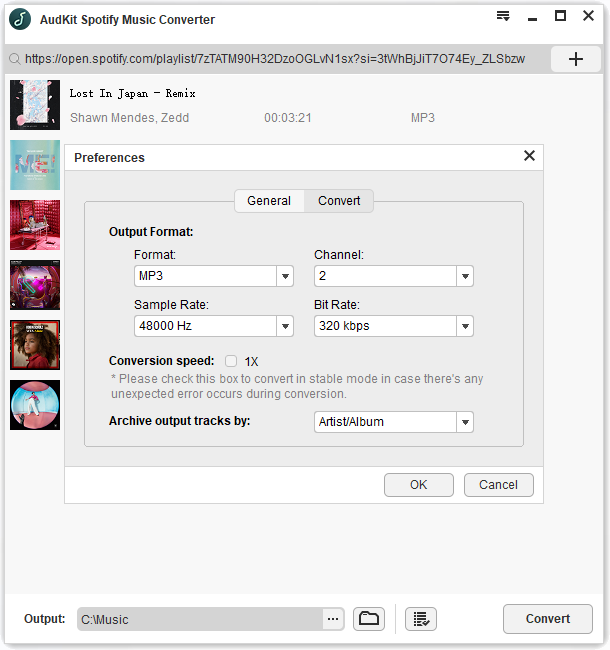 From the top taskbar, go to Menu > Preferences. After choosing Conversion, choose one output format to download Spotify to MP3, AAC, M4A, M4B, FLAC, or WAV for PowerPoint. You may also change audio parameters like channels, sample rate, and bit rate, and how output tracks are saved. You can also set the conversion speed.
Step 3 Start to download Spotify music for PowerPoint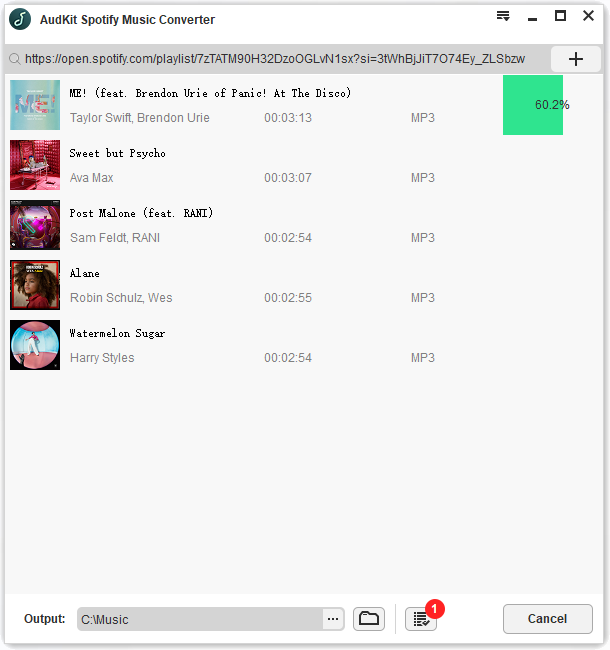 Tap the Convert button in the bottom-right corner. The program will begin the conversion process based on your specifications. All Spotify songs will be saved as MP3 files in the local folder. By clicking the folder symbol at the bottom, you may locate the folder.
Once the music is downloaded, you can easily import it into your PowerPoint presentation slides.
---
Part 3. How to Add Music to PowerPoint from Spotify
The last part helps you easily convert and download the Spotify music using AudKit SpotiLab music converter. After completing the steps in part 2, you are all set to add the downloaded Spotify music to your PowerPoint presentation.
Follow the below guideline to learn how to add Spotify music to PowerPoint.
Step 1. Launch the PowerPoint software and click on create a blank slide. Alternatively, if you want to add Spotify music on any existing slide, just open that in the PowerPoint software.
Step 2. Click on Insert tab and select Audio from there. From the appeared menu, click on the Audio on My PC button.

Step 3. Browser the folder location where your downloaded Spotify music is present. Once done, click the insert button to have the Spotify music added to your presentation slides.
Step 4. Choose the Play in Background option. Now, the download Spotify music will automatically play during the slide presentation.
---
Part 4. Conclusion
PowerPoint presentation helps you present your ideas easily through excellent visuals and animations. With audio, you can make your presentation even more catchy. But, due to limitations, you cannot add Spotify music to PowerPoint.
Spotify music is protected and hence cannot be directly downloaded. You can break all the limitations by using AudKit SpotiLab software. It helps you quickly convert and download music from Spotify without premium.
Once you have the music downloaded through AudKit, you embed it in your PowerPoint presentation slides. The best thing about AudKit SpotiLab is that it has fast conversion speed and easy usability. All you need is three steps to convert and download Spotify music.
---