Other than being a top-notch music streaming service, Spotify is a good platform to catch up with friends. Even though the app may not be as apt for connecting with friends like Instagram, Twitch, or Facebook, Spotify allows you to connect with others at a click. You can check out your connections' posts and other listening activities. Your connections can also do the same. But what happens if you don't want some people snooping into your affairs? To block someone on Spotify is the best option.
Well, some of you may wonder how can block someone on Spotify. That's just a piece of cake! We will show you the ways to block and unblock any users on Spotify. Read on!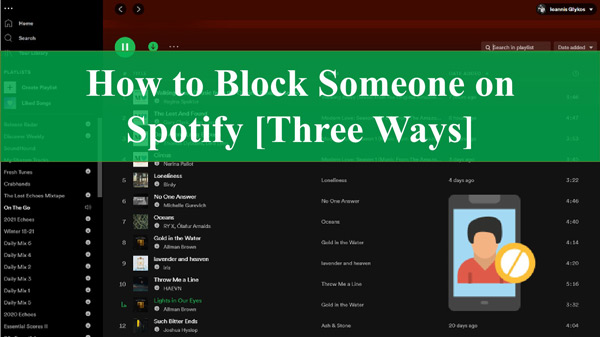 ---
Part 1. How to Block Someone on Spotify App
Spotify introduced a quick method to directly block any user through the app. You can do this via your PC or mobile device using the following approaches.
Way 1. Block Someone from Following on Spotify
There could be someone following you and yet you are not interested in them. How to block someone from following you on Spotify? Here're the steps.
Step 1. First, click on your Profile picture at the top of the Spotify app. This should open your display name dropdown menu.
Step 2. Next, click on the "Profile" option.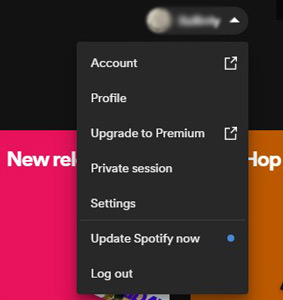 Step 3. Then hit on the "Followers" tab on your profile. You will see a number of people following you here.

Step 4. Finally, find the user you wish to block from the "Followers" list. Right-click on their names and select the "Block" option to block them.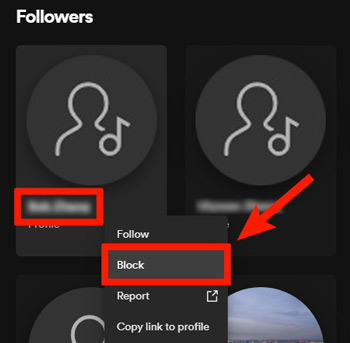 Way 2. Block Someone from Their Profile on Spotify
In addition to blocking your followers from your Profile, you can also block them from their Profile. If you want to block a certain person and remember his/her name, directly search the user's profile to block him or her.
Step 1. Open up your Spotify app, and then search for the user that you wish to block by entering the username in the Search box.
Step 2. Then click on the three-dotted icon from the user's profile.
Step 3. Click on the "Block" option and hurray! You just blocked that user.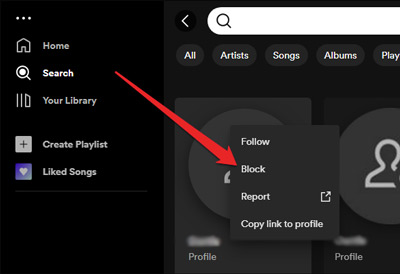 Way 3. Block Someone from Friend Activity on Spotify
Friends' activity is another quick point to block those nosy users.
Step 1. Open your Spotify account.
Step 2. Go to the Friend Activity sidebar on the right.
Step 3. Right-click on the name of the user you wish to block.
Step 4. Select the "Block" option to deter them from viewing your activities.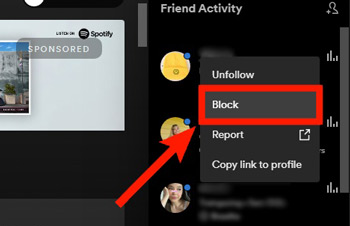 ---
Part 2. How to Unblock Someone on Spotify
Did you just block someone on Spotify and then realize, oops, "I've hit the wrong button"? Worry not! You can reverse that with simple steps.
Step 1. Search for the username of the person you want to unblock.
Step 2. Then right-click on their name or tap on the three-dotted icon.
Step 3. Now, hit on the "Unblock" tab to free the user from blockage.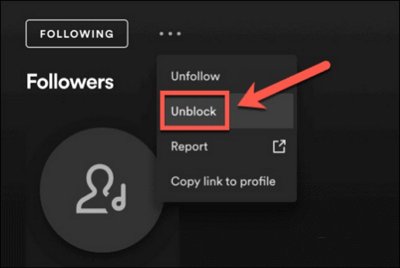 ---
Extra Tips: How to Download Music from Spotify Free Offline
Spotify is a bomb and any user would wish to listen to their fav-hits at any time. AudKit SpotiLab Music Converter makes it possible for you. You can download playlists, songs, albums, podcasts, etc. offline without a sweat. More so, the app will easily convert your tracks into any common output format. These include AAC, FLAC, WAV, M4B, etc.
The conversion process is as fast as possible, going at a 5X rate and managing a batch conversion of 100 songs at a go. When it comes to sound quality, The AudKit program will give you 100% lossless quality. It uses an advanced logarithm to preserve the ID3 tags and metadata information such as track numbers, titles, artists, etc.
More so, It lets you enjoy your Spotify hits without ad interruption whatsoever. Once converted, then transfer the Spotify songs to any device for offline playback. Likewise, you can conveniently customize the output parameters to your preference. These include sample rate, channel, bit rate, and many more.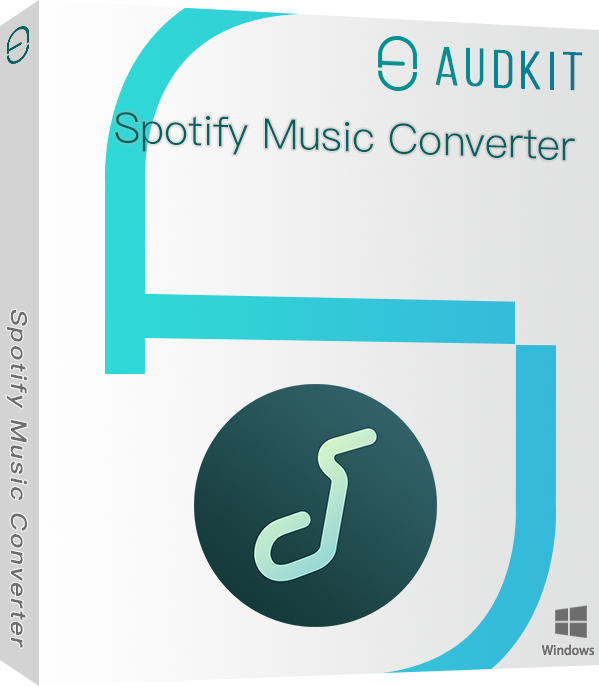 Download Spotify songs at a 5X speed conversion rate
Support common output formats like WAV and MP3
Enjoy Spotify music streaming without ad interruption
Keep lossless sound quality and metadata information for Spotify
How to Download Spotify Playlists Offline with Free Spotify Accounts
It doesn't matter whether you operate a free Spotify account. You can still enjoy premium features with AudKit SpotiLab Music Converter. It can run on Mac and Windows operating system devices. So, visit the official website, find the right version and hit on the "Download" button to download it on your computer. Enjoy the full version by activating the app. Go to the "Register" tab from the top taskbar menu and enter your license email and registration code.
Step 1 Import Spotify content to the AudKit app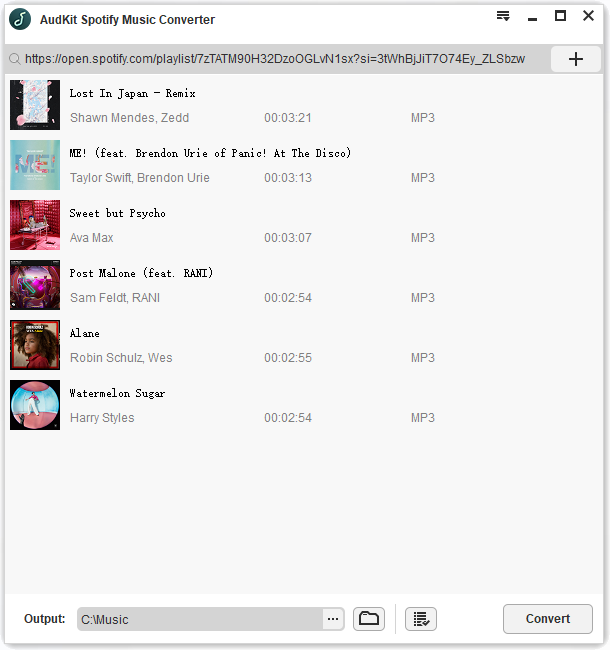 Browse the songs you wish to download from Spotify. Right-click on the song you have selected, then hit on the "Share" > "Copy Song Link" option. Next, paste the link into the search box on AudKit's interface. Now, hit on the "+" tab to import your song selection. Alternatively, directly drag and drop the Spotify tracks if they are few.
Step 2 Personalize the output format for Spotify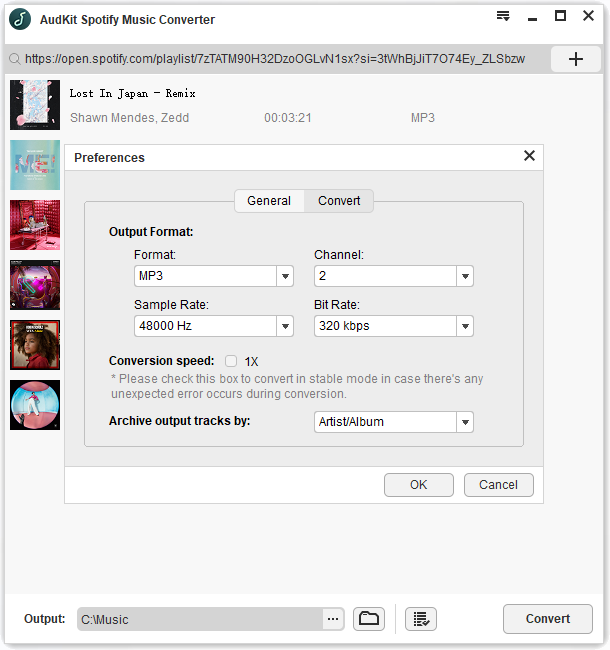 The next step is to click on the "Menu" > "Preferences" tab and choose the output format to convert your songs into. You can choose from MP3, FLAC, AAC, WAV, M4A and M4B. Also, edit other audio parameters such as sample rate, bit rate, channel, etc., and choose how to archive your output Spotify tracks once they have been converted. Tap "OK" once it's done.
Step 3 Begin the Spotify downloading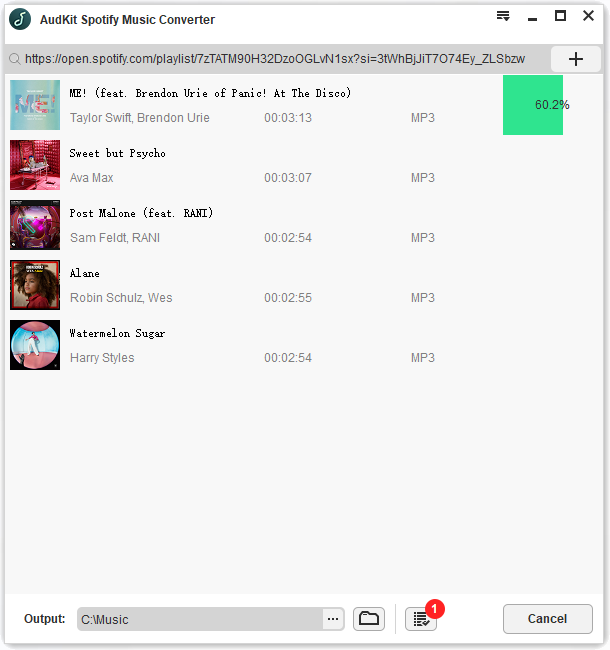 Confirm your entries, then, click on the "Convert" tab from the bottom-right corner. Let the program continue with the conversion process. It will download Spotify playlists to MP3, WAV, and more onto your PC. Once the conversion process is completed, check for the downloaded Spotify songs in your computer's local folder by hitting the folder icon. Finally, easily use the songs on any device for offline playback.
---
Part 4. FAQs about Blocking Someone on Spotify
Users are on the lookout for common questions about how to know if someone blocked you on Spotify among other related ones.
1. What Happens When You Block Someone on Spotify?
Once you decide to block a user, you will remove the person from your friend list and they can't see your profile. They won't then view your music playlists or any activities you conduct.
2. How to Tell if Someone Blocked You on Spotify?
To know if anybody has kicked you out of their list, you can tell this in several ways.
First, search for the person's username, and if you can't see them, then probably they have blocked you.
Secondly, check if you can see their playlists or profile information. If not, then you are off their list.
3. Why Can't I Block Someone on Spotify?
You won't manage to block someone on Spotify because probably the person already blocked you. Because of this, you can't find the username and there is no way to block without that.
4. Can You Block Someone on Spotify Mobile App?
Yes, you can. The blocking feature of Spotify is available on the Spotify desktop or mobile app. As long as you can access someone's username or profile, you are good to go!
---
Part 5. Conclusion
Once blocked, the user won't see any of your listening activities, profile page, or any playlist that you make public. If you have an annoying follower, just follow these guides on how to block someone on Spotify and gain back your free world!
Besides, we have an extra tip for you in case you want to download music from Spotify with premium. With AudKit Spotify Music Converter, you can do more than you can imagine once get the downloaded Spotify files.
---