Spotify has integrated with several apps like Connect, Musixmatch, Runkeeper, Discord, and Bumble, among many others. With Bumble, users can connect their dating profile to their Spotify account. This will include the top artists that they listen to on their accounts hence users they connect to can also get the vibes. Bumble Spotify, therefore, is a quick way to get to your friend's profile to see the artists featured and even get to the said artist's page. But how do you connect Spotify to Bumble? Check it out below!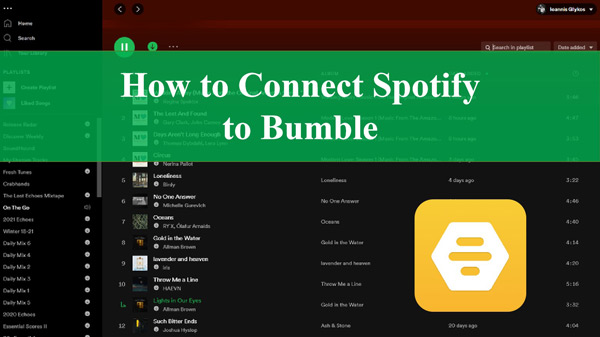 ---
Part 1. How to Connect Bumble to Spotify
Follow these steps to link Spotify to Bumble and share your musical tastes with your connections.
Step 1. First, open the Bumble app on your device and click on the "Profile photo" icon in the top-left corner of the screen.
Step 2. Next, tap on the "Complete my profile" option in the circular photo to open the profile editor.
Step 3. Then scroll down under the "Linked Accounts" option and tap the "Connect your Spotify" option.
Step 4. Enter your login details for Spotify and tap the "Login" tab. Note that you'll be prompted to accept the Terms & Conditions of Use.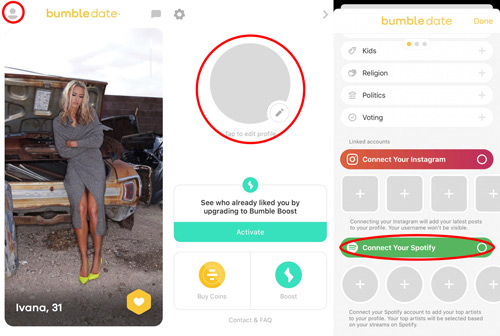 ---
Part 2. How Can Bumble Change Spotify Top Artists
Perhaps you just realized that your Bumble Spotify top artists are not accurate and you wish to change them. Here's how.
Step 1. Go into your "Profile editor" in the Bumble application.
Step 2. Then "Hide artist" under any artists that you don't want to be visible or wish to change.
Step 3. Add the artists you wish to listen to and they'll take up the remaining spaces with the hidden artists.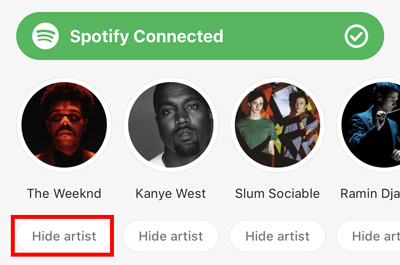 ---
Part 3. How to Fix Bumble Spotify Top Artists Not Accurate
It is quite disappointing to connect Spotify Bumble successfully and then realize that your artists are not accurate. If so, try out these fixes.
Relink Spotify and Bumble
To update your Spotify top artists on Bumble, it may be of help to disconnect Spotify from Bumble and relink it.
Step 1. Open the Bumble app then tap on the "User" icon on the top-left.
Step 2. Then, go to your "Profile" picture and tap on the "Edit" icon.
Step 3. Scroll down to the bottom of the page to view your connected Spotify account as well as your top artists.
Step 4. Tap on the green bar labeled "Spotify Connected" to disconnect your account from Bumble. Note that the "Green" bar should now indicate "Connect Your Spotify".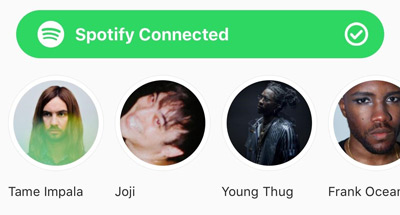 Step 5. Now, tap on the green bar to reconnect your Spotify and Bumble then check if the problem is resolved.
Log Out and Back into Spotify and Bumble
Logging out of both apps can also fix the issue of Bumble Spotify not working.
Step 1. Open the Spotify app and tap on the "Your Library" tab at the bottom-right of the screen.
Step 2. Click on the "Gear" icon then hit on the "Log Out" option twice to sign out of the app.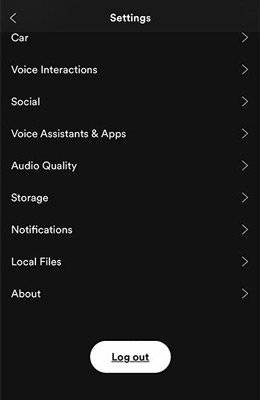 Step 3. Go to sign out of Bumble also by opening the app, and tapping "Log Out" after hitting the settings icon on your profile.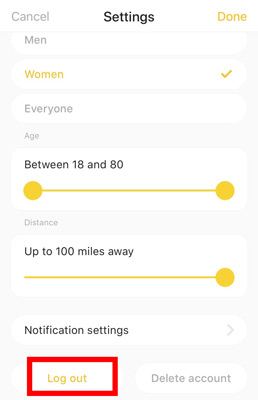 Step 4. Log in on both accounts and check if your top artists' list is now updated.
---
Part 4. Why Bumble Spotify Is Not Working
It will be a great disappointment whenever Bumble Spotify is not connecting to your device. Here are the possible reasons and solutions for such errors.
1. An outdated Spotify app may not work with certain apps like the Bumble app. To resolve Bumble Spotify not working, you can reinstall the Spotify app on your device or well update it to the latest version.
2. The "Date Mode" when not correctly adjusted may hinder the functionality of some applications. Solve this menace by trying the "Switch Off-On Date Mode". To do this, toggle OFF the switch to grey then back ON, to yellow.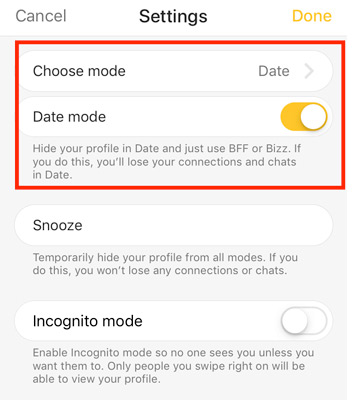 3. Your Bumble account may not have connected correctly to your Spotify account due to incorrect profile preferences in settings. Solve this issue by deleting your Bumble account and then registering it again.
---
Extra Tip: How to Download Spotify for Adding to Bumble's Video
Now Bumble has enabled users to upload a video (30 seconds) to their profiles. If you want to make yourself a video, why not add Spotify to the video to create the atmosphere? How to add Spotify music to a video? Here you go! Spotify has restrictions on its files, hindering direct access outside the Spotify app or browser. You need a converter to access Spotify without any issues.
AudKit Spotify Music Converter will quickly convert Spotify files into any common output format like FLAC, MP3, or AAC. It supports both Windows and Mac and works at a fast speed of X5 rate while converting. The output quality is worth it, giving you 100% lossless sound quality of the original tracks. This sophisticated tool will preserve all the ID3 tags and metadata information such as artists, track numbers, albums, etc. It has an open door that lets you enjoy Spotify music streaming in offline mode without any ad interruption. And once the conversion is completed, simply import the music files to any video editor.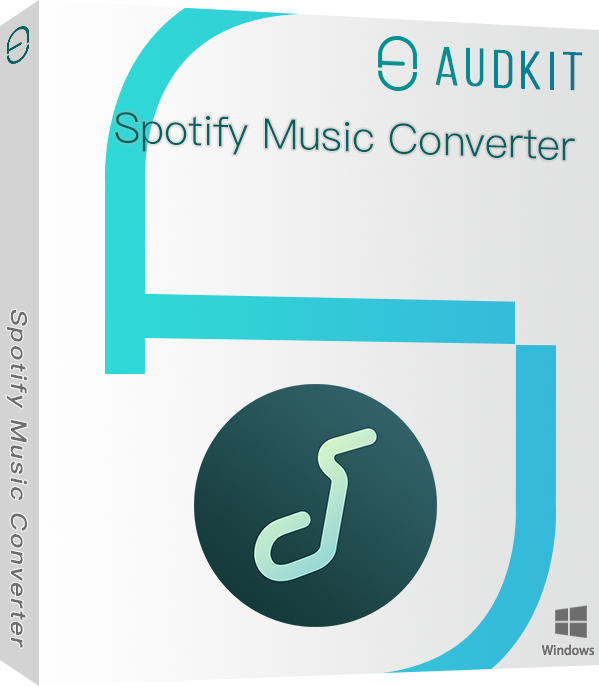 Finally, you have a quick solution to play your Spotify music offline and even add your Bumble app. It is time to learn how can you use the AudKit Spotify Music Converter to download Spotify for adding a video to Bumble. Check out the following guide.
Step 1 Paste Spotify URL to AudKit software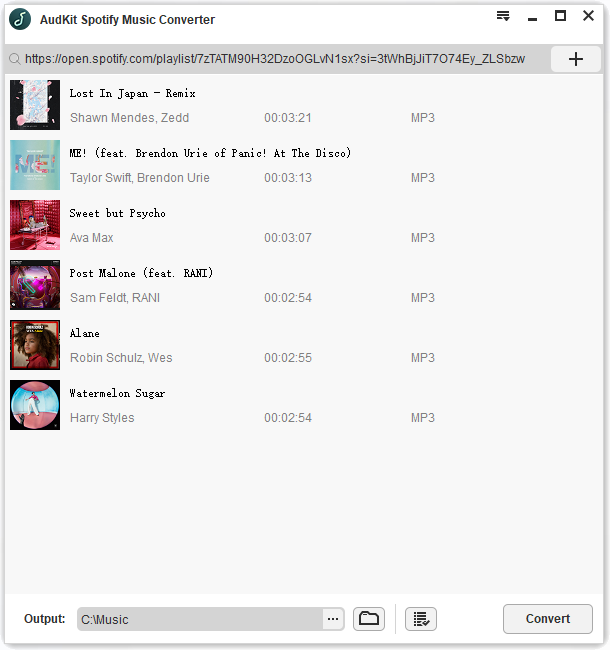 After the successful installation of the AudKit app, launch it and begin adding the Spotify hits that you wish to convert from your music library. Right-click on the song of choice, then click on the "Share" > "Copy Song Link" options and paste the link into the converter's interface. Next, click on the "+" tab next to the song to import it. Alternatively, you can drag and drop them into the converter's interface to add them.
Step 2 Define Spotify audio format for video editing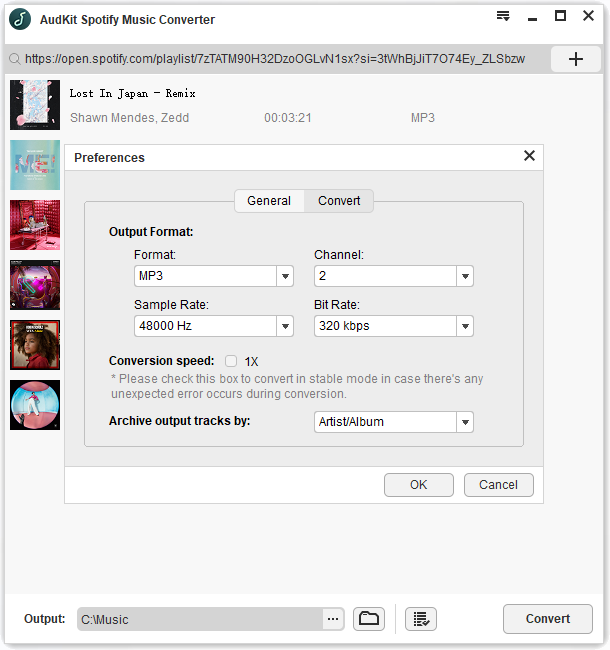 AudKit Spotify Downloader lets you choose your preferred format and other attributes. Go to the Menu tab and choose the "Preferences" tab to open the "Convert" option. You can now set the output format to convert Spotify to MP3, FLAC, AAC, and more. Also, edit the parameters such as channel, sample rate, channel, etc.
Step 3 Get Spotify music tracks onto your computer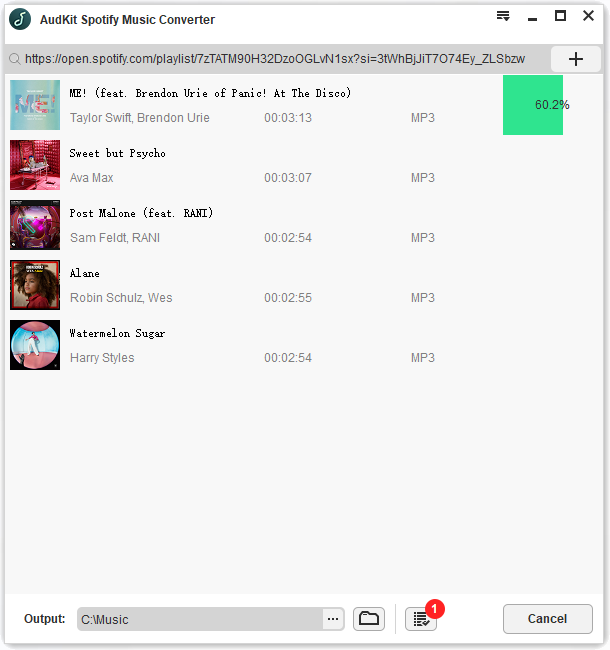 Go to the "Convert" tab and click on it for the AudKit app to commence the conversion process. The converted Spotify playlist will then be saved in your computer's local disk as common files. Simply locate the "Converted" folder to listen to them offline or use it in a video that you can add to Bumble.
---
Final Thoughts
The Bumble Spotify connection can show more personalities of you. And this article has shared tips on how to connect to Spotify and how to change top artists on Spotify Bumble. We believe it can bring more benefits while searching for matches. Meanwhile, you can also add a video to your Bumble profiles, which can spice up your dating journey. If you want to get your music from Spotify as your video background, try AudKit Spotify Music Converter to get the music files with no restrictions.