How to connect Spotify to JBL speaker? Do you want answers to it? It is possible to establish the JBL speaker Spotify connect quite easily with only a few simple tips. Through the JBL speaker Spotify Bluetooth connection, you can easily go ahead with streaming your favorite music or audio on your JBL speaker while having a great music streaming experience through Spotify.
The JBL speaker is a high-end range of full-fledged Bluetooth speakers that can be easily transported to any corner of your house for an interruption-free music streaming experience. Through its features of wireless Bluetooth, speakerphone, and rechargeable battery, JBL speakers have garnered the respect of being one of the leading Bluetooth speakers out there. If you own one, continue reading to get tips about how to play Spotify songs on it!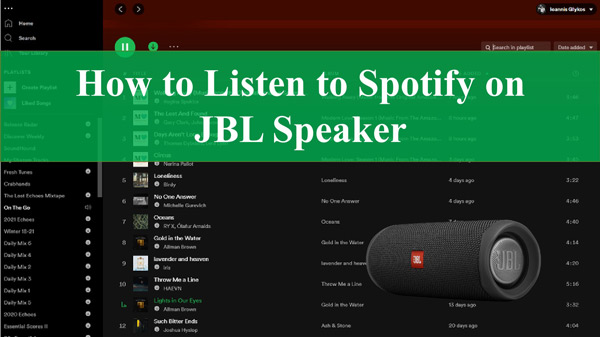 ---
Part 1. How to Connect Spotify to JBL Speaker with Bluetooth
Wish to ensure JBL Spotify connect through the Bluetooth feature? If your JBL speaker has a Bluetooth feature, you can just connect the speaker to your mobile device and stream Spotify music!
To make the Bluetooth connection successful, you will require the following:
The Spotify app on a device that remains compatible with Bluetooth
An audio device (like a JBL speaker) for supporting Bluetooth
Here are some steps to use Spotify on a Bluetooth-enabled device like a JBL speaker.
Step 1. Turn on the Bluetooth feature on both devices: your smartphone and the JBL speaker.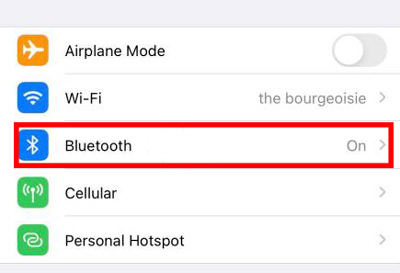 Step 2. Pair the speaker with your phone with the help of Bluetooth settings.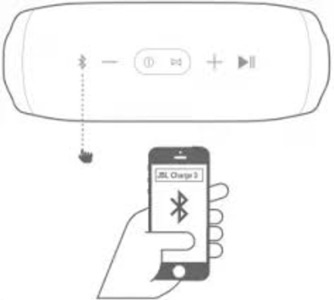 Step 3. Launch Spotify on your smartphone and select any playlist or track you wish to play.
The music should be played on the JBL speaker once the Bluetooth connection matches your device.
---
Part 2. How to Stream Spotify on JBL Speaker with Spotify Connect
As the music streaming giant across the globe, Spotify opens its doors for unmatched cooperation with several leading brands as well as devices on the market out there. Therefore, with Spotify Connect, you can go ahead with listening to your favorite musical track, an audio file, or an album from Spotify on speakers, smartwatches, smart TV, and so more.
For some of the leading smart speakers like JBL Go, you can leverage the feature of Spotify Connect to link the Spotify account to the respective device for streaming your favorite tracks. However, it is important to note that some speakers might not be compatible with Spotify Connect. Therefore, you should cross-check the same in advance. Check out the steps of using Spotify Connect JBL.
Step 1. Connect your phone and the JBL speaker to the same WiFi.
Step 2. Next, go to the Spotify app on your phone and click on one song for playing.
Step 3. On the Now playing page, click the "Device Available" icon.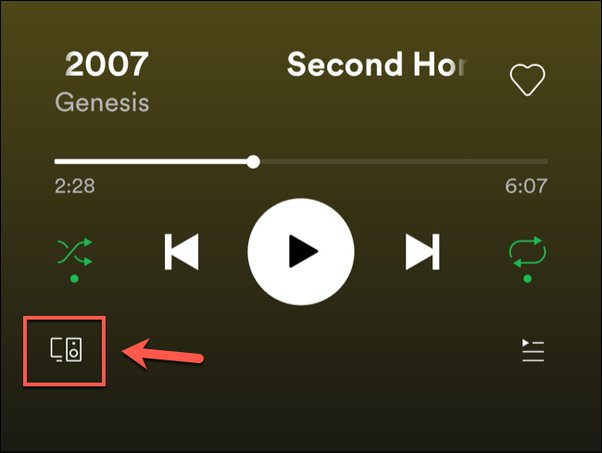 Step 4. Tap on the JBL speaker from the showing list to connect it. Songs will be played on the speaker now.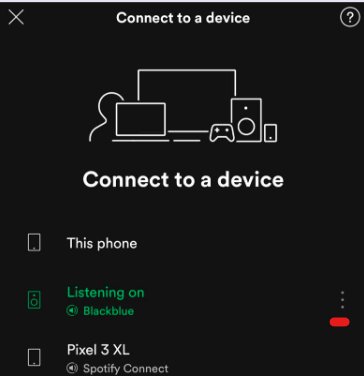 ---
Part 3. How to Play Spotify Music on JBL Speaker Free Offline
The guide to playing Spotify on the JBL speaker is shown above. It's easy-peasy to catch up with every step. For Spotify free users, you can only shuffle play Spotify on the speaker. If you wish to select the song to play without shuffle, you can stick to this part. And in some cases, you might not be able to spot the JBL speaker on your smartphone or the device list. At the same time, the Bluetooth feature might fail to ensure connection to the speaker at all times. In this case, you might consider turning your attention to a reliable Spotify music downloader to help you play Spotify tracks on the JBL speaker without any connection.
Here's the AudKit SpotiLab Music Downloader that you can think of converting Spotify music for with premium. The all-in-one Audkit Spotify Music Converter is capable of converting your favorite Spotify playlists to the most preferred audio formats – including FLAC, AAC, M4A, MP3, M4B, and so more. It makes the process convenient to listen to Spotify offline on any device.
To top it all, with AudKit SpotiLab Music Converter, there is no need to worry about losing the overall quality of your desired music tracks on Spotify. The tool is capable of retaining 100% lossless audio quality along with ID3 tags like title, genre, track number, album art, and so more.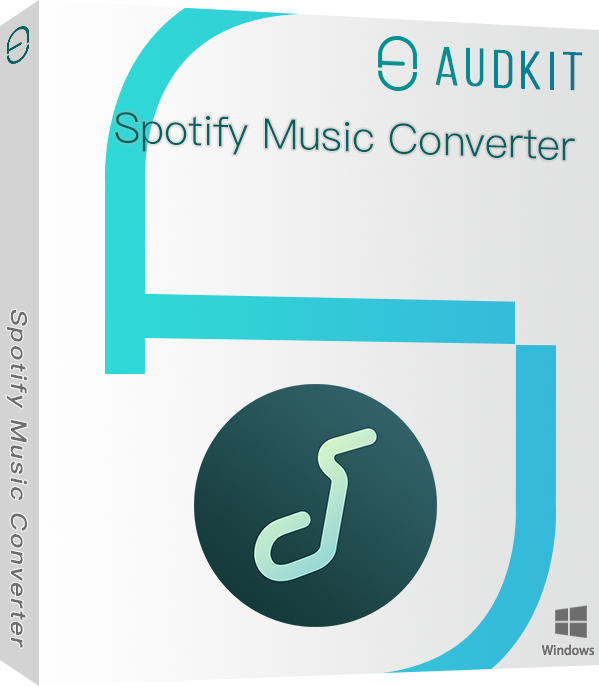 Listen to Spotify songs on the JBL speaker offline without fail
Quickly convert Spotify music to FLAC, MP3, AAC and other formats
Enable users to adjust the Spotify audio parameters
Download Spotify songs, playlists, albums, and podcasts
How to Download Spotify Offline with AudKit Spotify Music Converter
Step 1 Add Spotify tracks to the AudKit app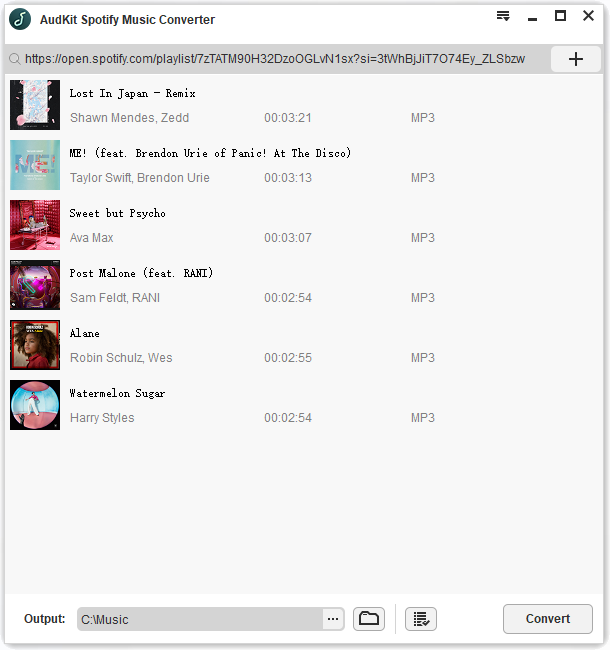 Go through the music list on your Spotify app that you wish to convert with the help of the AudKit tool. Right-click on the selected list of songs. Select the option Share > Copy Song Link. Paste the link on the respective search box of AudKit Spotify Music Converter. Click on the + icon to import the desired songs.
Step 2 Modify Spotify sound settings for JBL speaker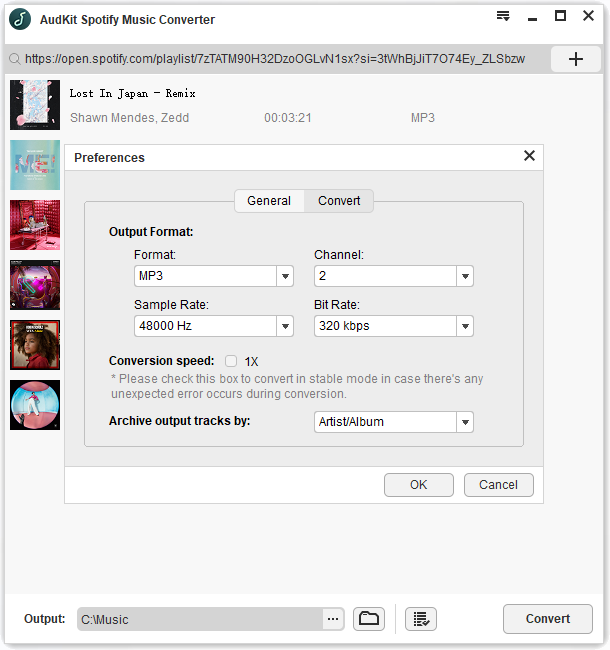 Advance to the menu from the top taskbar, and select Preferences from the dropdown list. Choose Convert from the Preferences window to reset the desired output formats for your favorite music on Spotify – like AAC, MP3, M4A, and so more. During this time, you can also go ahead with setting additional audio parameters like sample rate, channel, bit rate, and so more. Select the OK option to ensure confirmation of the song entries.
Step 3 Convert Spotify tracks for JBL speaker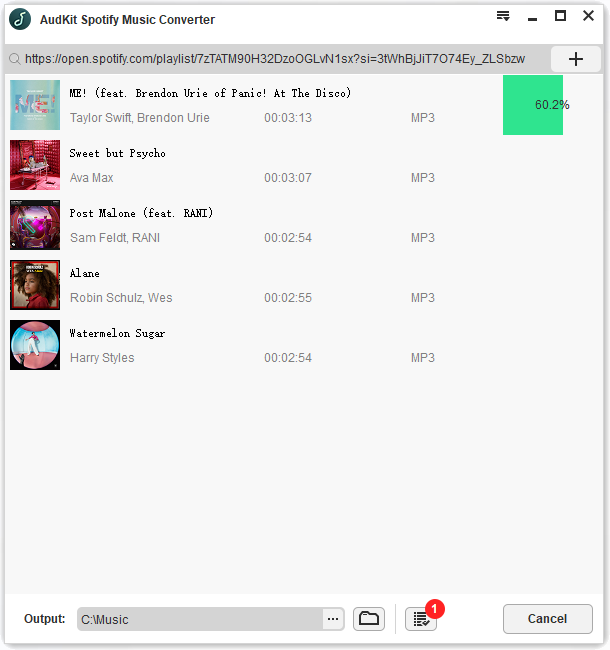 Hit the Convert icon to continue downloading music from Spotify to the computer system. Locate your downloaded music tracks on the hard drive. Connect your phone to the computer via a USB cable and copy the Spotify files to your phone.
Note: for iPhone users, you need to transfer Spotify to iTunes and then sync it to your device.
Then, you can start listening to your favorite music on Spotify on your chosen device with the help of the Bluetooth feature. To connect JBL Spotify, refer to the steps in Part 1.
---
Part 4. Conclusion
With simple steps, you now know how to connect Spotify to JBL speaker with desired songs – either with Bluetooth or Spotify Connect. There is a part about playing Spotify on the JBL speaker without a Wi-Fi connection. All you need is a reliable tool like AudKit SpotiLab Music Converter to help you with the process. With this tool, you can listen to the converted Spotify audio files on multiple devices offline.
---