Spotify is a popular music streaming service that provides users access to a vast library of songs and podcasts and to download songs from Spotify to computer for offline playback. However, one of the features that can be frustrating for some users is the automatic playback of songs after a playlist has finished. If you prefer to have more control over your listening experience and wonder how to stop Spotify from automatically playing, this feature can be a major annoyance.
Whether you're someone who likes to listen to entire albums without interruption or you prefer to manually select your next track, stopping automatic playback on Spotify is an essential step. Fortunately, with our easy-to-follow guide, you can take a few simple steps to get Spotify to stop playing automatically on your device and enjoy a more personalized, uninterrupted listening experience on the platform.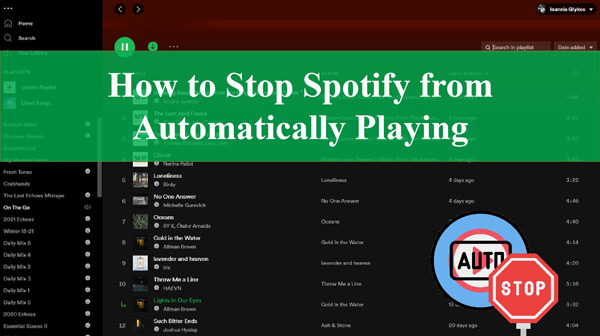 ---
Part 1. How to Stop Spotify from Automatically Playing via Spotify App
Spotify is a well-known music streaming platform with many built-in features. One of the features of the Spotify application is that it plays music automatically via the Spotify app.
Although this feature can be helpful in some situations, there are certain concerns about how to stop songs from automatically playing on Spotify, such as conserving data, prolonging battery life, avoiding disturbances, and safeguarding your privacy. Let us explain some steps to stop Spotify from automatically playing via the Spotify app below:
Step 1: First, open the Spotify App on your iPhone and tap the Gear icon at your device screen's top right corner to open the Settings menu.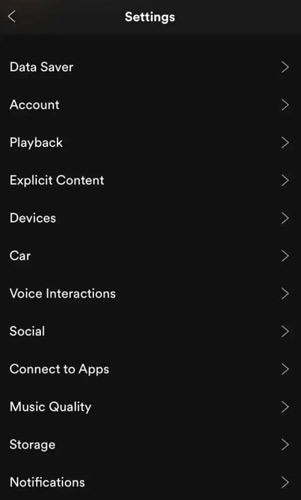 Step 2: Next, select the "Playback" option and navigate the "Autoplay" to toggle the switch next to it.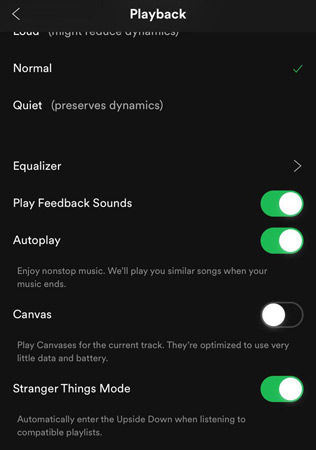 Note: For Android, you won't need to go to the playback option in the "Settings" menu. Scroll down the Settings screen, and you will notice the "Autoplay" button, which you have to turn off eventually.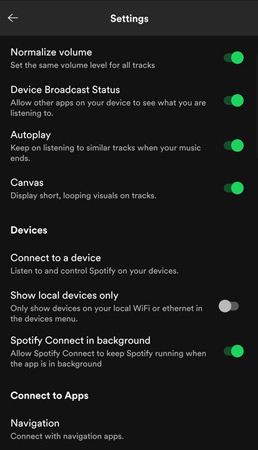 ---
Part 2. How to Stop Spotify from Automatically Playing on Mobile
How to stop Spotify from playing automatically has become the go-to question for millions of Spotify users worldwide. What can be bothersome for some users is the automatic playback setting on mobile devices. Whenever the Spotify app is launched, it starts playing music from the last played track, which can be a nuisance.
Therefore, it is important to explore the reasons and the solutions for Spotify automatically playing when the app opens on mobile devices can be helpful:
Fix 1. Disable Allow Background Activity on Android
"Allow Background Activity" is a setting that allows apps to continue running in the background when you're not actively using them. This can help certain apps to function properly, but it can also drain your device's battery life. If you are experiencing the issue where Spotify automatically starts playing music, disabling this may help. Here are the steps on how to make Spotify stop playing automatically on Android:
Step 1: Head to the "Settings" app and then scroll down to access the "Apps" settings.
Step 2: Now, tap on the "Manage Apps" option and access the Spotify app from the list to customize its settings.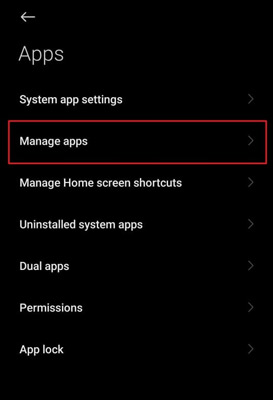 Step 3: Next, disable the "Allow Background Activity" option. This will stop Spotify from operating in the background.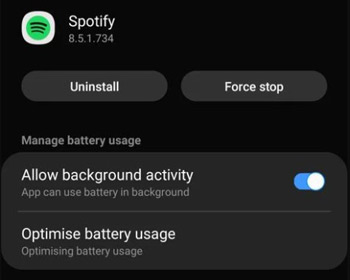 Fix 2. Turn Handoff Off on iPhone
Turning off the Handoff feature on your iPhone may stop Spotify from automatically playing, but it depends on the specific issue you are experiencing. When Handoff is enabled, you can start a task on one device and continue it on another without any interruptions, but in this case, you must turn it off on your iPhone.
Step 1: Tap your iPhone's "Settings" app and select "General" from all the available options. Now, look for the "AirPlay & Handoff" option and press it to open it.
Step 2: You will now see the various options on the next screen, locate the "Handoff" feature and toggle the button next to it to turn it off.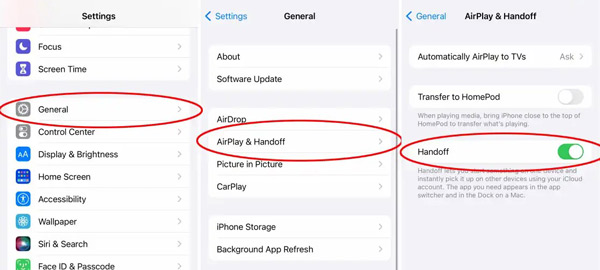 Fix 3. Keep Earphones in Cases
Keeping your earphones in their case may not directly stop Spotify from automatically playing, but it can help prevent random playback caused by the earphones' physical buttons or sensors. Many earphones come with physical buttons or sensors that can play, pause, skip, or adjust the volume of the music.
Some earphones may also have features such as auto-play or auto-pause when the earbuds are removed or inserted into your ears. If your earphones are causing Spotify to play automatically, it may be due to accidental button presses or sensor triggers.
Keeping your earphones in their case can help prevent these accidental triggers and reduce the chances of Spotify playing automatically. Additionally, keeping your earphones in their case can help protect them from damage and extend their lifespan, which can also prevent issues with random playback or other malfunctions.
Fix 4. Disable Bluetooth
Disabling Bluetooth on your device may stop Spotify from playing automatically if you play Spotify through Bluetooth causing the issue. Spotify may automatically start playing music when it detects a Bluetooth connection to a device such as a speaker or headphones.
However, it can be frustrating if you want to avoid music starting to play automatically. Follow the steps below to turn off the Bluetooth option on your iPhone or Android device:
Step 1. Access the Settings app on your device.
Step 2. Hit the "Bluetooth" option from the options list. Now you can disable Bluetooth by turning off the toggle button.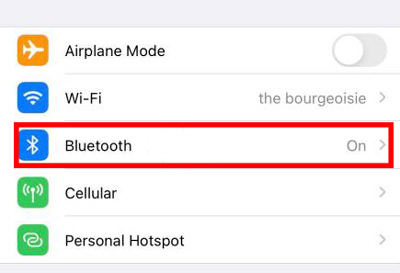 ---
Part 3. How to Stop Spotify from Automatically Playing in Car
Spotify allows users to enjoy their favorite songs and playlists on the go. However, for many users who connect their smartphones to their car's Bluetooth system, the app automatically starts playing music when they turn on their car.
While this may seem convenient, it can also be an inconvenience, especially if the music selection needs to be more appropriate. Have a look at the below-mentioned steps to learn how to stop it from playing automatically in a car:
Stop Spotify from Automatically Playing in Car Android
Step 1: Open the Settings app on your Android device and head to the "Advanced Features" option to navigate the "Android Auto" feature.
Step 2: Once you do it, turn "Automatically Resume Media" and "Wireless Android Auto" off slowly.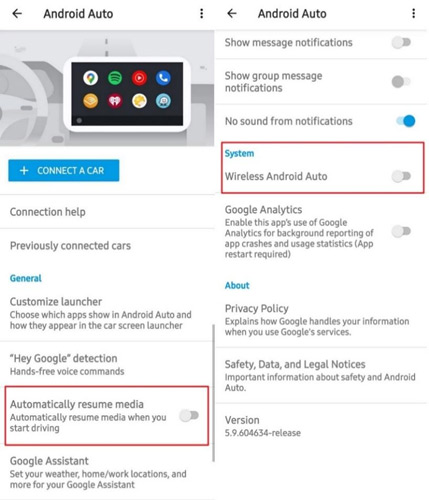 Stop Spotify from Automatically Playing in Car iPhone
Step 1: Go to "Settings" on your iPhone and look for the "Screen Time" option. Further, tap the "Content & Privacy Restrictions" to access the further Screen Time settings.
Step 2: Following this, move to the "Allowed Apps", navigate to the "CarPlay" button, and toggle the switch next to it to disable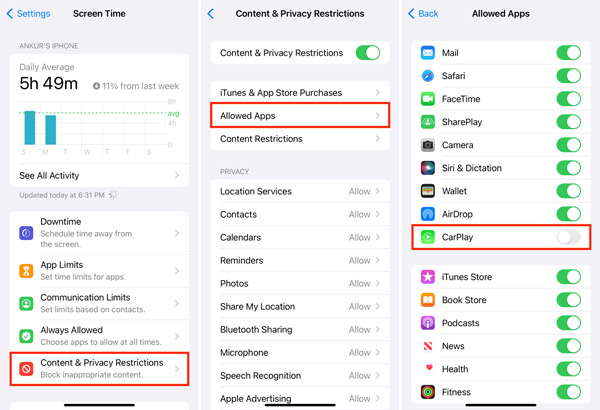 See Also: How to Play Spotify in the Car
---
Part 4. How to Avoid Spotify from Playing Automatically
AudKit SpotiLab Music Converter is a powerful and user-friendly software tool that allows that helps you to know how do I stop Spotify from playing automatically. By downloading and converting Spotify music tracks, albums, and playlists as your local files, you can stay away from the autoplay.
The AudKit program provides various audio formats such as MP3, AAC, M4A, M4B, WAV, FLAC, and others. This tool can help you download your favorite Spotify songs with premium quality for free, without any limitations or restrictions. One of the main advantages of the AudKit SpotiLab Music Converter is its high-speed performance. With it, you can download your music at 5X speed compared to traditional downloaders, saving time and enjoying your music in just a few minutes.
What's more, it also offers 100% lossless quality, ensuring the converted files retain the same quality as the original Spotify tracks. Whether you are tech-savvy or not, the software's intuitive interface and easy-to-use functions make it accessible to all of you.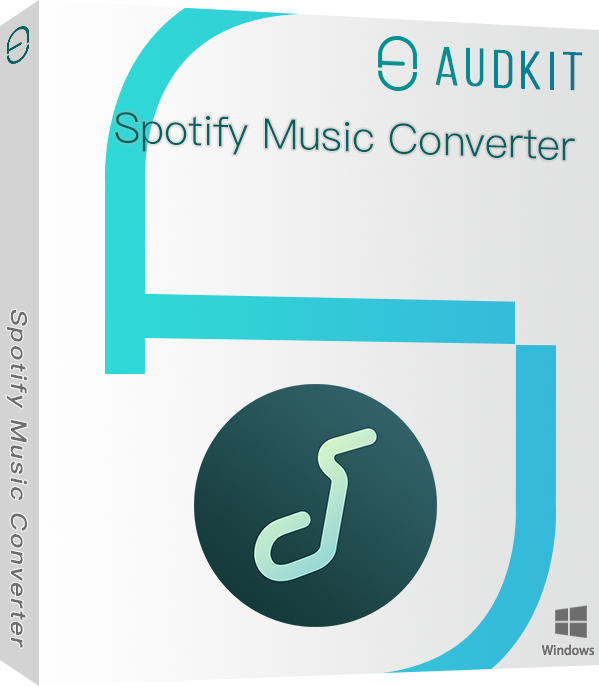 Offer ad-free Spotify music streaming after conversion
Convert Spotify to FLAC, MP3, WAV, and more
Download Spotify tracks offline with free Spotify accounts
Organize the downloaded Spotify files with ID3 tags and quality
Steps on Downloading Spotify Music to Avoid Autoplay
AudKit SpotiLab Music Converter is a versatile and efficient tool that offers a range of features to help you download and convert your favorite Spotify songs to various audio formats with high-speed performance and lossless quality. Follow the steps below for a much better understanding:
Step 1 Get the required Spotify songs on AudKit software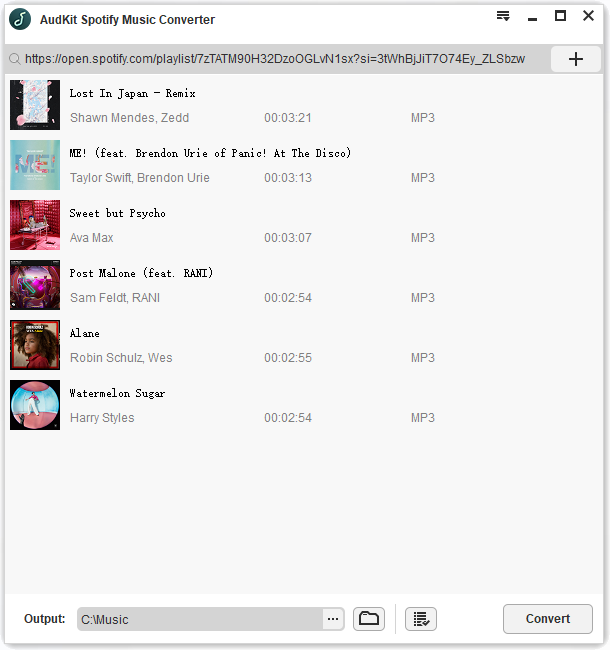 First, visit the official website of AudKit SpotiLab Music Converter and download the software. After that, register to the app, open the Spotify application, and select the desired song you want to download. Click on the three dots icon and choose "Share" from the dropdown menu. Next, click "Copy Song Link" to obtain the link to the song.
Next, back to the AudKit SpotiLab Music Converter and navigate the link bar at the top of the screen. Paste the copied song link into it and click the "+" button. Repeat the same process for each song or playlist you wish to download.
Step 2 Set the Spotify output preferences you want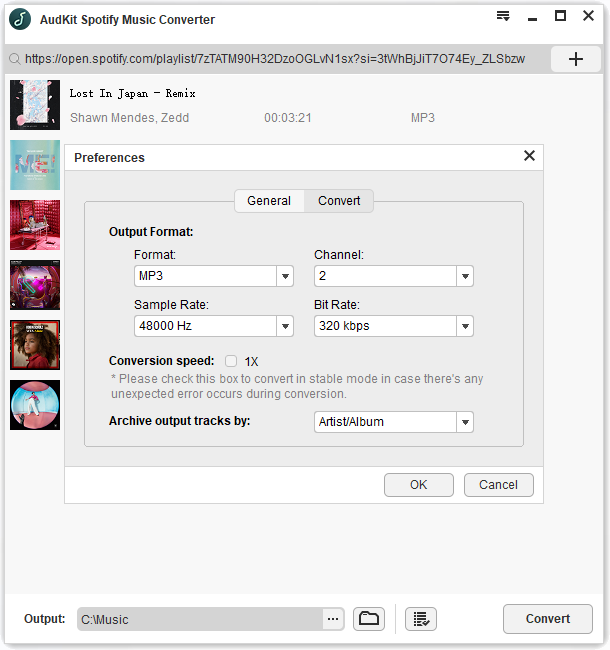 To customize the output format of the downloaded songs from Spotify, access the "Preferences" dialogue box by clicking the Menu button, and then head to the "Convert" section. Set the Format, Channel, Sample Rate, and Bit Rate options based on your preferences.
Following this, adjust the Conversion Speed and Archive Output Tracks By settings to your requirements. Once you have selected it, click the "OK" button at the bottom of the dialogue box to save the changes.
Step 3 Start downloading Spotify music tracks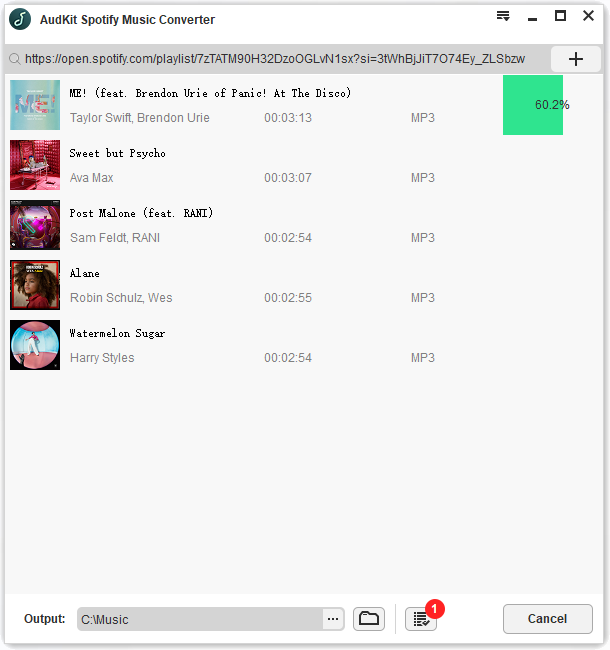 Select the destination folder next to the output icon to save the downloaded songs. After selecting it, click the "Convert" button to download Spotify music on the computer. Once the download is complete, navigate to the destination folder to see all the results. And you are able to play Spotify songs without it starting automatically.
---
Part 5. Final Words
In summary, how to stop Spotify from automatically playing can be a frustrating experience, but fortunately, several solutions are available to users. From disabling the autoplay feature in Spotify settings to turning off Bluetooth, these methods can help you regain control over your music listening experience.
Moreover, if you are looking for an alternative way to enjoy Spotify music without limitations, AudKit SpotiLab Music Converter is the perfect solution. With its advanced features, you can easily download and convert any Spotify track or playlist to a format of your choice, including MP3, FLAC, WAV, and more.