Spotify is the leader in music streaming services. It has millions of free and paying subscribers. Despite its huge user base, Spotify still has trouble delivering smooth content. Many users in the Spotify community have reported that their downloaded Spotify songs not playing when they click on them even if they have downloaded Spotify music to computer already. The most frustrating part is that the Spotify app doesn't show any error messages or special reasons.
When you are facing the problem of Spotify not playing downloaded songs, a quick solution should be at your fingertips. Hence, we have mentioned below 10 fixes that should work for you in most cases. Now, without further ado, let's go to the troubleshooting guide below.
Note: If you don't want to try all solutions one by one, it's highly recommended to draw support from AudKit Spotify Music Converter. It can download Spotify tracks as local computers again for offline playback without any issue.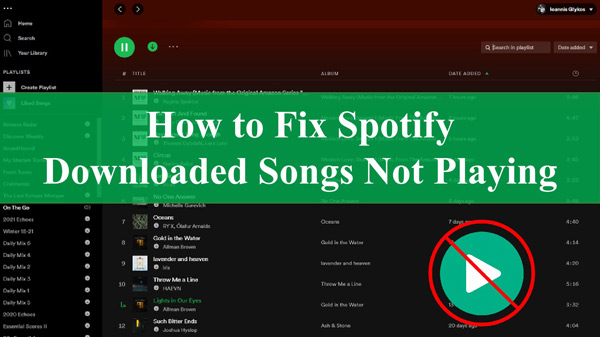 ---
Solution 1. Restart Your Device
The first solution you can try is to restart your device, no matter what you are using (computer/phone). By restarting your device, the system will be refreshed and it may help you clear some glitches on the Spotify app that prevents you from playing downloaded songs. Give it a try, it may solve your problem of Spotify not playing downloaded songs iPhone/Android/Mac/Windows.
Step 1. On your computer, go to the "Windows" icon.
Step 2. Then click on the "Power" tab and choose the "Restart" option to restart your computer.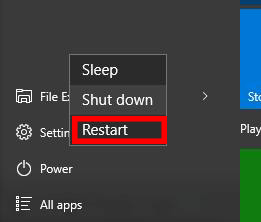 ---
Solution 2. Update Spotify and Your Device
Updates to apps usually bring new features and most importantly bug fixes. So, you can update the Spotify app on your device and see if it solves your problem. Also, if your device's operating system is using an older version, it may have some compatibility issues. This will most likely cause your downloaded songs to not play on Spotify. So, go ahead and update Spotify and your device.
Step 1. Open the desktop Spotify app.
Step 2. Then, select the "Spotify" > "About Spotify" option from the menu bar.
Step 3. Spotify will pop up to you your computer's current version and see if you need an update. If so, check the available updates and choose the "Update Now" option for an update.
Step 4. The system will notify you if "Spotify" has been updated.
Step 5. You then need to restart your computer. Select "Close" and restart the computer.
When you have any problems with Spotify won't play downloaded songs, you can always check for available updates.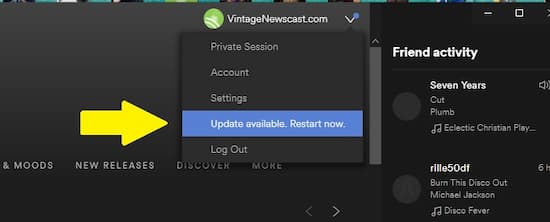 ---
Solution 3. Enable Spotify Offline Mode
The issue of downloaded songs on Spotify not playing may be resolved by enabling Spotify offline mode. Spotify Offline Mode is to make sure you can play the downloaded songs on Spotify. Once disabled, you cannot play the downloaded songs.
Step 1. Launch the Spotify app on your device and go to "Settings".
Step 2. Scroll down to find "Offline mode" in the "Playback" section.
Step 3. Toggle it to enable "Offline mode".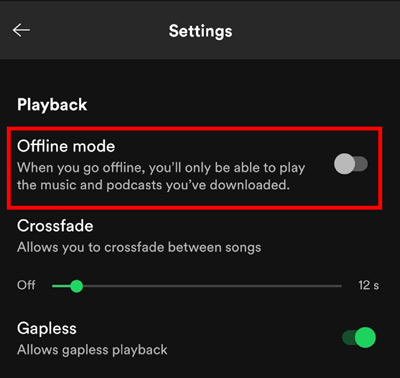 ---
Solution 4. Log out and Log in Back
If enabling the offline mode doesn't solve the Spotify download song not playing, move on to log out and then back in. Some users have solved the issue of Spotify downloads not playing by logging out and logging in back. Before restarting, we recommend that you sign out of Spotify and restart your device, then sign back in.
Step 1. On your desktop, select the dropdown arrow next to your account name.
Step 2. Select the "Log Out" option. You'll be logged out of Spotify.
Step 3. Then log back in and check if your Spotify can now stream music.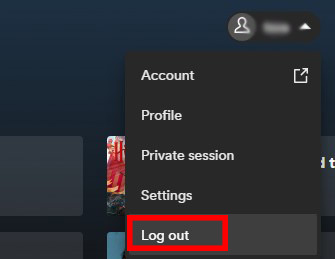 ---
Solution 5. Connect to the Internet for Resyncing
Even if you're a premium user of Spotify, you need to connect to the Internet for playing songs offline. If you lose the connection after 30 days, then your downloaded songs will disappear. To fix the problem of Spotify not playing downloaded songs, connect to the Internet and resync the application.
---
Solution 6. Enable App Permission for Spotify
After installing Spotify, you may have forgotten to give some necessary permissions. If this is the case, it may cause Spotify not to work properly and play downloaded songs offline. So, to enable permissions for your Spotify Android app.
Step 1. Go to the "Settings" app on your phone.
Step 2. Click on "Apps" and then scroll down to find Spotify.
Step 3. Tap on "Spotify" and then "Permissions" to allow everything.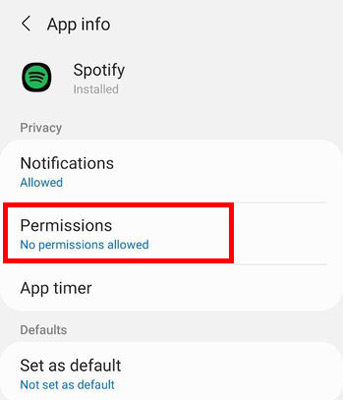 ---
Solution 7. Free Up Storage
If you are one of Spotify Premium users and find Spotify downloaded music not playing, make sure you have enough storage space on your phone. It is possible that you have downloaded a lot of songs and you don't have enough storage space to use the app smoothly right now. Therefore, you should clear Spotify cache to free up storage on your device.
Step 1. Open Spotify and sign in to your account.
Step 2. Go to the "Settings" menu from the top right.
Step 3. Scroll down to find the "Storage" section. Then click "Delete Cache" to free your space.
Step 4. Now stop the Spotify app and see if this can solve your problem.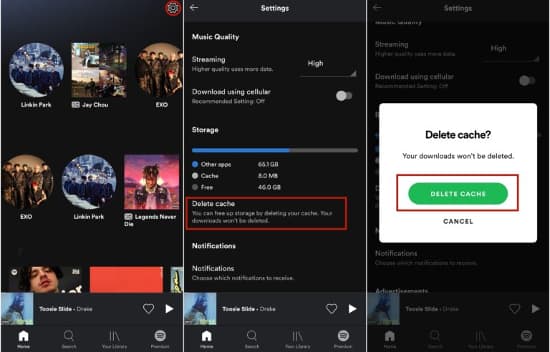 ---
Solution 8. Turn off Hardware Acceleration
Hardware acceleration is always enabled by default on your computer. It assists weaker hardware such as older PCs by adding more streaming power. In some cases, it causes issues like skipping or Spotify downloaded music not playing as scheduled. In such a case, you better turn it off.
Step 1. Go to the "Spotify" option on your Mac or the "File" option on your Windows computer.
Step 2. For Mac users, click on the "Hardware Acceleration" option and ensure you turn it off. While for Windows users, select "View" and then "Hardware Acceleration" to disable it.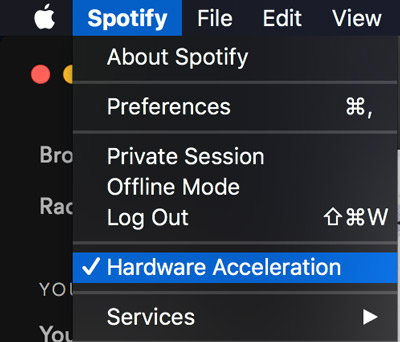 ---
Solution 9. Contact Spotify
You can also contact Spotify and ask them "Why can't I play my downloaded songs on Spotify offline, what can I do?".
Go to the official website and engage them with your question to get answers and help. You can also send a direct message to Spotify's official Twitter feed.
---
Solution 10. Convert Spotify Songs to MP3
Perhaps you wish to play your Spotify songs offline but keep on getting the error of Spotify downloaded songs not playing offline. AudKit SpotiLab Music Converter will get you out of the mess. Use it to download and convert your Spotify music to common formats such as MP3, FLAC, AAC, M4A, etc. The app works at a fast speed of X5 rate, enabling the conversion of up to 100 files at once.
Its built-in converting technology will keep 100% lossless sound quality and other ID3 tags. These include track numbers, album art, title, and genre, among others. With AudKit Spotify Music Converter, you'll enjoy Spotify Premium features on the free version. You can then listen to Spotify without the Spotify not playing downloaded songs issue.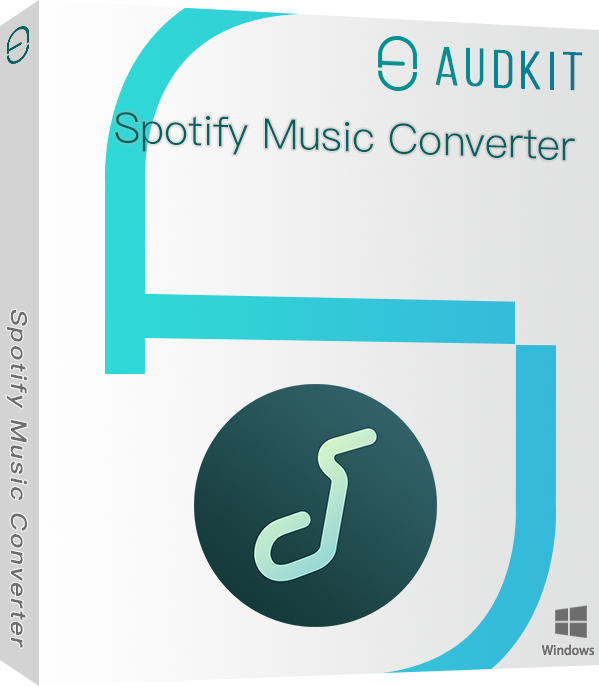 Customize the output parameters of your Spotify songs
Keep 100% lossless Spotify sound quality and all the metadata
Convert Spotify to common formats like MP3 and WAV
Faster conversion at X5 speed to batch download Spotify music
A Step-by-step Guide to Convert Spotify Downloads to MP3 Using AudKit SpotiLab
You can solve the Spotify downloaded songs not playing issue by converting your playlist to common output formats. By this, you'll manage to listen to Spotify offline without Premium on any device, anytime.
AudKit Spotify Converter has both Mac and Windows versions. Download your version, install, and launch it on your computer. The Spotify app should also open immediately. Also, continue to register AudKit to experience its full functions. Go to the "Menu" > "Register" options on the taskbar. Then copy and paste your license email and the registration code for activation.
Step 1 Add Spotify albums and playlists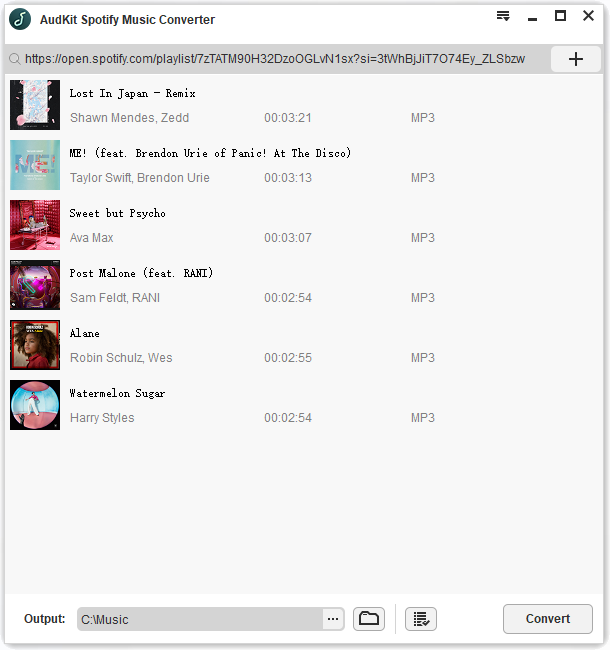 Browse the Spotify songs that you wish to convert to MP3. Right-click on the song, then go to the "Share" tab and choose the "Cop Song Link" option. Next, paste it into AudKit's interface search box and hit the "+" tab to add your songs. Alternatively, you can try a simpler way. Just drag and drop the songs you want to download from Spotify to this converter.
Step 2 Customize output settings and format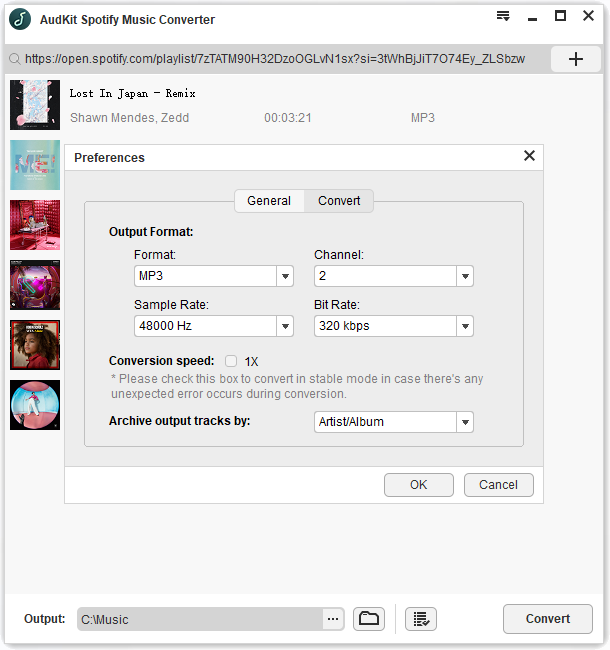 Go to the "Menu" tab on the top taskbar of your computer screen and choose the "Preferences" option. Then click on the "Convert" tab to navigate to the output settings window. Reset the output format for Spotify to MP3 then continue to change other parameters. These include the channel, bit rate, sample rate, etc.
Step 3 Download and convert Spotify to MP3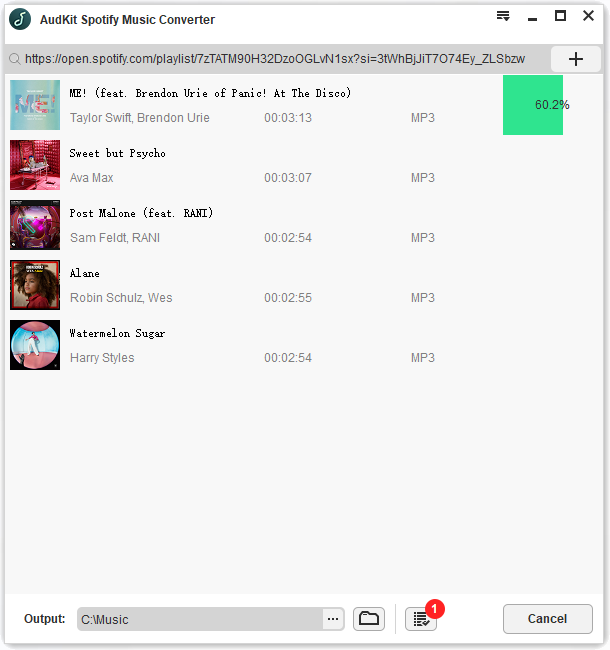 Confirm that your parameters are as desired, then click on the "Convert" tab to commence the conversion process. Once the process is complete, your converted Spotify playlists and albums will be saved on your computer's local disk. Allocate and transfer them to any device for play offline anytime.
---
Conclusion
If you are experiencing Spotify not playing downloaded songs, it's probably because your Spotify app is outdated, your device is out of space, app permission for Spotify isn't granted, etc. So, the solutions we mentioned above are all you need. Generally speaking, your problem should be fixed by the first 9 solutions. If not, you can use AudKit Spotify Music Converter to listen to Spotify offline. With it, you can always play your downloaded Spotify songs without Premium without any issues.
---