You can't go wrong with Spotify. It even gives you unimaginable heaps of albums and playlists from older days to upcoming hits. But finding the best song may not be a walk in the park. But the New Music Friday Spotify may be all you need to scale the heights. Well, this is a feature on Spotify that brings you a list of playlists that are newly released from all corners of the world. It is updated every Friday, so you don't have to miss any fresh tracks from both the old and upcoming artists. How then do you find New Music Friday? Check it all out here!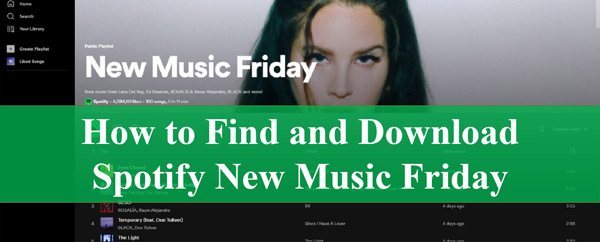 ---
Part 1. How to Get New Music Friday on Spotify
Let's explore two approaches to how to find New Music Friday on Spotify.
By Searching
The first option to open the New Music Friday Spotify this week is by using "Search" on the Spotify app.
Step 1. First, launch the Spotify app.
Step 2. Select the "Search" option in the side menu to access the Search tool.
Step 3. Then, click on the Search field and type in "New Music Friday". You will then see the New Music Friday playlist located under the "Top result" section.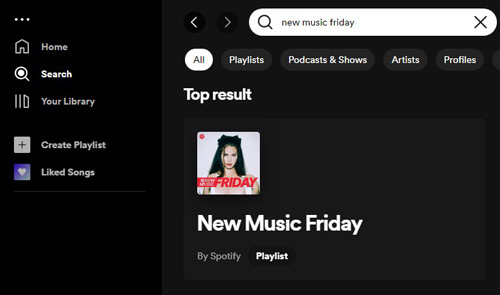 Step 4. You can also go to the Playlist results that will show you different playlists from different countries, such as New Music Friday Spotify UK. Finally, pick one New Music Friday list that you wish to listen to.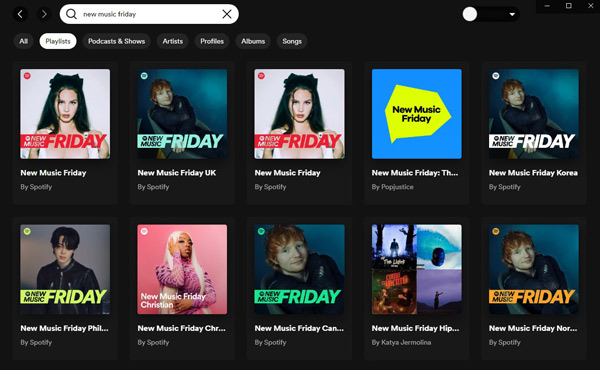 By New Releases Catalog
The New Releases option is another great way to find New Music Friday. It will also track the artists you follow as well as those that Spotify thinks you like. It is updated every Friday; check the steps.
Step 1. First, open the Spotify app and click on the Search option.
Step 2. Find the "New Releases" option under Browse all.

Step 3. On the New Releases page, it will show you the "New Music Friday" playlist. Click on the Play icon to stream those songs.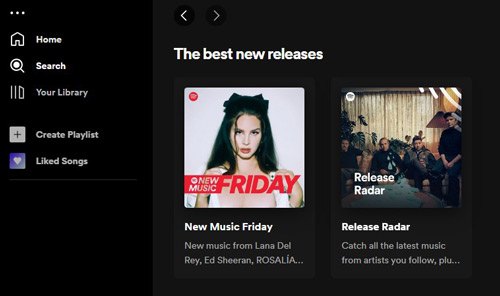 ---
Part 2. How to Add Spotify New Music Friday to Your Library
Once you find new music Friday Spotify playlists, you can add the playlists or songs to your library. Here's how.
Add New Music Friday to Like Songs
Step 1. Go to the New Music Friday playlist and choose the songs you wish to add.
Step 2. You can select one song or press the "Ctrl + A" to pick all the songs you wish to add.
Step 3. Finally, right-click on the songs and select the "Save to your Liked Songs" option. The songs will be added to Liked Songs.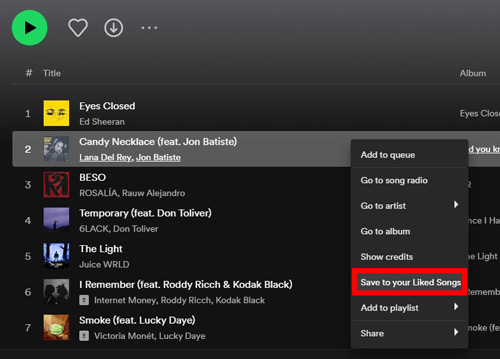 Add New Music Friday to a Playlist
You can create a new playlist or choose which playlist to add the songs to from New Music Friday.
Step 1. If you like to add the whole playlist, click on the New Music Friday list on Spotify.
Step 2. Click on the "More" button and tap on the "Add to other playlist" option
Step 3. You can choose to add the playlist to your existing playlist or create a new playlist for it.
The steps to add a single song from New Music Friday to your playlist are the same as adding the whole list.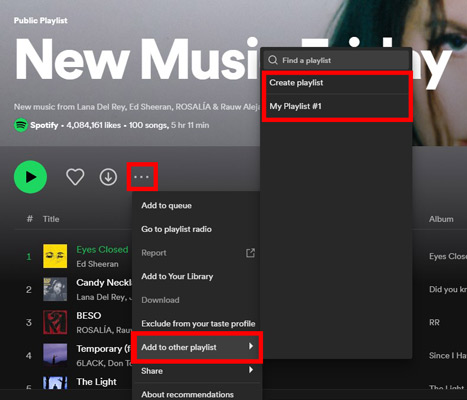 Tip: How to Remove the New Music Friday Songs from the Library
You may have added New Music Friday songs to the wrong playlist and you wish to remove them. Here's how to remove songs from your Spotify library.
Step 1. Open the Spotify app on your device and navigate to the playlist where you wish to remove music.
Step 2. Then click on the "three dots" next to the song you wish to remove. A drop-down menu will open.
Step 3. Click on the "Remove from this playlist" option to remove the songs. If you've added them to liked songs, click "Remove from your Liked Songs" to dislike songs on Spotify according to your needs.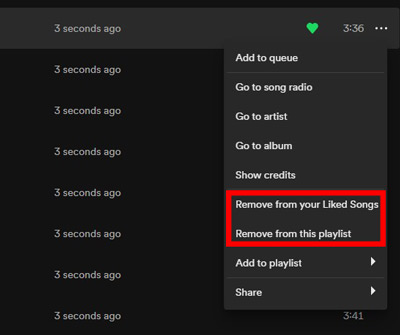 ---
Part 3. How to Save Spotify New Music Friday Playlist Offline Without Subscriptions
With the playlist on your Spotify library, you can download them offline if you're a Spotify Premium user. But what if you don't subscribe to Spotify? Can you save New Music Friday Spotify offline? Sure! You can opt for the best option; which is to use AudKit Spotify Music Converter to convert your songs for offline playback without subscriptions.
The AudKit converter supports various types of audio and can download over 80 million songs, podcasts, audiobooks, and albums. The app works at a high speed of X5 rate and can convert a 5-min song in just 1 minute. Likewise, it supports several output formats such as FLAC, M4B, M4A, AAC, WAV, and MP3. Its built-in advanced converting technology can keep up to 100% lossless audio quality from the original songs and preserve raw metadata such as titles, album art, etc.
When the conversion is complete, you'll be free to import the converted New Music Friday tracks to various devices like MP3 players, car audio systems, smartphones, cameras, etc., for offline playback.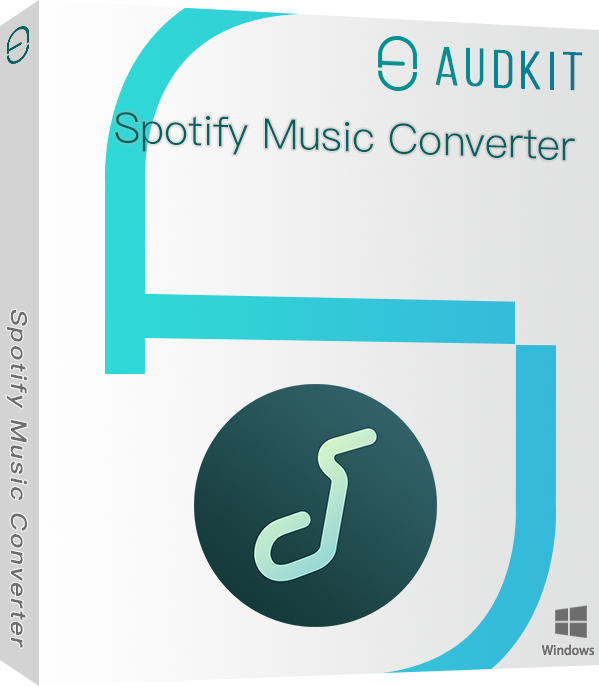 Customize the output parameters like bit rate and sample rate
Listen to Spotify songs on various devices offline without Premium
Keep 100% lossless sound quality and ID3 tags of Spotify
Supports several output formats like FLAC, WAV, and MP3
AudKit Spotify Music Converter has an advanced ability to help you download music with a free Spotify account via these steps.
Step 1 Install and activate the AudKit tool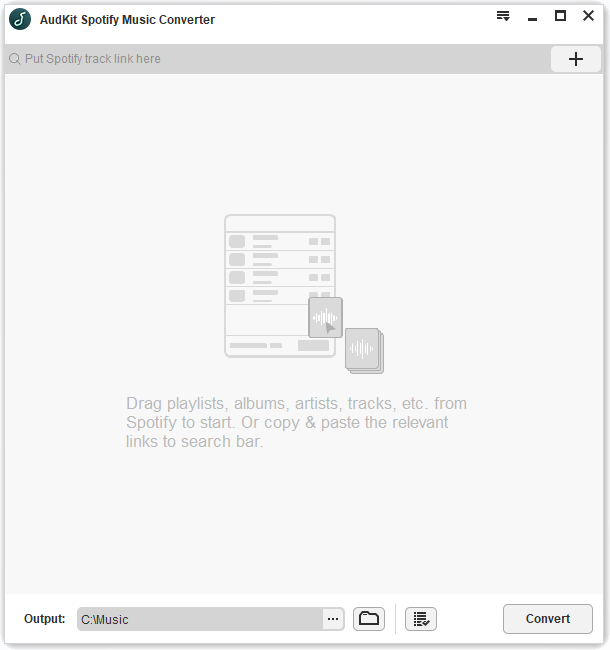 Head to the official website and download the AudKit Spotify Music Converter on your computer. Then set it up and open it. The Spotify app will automatically open. Then, go on to register the AudKit app by clicking on the "Menu" > "Register" tab from the top taskbar. Next, copy and paste your license email and the registration code for the full activation.
Step 2 Add New Music Friday playlist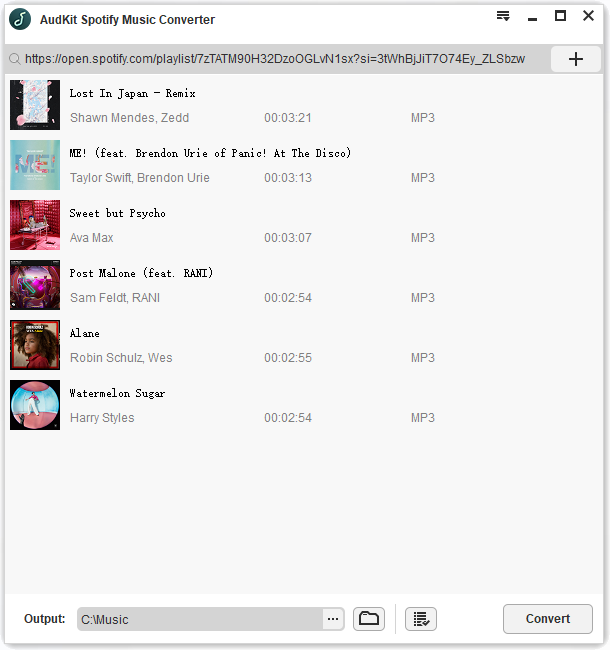 Now peruse and select the tracks from Spotify New Music Friday that you wish to add. Just right-click on the song, choose the "Share" option, and hit on the "Copy Song Link" option to copy the song. Next, paste the link into the search box on AudKit's interface and hit on the "+" tab to import music.
Step 3 Customize the Spotify output format and attributes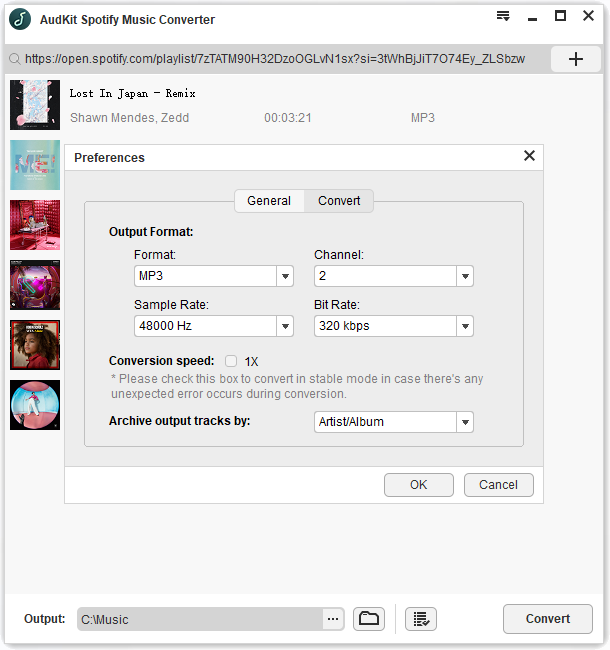 Go to the top taskbar and click on the "Menu" > "Preferences" tab. Next, choose the "Convert" option in the new window and begin to reset the Spotify output format such as MP3, M4B, WAV, and more as you like. Likewise, go on to edit the parameters like bit rate, sample rate, and channel.
Step 4 Download New Music Friday Spotify playlist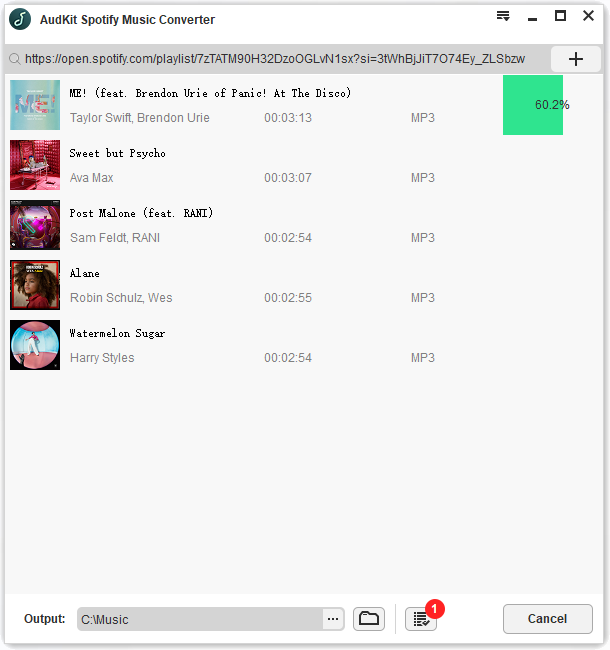 Finally, tap on the "Convert" button to let the AudKit app begin downloading music from Spotify without premium. Once the conversion process is complete, the downloaded Spotify songs will be saved in the local folder. Simply locate the converted folder by clicking on the folder icon at the bottom of the screen. The songs from New Music Friday now can be transferred and played on the device you like for playback.
---
Part 4. FAQs about New Music Friday Spotify
Q1. What Time Does Spotify Update New Music Friday?
The official Spotify New Music Friday updates at 00:00 ET on Fridays.
Q2. Can You Listen to Last Week's New Music Friday on Spotify?
The New Music Friday is updated weekly and, therefore, not able to find the previous week's New Music Friday Spotify. However, you can only get it if you had saved it to your library for future use.
---
Part 5. Conclusion
How pleasant it is to discover new tracks every week. We have tackled how to find New Music Friday on Spotify via various options. Explore them and keep entertained by both the new and old artists. Nonetheless, you can enjoy New Music Friday Spotify and other playlists free offline with AudKit Spotify Music Converter.
---