To manage Spotify playback on a car, you have to use your phone with Spotify's Android Auto. It works in the same way when controlling Spotify in your Nissan. But in a few instances, it has seemed like Nissan Connect Spotify is not working correctly. This issue has no apparent cause as of yet.
When you connect your phone to your Nissan, Spotify doesn't show up on your "preview" page, despite the fact that it has done so before. "Spotify is broken," it says on Spotify when I open it from the audio tab. So far, I've found that the only solution is to disconnect and restart the phone, which restores the functionality. If I leave my vehicle again after that (for example, if I need to get out), the cycle begins all over. In the parts that follow, I'll teach you how to fix the Spotify Nissan Connect not working problem and how to connect Spotify to Nissan's system.
---
Part 1. Nissan Connect Spotify Not Working: Common Solutions
1. Restart Your Phone
When your phone is not in excellent working order, the connection may become erratic. To resolve Spotify not functioning with Android Auto, simply restart your phone and reconnect it to your vehicle.
2. Remove Spotify's Cache and Reinstall the App
You may have problems with the Spotify app that clearing the Spotify cache may help remove files that have been corrupted. It's possible that the Spotify app may be out of date, so be sure to get the latest version.
3. Update the Android Operating System
You may have a connection issue because of an issue with your phone's software. Updating your phone's operating system and reconnecting your phone to your vehicle is the easiest method to prevent Spotify not functioning on Android Auto. Android Auto will not function as expected if your Google Services are not up to date.
4. Force the Spotify App to Close
You can forcibly stop the Spotify app if you are unable to play Spotify music on Android Auto.
To halt Spotify, follow these steps:
Open the Settings app on your phone.
Select "force stop" in Spotify in Applications.
Set Spotify apart from optimization; give it special treatment.
5. Make Use of an Old Spotify Version
It may be the case that an update to Spotify is the cause of the problem. Beforehand, some users did not have the problem. Yet the dilemma comes up when Spotify is updated. A few customers have found it helpful to utilize an earlier version of Spotify while trying to get Spotify Android Auto working.
6. Make Spotify your Default Music Service
You may want to change Spotify to your primary music source if you find out that Android Auto won't work with Spotify. Several individuals have tried this method to resolve this problem. This is how you do it.
To use the music feature on your Android phone, go to Google > Settings > Google Assistant > Service > Music.
You may now choose Spotify as your favorite music service.
---
Part 2. Nissan Connect Spotify Not Working: Final Solution
Regardless matter whether you use Spotify Nissan Connect to listen to your favorite playlists or just one station, you'll still need a constant internet connection and a Spotify Premium subscription. It is time-consuming and expensive to access your favorite music when the internet is slow, and you may experience this problem if you don't have a premium membership. And next, I'll demonstrate how to use Spotify while driving without having to subscribe.
Download Spotify songs for free on your computer, then transfer them to your phone using AudKit Spotify Music Converter. You are free to listen to them via Bluetooth on your car with no constraints, and also to connect Spotify to Nissan.
The AudKit music converter is specially designed for Spotify music, downloading and converting Spotify songs to MP3, WAV, M4A, or other popular formats for usage on any device. The whole downloading process takes 1/5 times the length of original Spotify playlists. That means to download a 1-hour Spotify playlist takes up you 10 mins or so. The downloaded Spotify songs preserve 100% original ID3 tags, such as the title, the album art, the artist, the track numbers, and so forth.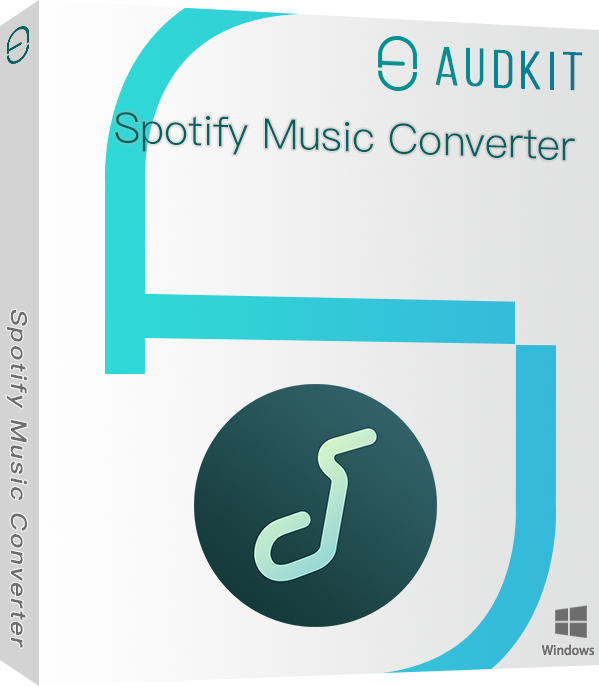 Main Features of AudKit Spotify Music Converter
Accept to input Spotify songs, playlists, podcasts, etc.
Allows to reset output music formats and ID3 tags
Retain 100% lossless audio quality after conversion
Play Spotify music offline and import them to Nissan
Step 1 Import songs or playlists from Spotify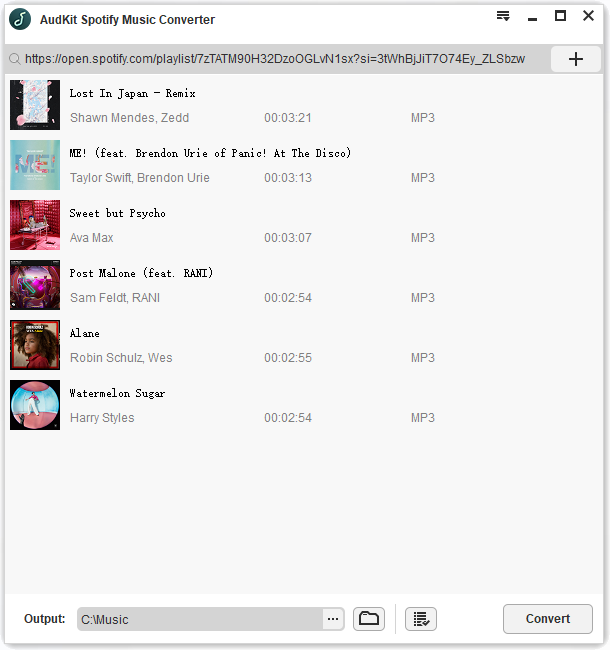 Select your favorite songs from the Spotify app, regardless of whether you're a free or premium subscriber. To copy the link to a song, first, pick it, then right-click > Share > Copy Song Link. Then, use the search box on AudKit's website to provide the URL. To import it, go to the Add tab. alternatively, you may just drag and drop tracks straight from Spotify to the converter.
Step 2 Change the format and other attributes of Spotify output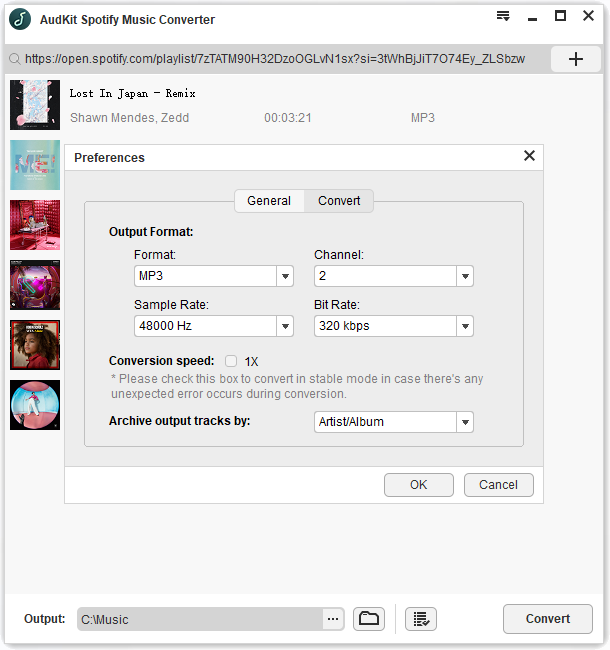 Go to the Menu > Preferences option from the top taskbar. You may reset the output format to MP3 after selecting the Conversion option. Another method to tweak the results is to change settings, such as the number of channels, sample rate, bit rate, and the preferred output format.
Step 3 Begin downloading and converting Spotify songs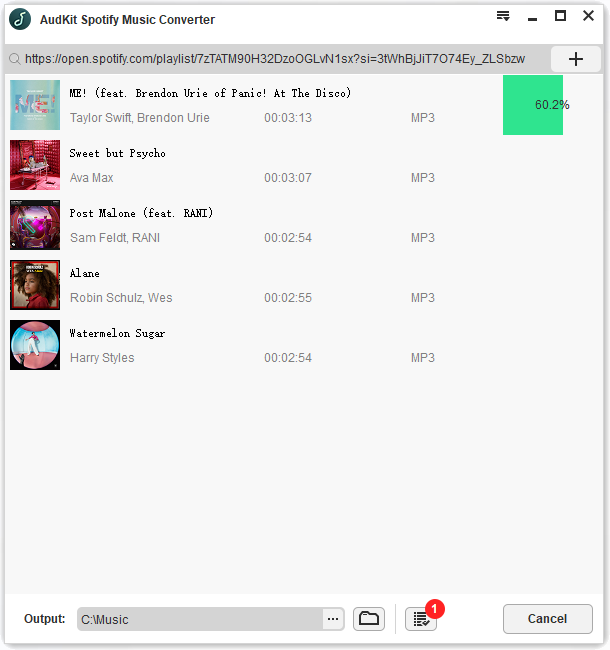 To change a measurement, just touch the Convert button in the lower-right corner. You'll know that it has started converting when the program prompts you. All downloaded Spotify tracks will be saved as MP3 files locally once the conversion is finished. In order to locate the folder, you need to scroll down and click on the folder icon. Spotify music is now being used by everyone, anytime, and everywhere.
---
Part 3. Conclusion
Try the solutions above to solve the issues of "Nissan Connect Spotify not working" and 'no Spotify audio files on Nissan. To save time on trying them one by one, just use the AudKit Music Converter to get Spotify music downloads and import them to Nissan car. This beautifully designed and simple-to-use tool is ready to help you fix any Spotify Nissan Connect problem.
---