Spotify is among the giant streaming services with millions of users. You can access artists, personalize your playlists and listen to podcasts across the board. But accessing your hits isn't enough until you can play them without issues. It is heartbreaking to look forward to your favourite songs but suddenly realize Spotify stops playing after 10 seconds. What do you then do when the joy of enjoying your music suddenly gets disrupted? Let's unravel a few troubleshoots and probably the best option is to listen to your hits offline.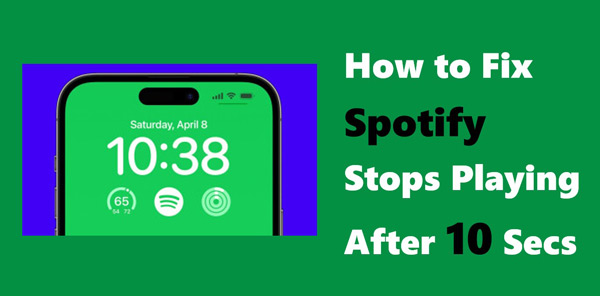 ---
Part 1. Why Does My Spotify Stop After 10 Seconds?
Before you approach the solutions, you need to clear the air as to why my Spotify stops playing after 10 seconds.
Inadequate space on your phone to use Spotify streaming service.
You could be running a Premium account but don't know that the plan has already expired.
Using an unstable WiFi network connection with a VPN would require a fix.
An outdated Spotify application could also cause Spotify to stop playing after a few seconds.
An improper application installation may cause Spotify files to corrupt and cause a sudden stop.
An incompatible software version is another common cause that will require you to attain the correct app version.
Your account may also cause the app to close if you log in with the wrong one.
---
Part 2. Solutions to the "Spotify Stops After 10 Seconds" Issue
You wouldn't feel nice when Spotify keeps stopping after 10 seconds every time you got your dancing shoes ready. Check out how to sort out the issue to get your freedom without interruption.
Solution 1. Ensure a Stable Network
Your internet connection plays a vital role. If not stable, then you are likely to face issues when connecting to the Spotify web browser. To ensure stability, try out another website and if it doesn't load as required or takes a long time, then, it's time to get a stable option. Go to the "Settings" app on your device and change to another WiFi or turn on Celluar Data to see whether the issue is solved.
Solution 2. Log Out of Spotify
Perhaps your other device is using Spotify, causing a crash. You can log out of your Spotify account and get back in to address this issue.
Step 1. Open the Spotify app on your mobile device and tap the gear icon on Spotify's home screen.
Step 2. Then scroll down and click on the "Log Out" option. This will sign you out of the current device. Then you can log into your Spotify account a few minutes later.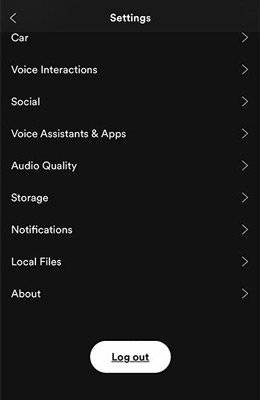 If you want to log out of the account on all your devices, go to the web browser, search Spotify Account, log in to your account, and click on "SIGN OUT EVERYWHERE" to sign out everywhere on Spotify.
Solution 3. Turn Off Data Saver on Spotify
Another reason that Spotify songs stop after 10 seconds is the data saver has been enabled. When turned on, the data saver limits how much data your applications use. This can inhibit proper functions such as audio playback. To make Spotify run properly, try disabling it.
Step 1. Go to your Spotify app and click on the "Settings" icon. Tap on "Data Saver" from the settings screen.
Step 2. Check if your Data Saver is toggled ON. If so, toggle the Data Saver OFF to disable it.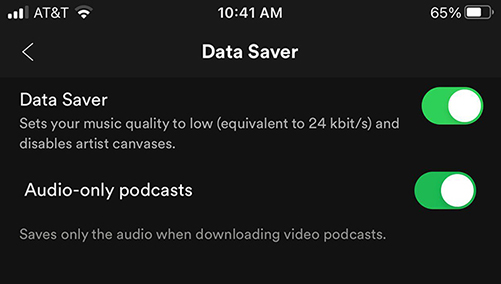 Cached data may corrupt your device and cause improper functionality like Spotify stops playing songs after 10 seconds.
Step 1. To clear the cache, launch the Spotify app.
Step 2. Then, tap on the "Settings" icon.
Step 3. Next, open the "Storage" option.
Step 4. Finally, tap on the "Clear Cache" button.

Solution 5. Update Spotify to the Latest App
Your Spotify app needs to be up-to-date. An old version of Spotify will become lagging and encounter Spotify errors quite often. Only with the updated Spotify app, the errors could be solved by Spotify's development team. Therefore, it is a good idea to update the app to resolve the Spotify stopping after 10 seconds issue and improve performance.
Step 1. Open the App Store for iOS or Google Play for Android devices.
Step 2. Type "Spotify" into the search bar and Find the application from the results.
Step 3. Then, look for an "Update" button.
Step 4. Once the installation finishes, you can now check if the issue is resolved.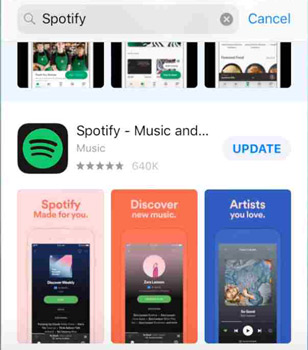 Solution 6. Reinstall the Spotify App
If the problem persists, perhaps having a complete uninstallation can help you overcome the issue by eliminating all the glitches.
Step 1. On your device, tap on the "Settings" > "App" option.
Step 2. Then, locate the "Spotify" app and tap on it.
Step 3. Select the "Uninstall" tab.
Step 4. Finally, check for Spotify from App Store or Google Play to reinstall.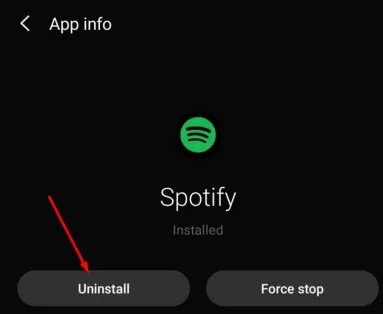 Solution 7. Disable VPN on Your Device
For the situation that Spotify stops playing after a few seconds on Windows 10/iOS devices, a VPN service used on your device may cause further complications like stopping Spotify from playing well, Spotify keeps crashing, etc.
Step 1. To disable VPN, select the "Settings" app on your device and turn off the VPN first.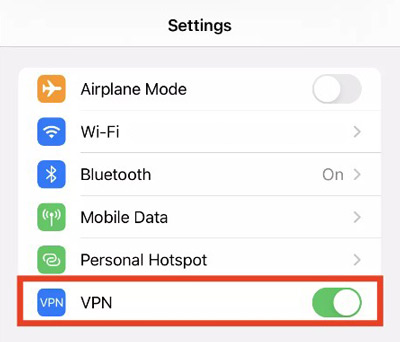 Step 2. Next, go to "General" and click on the "VPN" option.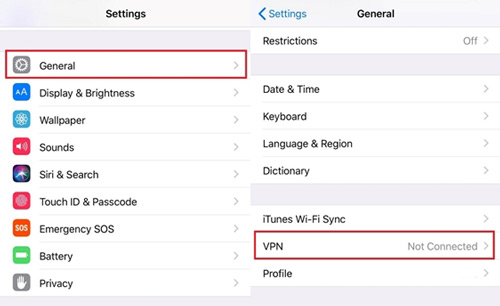 Step 3. Next, choose the blue settings cog located next to the VPN name.
Step 4. Tap on the "Delete VPN" tab to remove it.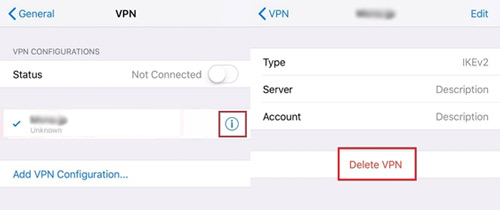 ---
Part 3. The Best Way to Use Spotify Offline Without a Problem
"Songs on Spotify stop after 10 seconds" is a common phenomenon that needs to be fixed in the best way possible. AudKit Spotify Music Converter has a clear solution by supporting several output formats like MP3, AAC, M4B, and FLAC, among others. AudKit removes limitations, enabling you to play your hits offline without issues.
It also gives you high-quality converted Spotify files. It will preserve the ID3 tags and other information like titles, artists, albums, and arts, among others. The speed is also perfect, going up to 5X rate and converting your files in a batch of 100 in one click.
When it comes to customizing your Spotify songs, AudKit Spotify Music Converter has what it takes. You can personalize the bitrate, codec, sample rate, channel, and many more. Besides, you'll be free to play your Spotify tracks offline on any device, anytime.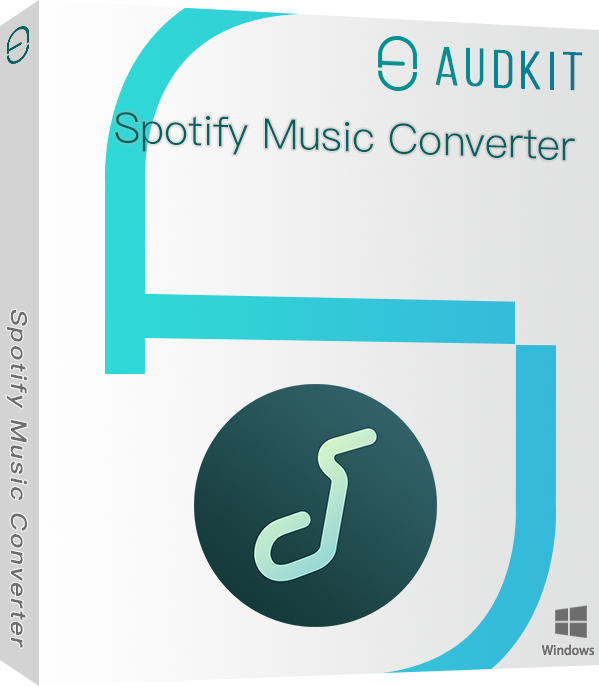 Play your music from Spotify without an internet connection
Access your files on any device or media player anytime
Convert your Spotify files at a high rate of 5X in high quality
Support downloading Spotify to MP3, AAC and other local formats
The AudKit Spotify Music Converter is easy to use and will evade you from the Spotify stops playing after 10 seconds error. Download it from its official website and open it to get ready for the downloading process.
Step 1 Put Spotify into AudKit Spotify Music Converter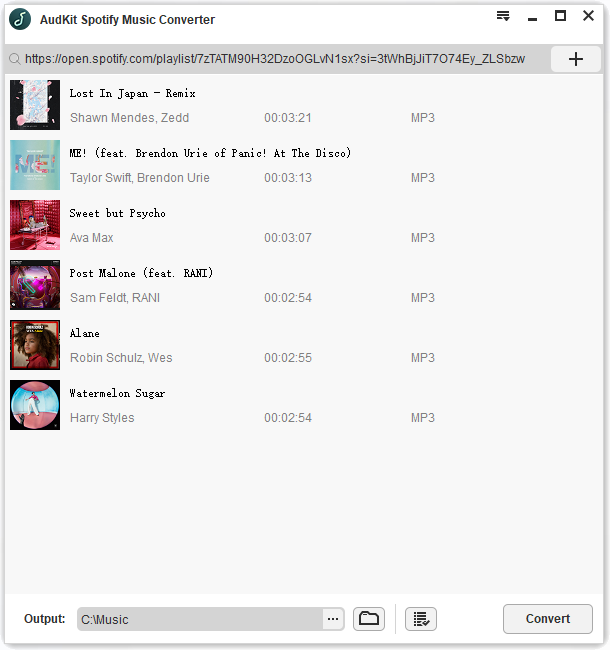 In the Spotify app on your computer, check for songs from your music library and select them. Right-click on the song, then click on the "Copy Song Link" option after choosing "Share", then paste the link into the AudKit Spotify's interface. Then, hit on the "+" button to add the selected songs.
Step 2 Customize Spotify audio entries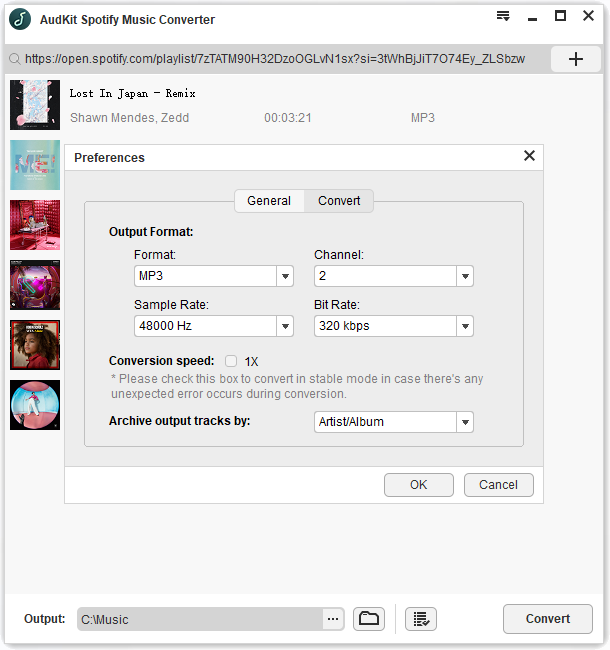 The Spotify downloader AudKit app lets you personalize the audio parameters just by clicking the "Menu" > "Preferences" tab. Go on to change the channel, bitrate, sample rate, and speed. Likewise, you are free to choose the way to archive your music by album or artist after the conversion process.
Step 3 Convert and play Spotify songs smoothly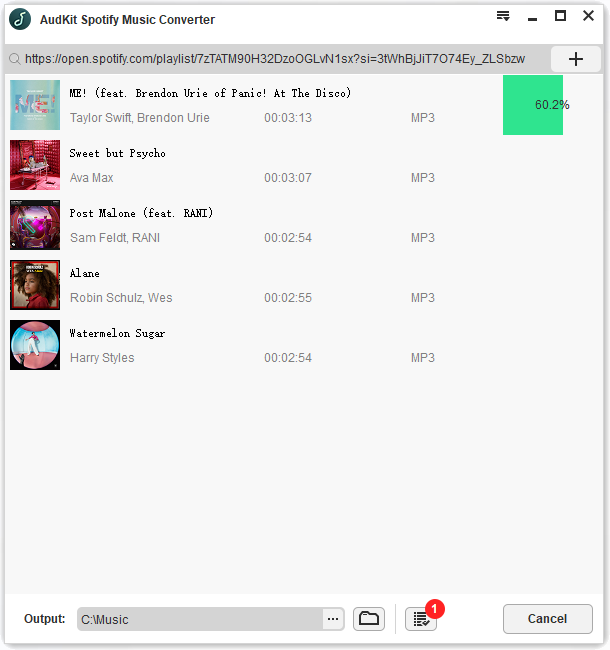 After confirmation, click on the "OK" tab and then the "Convert" button to let the AudKit app convert your Spotify songs to the set parameters. Find the converted folder in your computer's local disk to play anytime without experiencing Spotify stopping errors.
---
Part 4. Conclusion
You don't have any reason to snug behind whenever Spotify stops playing after 10 seconds on your other devices. You can get a quick fix for yourself with the above-mentioned solutions. Better all; you can engage with the sophisticated app – AudKit SpotiLab Converter – to fix the problem by converting your Spotify music to common output formats. This will play neither without an internet connection nor stopping.
---