Music, in this era, has a special recognition among all ages of users. Spotify has turned out to be a great source of entertainment for millions of users; however, it is pretty restrictive in many terms. While you cannot access Spotify downloads offline with ease on your desktop, you may consider shifting to an audio player that can play your favorite music for you.
Considering the need of the hour, AIMP audio player serves a great purpose as the required tool for playing your favorite Spotify music. AIMP is a great music player serving Windows, Android, and Linux users. What exactly do you have to do to cater to the whole process? This article serves the motive of explaining a proper technique to utilize AIMP Spotify music.
With a proper overview of the right tool, you will be able to dissect all essential provisions that you must cover for the process. Let us see how to add Spotify music to the AIMP playlist using the appropriate technique.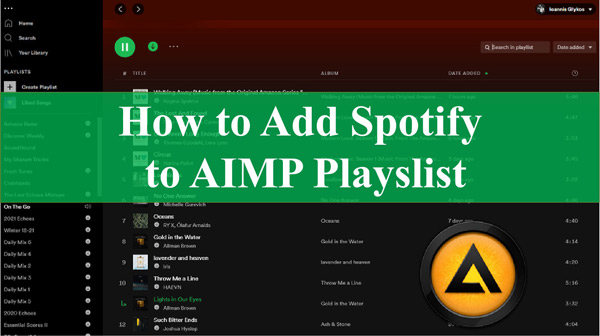 ---
Part 1. Can You Listen to Spotify on AIMP?
Some Spotify users seek an answer to "Can I listen to Spotify through AIMP player". There is no direct technique for listening to Spotify music on AIMP. Spotify is an audio streaming and media service that provides direct music for its users to listen to. It does not support third-party integration with music players and has no source of connecting to other audio players. Spotify provides its own audio player, which helps users manage their music.
This clarifies that you cannot listen to Spotify music on an AIMP player. If someone wishes to listen to Spotify on AIMP, they will have to convert playlists from the Spotify streaming service into plain formats, and then add them to the player.
---
Part 2. How to Download Spotify Playlists for AIMP
Since you intend to download Spotify playlists for your AIMP player, you will need a proper tool for this purpose. AudKit Spotify Music Converter is a perfect application designed to provide a direct source of downloading Spotify music onto your computer and playing it easily on a music player such as AIMP. With the ability to download music under lossless conversion quality, it serves as the best downloading source.
AudKit Spotify Music Converter features a great music-downloading source for its support of a variety of output formats. While you can convert Spotify to MP3, it also supports the conversion of Spotify to AAC, M4A, FLAC, and several other formats. With lossless sound quality, its high-speed conversion of up to 5X times the normal speed makes it a great option to work with.
While AudKit Spotify Music Converter does not compromise on the quality of the downloaded music, it also keeps up the original ID3 tags to make Spotify playlist management simple. In its entirety, this tool makes the conversion process perfect for having a great experience of listening to music on AIMP.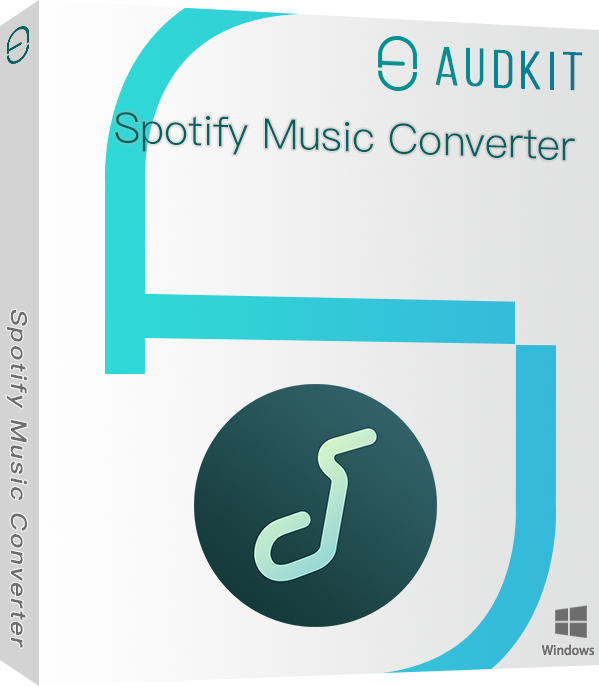 Easily manage the output quality of the converted Spotify music
Listen to ad-free Spotify music on AIMP without a premium
It is compatible with all desktop versions of Spotify
Download Spotify songs to multiple formats with 5X speed
How to Utilize AudKit Spotify Music Converter to Download Spotify Songs
We shall now observe the complete technique of downloading Spotify songs on your computer with the help of AudKit Spotify Music Converter. You can install the AudKit software to follow the below steps.
Step 1 Add Spotify playlist to AudKit SpotiLab Music Converter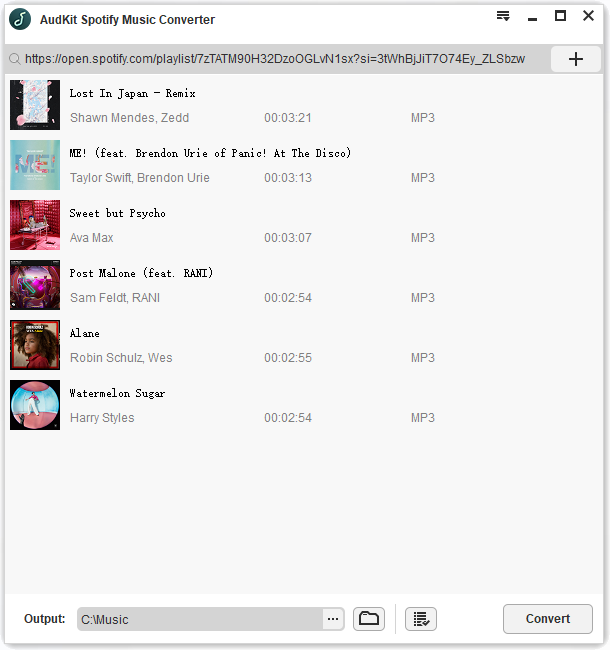 You must download and activate AudKit Spotify Music Converter on your computer and proceed to launch Spotify too. Select the playlist on Spotify to be downloaded and import it on AudKit software using drag-and-drop. On the other hand, you can also copy and paste the playlist links on AudKit's search bar. On adding the link, click on the "+" icon.
Step 2 Set Spotify quality parameters for AIMP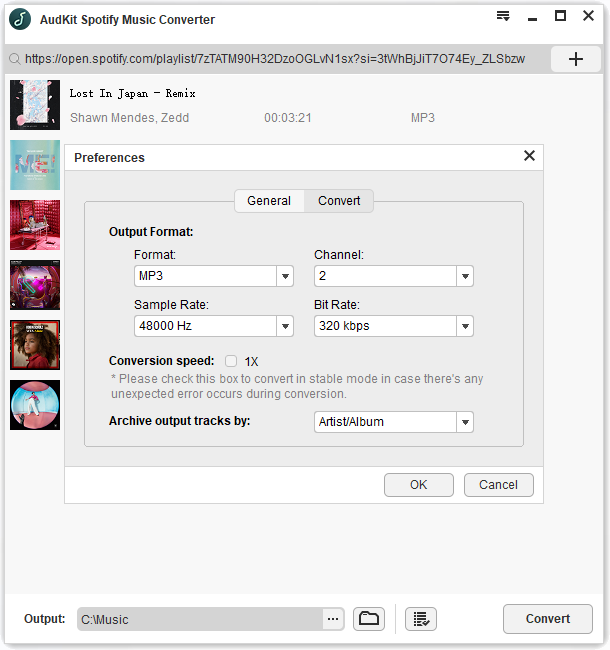 Select the menu icon to open the "Preferences" window. Next, choose the appropriate output format and customize other parameters such as channel, sample rate, and bitrate. You can look towards setting the best possible parameters for effective results. Then confirm the settings by tapping the "OK" option.
Step 3 Convert Spotify songs for playing on AIMP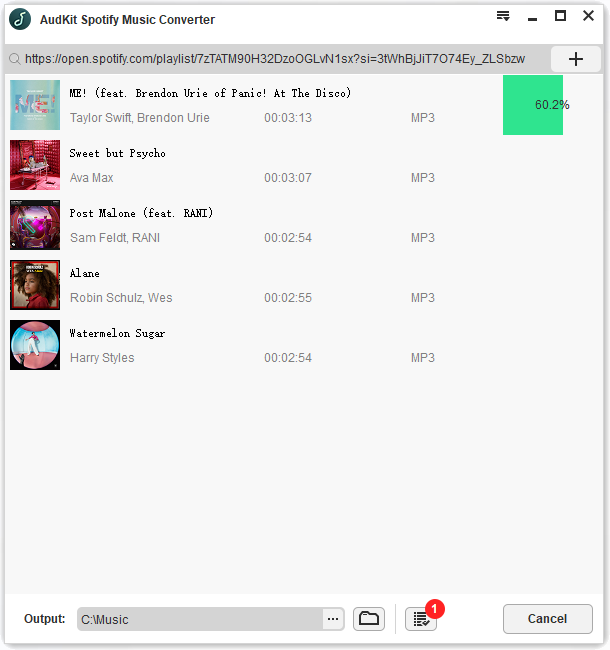 Click on the "Convert" button located in the bottom right corner to initiate the process. AudKit Spotify Music Converter will convert and download Spotify music to computer into the format you set. The conversion will complete in minutes. You then can find the downloaded Spotify files once you see there are no songs in the wait-to-download list. You can now listen to your favorite Spotify music on your AIMP audio player.
---
Part 3. How to Import Spotify Playlists to AIMP
While you have downloaded your Spotify songs offline to hear them out on your favorite music player, it is essential to know how to import these downloaded playlists to the respective player. Since we are talking about Spotify AIMP, the following steps define a proper way to import the playlists:
Step 1: You must open the browser and visit the official website of the AIMP player. Download the official and latest version of the AIMP player on your Windows computer from the "Download" section.
Step 2: As you launch the player, click on the "AIMP" logo on the top and select the option of "Open Files" or "Open Folder" to include files or folders in the player. Easily import the converted Spotify music files.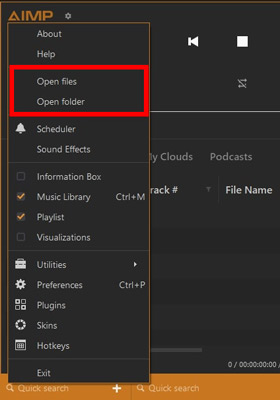 Another approach to adding Spotify music to AIMP is using the "Add Items Menu" icon on the bottom right and selecting "Files", "Folder", or "Playlist" to add the files.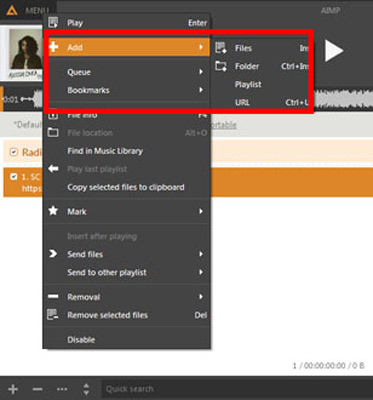 ---
Part 4. Conclusion
This article has provided an overview for Spotify users who are facing difficulties with AIMP Spotify. With the available details, it is clear that you have to download your favorite Spotify music offline. AudKit Spotify Music Converter, an impressive, high-quality Spotify playlist downloader, is your good choice to convert Spotify songs without losing quality. Since you wish to use AIMP with Spotify, the information provided is of absolute help.
---