Fedora stands out among operating systems for supporting free software. It is a well-known open-source operating system based on Linux. Fedora avoids software dependent on patents and provides users with excellent processing. You can use Fedora for free on several devices. If you have more than two computers, Fedora will be a great operating system for all of them with its general-purpose processing.
Other than benefits, Fedora has some drawbacks. Although Fedora is one of the best operating systems, you cannot run some specific applications and programs on it. Spotify is one of those restricted programs that Fedora does not support. Can you use Spotify on Fedora?
The answer is yes. This article will provide you with three effective ways to install Spotify Fedora. After the successful installation, you can use Spotify on Fedora easily. Also, to provide more ease, we will introduce the best AudKit SpotiLab Music Converter to solve your issues.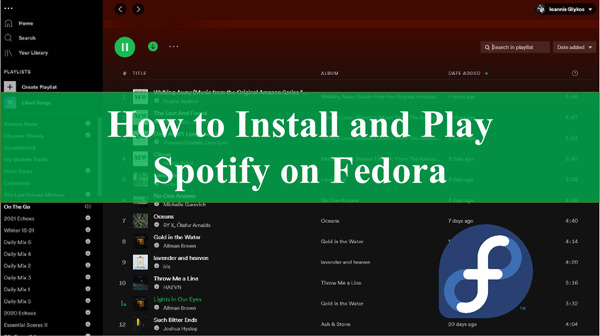 ---
Part 1. How to Install Spotify on Fedora in 3 Ways
Fedora efficiently works on free software and avoids software that is restricted by patents. Meanwhile, the Spotify application is a music streaming platform that is not Fedora-supported. So, users must install Spotify on Linux in valuable ways, such as Snap, RPM Fusion, and Flatpak.
Way 1. Install Spotify on Fedora via Snap
As Spotify does not support Fedora, snap is a valuable way to get your favorite Spotify music stream on Fedora. Snap is an application that has multiple packages and can run only with Linux distributions. Snap application updates automatically and work efficiently.
Step 1. Use the Ctrl+Alt+T keys on the keyboard to open a terminal. Then select "sudo apt-get install snapd", and the Snap repository will install on your Fedora.
Step 2. After that, you must select "sudo snap install Spotify" and press enter.
Step 3. Spotify on Fedora is now successfully installed. You can play and enjoy your favorite Spotify songs on Fedora.

Way 2. Install Spotify on Fedora via RPM Fusion
Another helpful way to install Spotify on Fedora is RPM Fusion. Although Fedora does not officially support it, you can use some third-party software for solving issues of Spotify not playing on Fedora.
The process for using RPM Fusion is as follows:
Step 1. First, install RPM Fusion from its official website and launch it on Fedora.
Step 2. Use the "sudo dnf install lpf-Spotify-client" command for installing Spotify.
Step 3. You will see a pop-up window with a notification saying you must have a membership of the pkg-build group to use Ipf. Click OK to add the group.
Step 4. Then, type "Yes" to log out and then log in again. Now download the Ipf program from the app list.
Step 5. Accept the terms & conditions and select "OK". Now you will see Spotify on your application list. Click on it to install.

Way 3. Install Spotify on Fedora via Flatpak
The last method for installing Spotify on Fedora is to use Flatpak. If you have a Fedora system, you will know about its default installation on Fedora.
To install Spotify for Fedora, follow the given steps:
Step 1. If you have removed Flatpak from your Fedora system, you need to reinstall it. Use the "sudo dnf install flatpak –y" terminal to reinstall Flatpak.
Step 2. After that, launch Flatpak on your Fedora by using the "sudo flatpak remote-add" terminal.
Step 3. Next, install Spotify on Flatpak using the "flatpak install flathub com.Spotify.Client –y" terminal command.
Step 4. If you get any issue or error, you can resolve it using the "flatpak remote-modify –enable flathub" command.

---
Part 2. How to Use Spotify on Fedora
The processes given above can be complicated for some users to follow. If you get trouble using Spotify on Fedora with the mentioned ways, a third-party tool can help you out. You can download Spotify songs on your computer for offline use.
We highly recommend you use AudKit SpotiLab Music Converter for downloading Spotify music. The converter has an easy-to-use interface, so you don't need any technical knowledge to use the converter. It can convert Spotify music tracks, albums, or playlists into audio formats such as MP3, FLAC, WAV, and AAC.
AudKit SpotiLab Music Converter has a 5X faster conversion speed; you can download your favorite music in a few minutes. Unlike other third-party tools, AudKit Spotify Converter does not compromise product quality. You will get the high lossless sound quality of your downloaded Spotify music. Also, it keeps the original ID3 tags of the songs, like titles, artist names, album names, etc.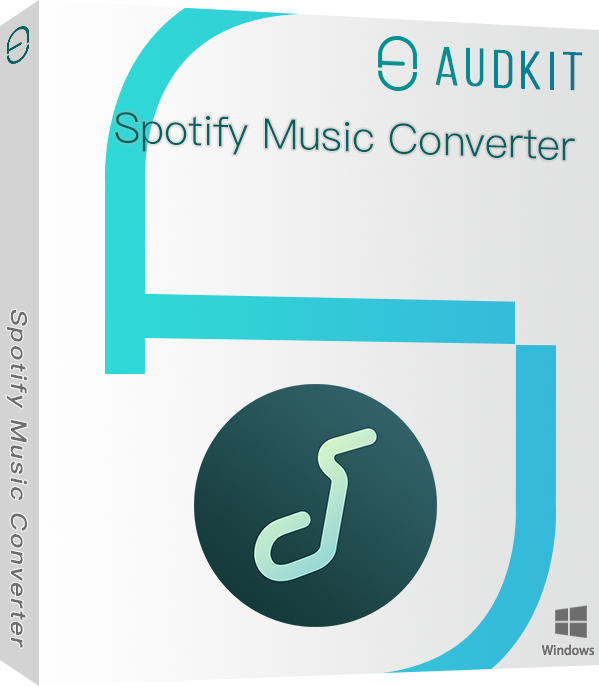 Converts Spotify music to multiple audio formats
Have an easy-to-use interface and easy to operate
Has a fast download and conversion speed of 5X
Provides lossless sound quality with original ID3 tags
Follow the given steps to download Spotify songs to MP3 with AudKit SpotiLab Music Converter:
Important to note: Ensure a powerful Wi-Fi or internet connection.
Step 1 Install, Download, and Launch AudKit Spotify Converter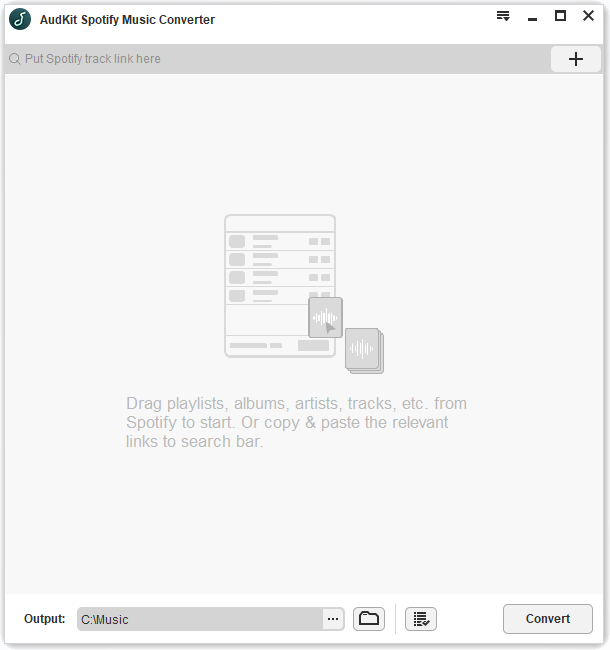 Visit AudKit's website and install the AudKit SpotiLab Music Converter on your Windows PC or Mac computer. (You can also install it directly by clicking the 'Download' button above.) Then launch the converter by clicking on its desktop icon. After that, register yourself with the converter to use it efficiently with all its features.
Step 2 Add Spotify Tracks, Albums, or Playlists to Converter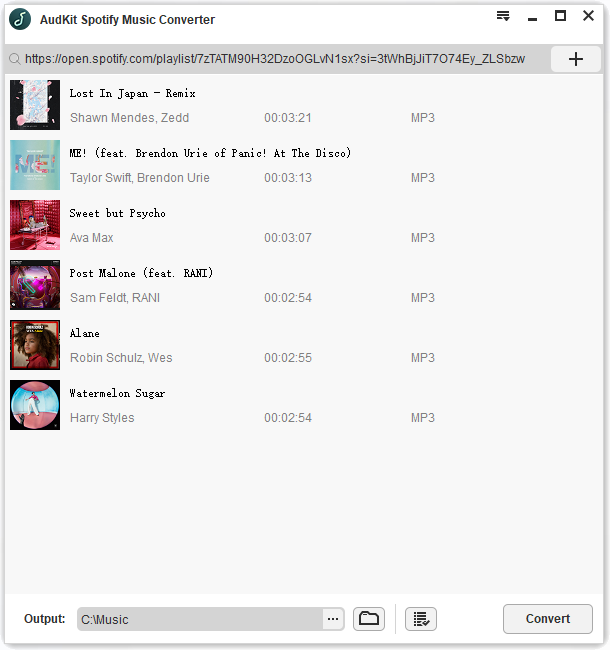 After registration, it's time to add your favorite Spotify music to the converter. Choose Spotify songs, playlists, or albums to download. Copy the link and paste it on the converter's search bar at the top, then click on '+'. The selected songs will appear in a list on the main interface. Or you can directly drag and drop songs from Spotify to this converter.
Step 3 Customize Output Parameters for Fedora Spotify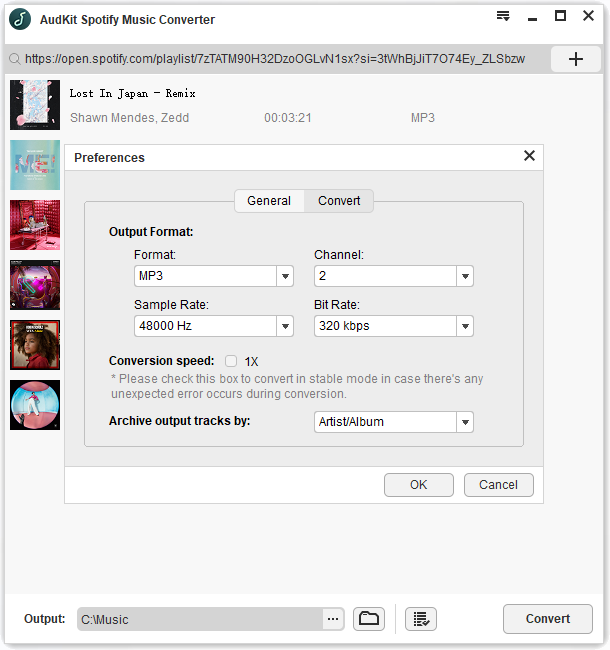 The converter enables you to select your Spotify songs' output format. Click on the Menu icon at the top corner of the converter and then select 'Preferences' and 'Convert'. Choose the MP3 output format for Spotify on Fedora. You can also change parameters like channel, bit rate, and sample rate. After customizing the settings, click 'OK' to confirm the changes.
Step 4 Convert and Download Spotify for Fedora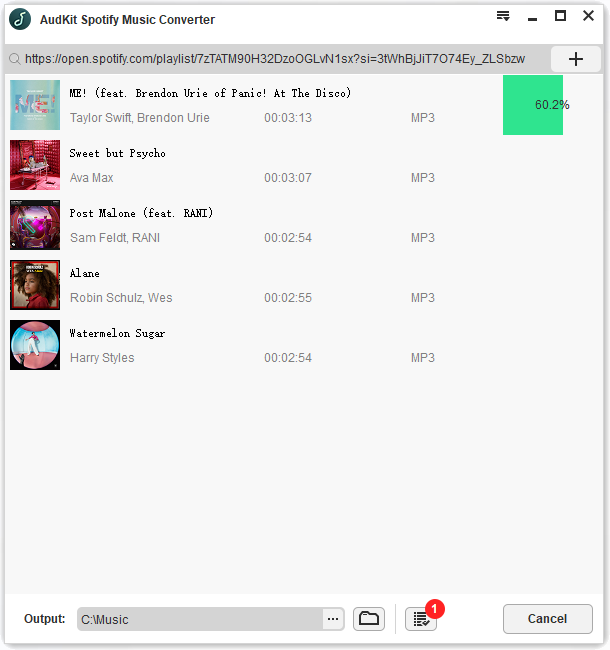 Now, you can convert and download your selected Spotify songs, albums, or playlists via the 'Convert' button at the bottom. The converter will start downloading the songs. You can see the songs in the converted folder at the bottom. Now your favorite Spotify songs are downloaded to the local folder of your computer. You can easily transfer them to Fedora without any issues.
Step 5 Transfer and Play Spotify on Fedora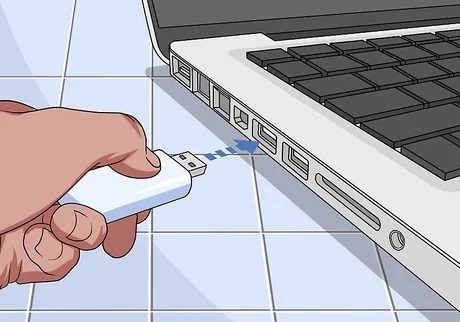 Locate your downloaded Spotify songs on your Mac/Windows computer. Then copy and paste the folder of Spotify to a USB drive. Just insert this USB drive into your Linux computer and you can start playing Spotify on Fedora without any issue.
---
Part 3. Final Words
You can find it challenging to use Spotify Fedora and enjoy your favorite music. But this article has provided three detailed ways to install Spotify on Fedora. The processes are convenient but may be difficult for someone. So, if you have any issues with Spotify Fedora, AudKit SpotiLab Music Converter will help you.
---