Does Tidal have an equalizer? Disappointingly, there is no built-in Tidal equalizer to date. That is why many users are finding an equalizer for Tidal in the market.
With an equalizer for Tidal music, you can highly improve your listening experience. You are able to increase the lower frequencies, change the audio settings, and so on. Though Tidal offers high-quality music, many users would like to use an equalizer to enhance the listening environment.
If you are looking for an equalizer for Tidal, just keep reading. We will introduce you top 6 equalizers for Tidal on Android/iOS/Windows/Mac. You can also get to know how to play Tidal music anywhere and anytime.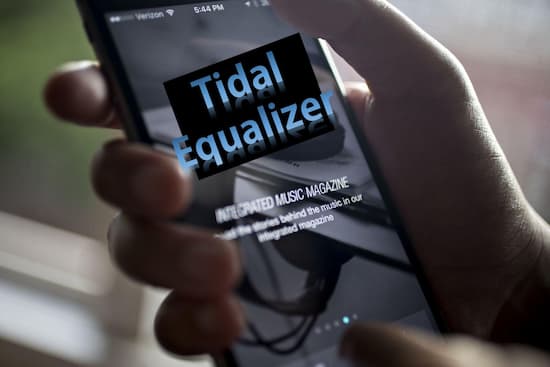 ---
Part 1. Equalizer for Tidal Android – The Best Three
Here is the ultimate list of the top three Tidal Android equalizers. Take your pick after reading the pros and cons and enjoy Tidal music with the best experience.
1. Equalizer and Bass Booster
This free two-in-one tool lets users enhance their music streaming experience by using the five-band equalizer for Tidal Music. With a rotating button to adjust the volume, this Tidal equalizer Android is simple and intuitive. You can freely adjust sound effect levels so that you get the best out of your Tidal music coming out of your Android phone.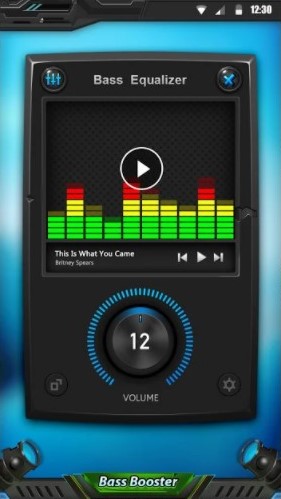 Pros-
Numerous equalizer presets with an option to customize your own preset
Stereo-led VU meter and virtualizer
Compatible with a variety of music and video streaming apps
Cons-
May stop working or close in the background
2. Equalizer FX
Equalizer FX is yet another powerful Tidal Android equalizer. But it also works on other devices. There is a premium version that eliminates ads for a seamless experience. This Tidal music equalizer also has a powerful bass booster built-in. You can enhance your listening by modifying sound effects using 15+ punchy amplifier presets. You can quickly create your own custom presets as well.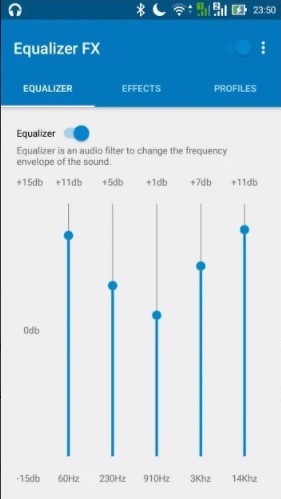 Pros-
Customize your own presets or select from 12 available presets
Home-screen widget supported
Loudness enhancer and virtualization tool
Several streaming apps like Tidal, Spotify, and Pandora are compatible.
Cons-
The free version has annoying ads
3. Music Volume EQ
Music Volume EQ for Tidal Android is an excellent tool for enhancing music streaming. It has various features including live music stereo led VU meter, 3D virtualizer, five band Equalizer, volume & audio control, etc. With an efficient and easy-to-use bass booster and the classic five-band equalizer, you can listen to high-quality audio from a variety of apps.
Pros-
Slider control with a bass booster and 3D virtualizer
9 presets that are fully customizable
Loudness enhancer, visual audio spectrum, home screen widget, etc.
Cons-
A limited number of presets
---
Part 2. Tidal Equalizer iOS – Boom: Bass Booster & Equalizer
Some users may do a lot of effort to find a good Tidal equalizer iPhone. Hence, we found the best Tidal iOS equalizer for you. Boom: Bass Booster & Equalizer is an advanced iPhone equalizer Tidal with multiple exciting features like the 3D sound surround. It can be adjusted for use with various headsets and is also compatible with radio stations.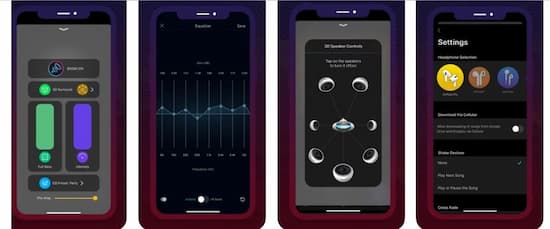 Pros-
Numerous leading streaming apps and even radio stations, dropbox, and Drive supported
16-band equalizer
Surround sound
29 EQ presets
Cons-
---
Part 3. Tidal Equalizer Windows – Equalizer APO
If you are looking for a remarkable Tidal equalizer for Windows, this is it. Equalizer APO is a free equalizer for all parametric. It comes with many perks to transform your listening experience. Due to the interface, it is also effortless to use, even by beginners.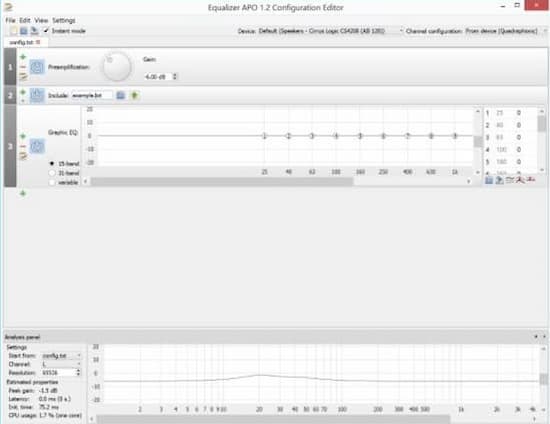 Pros-
Variety of filters
Compatibility with many channels and devices
Intuitive interface
Cons-
No advanced equalizer features
---
Part 4. Tidal Equalizer Mac – Amarra sQ+
If you are searching for a good Tidal equalizer for Mac, Amarra is one. Amarra comes with great sounds to expand your musical horizons. Actually, it provides 3 kinds of products to fit different systems: Amarra sQ+ for Mac, Amarra Luxe for Mac/Win, and Amarra Play for iOS.
The Amarra sQ+ for Mac is most recommended as the professional-grade Tidal music equalizer. It has preset for different musical genres, allowing users to control the sound and bring out the best quality.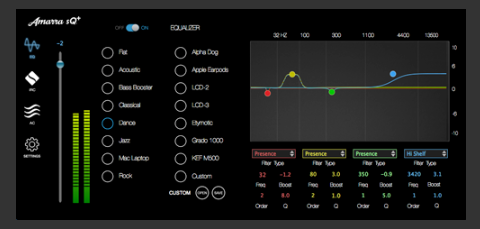 Pros-
Easy to use
Control directly from Mac or remotely using its app
Support YouTube, Netflix, Prime, Facebook, and more
Cons-
No
---
Part 5. How to Play Tidal Music on Any Tidal Equalizer
In this part, you can know how to play Tidal music on any device you want. It's known that Tidal music is protected by digital rights. Hence, to play Tidal on the device you want, you need a Tidal converter. AudKit Tidizer Music Converter is a very simple converter extensively used to convert Tidal music into commonly compatible formats and download them locally.
It offers a multitude of features like the complete customization of output parameters. Whether you want to change the output format or the conversion speed, you can easily do it. With it, you are able to use Tidal on any Tidal equalizer you want.
What's more, the 5x lightning-fast conversion speed of Tidizer makes the process super quick, also enabling users to batch download multiple tracks simultaneously. All the metadata and original sound quality are losslessly reserved by Tidizer.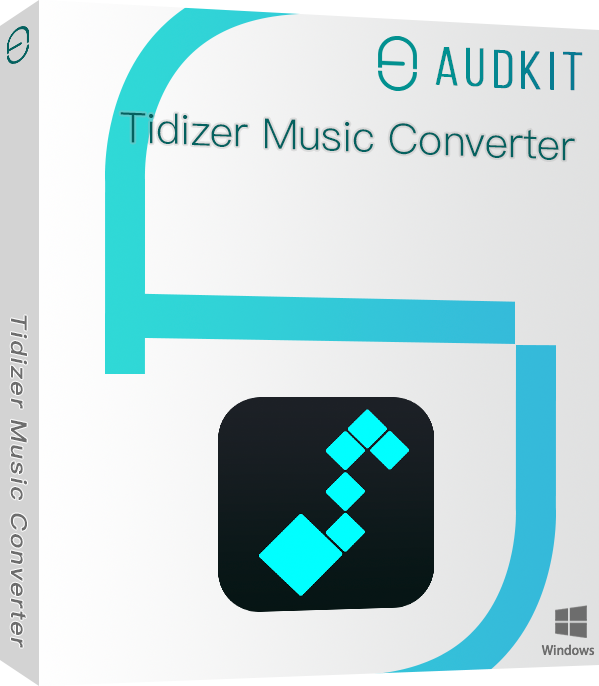 Convert Tidal to MP3, FLAC, AAC, WAV, etc.
Batch converts Tidal music at a 5X rate
Freely customize all the output parameters
All the metadata like artists and albums are reserved
Now let's see how to download Tidal songs and play them on any Tidal equalizer:
Step 1 Import Tidal songs for Tidal equalizer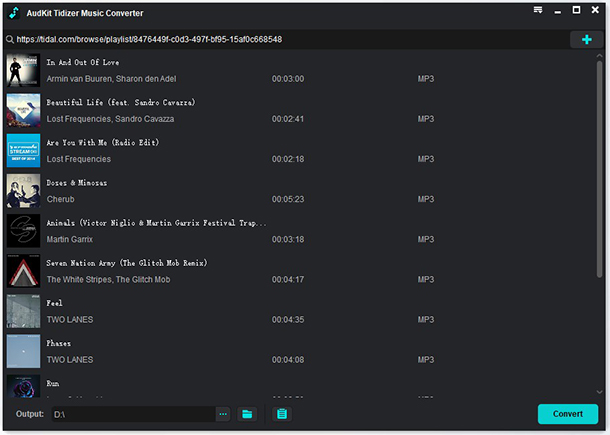 Now, you can import as many Tidal tracks or playlists as you like. You can do that by dragging and dropping them to the main interface, or you can also copy the link of the Tidal files and paste them into the Tidizer.
Step 2 Customize output settings for Tidal equalizer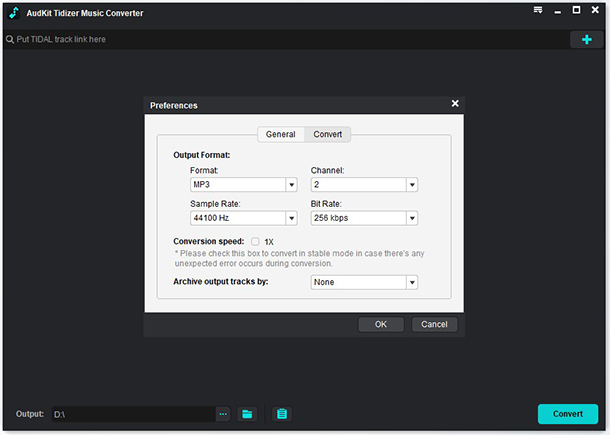 Then, if you wish to personalize the output settings, click on Menu again. Tap on Preferences and then click on the Convert tab. Now, you can tweak the settings and adjust the conversion speed as you like. Once adjusted, click OK.
Step 3 Convert Tidal music and add to Tidal equalizer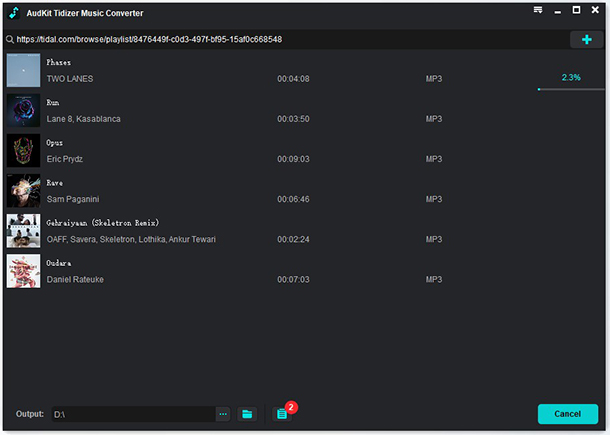 Click Convert to start downloading the files. Once the files are saved locally, you can locate them in your computer's local folder. You can easily import them to the Tidal music equalizer of your choice.
---
Conclusion
All in all, you have got the top 6 Tidal equalizers for Android, iOS, Windows, and Mac. Choose the one that best suits your needs as every tool has a different set of perks. Apart from these Tidal music equalizers, you can also use a Tidal ripper – AudKit Tidizer Music Converter to enhance your listening experience. With it, you can get any audio format you want. Then you are able to listen to Tidal on any device you want.
---