Are you an avid music listener? If yes, then you might be disappointed to learn that there isn't any in-built Tidal equalizer to date. But, thanks to an external Tidal music equalizer, you can easily amp up your listening experience and let the music fill your ears just the way the artist intended it to.
Here, we have rounded up the best Tidal equalizers for your ease. And if you did not know how to use Equalizer on Tidal, we have got you covered.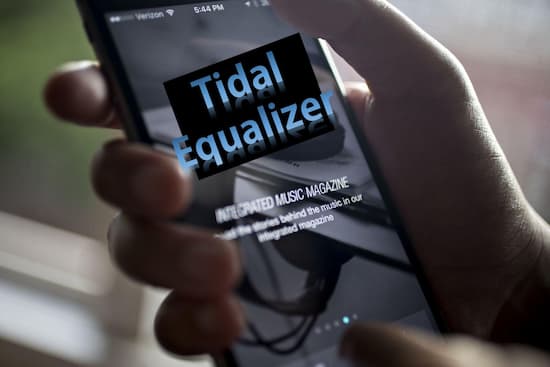 ---
Part 1. Top 5 Tidal Equalizers for HIFI Lovers
Here is the ultimate list of the top tools that allow using equalizer with Tidal. Take your pick after reading the pros and cons and enjoy the music.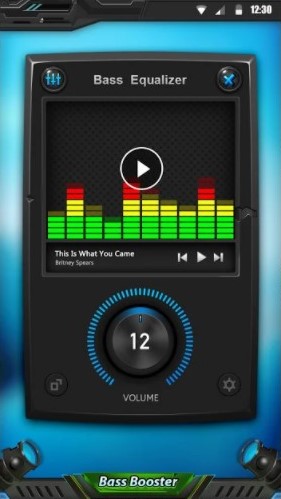 1. Equalizer and Bass Booster
This is a free two-in-one tool that lets users enhance their music streaming experience by using the five-band equalizer for Tidal Music. With a rotating button to adjust the volume, this Tidal music equalizer is simple and intuitive to use.
Pros-
Numerous equalizer presets with an option to customize your own preset
Stereo led VU meter and virtualizer
Compatible with a variety of music and video streaming apps
Cons-
Might stop working or close in the background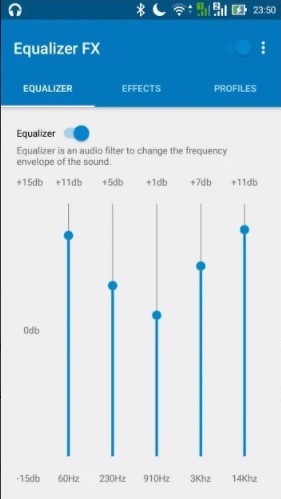 2. Equalizer FX
Equalizer FX is yet another powerful Tidal equalizer for Android, but it also works on other devices. There is a premium version that eliminates ads for a seamless experience. This Tidal equalizer also has a powerful bass booster built-in.
Pros-
Customize own presets or select from 12 available presets
Home-screen widget supported
Loudness enhancer and virtualization tool
Several streaming apps like Tidal, Spotify, Pandora compatible.
Cons-
Free version has annoying ads
3. Music Volume EQ
This Tidal equalizer for Android is an excellent tool for enhancing music streaming. With an efficient and easy-to-use bass booster and the classic five-band equalizer, you can listen to high-quality audio from a variety of apps.
Pros-
Slider control with bass booster and 3D virtualizer
9 presets that are fully customizable
Loudness enhancer, visual audio spectrum, home screen widget, etc
Cons-
Limited number of presets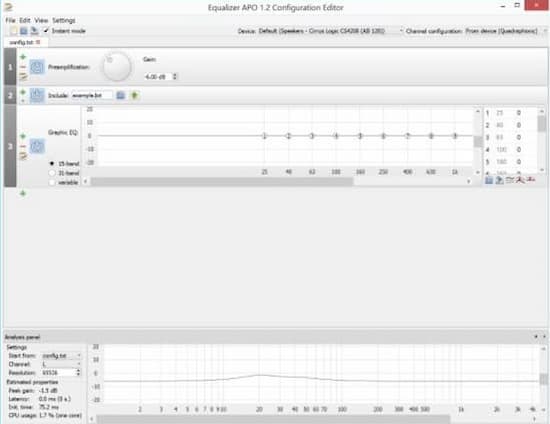 4. Equalizer APO
If you are looking for a remarkable Tidal equalizer for Windows, this is it. A free for all parametric Tidal equalizer like this one comes with many perks to transform your listening experience. Due to the interface, it is also effortless to use, even by beginners.
Pros-
Variety of filters
Compatibility with many channels and devices
Intuitive interface
Cons-
No advanced equalizer features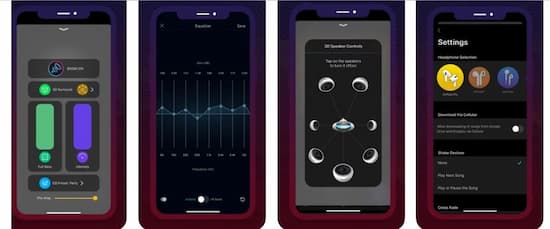 5. Boom: Bass Booster & Equalizer
This is an advanced Tidal equalizer for iOS with multiple exciting features like the 3D sound surround. It can be adjusted for use with various headsets and is also compatible with radio stations.
Pros-
Numerous leading streaming apps and even radio stations, dropbox, Drive supported
16-band equalizer
Surround sound
29 EQ presets
Cons-
---
Part 2. Best Tidal Converter to Download Tidal Music for Any Tidal Equalizer
AudKit Tidizer Music Converter is a very simple tool extensively used to convert Tidal music into commonly compatible formats and downloading them locally. It offers a multitude of features like the complete customization of output parameters. Whether you want to change the output format or the conversion speed, you can easily do it.
What's more, the 5x lightning-fast conversion speed of Tidizer makes the process super quick, also enabling users to batch download multiple tracks simultaneously. All the metadata and original sound quality is losslessly reserved by Tidizer.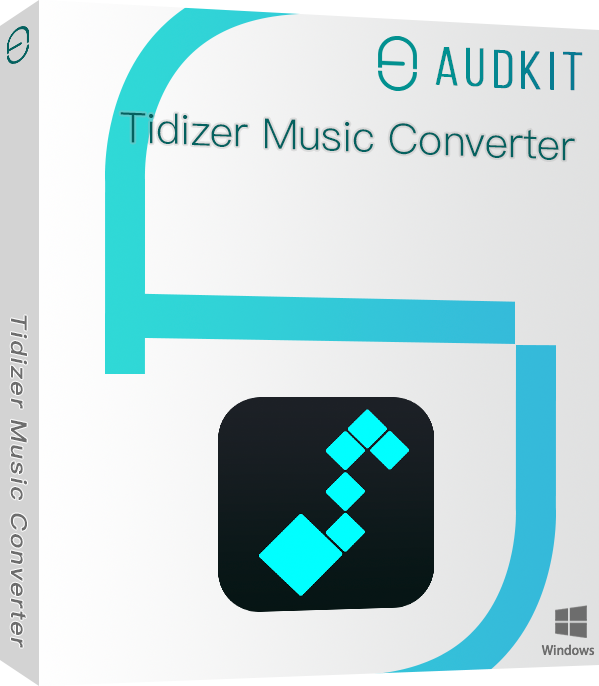 Convert Tidal music to MP3, FLAC, etc.
All the metadata like artists, albums, is reserved
Batch conversion of multiple tracks at the same time
Fully customizable output parameters
Preparation Download and register to AudKit Tidizer Music Converter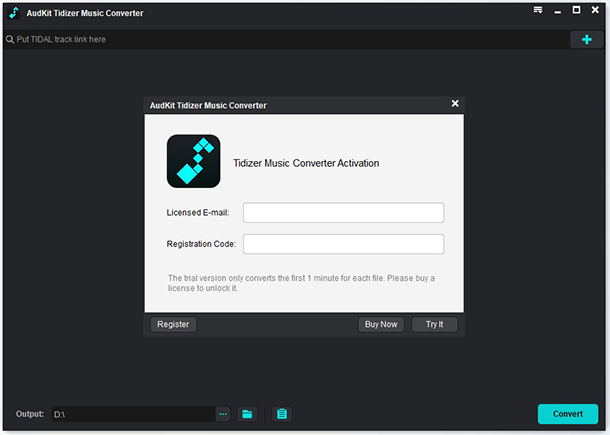 After you download and install the free version of AudKit Tidizer, launch it. Launching AudKit will also automatically open the Tidal app on your device.
If you wish to access all the features of Tidizer, you will need to unlock the full version. Click on Menu in the top-right corner and tap on Register. Then, enter the licensed email and registration code.
Step 1 Import Tidal songs for Tidal Equalizer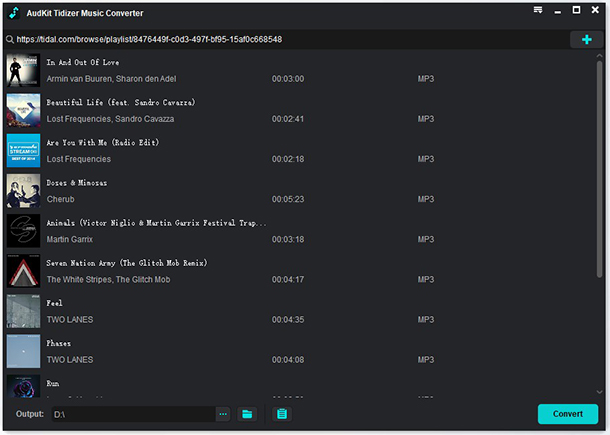 Now, you can import as many Tidal tracks or playlists as you like. You can do that by dragging and dropping them to the main interface, or you can also copy the link of the Tidal files and paste them into the Tidizer.
Step 2 Customize output settings for Tidal Equalizer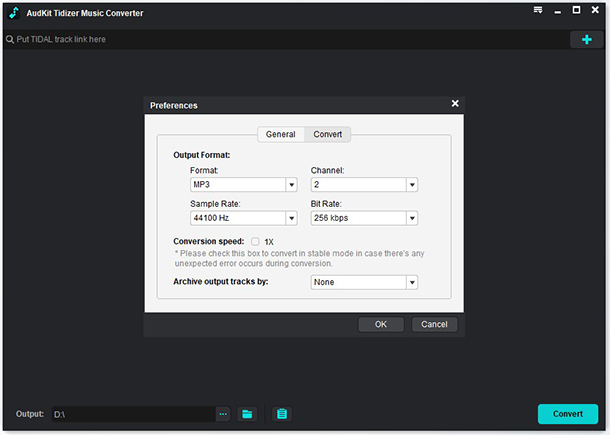 Then, if you wish to personalize the output settings, click on Menu again. Tap on Preferences and then click on the Convert tab. Now, you can tweak up the settings and adjust the conversion speed as you like. Once adjusted, click Done.
Step 3 Convert Tidal Music and add to Tidal Equalizer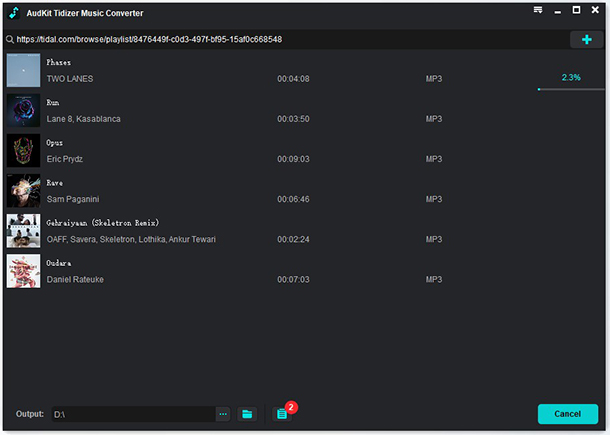 Click Convert to start downloading the files. Once the files are saved locally, you can easily import them to the Tidal music equalizer of your choice.
---
Part 3. Conclusion
Now, you have found the top Tidal equalizer apps. No matter you are using an Android, iOS, or a Windows desktop, there is a Tidal music equalizer available for everyone. But, make sure you choose a Tidal equalizer based on its key features, as every tool has a different set of perks. So, before you go around investing in a Tidal music equalizer, check out its main features and then start streaming high-quality Tidal songs in an even better way.