For all music enthusiasts, Tidal is an amazing medium. Delivering a large selection of music from throughout the globe makes its customers' lives easier. Customers who purchase the monthly subscription service plan can stream as many Tidal tracks as they choose. To enhance your musical enjoyment, you may make a playlist on Tidal comprised of your favorite songs. However, it is certain that you'll occasionally need to delete song from playlist Tidal.
Unfortunately, several users are unsure about how to remove music from Tidal playlists, while others experience some difficulties doing so. You've arrived at the correct place if you don't know how to delete songs from Tidal playlist or are having trouble doing so. Here, we'll go over how to unfavorite or delete one Tidal song from the playlist using the Tidal application on your mobile and desktop.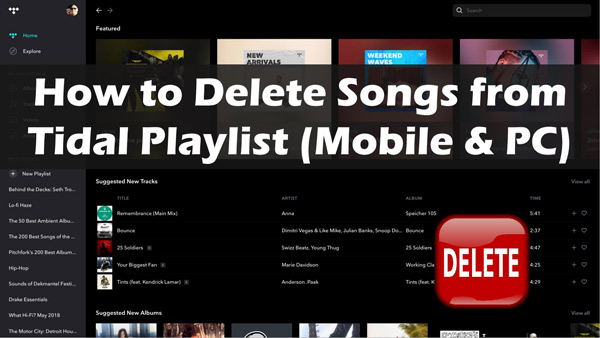 ---
Part 1. How to Delete Songs from Tidal Playlist on Mobile
It's pretty easy to remove tracks from Tidal playlists whether you've been using an iPhone or an Android smartphone. Use the provided step-by-step instructions if you would like to know how to delete songs from a playlist on Tidal on any smartphone.
Step 1. Start the Tidal app on your Android phone or iPhone.
Step 2. Here, on the left portion of the main user interface, search for the "Playlist" button among all the segments. Select the track you would like to remove from the Tidal playlist.
Step 3. Select the 3 dots on the right-hand side of each audio track.
Step 4. You'll see a tiny box-shaped window on the screen. Select "Remove from playlist" from the given options to delete that track from the Tidal playlist.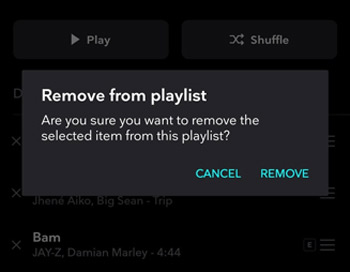 You now have successfully removed the song from your playlist that you do not longer would like to hear on Tidal. Follow the same procedure each time you want to get rid of a Tidal track.
Let's say you would like to delete your favorite Tidal albums from the collection. To delete the songs, navigate to My Collection and tap the 3 dots to remove them. Otherwise, you can also remove your favorite songs from the Tidal library by clicking on the "heart" button. By unloving a Tidal song, you no longer keep it as a favorite.
---
Part 2. How to Remove A Song from Tidal Playlist on Desktop
Every once in a while, you can update the Tidal playlist in your desktop version by removing the material you no more would like to hear from your playlist. The procedure is fairly simple if you would like to delete Tidal music through the Tidal desktop app. It is nearly similar to removing Tidal music on mobile. To erase the songs from any Tidal playlist, follow the instructions listed here.
Step 1. Start by launching the Tidal application on the computer.
Step 2. Pick the track you wish to remove from your Tidal playlists.
Step 3. Select the 3 dots on the right-hand side of the music track.
Step 4. Find the "Delete" button among all the choices and click on it.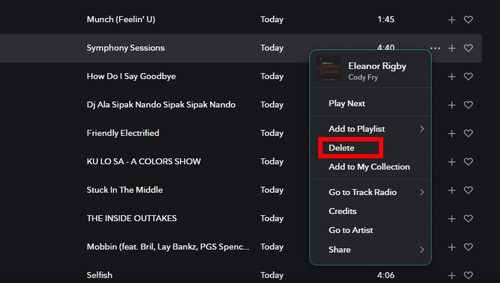 The unwanted music has now been effectively eliminated from the Tidal playlist. If you want to know how to delete multiple songs from a Tidal playlist, you just have to repeat the entire procedure. When a Tidal song is in your favorites that you do not wish to have there or that you no more like, you should hit the 3 dots next to it and choose "Remove from My Collection" or you could simply tap the "heart" symbol to deselect it and make it go grey to get rid of that song from favorites.
---
Part 3. How to Delete Songs from Tidal Playlist Freely
The instructions on how to remove a song from Tidal playlist on the desktop and mobile are clear and simple to apply. However, this Tidal functionality occasionally experiences issues. Some people claimed that songs they had deleted from their Tidal playlists would return, whereas others said they were unable to accomplish this. The simplest way to handle this situation is to first download your loved Tidal playlist and get songs deleted.
And some third-party applications will be necessary for it. Using a third-party tool should be a good idea for anyone without paid membership or even those experiencing problems removing a track from the Tidal playlist. Here you can try the AudKit Tidizer Music Converter out. For more flexibility and simpler listening, this can download and transform Tidal MQA or HiFi music & playlist from Tidal into all the formats such as MP3, FLAC, WAV, AAC, M4A, and M4B.
AudKit Tidal Music Converter uses the most up-to-date conversion technology to preserve Tidal HiFi or MQA lossless audio quality and lets you enjoy the ultimate audio quality. A 10-hour long playlist can be bulk converted in as little as two hours with the help of a 5X high-speed processor in AudKit Tidizer Music Converter on Windows computers. It is also able to recognize, collect, and retain 100% of the ID3 tags from the actual Tidal tracks & playlist, thanks to its integrated ID3 tags editor.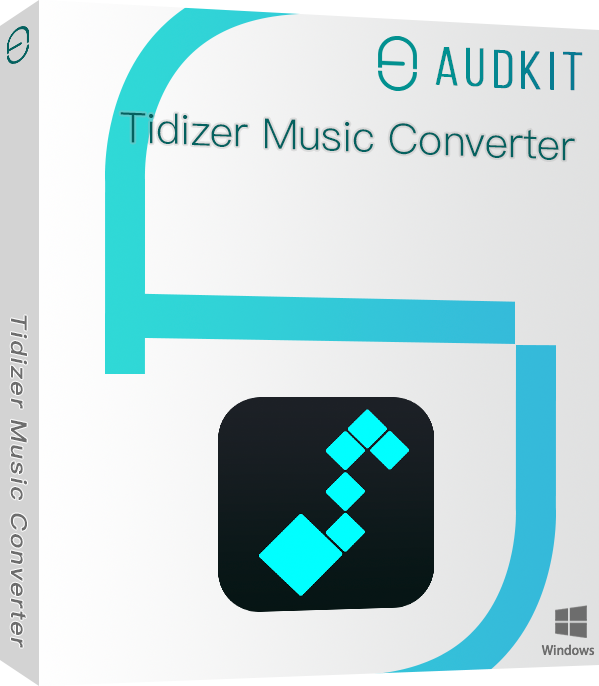 Main Features of AudKit Tidizer Music Converter
Get the playlist offline for free and delete tracks as you want
Customize the quality and output settings of Tidal playlists
The downloaded Tidal playlists are portable and playable anywhere
Download Tidal playlist with 5X speed and ID3 tags persevered
How to Use AudKit Tidizer Music Converter for Free to Download and Delete Tidal Songs
Step 1 Get AudKit Tidizer Music Converter installed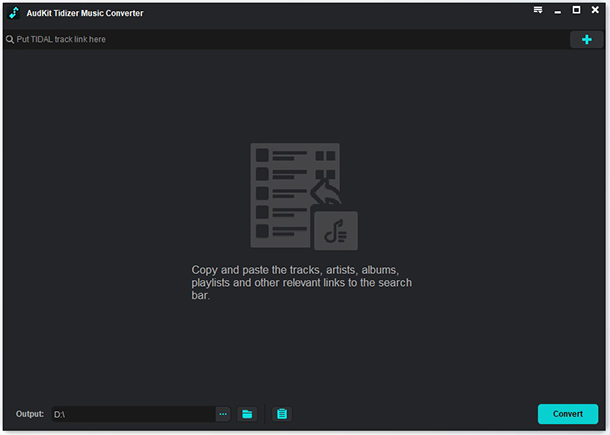 To download AudKit Tidal Music Converter on your computer, select the Download button above or go to the official website. Install the package and run the app. The Tidal software will immediately launch when you start AudKit Tidizer Music Converter. On the AudKit app, select the Menu > Register option from the taskbar's upper right-hand corner to enable all converter functions. The license mail and activation code should then be copied and pasted to access the complete version.
Step 2 Adjust Tidal playlist output settings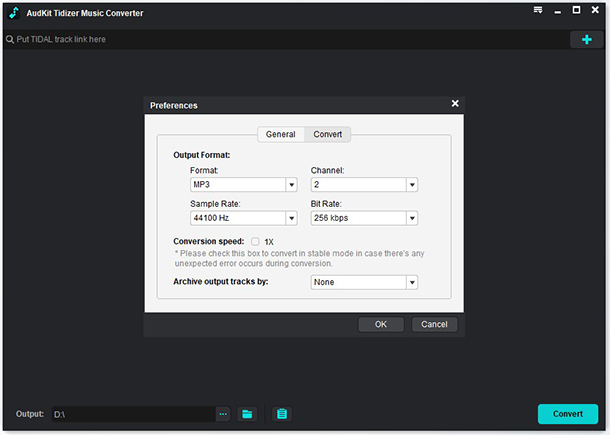 Click Preferences > Convert from the menu icon in the upper right corner. Adjust the format, channel, sampling rate, bit rate, and archiving method of the Tidal output. You can choose to convert playlists from Tidal to MP3, FLAC, WAV, or other formats. Press OK to save the settings.
Step 3 Import Tidal playlist for deleting offline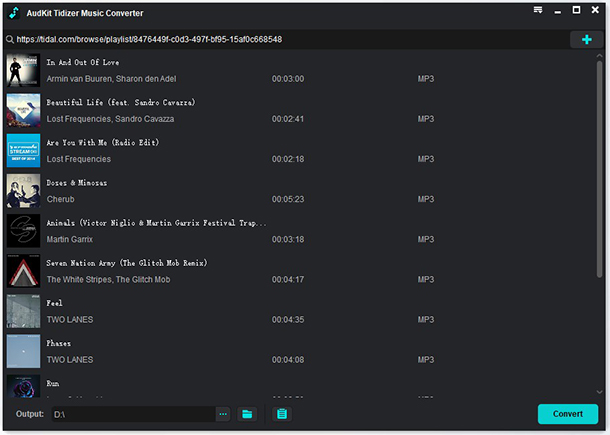 AudKit Tidizer Music Converter can import tracks from Tidal in 2 ways. The Tidal playlists can be dragged and dropped into the AudKit program. Or you can choose "Share" > "Copy Playlist Link" from the dropdown when you right-click the Tidal playlist. Enter that URL into AudKit Tidizer's search field. Then import them all by selecting the "+" button.
Step 4 Download the Tidal playlist offline on your PC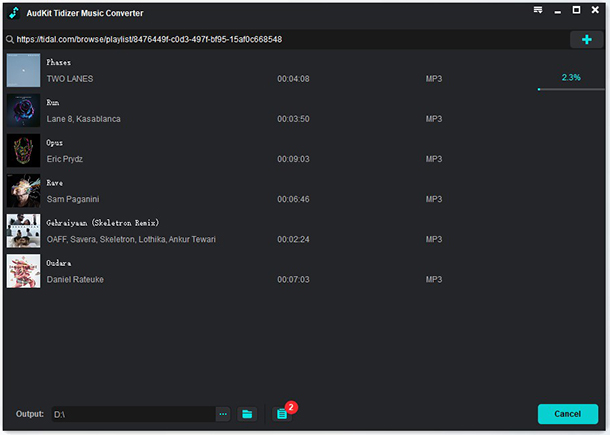 Select the "Convert" button on the bottom right, and the conversion will begin. The added Tidal playlist will be downloaded to the location you've set before. You can find them from the converted list with the red number. Now, you may select the song you don't want and erase the tracks by opening the downloaded Tidal playlist folder. You've learned how to delete a song from Tidal playlist offline on your computer.
---
Part 4. In Conclusion
The instructions for how to delete songs from Tidal playlist on desktop and mobile are described in this article. It's quick to acquire this function on Tidal once you know what steps to take to remove songs from Tidal playlists. In some situations like the deleted Tidal songs appearing again, here's AudKit Tidizer Music Converter. It's the best tool to utilize in order to quickly download and remove unnecessary Tidal songs from a playlist.
---