Music has always been an essential component of human culture, and due to technological advancements, we now have access to millions of tracks. With so many available music streaming services, selecting the best one cannot be easy. Tidal is a comparatively new participant in the music streaming industry, but its high-fidelity sound quality and exclusive content have helped it acquire popularity rapidly.
On the other hand, Google Play Music has existed for over a decade and offers an extensive collection of tracks, podcasts, and radio stations. Both platforms have advantages and disadvantages, making it difficult to choose between them, particularly if you're new to music streaming.
This article will compare Tidal and Google Play Music to help you determine which option is superior to your music requirements. We will compare the two based on their music libraries, audio quality, etc.; without further ado, let's find out the Tidal vs Google Play Music debate winner!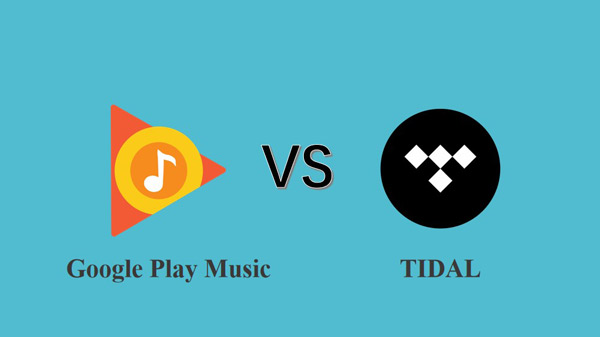 ---
Part 1. Tidal vs Google Play Music Sound Quality
Tidal and Google Play Music have distinctive offerings in terms of sound quality. Tidal is well-known for offering lossless Hi-Fi sound quality so you can listen to music without compression or quality degradation. This characteristic distinguishes Tidal from other streaming services like Google Play Music. Tidal also provides MQA (Master Quality Authenticated) recordings with an even higher sound quality than Hi-Fi tracks.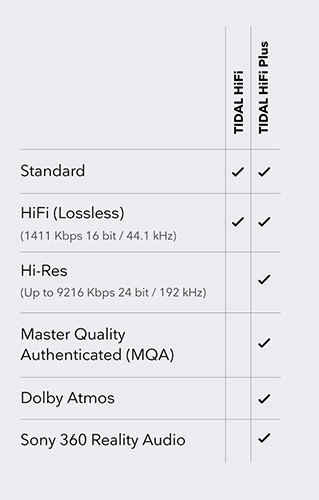 Google Play Music, on the other hand, offers 320 kbps audio, which is sufficient for most consumers. However, compared to Tidal's lossless sound fidelity, it falls lacking. Google Play Music also lacks exclusive high-quality recordings and MQA support.
In terms of Tidal vs Google Play Music quality, if sound quality is your top priority, Tidal's lossless Hi-Fi and MQA recordings make it the apparent winner. If you are not an audiophile and lack the requisite apparatus to appreciate high-quality music, the 320 kbps sound quality of Google Play Music will suffice.
---
Part 2. Google Play Music vs Tidal Subscriptions
Google Play Music offers a free ad-supported version and a Google Play Music Unlimited premium subscription. The $9.99 per month premium version provides access to millions of recordings, ad-free listening, and the ability to download music for offline consumption.
Tidal offers two subscription programs, namely Tidal HiFi and Tidal HiFi Plus. Access to millions of recordings, ad-free audio, and offline playback are included with Tidal HiFi for $9.99 per month. On the other hand, Tidal HiFi Plus costs $19.99 per month and provides high-fidelity sound quality, lossless High-Resolution Audio, and access to exclusive content, music videos, and live performances. There are also Tidal family plans with up to six members for $14.99 monthly for Tidal HiFi and $29.99 for Tidal HiFi Plus.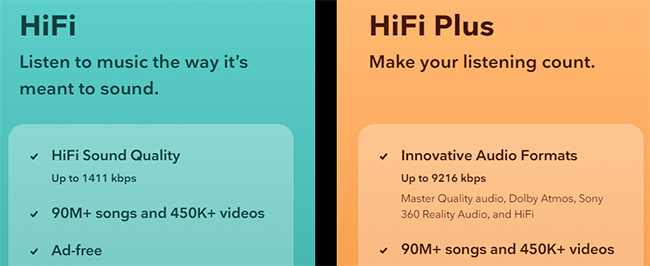 Compared with the plan of Google Music, Tidal's Tidal HiFi subscription offers superior value for audiophiles seeking high-quality music streaming in terms of subscriptions.
---
Part 3. Tidal vs Google Music Library
Tidal and Google Play Music offer millions of recordings in their music libraries, but their content and curation are distinct. Tidal's extensive collection of over 100 million tracks, which includes exclusive content from prominent performers such as Beyoncé, Jay-Z, and Kanye West, makes it the service of choice for music lovers who want access to exclusive content.
Google Play Music, on the other hand, contains over 50 million recordings from various genres and languages. Additionally, Google Play Music offers a radio feature that lets you discover new tunes and artists based on your preferences. However, Google Play Music lacks the exclusive content and curated playlists Tidal offers.
Tidal and Google Play Music have extensive music libraries, but Tidal is the clear victor here in terms of exclusive content and curation.
---
Part 4. Google Play Music vs Tidal: Main Features
With Google Play Music, you can easily listen to your favorite songs and organize them into playlists thanks to the intuitive UI. The portal also has several radio broadcasts and podcasts that can be accessed at your convenience. If you want to upload your music to Google Play Music so you can listen to it on the go, you can use the service's "music locker" option.
However, Tidal stands out because of its exceptional sound quality and unique offerings. Users can enjoy a superior listening experience thanks to the platform's lossless and high-fidelity streaming choices. Tidal also offers personalized playlists and recommendations based on your listening preferences, which industry experts and prominent musicians curate.
Both Google Play Music and Tidal have special characteristics that appeal to certain audiences. Google Play Music is a great option if you're looking for a straightforward service with a wide selection of songs and tailored suggestions.
---
Part 5. Tidal vs Google Play Music: Devices Compatibility
In terms of device compatibility, Google Play Music is superior to Tidal. Google Play Music is accessible on various devices, such as iOS and Android smartphones, tablets, and computers. Chromecast, Android Auto, and smart speakers such as Google Home are also supported. Additionally, Google Play Music can be accessed via a web client accessible from any internet-connected device.
In contrast, Tidal has limited device compatibility, and some old-fashioned devices can not be supported, for example, you cannot play Tidal on Google Home directly. However, Tidal also supports smart TVs, home audio systems, and certain streaming media platforms. So, regarding device compatibility, Google Play Music is the superior option for most users.
---
Part 6. Tidal vs Google Play Music: Comparison Table
Feature
Tidal
Google Play Music
Sound Quality
Lossless Hi-Fi sound quality;
Offers MQA
High-quality 320 kbps
Subscriptions
Tidal HiFi: $9.99 per month;
Tidal HiFi Plus: $19.99 per month;
Free version;
$9.99 per month
Music Library
Collection of 100 million songs
Collection of over 50 million songs
Device Compatibility
Limited compatibility
(mostly smartphones and PCs)
Available on computers, tablets, Android, iOS, Smart TVs, etc.
Main Features
Recommendations based on your listening habits;
New music discoveries;
Music from new and hit artists
Music library and playlists;
Radio stations and podcasts
---
Extra Tips: How to Transfer Playlists to Google Play Music from Tidal
Once you've decided which music service you'd like to use, the need to transfer music playlists arises. If you want to move the playlists from Tidal to other music platforms including Google Play Music, AudKit Tidal Music Converter is a robust and versatile utility designed to facilitate the seamless transfer of playlists from Tidal to Google Play Music.
It is loaded with features that make the conversion process quick and effective. AudKit Tidal Downloader's ability to convert Tidal recordings to multiple output formats, including MP3, FLAC, WAV, AAC, and M4A, is one of its essential features. AudKit Tidal Music Converter ensures lossless sound fidelity during the conversion process, which means consumers can experience the same high-quality audio from Tidal on Google Play Music.
In addition, the AudKit software's 5X conversion speed enables users to download large Tidal recordings and enjoy them on Google Play Music in mere minutes. It not merely preserves the original ID3 data, including song titles, artists, album names, and cover art, but, most significantly, allows users to gain the Tidal music files with a Tidal Free account.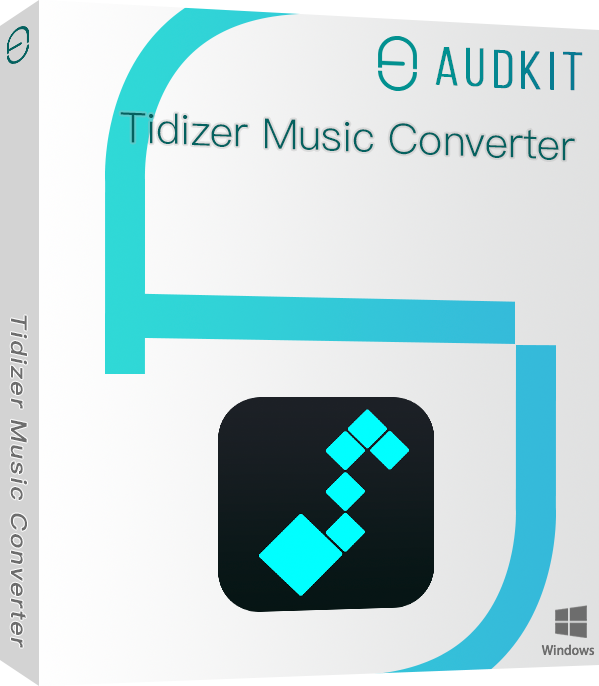 Convert Tidal songs to multiple audio formats, such as FLAC, MP3
Retain not only the sound quality but also the ID3 tags for Tidal
Run bath conversion with 5X conversion speed for downloading
Easily transfer Tidal music to other music services
Guide on Downloading Tidal with AudKit Tidal Music Converter
Step 1: Download and launch AudKit Tidal Music Converter on the computer (Mac or Windows).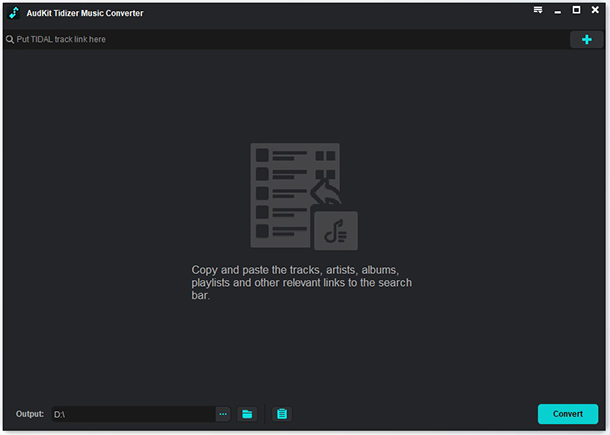 Step 2: You can now choose songs, albums, and playlists from your Tidal music collection. By clicking the right mouse button, a list of options shows, click on Share and Copy Track Link. Copy and paste the URL into the search field of AudKit Tidal Music Converter, then click the "+" symbol. Simply, you can also add Tidal recordings to the converter by dragging and dropping them.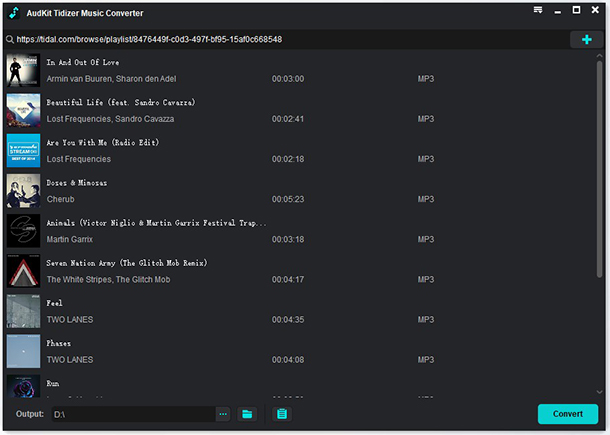 Step 3: In the following step, click on "Preferences" > "Convert" from the top-right menu on the AudKit app. Customize the output format for Tidal to MP3, M4A, and FLAC, and edit channels, sample rate, etc. Once finished, click on "OK" and it will save them as default.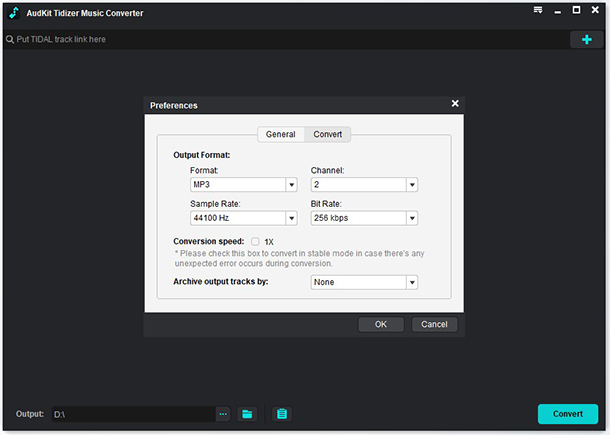 Step 4: Finally, hit the "Convert" button in the bottom-right corner of the screen. AudKit Tidal Music Converter will begin the conversion process to download Tidal HiFi. You can still add tracks to the converting list during the process. You can easily find the downloaded files on your local drive and get them into the Google Play Music library.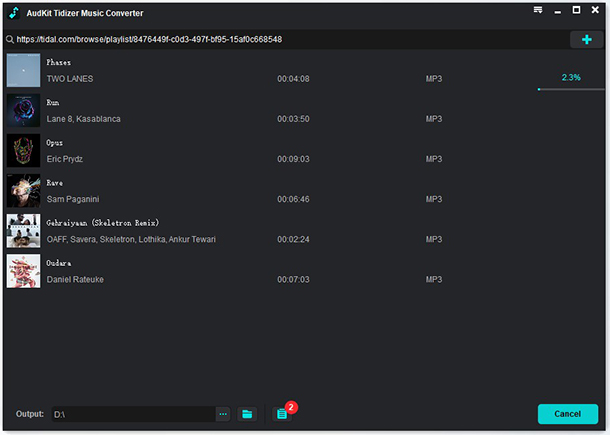 ---
In Conclusion
At the end of the comparison of Tidal vs Google Play Music, I am sure that you have the answer to the question "Is Tidal better than Google Play Music". Tidal, accompanied by many features, especially its sound quality, is suitable for music audiophiles. And Google Music is the advisable option for the masses. It is noteworthy that Google Play Music closed up in 2020, and people who prefer a wide range of free music can go for YouTube Music or try to transfer Tidal to YouTube Music.
The process can be overwhelming, but it can be accomplished swiftly and effortlessly with the proper tool. AudKit Tidal Music Converter is a dependable and effective piece of software that enables users to migrate playlists without a hitch and offers multiple output formats, lossless sound quality, 5X conversion speed, and original ID3 tags. It is recommended for those who wish to transfer their music from Tidal to other music platforms for seamless playback.
---