Over the last few decades, music listening has evolved reasonably. The days of purchasing CDs, vinyl records, or cassette tapes are long gone. You may now just subscribe to a music streaming service and have on-demand access to all of the music you'll ever need on a gadget that fits in your pocket. Different streaming services & their offered plans are at the peak of their popularity. It gets difficult to distinguish one service from another when countless plans are being offered.
High-fidelity music streaming service Tidal prides itself on being a platform that prioritizes artists and quality. It differs from other music streaming services in that it caters to consumers seeking a higher-resolution audio experience. And as a result, it delivers amazing sound with cherished plans for each segment. While Tidal Premium or HiFi can be enjoyed by a single individual, what do you do if you need to include your family in the fun? This article will analyze Tidal Family Plan, as it does not require extra account holders to live at the same address, unlike other services with Family subscriptions.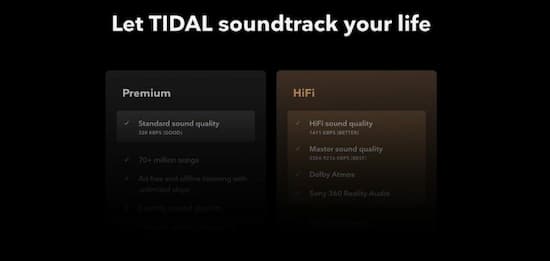 ---
Part 1. What is Tidal Family Plan: Tidal Premium vs Family Plan
Tidal provides two alternative options under the umbrella of the Tidal music family plan i.e. Family Premium and Family HiFi. Starting at $14.99 a month for Family Premium, which includes high-definition music videos, selected editorial content, and standard sound quality. If you were only signing up for one account, this would be the same as having the normal Premium plan.
However, more family members are likely to join the bandwagon for better quality music. Tidal offers the same high-definition music videos and curated editorial content for Family HiFi at $29.99 per month.
Tidal Premium vs Family Plan
Tidal Premium
Tidal Family
Tidal Family HiFi
All music and video content are accessible

Ad-free on-demand listening

Unlimited track skips

Offline listening and downloads

320 kbps audio quality

Exclusive videos and live streams

Comes with a 30-day free trial

Price: $9.99/month
Same inclusions as Tidal Premium

Up to 5 additional accounts

Price: $14.99/month
Up to 5 additional family members

Lossless high fidelity sound quality (1411 Kbps)

Master Quality audio (up to 9216 Kbps)Immersive audio – 360 reality audio

Dolby Atmos music

Price: $29.99/month
---
Part 2. How to Sign Up for Tidal Family Plan
Step 1: Simply go to my.tidal.com and log in with the primary account holder's credentials.
Step 2: Select Tidal Family to sign up or manage a Family package.
Step 3: You will be given the option to upgrade to a family plan if you are on an individual plan.
---
Part 3. How to Add Family Plan on Tidal?
Step 1: Go to listen.tidal.com/ or open the desktop app.
Step 2: At the top-left corner, tap the three dots.
Step 3: Tap "Tidal Family".
Step 4: Tap "Add a family member".
Step 5: Enter their name, last name, and email address. Leave the password field blank since you will receive an automated password. It can be easily changed later on.
Step 6: You can add up to five family members.
---
Part 4. How to Download Tidal Playlist in Family Plan
You can download music for offline listening with a Tidal subscription in the family plan. However, the music files you receive will be cache files that can't be played handily. Because the Tidal music is safeguarded, which prevents users from listening to it on other devices. To download & listen to Tidal music with utter freedom, you have to first disable Tidal's protection. If you don't know how to do it? We'd like to introduce you to a beneficial tool.
Download Tidal Music via AudKit Tidizer Converter
AudKit Tidizer Music Converter. is a Tidal music converter and downloader with a unique design and easy-to-use interface that lets you download Tidal playlists, albums, tracks, mixes & radio, and more on your device. It also lets you convert Tidal to FLAC, MP3, WAV, M4A, and other popular audio formats so you may listen to it on another device. It preserves the excellent audio quality and retains the original ID3 tags after conversion.
This music converter works on both Windows and Mac PCs. When you register and activate the updated version of AudKit Tidizer Music Converter, you can convert Tidal music to MP3 at over 5X speed without compromising quality.
AudKit Tidizer is a highly viable converter that should not be disregarded; whether implicit or in-built, it is designed using the most up-to-date converting algorithms. Its fundamental characteristics are as follows: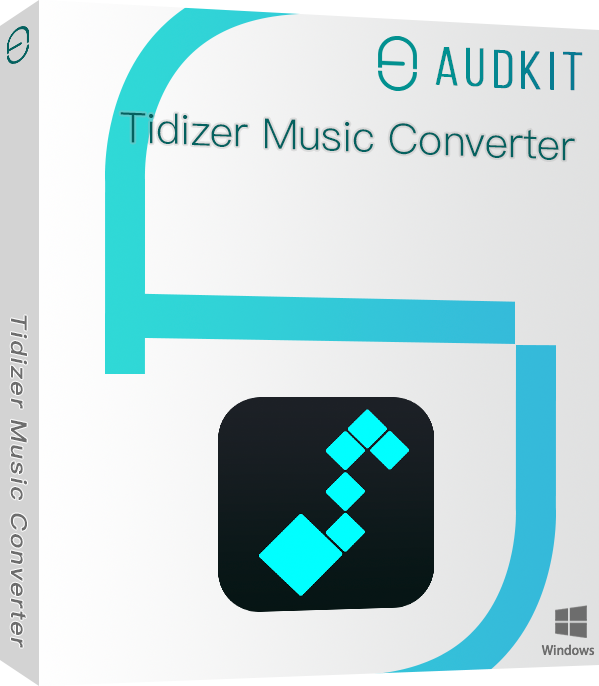 User-friendly and simple to use
Incredibly 5X fast and high-quality results
Allows to convert audio files into a variety of formats
Tidal Music downloadable for offline listening
How to Use AudKit Tidizer Music Converter
On the PC, install the most latest version of the AudKit Tidizer Music Converter. When you open AudKit Tidizer, the built-in Tidal app will appear. To unlock the full functions of the music converter, go to Menu 🡪 Register on the top-right taskbar. Then give the licensed email and registration code to activate the full version. As the AudKit Tidizer's free trial only allows you to convert 1/3 of each Tidal track's content, make sure your Tidal subscription in Family Plan is active.
Step 1 Reset the output settings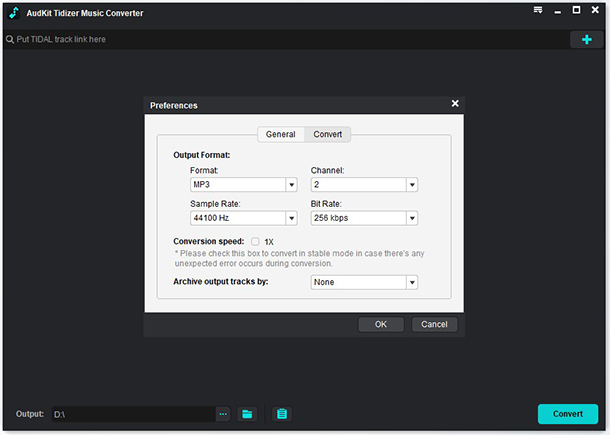 Select Preferences > Conversion from the top-right menu icon. As per the requirement, change the output format, channels, sample rate, bit rate, and archiving method. By default, AudKit Tidizer Music Converter converts at a 5X speed.
Step 2 Add Tidal Music to a playlist and import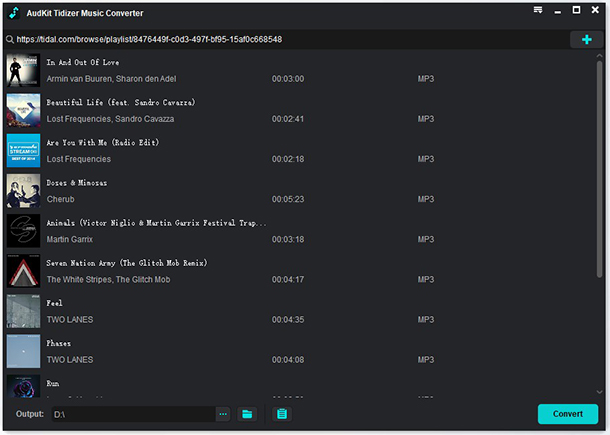 In the built-in Tidal app, open any Tidal playlist you like. The Add Music button will glitter in the lower-right corner. Click it to select the entire playlist or particular tracks. To add a song, open a playlist that includes it, then select it from the list.
Step 3 Start to convert Tidal playlists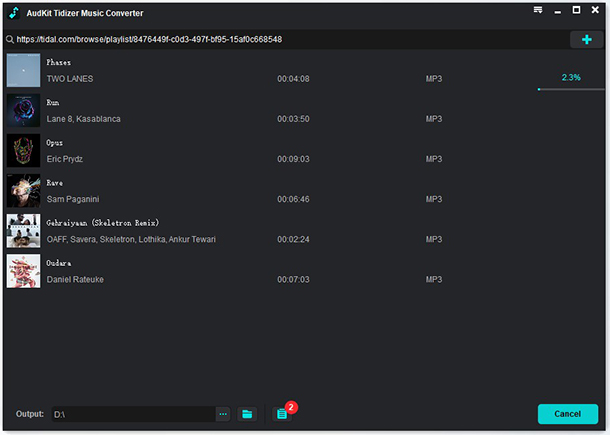 In the bottom-right corner, click the Convert tab. AudKit Tidizer will begin the conversion. While the conversion is in progress, you can still add music to the converting list. Once all projects have been finished, a red tip will appear on the Converted icon. To see the Tidal music files that have been converted, open the folder.
---
Part 5. How to Share Tidal Playlist in Family Plan
Without an account, anyone who visits your Tidal playlist link will only be able to listen to the first 30 seconds of each music. The recipients must be registered into a Tidal account to hear the songs in their entirety. Share the Tidal playlist in Family Plan following the below easy steps:
Step 1: To share a Tidal playlist, first open it and then hit the three dots in the top right-hand corner.
Step 2: Click Share, and copy the link to the clipboard or choose a specific app to share your song/playlist with your friends.
---
Enjoy the Best Sound Quality With Tidal
Finally, Tidal's music offering caters to the true music enthusiast. It's for the listener who enjoys music for the sake of music and values excellent audio quality. Tidal Family is a perfect alternative if you want to give your family access to millions of high-quality music while saving money on a group subscription.
---