Tidal Web Player is a popular streaming service with millions of tracks and tons of exclusive videos. Tidal is a perfect platform for connecting to all your favorite music. The platform lets you watch over 350,000 high-quality videos including music videos, live streams, and events.
Tidal is particularly famous for its high-fidelity sound quality which allows users to stream lossless, CD-quality audios. With its Premium and Hi-Fi subscription plans, Tidal connects users with their favorite artists in a unique way. Users willing to have a deeper understanding of the service can opt for a free 30-day trial plan. You can easily download music for the Tidal Web Player.
Although the service is extremely great, the major drawback is you are limited with the Tidal Web Player for listening to your downloaded files. So, we have laid out this content to help you understand everything about Tidal and how to download Tidal music for offline listening.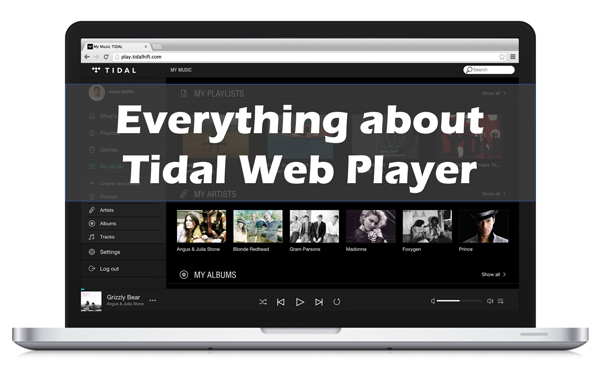 ---
Part 1. Tidal Web Player vs Tidal Desktop App
Tidal music web player and Tidal Desktop App? Here, we will be discussing the difference between the two apps.
What Is Tidal Web Player?
Tidal Web Player is a music streaming service that was launched in 2014. But the web player gained the spotlight in 2015 by implying the artist-centered approach and worked with musicians to perform high-quality media content for the platform. This is why popular artists such as Beyoncé, Jay Z, Jack White, Rihanna, Madonna, and many more own equities in Tidal.
The streaming service distinguishes itself from other music services by offering high-quality lossless audio quality (16 bit/44.1 kHz) and high fidelity (Up to 24 bit/96 kHz) for all its Hi-Fi Plus members. Tidal Web Player aims to connect artists, supreme quality music, and music enthusiasts through a single platform. Although music is the top priority of the app, users can also access original video series, podcasts, and music journalists.
Tidal web service has two different tiers when it comes to choosing a subscription plan. Tidal Premium is an entry-level subscription plan that gives members access to about 70 million tracks in standard sound quality i.e. up to 320 kbps. This makes this program similar to other streaming apps such as Spotify Premium and Apple Music.
But if you want to enjoy high music quality, consider purchasing a Tidal Hi-Fi plan. It is more expensive than the latter one as it lets you enjoy higher resolution on music and some content is also available in Master Quality Authenticated (MQA) certified.
Audio Quality – Tidal Web Player vs Tidal Desktop App
If you truly want to enjoy the high-quality, Tidal Web Player offered through the streaming service, then you must go for the Tidal Desktop app.
About Tidal HiFi vs Tidal Master, Tidal HiFi provides uncompressed lossless sound quality streaming at 1411 kbps or 16 bit/44.1 kHz. Whereas Tidal Master Quality audio reflects the original quality of the music and streams up to 9216 kbps or 24-bit/192 kHz.
This ensures members enjoy the high-quality sound with more clarity and depth. To achieve the highest level of resolution and an impressive sound, Tidal partnered with MQA (Master Quality Authenticated). This affiliation ensures that master recordings directly reach Tidal members from the master source. The master quality tracks have an M icon next to them.
But the Tidal online player only offers Tidal Master Quality on the Tidal Desktop app. Whereas the Tidal Web Player and mobile app are limited to the Tidal Hi-Fi plans.
---
Part 2. How to Login Tidal Web Player
Tidal Web Player login is an extremely easy process. Whether you are using Tidal online music player or the web player, must go to the official website of Tidal and follow the given steps.
Step 1. Go to the official website by going to https://my.tidal.com/login.
Step 2. Click on the "login" option.
Step 3. Write your email address or username.
Step 4. Then, give in your password.
Step 5. After logging in the Home page will appear on the user interface.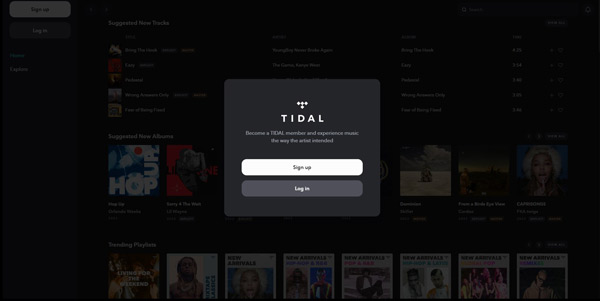 ---
Part 3. How to Download Music from Tidal Web Player
Tidal does allow its subscribers to download music for offline listening and save the downloaded songs under the My Collection area. But you can only reach these files through the Tidal app. Once your subscription plan ends, you won't be able to access these audios offline anymore.
AudKit Tidal Music Converter is the best Hi-Fi music converter that supports both Windows and Mac operating systems. The converter downloads and saves HiFi songs from the Tidal Web Player directly to the computer as local files. The converter is designed with advanced features and specifications that make sure the playlists are converted into common file formats such as MP3, AAC, M4A, WAV, FLAC, and M4B. The technology behind the software ensures to maintenance Free and HiFi quality of the Tidal tracks.
With this converter, you can easily download and listen to Tidal HiFi playlists even after your subscription plan expires.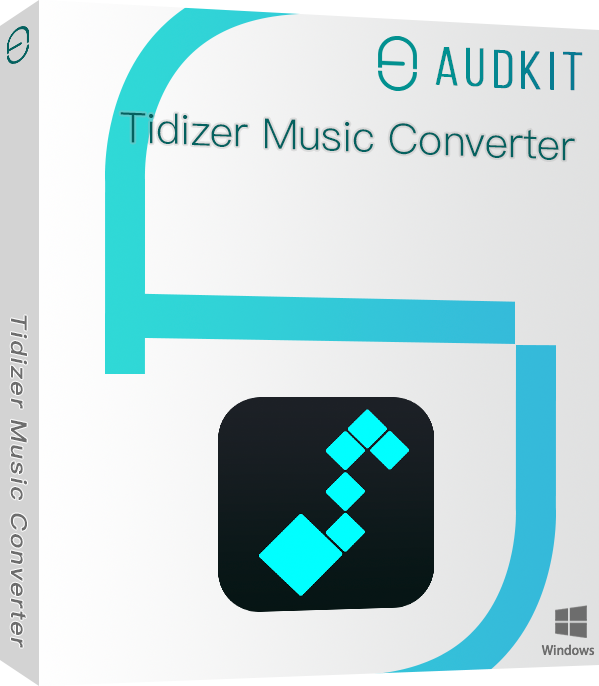 Main Features of AudKit Tidizer Music Converter
Download Tidal songs onto the computer from the Tidal Web Player
Convert multiple Tidal tracks or playlists at 5X faster speed
Keep ID3 tags that include all the information about the track
Allow users to customize the output format of Tidal audio files
How to Convert Tidal Music from Tidal Web Player
The AudKit Tidizer Music Converter has a simple user interface. After downloading the software, follow these three simple steps to get all your favorite songs from Tidal.
Step 1 Customize Tidal output format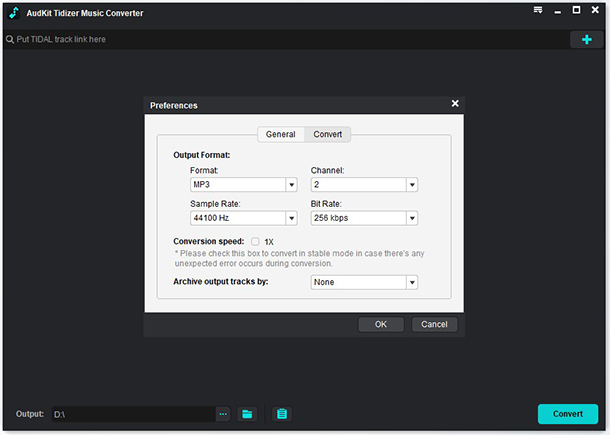 Open the Menu icon at the top of the interface. Then select Preferences and go to Conversion. In the pop-up window, customize the output format for your audio files. You can adjust the output format, bit rate, sample rate, and archive way for your audio files.
Step 2 Import Tidal songs from Tidal Web Player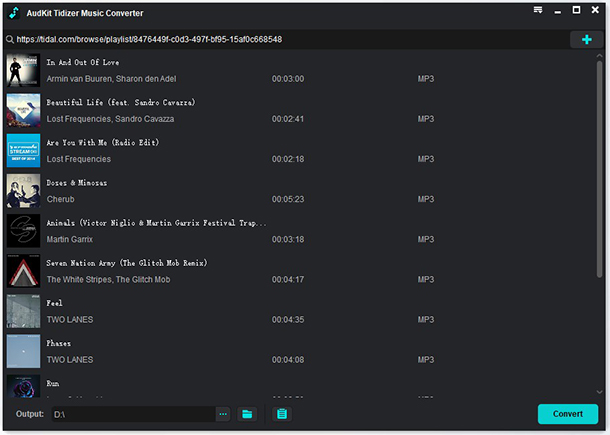 In the built-in Tidal app in the Tidizer converter. Open the playlists and tracks you want to convert. Then, select the Add Music icon at the bottom left corner of the app. Click on the icon and start adding songs and playlists to the music converter to download Tidal MQA or HiFi playlists.
Step 3 Initial the conversion process of Tidal songs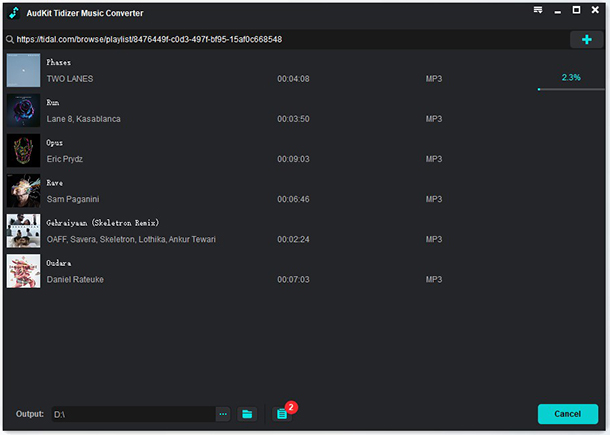 Then, finally, click on the "Convert" option at the bottom. The converter will download and convert music files in a short period. Now, you can easily play Tidal on your desktop or transfer it to your smart devices for offline listening.
---
Part 4. Conclusion
Tidal is the most sought-out HiFi music streaming service but it is a bit expensive. Since you are a fan of high-quality music, AudKit Tidizer can help you download Tidal HiFi music from the Tidal online player and enjoy those songs offline even without a HiFi plan.
---