With the augmentation of technology, streaming music on the go has become a common thing. Even though tons of other streaming services are available, Tidal still wins in occupying the number one spot. The reason you ask? The top-quality sound and exceptionally well-curated library. This high-quality music streaming platform is the go-to streaming platform allowing you to enjoy millions of music and video content.
Soon after Tidal released its music app particularly dedicated to Apple TV, it became a game-changer. This brings us to the question of how to get Tidal on Apple TV! You will be happy to know that there are subscriptions available, which will let you get Tidal on Apple TV, and if you don't want to follow this route, we have an alternative for you as well. Keep reading!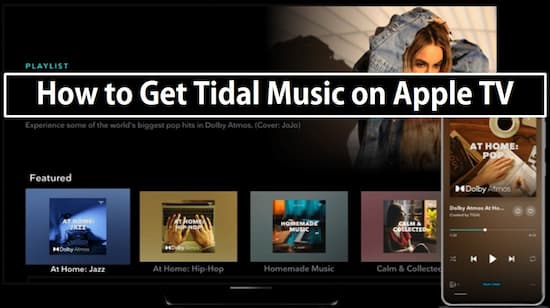 ---
Method 1. How to Install Tidal on Apple TV – Official Way
As we said, you can apply for a subscription to Tidal for Apple TV and start enjoying the plethora of content Tidal has to offer.
Here are the subscription plans:
Tidal Premium Membership: $9.99 per month. In this monthly plan, you will get an audio quality of up to 320 KBS through AAC, a lossy format.
Tidal HiFi Membership: $19.99 per month. If you want superior quality sound, you should get a Tidal HiFi subscription. You might not know this, but Tidal has partnered with MQA, which means even if there is a poor internet connection, your sound quality won't get hampered. You can expect 96 kHz/24 bit, and that's arguably the highest possible resolution anyone else is providing.
Follow this method to go listen to Tidal on Apple TV:
Step 1: To stream Tidal music on Apple TV, you will first have to launch Apple TV. Visit the App Store to install the Tidal app.
Step 2: On the device, launch the Tidal app. Now, visit TIDAL.com.
Step 3: If you are already a Tidal user, log in; else, click on the signup option.
Step 4: Your Apple TV will show you a code, copy the same code and enter it on your Tidal app. Connection is complete, and now you can stream Tidal music on your Apple TV.
---
Method 2. How to Get Tidal on Apple TV – Direct Way
If you are wondering about an alternate and whether the alternative will work or not, the answer to this is yes. If you don't want to go through the hassle of a monthly subscription, use AudKit Tidizer Music Converter. The one-of-a-kind and easy-to-use software that will let you download limitless Tidal music files.
After capturing your favorite Tidal music tracks, you can use the same tool to convert Tidal music to MP3, FLAC, WAV, and more, with lossless audio quality. The best part about AudKit Tidizer Music Converter is that it lets you convert Tidal to MP3 with 5X conversion speed. Once downloaded, you are free to listen to your Tidal music on-go whenever you want.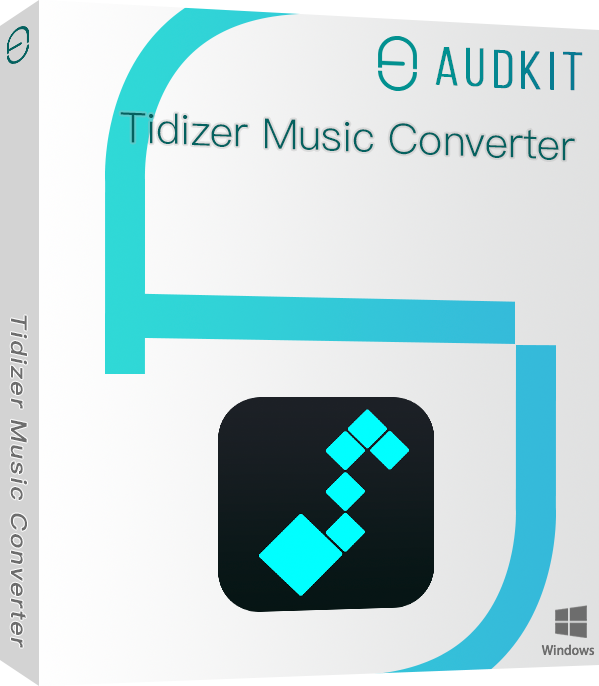 Download unlimited Tidal music without quality loss
Customize output formats to common-used formats
5X or faster lightning conversion speed
Save original music files with ID3 tags and original data
With the help of AudKit Tidizer Music Converter, you will have the freedom to play all the converted and downloaded Tidal music on Apple TV as many times as you want, and you will not have to pay every month's Tidal subscription fee as well.
Step 1 Download AudKit Tidizer Music Converter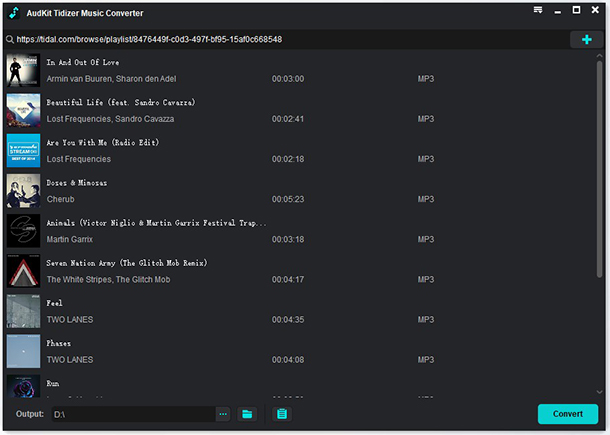 Launch AudKit Tidizer. Select the Tidal music file that you want to convert. Right-click on any of the files; after that, select Share followed by Copy Track Link. On the AudKit Tidizer Music Converter, paste the copied link on the search bar.
Step 2 Reset Tidal files to AudKit for Apple TV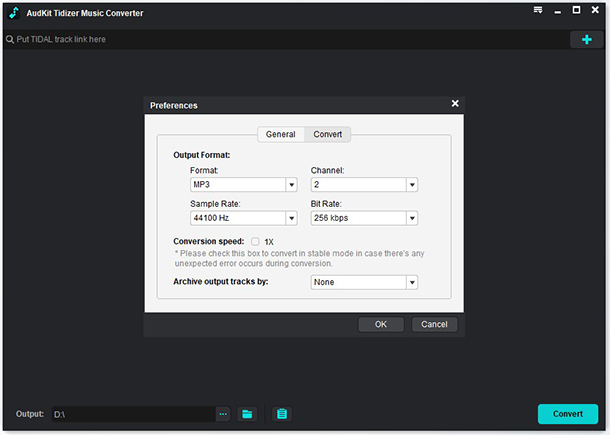 You are able to click on the Menu icon in the top-right corner and choose Preferences, and then on Convert. Now, you can change the conversion speed and other output settings like format, bit rate, and much more.
Step 3 Start to convert Tidal songs for Apple TV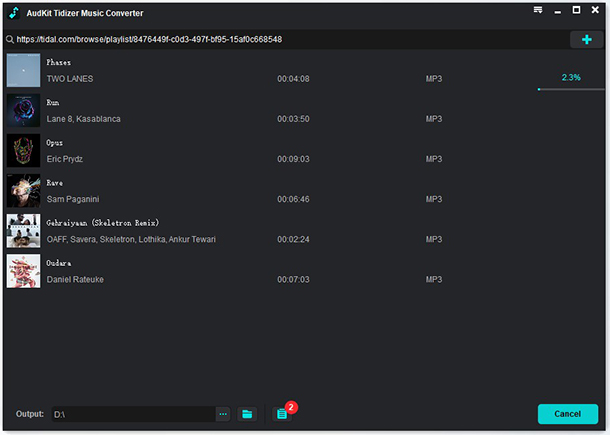 Towards the bottom of AudKit Tidizer Music Converter, you have the convert tab. Hit on that to begin the conversion process. Go to the converted icon and open it to find the Tidal track you have converted. Now you can transfer the file to any software and device.
Step 4 Import Tidal tracks to Apple TV
Go to the iTunes app and launch it on the PC.
Click on the File option and click on the Add File to Library option. Go through the Tidal track that you wish to add to the iTunes library.
Click on File again, go to Home Sharing, and now click on the Turn on Home Sharing option.
Enter your Apple ID credentials, and you are ready to play Tidal tracks.
---
Part 3. Conclusion
With the assistance of AudKit Tidizer Music Converter, you can easily play any Tidal tracks on the Apple TV. We hope this article has cleared the "does Tidal work on Apple TV" doubt. The best part about AudKit Tidizer Music Converter is that it will let you play the Tidal tracks on any device you want.
---