The Tidal app is an awesome entertaining platform that helps you to access it effortlessly using efficient programs available in the digital environment. People enjoy listening to Tidal music on multiple devices like mobile phones, computers, tablets, and even TVs. As a necessity of home entertainment, TV is one of the best devices to listen to Tidal music.
If you own a Samsung Smart TV and want to stream the playlists from the Tidal app to Samsung TV, then this article is rightly designed for you. Today we will share some information about Tidal on Samsung Smart TV, and you can also learn how to get Tidal on Samsung Smart TV in the most efficient two ways. Keep reading to check your own method!
---
Part 1. Get Tidal on Samsung Smart TV via the Tidal App
Does Tidal have an app on Samsung Smart TV? Yes! You will install it first and get Tidal on Samsung Smart TV. As soon as you download the Tidal app on your device, you can enjoy the basic version free of cost. Using this scheme, you can listen to the songs in the online mode. But it has some restrictions on usage.
If you want to enjoy limitless access to the Tidal playlists, please go for the paid version of Tidal. According to your needs, you can go for the subscription plans like HiFi, and HiFi plus which lets you connect with the high-quality playlists from the Tidal application by enrolling with any of your convenient plans.
And then you can download the Tidal app on your TV and enjoy your favorite playlists directly on Samsung Smart TV.
Step 1. Go to "Samsung Apps" on your Samsung TV.
Step 2. Search "Tidal", then download and install it.
Step 3. Go to link.TIDAL.com on your phone, computer, or other devices, and log in to your Tidal account.
Step 4. Then there will be a code showing on your Samsung Smart TV. Enter the code to your device.
Step 5. Now you have got Tidal on Samsung Smart TV, and you can begin listening to Tidal on your TV.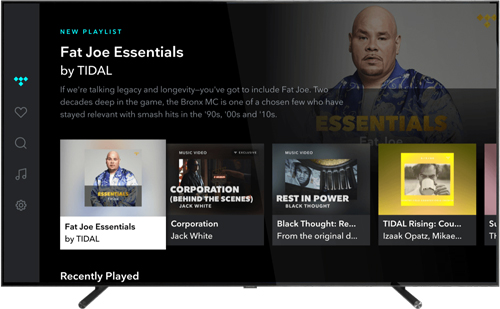 ---
Part 2. How to Get Tidal on Samsung TV for Free
If you are a free user of Tidal, there are some restrictions to play Tidal on Samsung TV. And sometimes there is something unexpected happening when you are using the Tidal app on your TV. Then you can refer to this method to get Tidal on Samsung TV for free.
You can download and import Tidal music to Samsung Smart TV via a USB stick. It is known that Tidal music has protection which makes it impossible to be played on other players but only Tidal. To make it possible, we highly recommend a professional converter – AudKit Tidizer Music Converter, which can remove the protected formats of Tidal songs without affecting the quality factors.
It is a perfect converter to download Tidal songs as common files locally and convert Tidal songs to MP3, FLAC, WAV, and other common-used formats. What's more, the conversion speed has reached 5X or even faster, which won't waste much of your time. You will have a wonderful listening experience for the 100% original quality of the converted songs. You can use this program like a pro without any prior experience.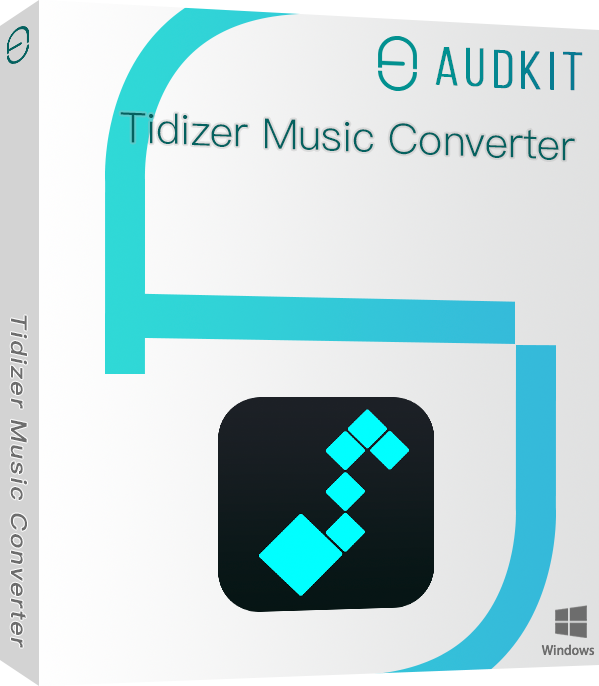 Main Features of AudKit Tidizer Music Converter
Convert Tidal music to fit Samsung Smart TV
Batch download Tidal music for offline listening at 5X speed
Keep 100% original sound quality and all ID3 tags
Download any Tidal music to the desired audio formats
Here is a stepwise instruction to get Tidal on Samsung Smart TV using AudKit Tidal Music Converter.
Step 1 Install AudKit Tidal Music Converter on your computer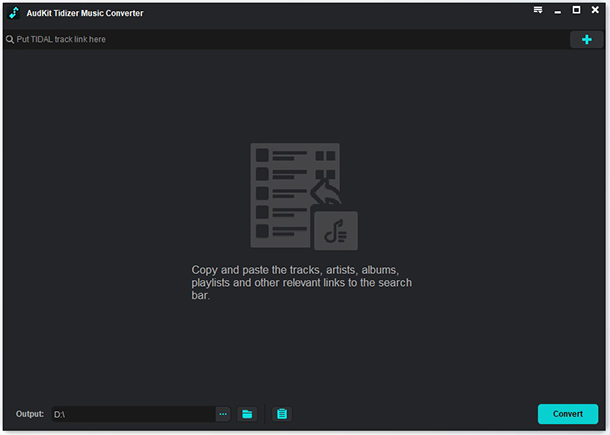 Go to the official webpage of AudKit Tidizer Music Converter and download the correct version of this program based on your system OS. Then, install it on your computer and launch it.
Step 2 Import the Tidal soundtracks to AudKit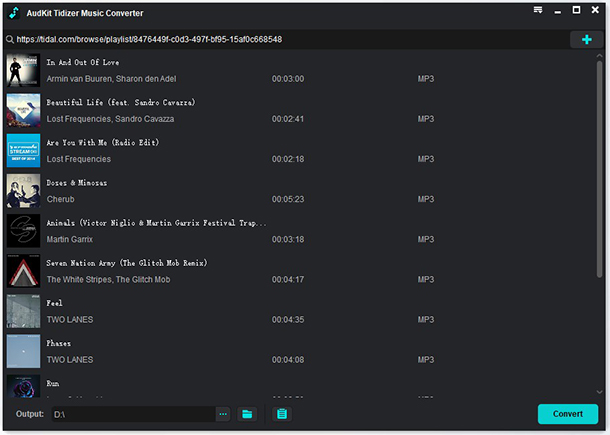 To download music on Tidal offline, open the AudKit converter, press the Music icon and import the desired playlists from Tidal into this working environment. Or you can also go to the Tidal app to copy and paste the URL of Tidal songs into the search box of AudKit Tidal Music Converter.
Step 3 Set the Tidal output attributes for Samsung Smart TV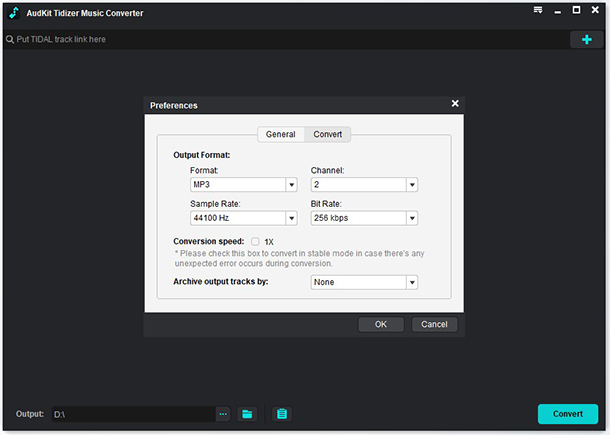 Click the menu bar at the top right to choose 'Preferences' > 'Convert'. It will pop up a window for you to adjust the output attributes. Choose the MP3 or AAC output formats that are supported by Samsung Smart TV. You can also customize other settings like sample rate, bit rate, etc.
Step 4 Convert Tidal music for Samsung Smart TV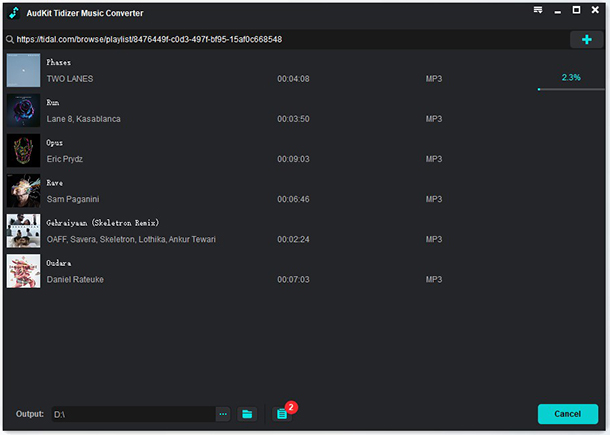 After importing all your selected Tidal songs, click the 'Convert' button at the bottom-right corner. And the AudKit program will start converting your Tidal songs at a 5X faster speed. Wait for a minute and you can get Samsung TV-supported Tidal songs stored in the destination folder of your computer. You can enjoy the songs at any time on Samsung Smart TV without compromising the quality factors.
Step 5 Play Tidal on Samsung Smart TV via USB Port
Because most Samsung Smart TV has USB ports, you can save Tidal music to USB and then put Tidal on Samsung TV using a USB drive to upload them for playing offline.
Step 1: Plug a USB drive into your computer. Transfer the converted Tidal songs from your computer folder to the USB drive.
Step 2: Remove the USB drive from your computer and then plug it into the USB port of your Samsung Smart TV.
Step 3: Press the Home button on your remote, and then go to the "Source" option to choose "USB Device".
Step 4: Now you can select the Tidal music files you'd like to play on Samsung TV. Press the Enter button to control the Tidal playback on your Samsung Smart TV.

---
Learn More: Top 3 Music Apps on Samsung Smart TV
There are so many apps on Samsung Smart TV. You can find some suit you best to make the most of your Samsung Smart TV. Here we conclude the most popular three streaming services on offer – Pandora, Napster, and Deezer.
1. Pandora
An entertaining musical platform comprising many songs that stream efficiently based on the user's needs. You can customize the songs from Pandora and play them on your device. There are options to organize the soundtracks according to the genre, artists, and albums. The paid version of Pandora is free from ads and assists in offline listening.
Learn More: The detailed comparison of Tidal vs Pandora.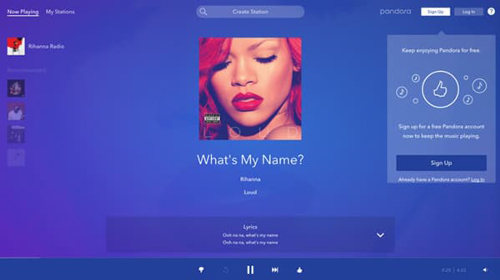 Pros
It has a simple interface and you can quickly access the songs.
Compatible with Android and iOS gadgets.
Cons
The free version allows limited access to the playlists.
2. Napster
It is an online platform comprising 60 million songs to entertain the users to the core. After ceasing its service in 2001, it had made a successful come back in 2012. It serves as a music store playing your favorite soundtracks.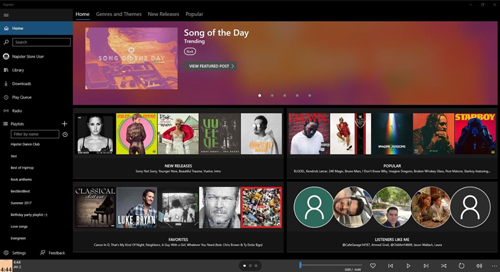 Pros
Easy access to the desired playlists from million collections of songs.
The songs are well-organized and structured for optimal use.
Cons
The streaming speed is not convincing while loading multiple soundtracks from the platform.
3. Deezer
Deezer is another highlighted music app on Samsung Smart TV that entertains the users optimally. There are more than 40 million songs to engage the listeners precisely.
Learn More: The detailed comparison of Tidal vs Deezer.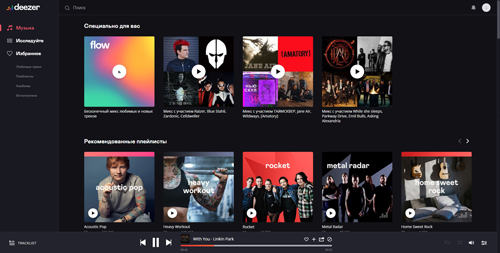 Pros
The music discovery feature helps the users to explore their favorite music tracks in no time.
This platform opens a scope for new music artists to add their tracks to the lists and offers a better environment for the newbie to explore.
Cons
The free version of this app lacks sound quality factors.
---
Conclusion
This article had given you two easy methods to get Tidal on Samsung Smart TV. Playing Tidal on your TV with the Tidal app is the most straightforward way. While using the AudKit Tidizer Music Converter to play Tidal on your TV is absolutely more stable because you can listen to Tidal music even if you are not connected to the Internet. It converts the protected Tidal songs to desired file format and immediately downloads them to your Samsung Smart TV for offline listening.
Use the above content to stream your favorite Tidal music on the Samsung Smart TV. If you have questions about playing Tidal on any devices, you can leave a comment below. We will try our best to solve your problem as soon as possible.
---