The quality and performance of music amplify a great deal if you have a high-quality receiver at the other end. And Yamaha products are specifically designed to bring an amazing listening experience to its users. The brand brings in receivers, soundbars, and Hi-Fi components to create a fully personalized and flexible music experience. Things became more interesting when Yamaha introduced the MusicCast speaker allowing audiophiles to create a perfect sound stereo system for the entire house.
In fact, with Yamaha, you can perfectly enjoy the high-quality Tidal music without missing a single beat! By playing Tidal on Yamaha, you can avoid the hassle of connecting your phone through cables and wires. So, how to cast Tidal to Yamaha? If you are looking for answers, have a look at the article below.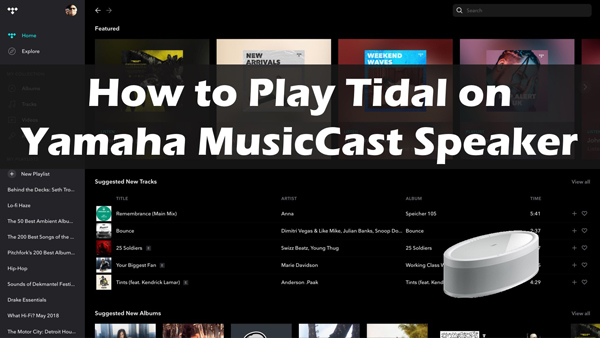 ---
Part 1. How to Set up Tidal on Yamaha MusicCast Speaker with MusicCast Controller
What Is Yamaha MusicCast?
In 2003, Yamaha launched a uniquely designed and easily functional multi-room audio system called Yamaha MusicCast. MusicCast supports all products designed by Yamaha including receivers, amplifiers, soundbars, mini-systems, wireless mini speakers, HiFi active speakers, and interior audio.
All these products contain a MusicCast chipset which all the products create a network using a wireless connection, your wired home network or via Bluetooth. The system is easy to set up and requires users to install the MusicCast app on their smartphones. Then, they need to connect all the products to their network and enjoy a complete home theater system producing clear and deep sound. Moreover, the MusicCast app is fully integrated with music streaming apps such as Spotify and Tidal.
How to Setup Tidal on Yamaha MusicCast Speaker
Yamaha speakers are the newest addition to the Yamaha MusicCast setup. They bought flexibility for music lovers. These speakers can be connected to the MusicCast stereo system or the multi-room audio setup or can be used as normal speakers depending on the requirement of the user.
But most users often want to learn how to get a Yamaha MusicCast Tidal connection. As we discussed above, Yamaha MusicCast speakers have been integrated with the Tidal music streaming app. But to secure a connection with a MusicCast speaker, make sure you have the MusicCast Controller app downloaded to your smartphone. After installing the converter, go through the following steps to connect with the Yamaha speakers.
Step 1. Turn on the Yamaha MusicCast speaker. Also, open the music Controller. Start the MusicCast app on your smartphone. Select Set up and then Next.
Step 2. Now, press the Connect button on your MusicCast speaker until it is connected to your smartphone. Press "Next" on your mobile app.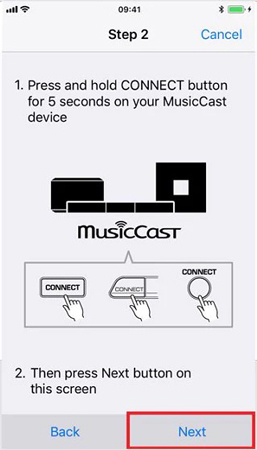 Step 3. Next, open Wi-Fi settings on your phone and select the MusicCast network option from the menu. Enter the password of your MusicCast app.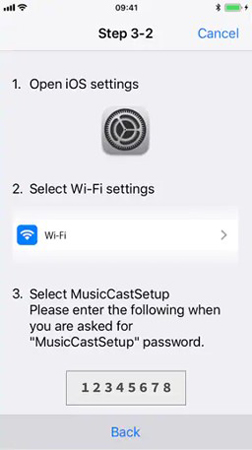 Step 4. Go to the MusicCast controller and select your home Wi-Fi network. Enter the password and click on Next.
Step 5. Set the location of location and room name and finally tap on Done.
Step 6. Go to the MusicCast Controller and choose a room. Open Tidal from the Sources section.
Step 7. Log in to your Tidal account and use Tidal streaming with Yamaha MusicCast speaker.
---
Part 2. How to Use Tidal Streaming with Yamaha MusicCast Speaker via Bluetooth
Most users often find the entire Tidal MusicCast setup quite difficult to process. To use Tidal on Yamaha MusicCast speakers, they want an easy and less complicated solution. For such users, AudKit Tidal Music Converter is the best option.
The software has been designed to download and convert Tidal music without sacrificing the Hi-Fi quality of Tidal music. During the conversion process, it maintains the Hi-Fi and Master quality of Tidal tracks. The prominent advantage of using AudKit is that it converts Tidal tracks into popular audio formats including MP3, WAV, FLAC, and M4A. So with AudKit, you get to hear smooth sounds and amazing audios on any trip short or long.
The software is a comprehensive tool that brings amazing features beneficial for the end-user. The extremely fast downloading speed, easy interface, and capacity to save audios along with their ID3 tags. This way makes it easy for you to manage your music library.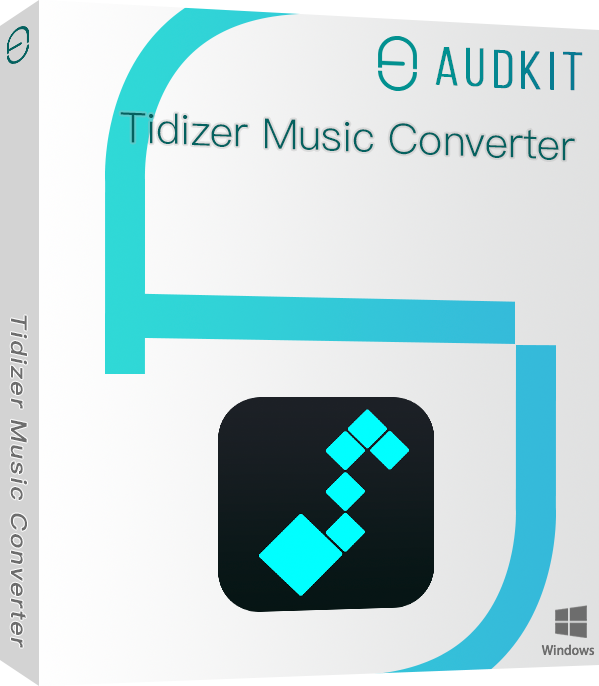 Main Features of AudKit Tidizer Music Converter
Provide an easy and user-friendly interface for every new user
Convert Tidal to FLAC, MP3, and multiple common-used formats
Easily stream Tidal tracks to Yamaha MusicCast and various devices
Download Tidal tracks with the original quality and ID3 tags containing
How to Use AudKit Converter to Get Tidal on Yamaha MusicCast Speaker
Download the AudKit Music Converter to your desktop. Register an account on the software by signing in with your email address and code. Then launch the converter on your desktop and go through the following 3 steps to start the conversion process.
Step 1 Adjust the output parameters for Yamaha MusicCast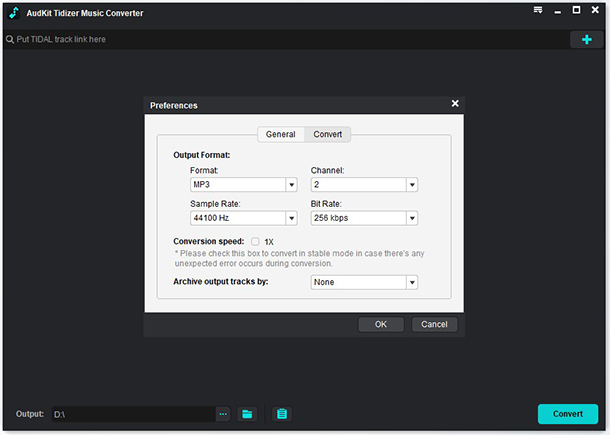 Go to the menu by clicking on the icon appearing at the top of the screen. Then select Preferences and choose "Conversion". By default, MP3 has been set as the output file format. You can also make adjustments including channel rate, bit rate, sample rate, and the way to archive for your audio file.
Step 2 Import Tidal tracks to AudKit Tidizer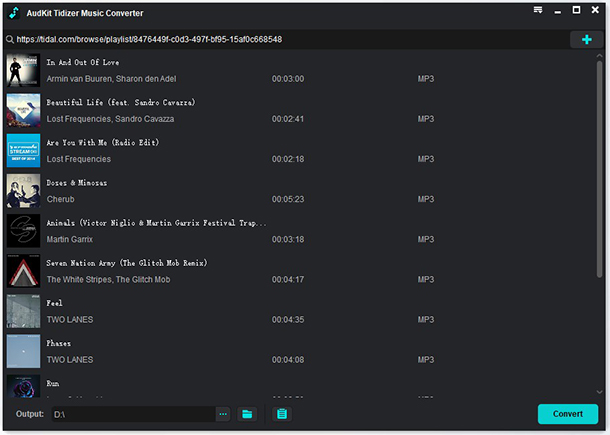 Now, through the built-in Tidal app import all the tracks and playlists from Tidal. Open the playlist you want to download. Click on the Add Music icon to add as many songs as possible as AudKit supports batch conversion.
Step 3 Start converting Tidal songs for Yamaha MusicCast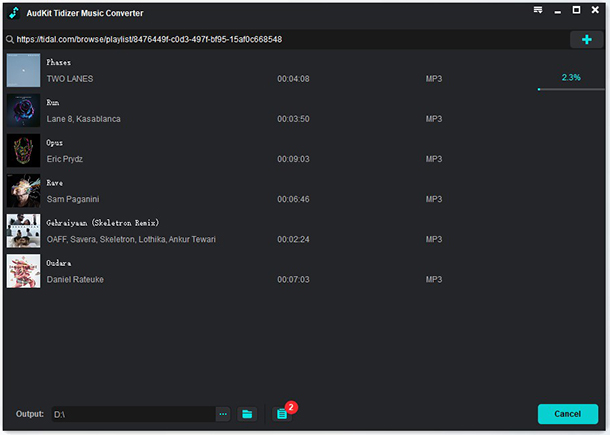 Click on the OK button and then double-click on the Convert option to download playlists from Tidal. The software will begin the conversion process right away.
---
Part 3. In Conclusion
Yamaha is always a step ahead in delivering high-quality sound produced by the Tidal music streaming app. But if you are not subscribed to Tidal, AudKit Tidizer Music Converter will help you enjoy the same sound quality by converting audios in a lossless format.
---