Tidal is a music streaming platform where you can listen to your favorite songs and discover new music. You can create playlists, explore different genres, and follow your favorite artists. Additionally, Tidal offers high-quality audio and exclusive content such as concerts and interviews. Are you wondering how to upload music to Tidal? Don't stop now, the answer is just ahead.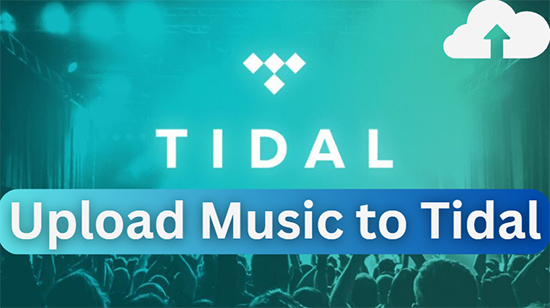 ---
Part 1. Can I Upload Music to Tidal?
Unfortunately, if you want to add music to Tidal, you might find it challenging or impossible. Why? It could be that Tidal wants to maintain a consistent and high-quality listening experience for all its users, and allowing local file uploads could potentially compromise that experience. Additionally, Tidal may have licensing agreements in place with record labels that restrict the types of content that can be uploaded to the platform.
Tip: You can transfer your favorite playlists and tracks from other music streaming services to Tidal via a third-party online tool.
---
Part 2. Is There a Way to Download Tidal Music to Local Files?
Are you interested in downloading Tidal music to your local files? The great news is that you can make it with the help of AudKit Tidizer Music Converter. AudKit Tidizer enables you to convert and download Tidal music to common-used formats losslessly with a high speed, which allows you to listen to Tidal music offline on various devices. After downloading Tidal music, you can synchronize them to your local music library, which enables you to put all music collections in the same place.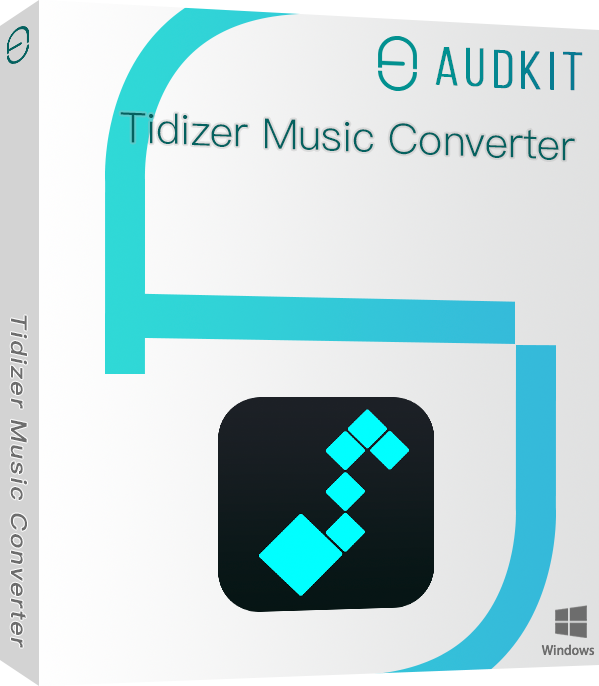 Download music from Tidal on the computer for offline listening
Convert all Tidal files to Lossless, MP3, FLAC, WAV, and more formats
Export Tidal music in lossless quality along with all ID3 information
Let you offline play Tidal music on any device without Premium
How to Get Music on Tidal as Local Files
Below is the user guide on how to download music from Tidal as local files through AudKit Tidizer Music Converter.
Step 1. Download and register AudKit Tidizer
When the download is complete, you need to register an account or you can try the trial version which can convert 1 minute for each file.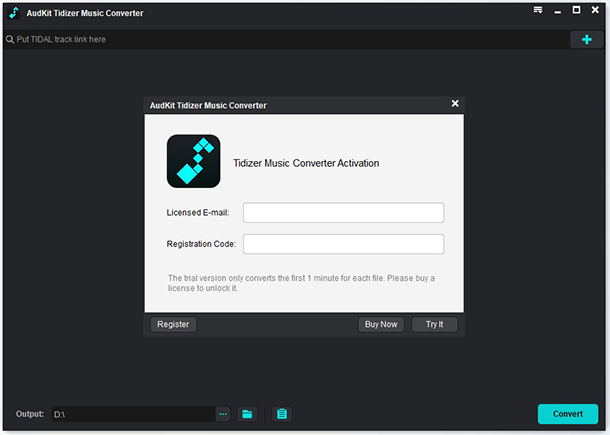 Step 2. Add music from Tidal
Once open AudKit Tidizer Music Converter, it will launch Tidal automatically. Copy the Tidal track link and paste it to the search bar or just drag and drop the Tidal track to AudKit Tidizer. Then tap on "+" next to the search bar to check the songs you want to convert.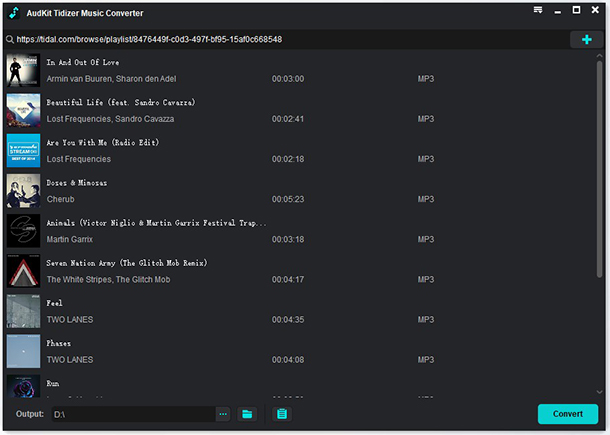 Step 3. Customize Tidal music output format
Find the menu in the top right-hand corner and click "Preference" to customize the format such as MP3, FLAC, WAV, M4A, etc., and sound quality up to 24-bit with FLAC and 32-bit with WAV according to your individual preference.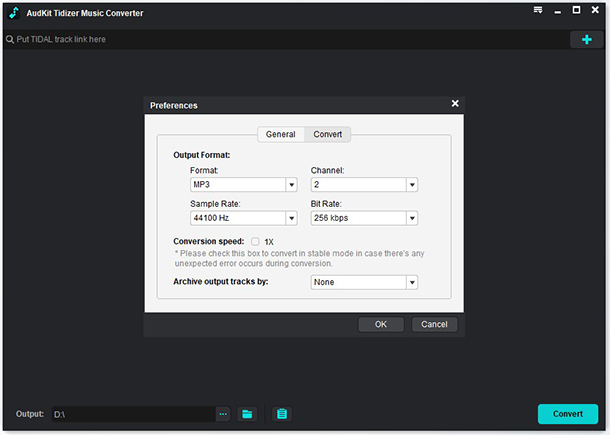 Step 4. Convert and download Tidal music
Click on "Convert" in the bottom right to start the conversion. When it's done, your Tidal music will be saved as local files on your device. You can click the "File" icon to access your Tidal local files.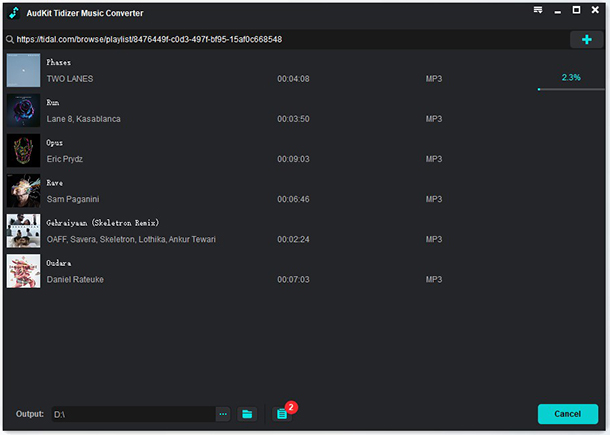 ---
Part 3. FAQs about Adding Music to Tidal
Q1: Can Tidal Play Local Files?
A: No. Unfortunately, you are unable to play your own music on Tidal. You can play local files via built-in music players on your own device.
Q2: Does Tidal Allow Local MP3 Downloads?
A: No. Tidal does not have a local MP3 downloads option. If you want to download Tidal music to MP3, AudKit Tidizer Music Converter is the best choice.
Q3: How to Move Playlist from Other Streaming Services to Tidal?
A: You can move your playlists, albums, and tracks from other streaming services to Tidal via a third-party service such as TuneMyMusic, which also support you to transfer playlist of MP3 files to Tidal.
---
Part 4. Conclusion
To sum up, it's regretful that you are unable to upload music to Tidal due to the limitation. But don't be upset, there are alternative ways to enjoy your favorite music. You can choose AudKit Tidizer Music Converter to get your music from Tidal, which can convert Tidal to MP3, FLAC, WAV, AAC, M4A, and M4B at 5X speed to your local files while keeping original sound quality. Try it out and you will find it's helpful for you. Hope the above addresses your concern.
---