If you're a video editor or content creator, you might have struggled with adding music to your videos. Finding the right music that enhances your video content's depth and emotional resonance can be a challenging task. Fortunately, Spotify has a lot of music that can make your videos more powerful and emotional. However, it's difficult to download music from Spotify to Videoleap because of DRM protection. But don't worry! We have the perfect solution for you!
This article will explain how to add Spotify music to Videoleap using a handy tool – AudKit SpotiLab Music Converter. This guide will make sure that combining video and music editing is easy and fun for you. Let's get started, and soon you'll be able to transform your videos with your favorite Spotify songs.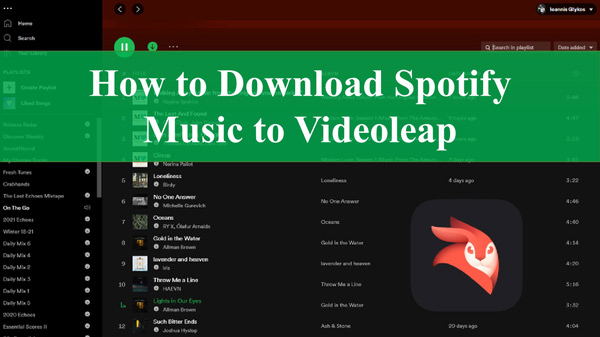 ---
Part 1. What Music Can You Import to Videoleap?
If you love being creative, you've probably looked for the perfect music for your video project from different sources. Videoleap understands this and makes it easy for you to import music to create magical videos that capture the attention and hearts of your audience.
The Videoleap Spotify integration doesn't exist. The app mainly lets you use music from your device or iTunes library. You can easily take music files from your iTunes collection and put them in Videoleap. This makes the process much simpler, so you can focus on being creative. Videoleap also supports different types of audio formats. You can use MP3, AAC, WAV, AIFF, and M4A files. These formats cover a wide range of music files. Each format has its own advantages. MP3 is compatible with many devices, AAC has better sound quality, WAV, and AIFF have high-quality sound, and M4A files are smaller in size.
| | | |
| --- | --- | --- |
| | Supported Audio Formats | Supported Sources |
| Videoleap | MP3, AAC, WAV, AIFF, M4A | iTunes |
But there's one thing to keep in mind. Adding music from Spotify, a popular music streaming platform, directly to Videoleap isn't supported because of DRM protection. But take it easy! In the next section, we'll show you an easy way to get around this using the AudKit SpotiLab Music Converter to add music from Spotify to video.
---
Part 2. How to Download Spotify Music to Videoleap?
Suppose you're a Videoleap user looking to know how to download Spotify music to Videoleap. In that case, AudKit Spotify Music Converter is an invaluable tool for your music needs. This robust tool makes converting and downloading Spotify tracks a breeze, offering a creative suite of features. With support for various output formats like MP3, WAV, AAC, FLAC, etc., the AudKit converter allows you to select the format that fits best with your Videoleap projects.
Using AudKit SpotiLab Music Converter, you don't have to compromise on sound quality. Thanks to its state-of-the-art technology, the software ensures that the original audio quality of Spotify tracks remains intact throughout the conversion process.
Saving time and effort is another advantage of AudKit SpotiLab Music Converter. Featuring a 5X conversion speed, the software lets you download huge Spotify libraries in one go. Moreover, it retains the original ID3 tags of the Spotify tracks, providing an organized library for your convenience.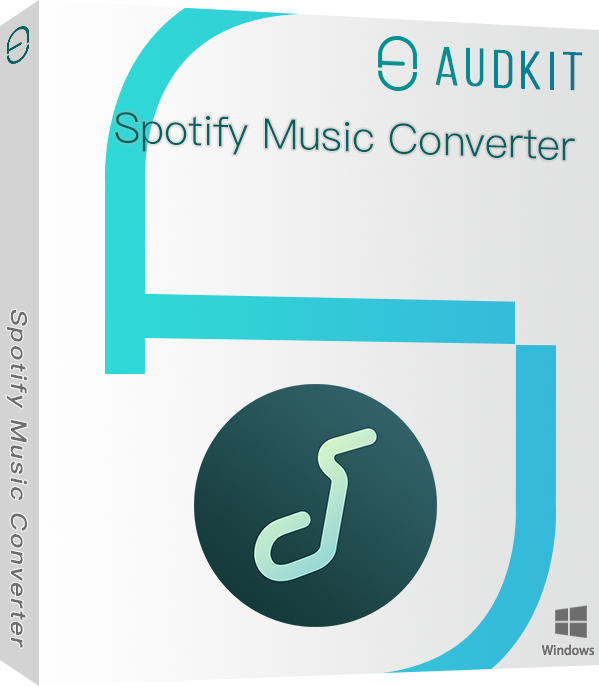 Download Spotify songs to MP3, M4A, WAV, and more for Videoleap
Maintains 100% original audio quality of the soundtracks
Fast 5X conversion speed to save your time and hassle
Retains original ID3 tags including album, title, artist, etc.
To inspire you, here's a step-by-step tutorial to download songs from Spotify to Videoleap using the versatile AudKit Spotify Music Converter.
Step 1 Import playlists from Spotify to download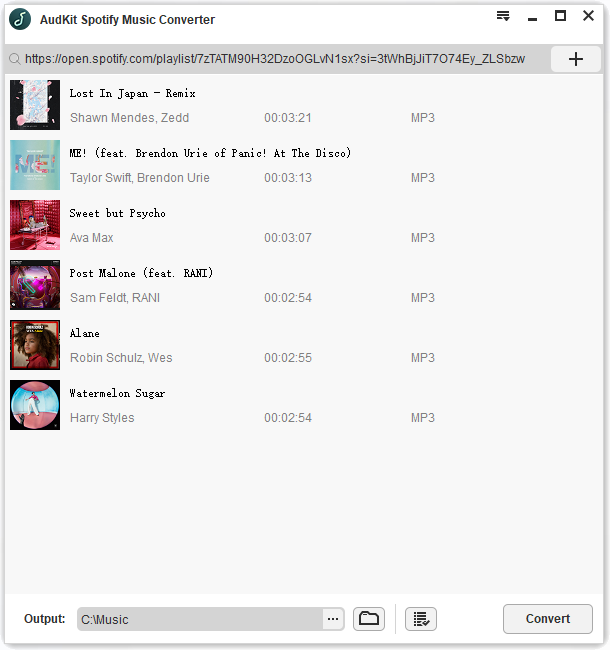 Download and launch the AudKit SpotiLab Music Converter tool on your computer. Next, go to the Spotify app, and select multiple songs or playlists you wish to download. You have TWO options to import these into AudKit. Either directly drag and drop the chosen item to the AudKit interface. Or right-click the selected tracks, press Share > Copy Song URL, and then paste it into the search bar of the AudKit app. Click on the "+" icon to import all the files.
Step 2 Modify Spotify audio format for Videoleap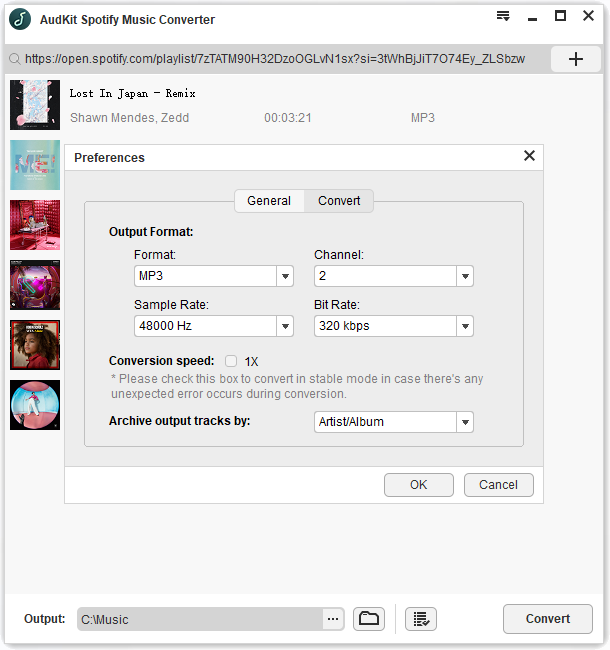 Now, navigate to the top Menu and select Preferences on the AudKit program. A settings window will pop up, where you can adjust the output parameters per your requirements. You can change Spotify audio output format to the one that can be used in Videoleap like MP3, WAV, etc. Other audio parameters that can be edited include channels, sample rate, bit rate, and the method for archiving output recordings.
Step 3 Start the Spotify downloading for Videoleap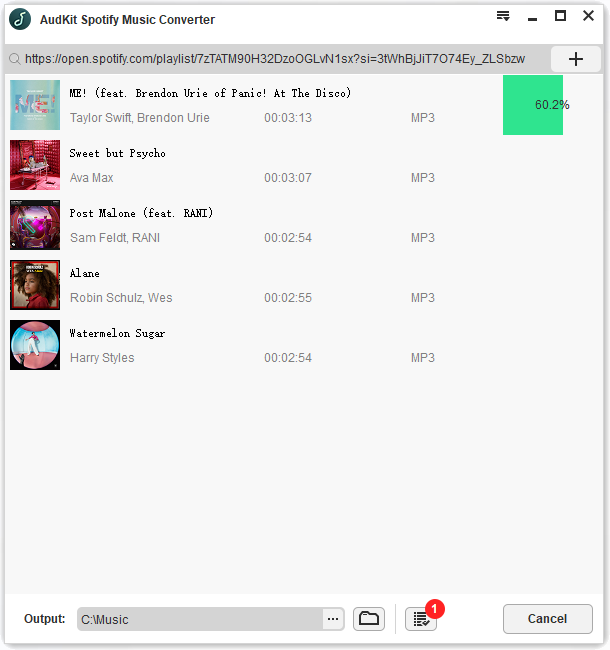 Lastly, hit the Convert button to initiate the conversion process. It will download Spotify songs without premium and store them on your local computer. Once the chosen Spotify songs have been converted, you can access these output files by clicking the 'folder' icon at the bottom.
---
Part 3. How to Add Music to Videoleap from Spotify?
Adding converted Spotify music tracks to Videoleap is quite straightforward. Here, we'll walk you through how to add Spotify music to Videoleap on iPhone.
Via iTunes
For iOS devices, Videoleap supports songs from Apple Music. Here's how to get music on Videoleap from Spotify by syncing through iTunes.
Step 1. Begin by launching iTunes on your computer.
Step 2. Locate the "File" option in the top menu bar of iTunes, and from there, click "Add File to Library".
Step 3. Explore your computer, find the designated folder where you have stored the Spotify music files you previously converted, and select them to import Spotify music to iTunes.
Step 4. To sync the music library to the Music app on your iPhone, go to Edit > Preferences, tap General in the new window and check the box of iCloud Music Library.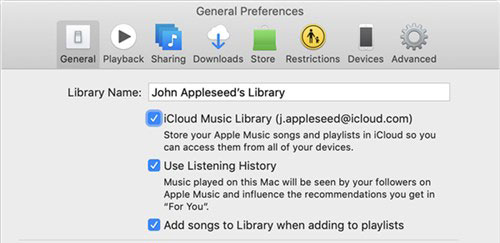 Step 5. Head to the Settings on your iPhone and select Music from Apps and turn on Sync Library.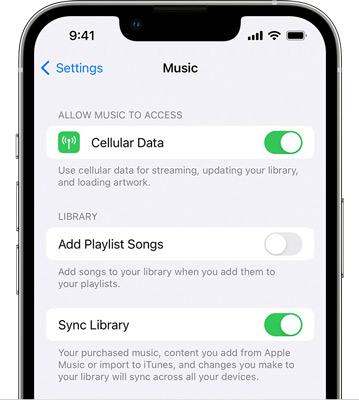 Step 6. Now, open the Videoleap editor on your iPhone and add a video project. At the bottom of the screen, click the Audio tab and it will show you audio from Apple Music. You can click the arrow to select Songs/Albums/Artists to find your music files.
Step 7. Find the song you want to add and tap the "+" button next to it to import the music to the track.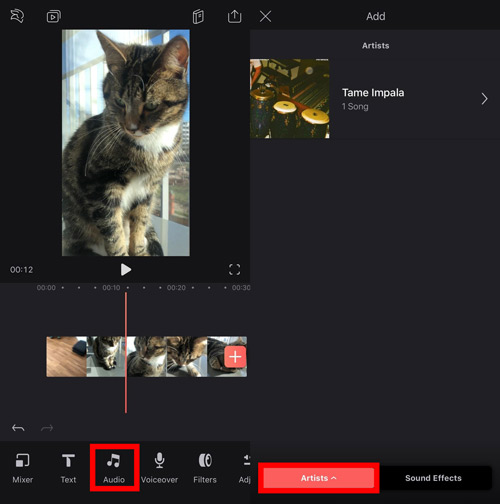 Via Files
The Videopleap video editor also can import the files stored on the phone, thus, transferring Spotify to your iPhone directly is another method. Here's how to put Spotify music on Videoleap via Files.
Step 1. Connect your iOS device to your computer using a USB cable. Once your iOS device is connected, watch for your device icon displayed within the Finder app on Mac. Click it to access specific settings and options.
Step 2. Navigate to Music Click on 'Sync Music' and then select the 'Selected playlists, artists, albums, and genres' option.
Step 3. Select the playlists or artists from below and hit the Apply button to sync your Spotify songs to your iOS device.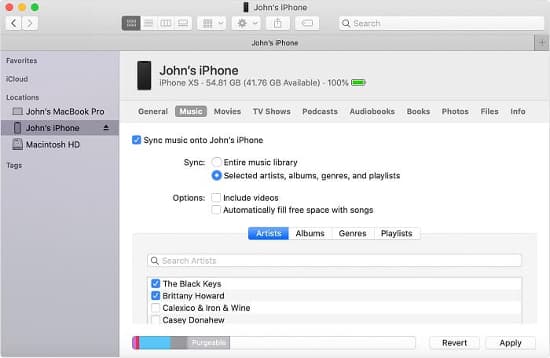 Step 4. Create a project in the Videoleap app on your phone and then tap the Audio button.
Step 5. Click on the Songs button to open the options to select Files, then choose songs from your local files and add them to Videoleap for use.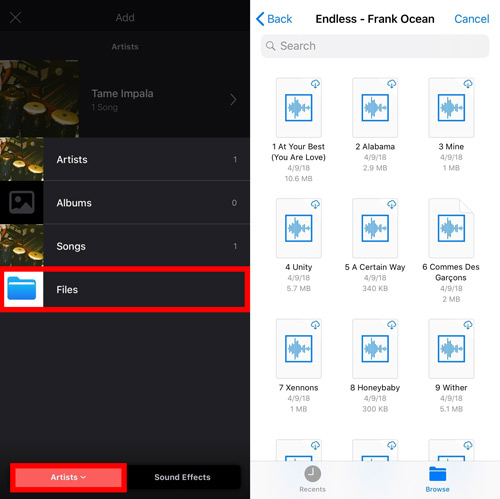 ---
Part 4. Closing Lines
And that's all. After reading this article, we hope you're now confident in how to add Spotify music to Videoleap on your iPhone. Android users can also follow the steps to download Spotify and put it into the Files on their phone for use. By utilizing AudKit Spotify Music Converter, you can unlock creative possibilities, combining the vast music collection of Spotify with the sophisticated editing capabilities of Videoleap.
Now, you have the power to personalize your videos in unique and meaningful ways. It's time to allow your creativity to soar, enhancing your video content with your choice of Spotify music. Happy editing!
---